The Wild Mustangs of Montgomery Pass- Up Close and Personal
A Close Encounter of the Wild Mustang Kind. My travel and educational adventures with Mustangs a Living Legend, part of UC Davis Extension.
written by June Wynhoff with photos by June Wynhoff
When presented with the opportunity to participate in the UC Davis Extension Program: Mustangs a Living Legend, I never in my wildest dreams could have imagined the experience that I would have. When I thought about the trip, I expected to see maybe a dozen or so Mustangs. I was just looking forward to seeing wild Mustangs in their natural environment, as the only other time I had seen a Mustang was going 80 miles per hour down the freeway between Arizona and Nevada and I happened to spot a couple out in the desert.
Our trip was over the summer from June 9th to June 12th. The program was run in the Montgomery Pass Wild Horse Territory near Benton Springs, California. Our first day, we are introduced to our horses and the wranglers from Rock Creek Pack Station at River Springs in the Inyo National Forest. They would serve as our guides over the next four days. We also meet the owner, Dr. Craig London, who gave us a safety lesson and got everyone organized for our trip into the mountains.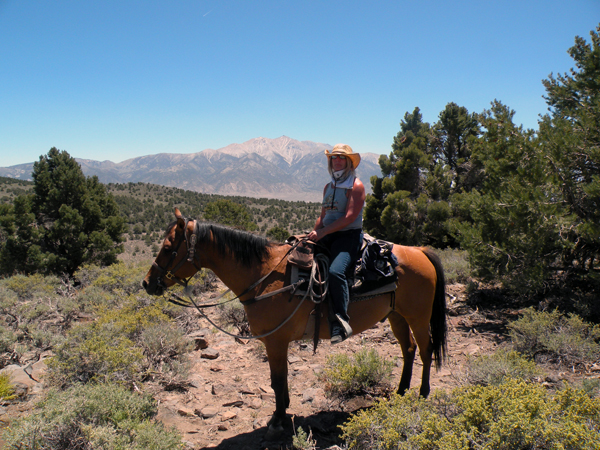 June Wynhoff, the author, riding off on the UC Davis Extension program, Mustangs a Living Legend.
We rode off into the high desert of the Montgomery Pass Territory to our base camp in Pizona Springs. We first encountered Mustangs in River Springs, where many of them appeared in herds in Adobe Valley Flats. Some of the riders took a detour to get closer to the herds and enjoy being out in the wild with these magnificent creatures.
It had been years since I'd camped out, so this was an experience in itself: latrine, tents, sleeping bags and cold desert nights. After not getting much sleep the first night due to freezing temperatures, I wondered if I would make it the four days. We would ride out each day to track and observe the wild mustangs in their natural environment. The rides were 5 to 6 hours long and although I had tried to do some conditioning beforehand, I was nowhere near prepared for a ride of this magnitude and wasn't sure my poor butt would make it. I wondered how sore I would be, but I wanted to see wild mustangs, so I went for it, after all, I hadn't awoken sore from the first days ride to the camp.

Our second day ride was Sunday June 10th. We divided into two groups', one group riding higher into the desert, while our group chose to ride down into the Adobe Flats area of the Montgomery Pass Wild Horse Territory. After a couple of hours in the saddle, we arrived at the flats with lush green grass and a water supply.

There were several bands of wild mustangs in this area with a total of approximately 230 horses all together. Being so close to far more mustangs than I had expected to see, I was very excited that we were able to experience this on our first day out. We tied our mounts some distance from the herds, so we would not disturb them. As we observed and photographed these herds, I was grateful to be getting such great pictures of the horses.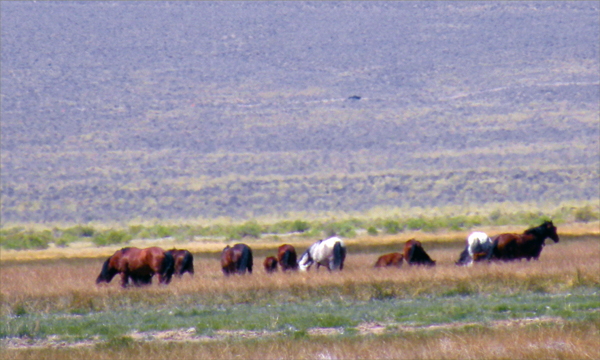 One of the bands of mustangs in the adobe region of Montgomery Pass.

We made our way on foot to a closer position next to a creek, but at a reasonable distance as not to disturb the horses.
One of the young participants asked to cross the creek that lay just in front of us to get some pictures. With the guide's permission, she crossed to the other side of the creek, squatted down and took some pictures. All of a sudden, something spooked the herds; they all started to move but not away from us as you would expect, but towards us!
The lead mare seemed very interested in the young participant taking pictures and guided the herds' right towards us at a full gallop. The sound of their hooves was like thunder rolling across the sky and their wild whinnies broke through the thunder like lightening. The young participant stood up and made a run for it.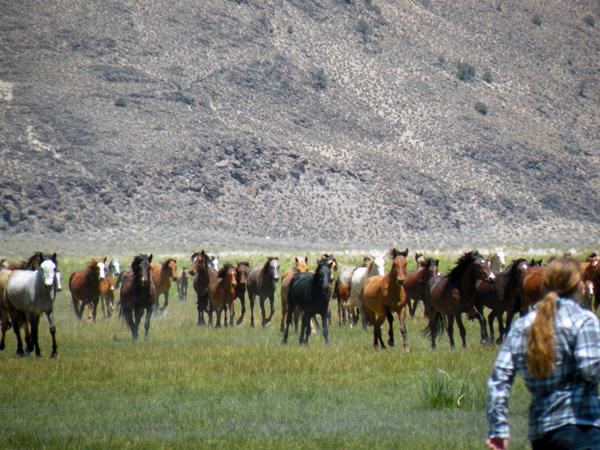 Wild mustangs get spooked and start to move.
We were all standing there awestruck as these two-hundred plus horses galloped straight towards us. All I could do was take pictures as fast as my camera allowed, as they didn't stop coming toward us until our guide removed his hat, waving it, and gave a whistle.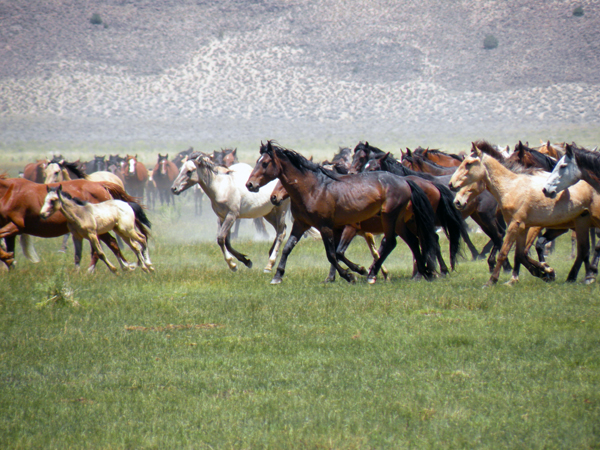 Herds coming at us and after they turn to the left.
At this point the herds turned to the left, crossed the creek just to the left of us, and galloped back toward the hills. It was surreal, like I was part of the land and these mustangs were not afraid. I was just another part of their surroundings. I was not a threat. It was the greatest feeling ever to see these magnificent creatures in such an up close and personal way. It was an experience that will never be forgotten, and that most people will never be able to experience, except through pictures and movies.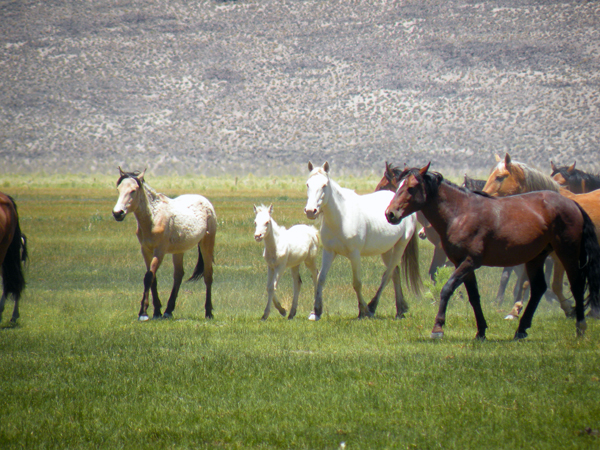 During "Mustangs: A Living Legacy," participant track wild horses in the seldom visited Pizona area of the Inyo National Forest.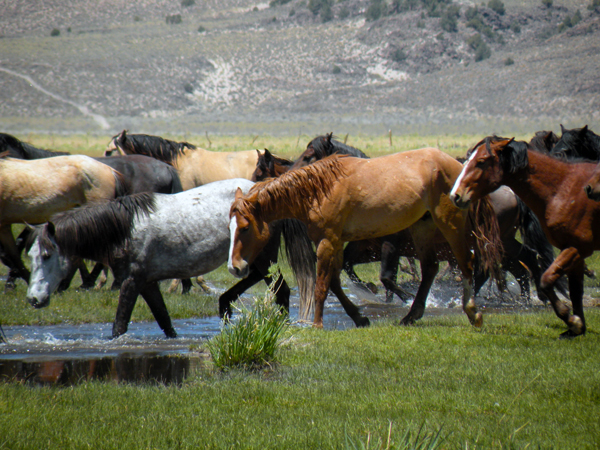 The Pizona in Inyo National Forest plays host to some of North America's wildest bands of Mustangs.
This is not a natural behavior for these horses by any means, but I guess whatever spooked them was scarier than we were. Our guide told us that in all the years of taking this trip, he had never seen this kind of behavior before. He was awestruck by this too.

We were treated to this wonderful experience that seemed like something that one would only see on television or in the movies, and this particular incident on the trip exceeded any expectations I had of seeing Mustangs. Needless to say, we were pretty popular when we got back to camp that night, especially our very brave young participant.

On the next day Monday, June 11th our group decided to ride higher in the desert, and the other group headed down to Adobe Flats. After being fed a delicious breakfast, which included coffee service at your tent–– all you had to do was put your cup outside–– we were also treated to a morning educational lecture on horses. It was very informative and interesting.

When you are out roughing it, whether it is camping in the desert, mountains or coast area, you somehow are able to meet and bond more easily, so needless to say I met some very nice, interesting people from as far away as New Hampshire. They seemed almost like an extended family, probably because we were sharing meals all gathered in a group around the campfire.

The second day, as we rode through the canyons I could almost feel eyes watching. We rode high in the desert, but unfortunately we did not see any Mustangs this day, but the views and scenery made it well worth the ride. We actually rode into Nevada on one high peak.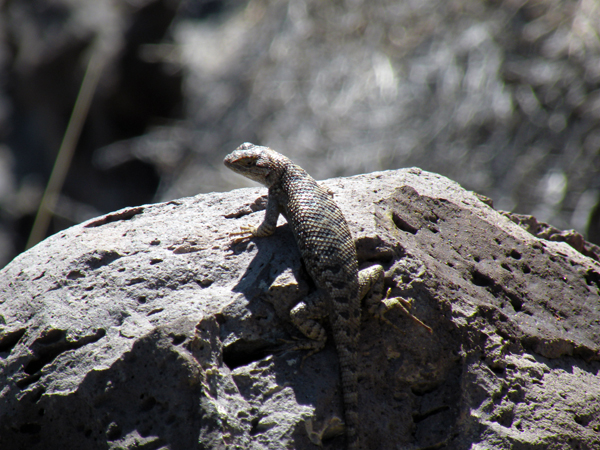 I spotted this little guy and thought he was worth a picture. After all, he is posing.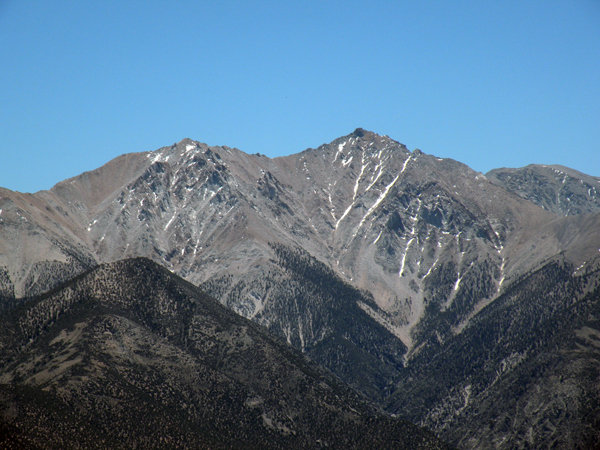 White Mountains in California.
We were also treated to seeing some petroglyhps and rode down an actual Mustang trail.
After our journey into the dessert, we returned to camp where there were cold beverages and snacks awaiting our return. After we all took hot showers and were served an excellent dinner, we were again treated a slideshow of pictures and a very interesting lecture. By the time the lecture ended, I was ready to get my gear prepared for the next day and hit the sack. I must say the next two nights sleep were far better than the first night.

The final day, June 12th, we packed up all our gear, except what we would need for our final ride. On the last day, our lecture was a live demonstration on conformation by our Professor, Jan Roser, PHD, and a couple of the horses on the string. I participated in this lecture by being the handler of one of the horses being used in the demonstration. The horse's name was Albert, and he happened to be an adopted Mustang. Albert was competing with a Thoroughbred. Well, I'm sure it was a surprise to some of the participants that this Wild Mustang was put together way better than the Thoroughbred.

After the lecture we mounted our horses for our final ride and back to civilization. It was kind of sad to think that I was going to have to say good-bye to my mount Cajun. After all, he had been taking care of me these last four days.

We had a nice ride through the high desert and ate lunch at a place called Rattlesnake Canyon. We also were able to view more petroglyhps. When we arrived back at our vehicles, it was a kind of bittersweet feeling. We were back in civilization, but now we had to say good-bye to the new people we met and we had to say good-bye to our horses. I sure that most of us would not be spotting any wild Mustangs in the near future.

I hope the pictures that I have included with this article will help to show the once in a lifetime experience I had with my close encounter with the Wild Mustangs of Montgomery Pass Wild Horse Territory. This wonderful Course offered through The University of California Davis Extension Program and in conjunction with Dr. Craig London and the Rock Creek Pack Station is well worth the investment. The wranglers and everyone associated with the trip were very concerned with the riders comfort and need, and were always very polite and helpful. The instructors, Dr. Jan Roeser, PHD and Dr. Craig London, are a bounty of information in regards to these wild Mustangs' behaviors, habits and currant plight.


About the Author: June Wynhoff is a studio art major at Cosumnes River College in Sacramento, CA. She has horses on her property along with a variety of other critters, and tries to go on horseback riding trips every time she goes on vacation. June recently adopted a rescue horse.

Learn more about this trip at UC Davis Extension, which features Mustangs: A Living Legacy, Mountain Horsemanship: Veterinary Care and Horsepacking in the Wilderness, Competition Management: Horse Show Secretary and Equine Emergency Medicine and Rescue Techniques for the Wilderness Environment.