Six Great Wild Horse Tours
Organized eco-tour adventures, where you can view wild horses and ponies from the comfort of a vehicle or the back of a galloping steed.
As I've traveled the United States and the world, I've been surprised by the diverse destinations where I've encountered wild horses, including Waipi'o Valley, Hawaii, Cumberland Island, Georgia, Chincoteague, Virginia and beyond. Seeing horses and other wildlife roaming free in a natural setting brings me a feeling of peace, and I find that learning about how they adapt to survive in these different environments, fascinating.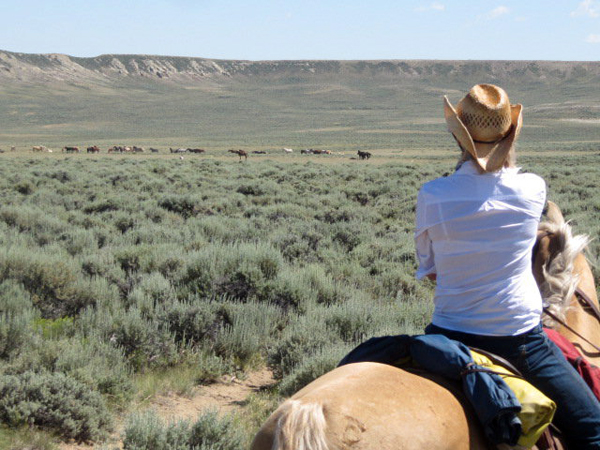 A traveler views wild mustangs from on horseback with Blue Sky Sage Horseback Adventures.
Wild horses are an iconic symbol of America, but places where you can actually travel to observe them are on the decline because of development and controversial round-ups by the Bureau of Land Management (BLM). If you're interested in wild horse viewing, check out these organized eco-tour adventures, where you can view wild horses and ponies from the comfort of a vehicle or the back of a galloping horse.
1. Black Hills Wild Horse Sanctuary- Hot Springs, South Dakota
Started in 1988 and now home to over 600 wild mustangs, the Black Hills Wild Horse Sanctuary in South Dakota invites travelers to experience the majesty of the mustang on a variety of guided tours amid typical Western American scenery. Hop in a 4WD vehicle or take a bus tour to view wild mustangs grazing amid spectacular canyons, miles of the Cheyenne River and 11,000 acres of pristine prairies. Guests who make a larger donation can even get the chance to help out the wranglers and learn the details of running a horse sanctuary.

How you can go: For those who want a multi-day horse sanctuary adventure, affordable accommodations are located 15 miles down the road in Hot Springs or there's a cabin for rent at the Black Hills Wild Horse Sanctuary. The cabin features a queen size bedroom, kitchen (no oven), sitting area and bathroom with shower and runs $150 per night plus tax. This horse sanctuary is located 65 miles south of Rapid City Regional Airport.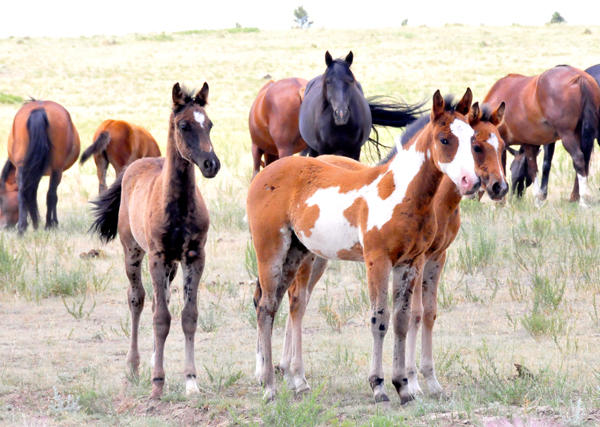 The Black Hills Wild Horse Sanctuary is home to hundreds of wild horses, including various Spanish and Paint breeds. Photo credit: Karla R. LaRive, July 2013
Learn about the Black Hills Wild Horse Sanctuary and its founder, naturalist and rancher Dayton O. Hyde, in this video.
2. Spotted Fever Ranch- San Acacio, Colorado
Located in southern Colorado, this unique ranch invites a small number of guests to enjoy ranching life and view wild mustangs amid 60,000 acres of plains and mesas in the San Luis Valley. Ride wide open spaces and along the Rio Grande on pretty Paint horses from the ranch or bring your own horse to ride. The land where these mustangs roam is part of the original Spanish Land Grants, meaning these mustangs are not subject to BLM round-ups. Spotted Fever Ranch has a breeding herd of purebred Texas Longhorn cattle and practices intense pasture rotation, allowing travelers to help out on authentic cattle drives and with other ranch work, if desired.

Rick and Pat Binger, the owners of this working horse and cattle ranch, take only a few guests at a time-- ranging from two to six-- to stay with them in their family home. Once you make a reservation, you or your group will not be paired with other travelers.

How you can go: Travelers must book a minimum of two nights. Current rates of $200 per night include room and board with private bathrooms, breakfast, lunch on the trail, dinner and up to 6 or 7 hours of mustang viewing, depending upon guests riding experiences and desires, and up to 2 or 3 hours of cattle work. The ranch is located approximately 50 miles from Alamosa Airport, 140 miles from Santa Fe's airport and 160 miles from Colorado Springs' airport.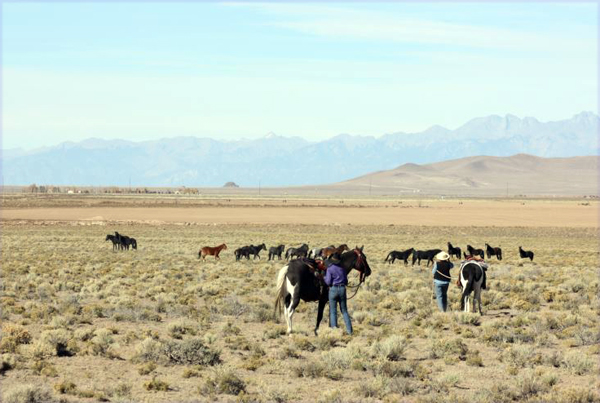 Mustangs roam on open rangeland bordering the Rio Grande River at Spotted Horse Ranch. On an average day out, guests may spot 5-30 bands of 3-8 family members each.
A short video on why the Bingers' created Spotted Fever Horse Ranch.
3. Corolla Wild Horse Tours- Corolla, North Carolina
For 500 years, wild Spanish mustangs, whose lineage dates back to 16th century Spanish horses brought to North America, have roamed the beaches and dunes of North Carolina's Outer Banks. In modern times, these horse bands have been at the center of controversy. Their place in the wild hasn't meshed with rapid area development and the large number of tourists who descend upon this beach destination in the summer. Many wild horse advocates and the Corolla Wild Horse Fund are working to keep the small number in the Corolla herd genetically diverse and free to reside on the more than 7,500 acres of land that stretches from the end of Highway 12 in Corolla to the Virginia border, 11 miles north. Named the official horse of North Carolina in 2010, these wild mustangs can be found along beaches, marshes, grasslands and forests, including the Currituck National Wildlife Refuge.
How you can go: Travelers can head out with Wild Horse Adventure Tours. Wild Horse Adventure Tours uses open top jeeps or 13 passenger 4X4 air-conditioned coaches. They also rent jeeps, so you can head out on your own. Two-hour guided tours are $49 for adults from May 21 - September 30 and $44 from October 1 - May 20.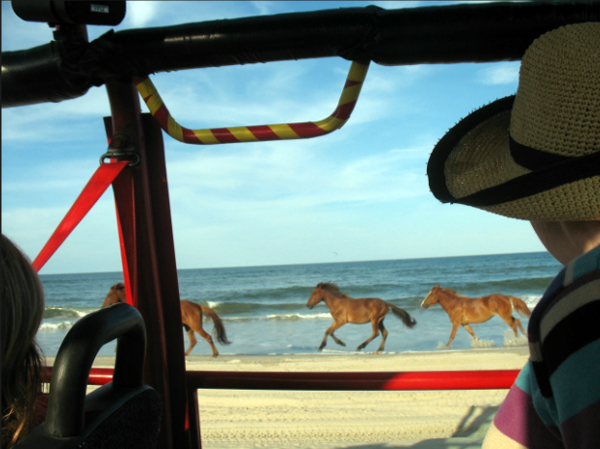 Travelers spot horses along the beaches of Corolla with Wild Horse Adventure Tours.
4. Red Canyon Wild Mustang Tours- Cody, Wyoming
I was able to take and film this special tour for Equitrekking and was happy to hear that Ken Martin, who has more than a decade of experience observing these wild horses and took me out, still leads tours. Travelers are driven about 22 miles from Cody to the McCullough Peaks Wild Horse Management Area, which encompasses over 100,000 acres of colorful badlands, desert mountains, cliffs and canyons and is managed by the BLM.
The McCullough Peaks horses are well known for their good conditioning and beauty. Their variety of coat colors include sorrel, buckskin, palomino and strawberry roan. These horses are striking, especially amid the rugged surrounding badlands. This tour allows for great photo opportunities and in depth information on wild horses. You may also spot other wildlife, including golden eagles and black-tailed prairie dogs.
How you can go: These 2 to 2 1/2 hour van and bus tours leave from Cody twice a day and cost $33 for adults and $31 for children. Group discounts are available.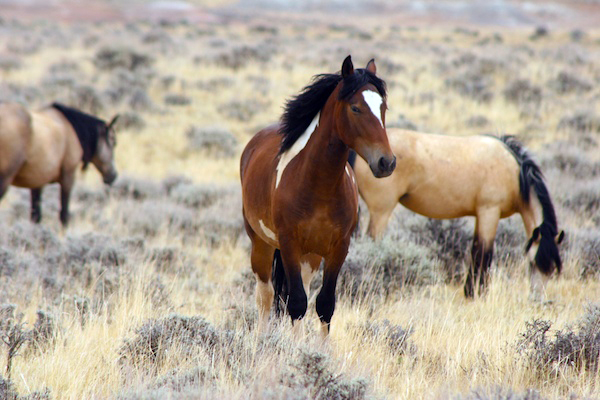 There are a variety of stories surrounding the iconic wild horses of McCullough Peaks, including that they are descendants of horses used in Buffalo Bill Cody's Wild West Shows.
5. New Mexico Horse Adventures- Albuquerque, New Mexico
Though based in Albuquerque, Steve Simmons, a horseman and photographer himself, leads travelers on adventures to see wild horses just outside of Albuquerque and beyond. These horse tours take travelers on public land, as well as to exclusive private ranches and sanctuaries. Travelers can ride in a vehicle or saddle up to view wild horses from on horseback. New Mexico Horse Adventures trips include instruction on how to safely track and photograph wild horses.

How you can go: Tours are customized for individuals and groups, so rates vary. Contact New Mexico Horse Adventures for more information. Mention Equitrekking and receive a special discount.
View descendants of the Spanish Barbs and other mixed groups of wild horses at several places around the state.
6. Blue Sky Sage Horseback Adventures- Big Piney, Wyoming
Another great trip for adventurers who want to horseback ride to see wild horses is with Blue Sky Sage in Wyoming. Longtime outfitter Bobbi Wade leads travelers out to track and observe wild mustangs amid the sagebrush and rolling hills of the Great Divide Basin. Take in views of the glacier-covered Temple Peak and Roaring Fork mountain, as you walk, trot and canter America's wide-open spaces to see bands of mustangs. Being an experienced equestrian is a must for this trip, as you'll cover long distances at a variety of paces.

How you can go: Blue Sky Sage generally runs a few wild horse-viewing trips each season. Guests camp out in canvas tipi tents with sleeping bags on comfy mattresses, while searching for wild horses. Two trips have already been scheduled for 2014; July 3-9 and July 13-19 for $2500 per person.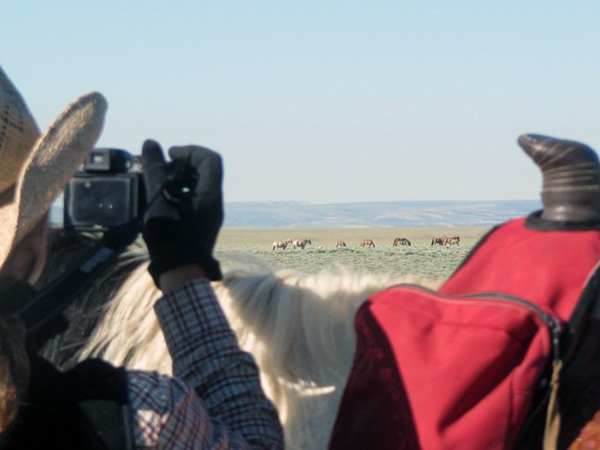 A Blue Sky Sage traveler photographing mustangs in Wyoming. These trips are led by a husband and wife team who were born and raised in Wyoming and have lived and worked their lifetime with horses.
Learn more about great horseback riding tours and holidays and search for your next trip in the Equitrekking Vacation Guide.
* rates were correct at the time of this article's publication. please contact each tour operator to confirm rates and to make your booking.