Western Lifestyle Photo Journey with Nadine Levin
Photographer Nadine Levin shares some of her favorite Western Lifestyle and horse photos from her North American travels.
by Nadine Levin
When people look at my photography, they automatically assume I must be from the West, when actually, I'm East Coast born and raised, and live a very Western lifestyle with my husband in suburban Maryland. I grew up riding English, but I was always a cowgirl at heart, watching Bonanza as a little girl, instead of playing with Barbie dolls. My passion for the richness of the West and the magnificence of horses is inherent in my soul.

I've been lucky to have traveled around the world, photographing exotic wildlife, landscapes and seascapes; but my heart still goes back to the world of horses and cowboys, the environment that surrounds them and the world that exists because of them. It's a simple, ordinary world where man, nature and beast live and work together, not always harmoniously, but together nonetheless, and the vision and the power they evoke is extraordinary.
That extraordinary feeling is what I try to capture through my photography. I travel to the West frequently to capture those images, and many of my Western photographs are taken from horseback. All of my photographs are very real, no tricks, no special effects. What I saw through my lens is exactly what you see in my pictures.

It's not often that a person is able to take their passion and their vision and turn it into a profession, and I feel like the luckiest person in the world to have been able to do so. It's my privilege to capture and share the wonder and beauty that I see existing in the most ordinary of things. Whether it's taking dramatic photos in black and white, vibrant images in color or infrared photos that flip nature on its head, I love what I'm doing and I smile the entire time just knowing that I have captured a simple moment in history and can save it for all time.
Bison at the Barn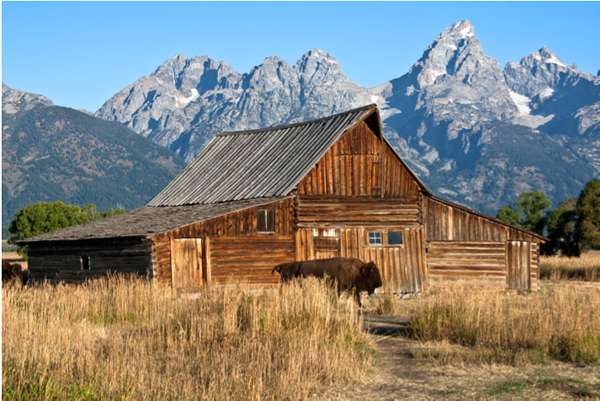 This is one of my all time favorite shots. I was in Jackson Hole and had been out shooting this barn the day before. I went back to "Mormon Row" where the barn is located the next morning, to get some additional shots and just when I was about to leave, this majestic creature crossed in front of the barn. He was followed by three of his friends, but this is the ultimate barn shot.

Perfectly Posed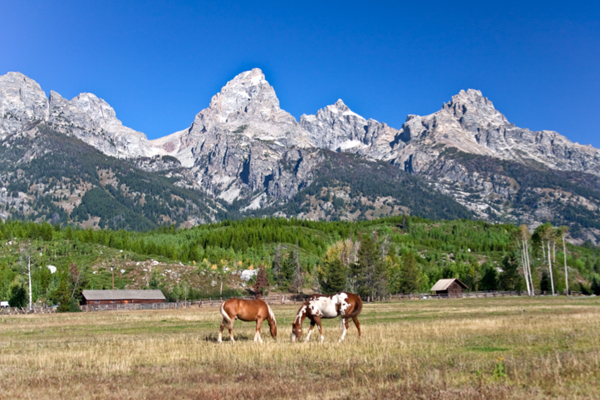 Also in Jackson Hole, I was photographing several horses on a farm with the Tetons in the background. As I stood there watching the horses and marveling at the beauty of the mountains, these two wandered away from the rest and set themselves up perfectly for me.

Bat Wings
I have some friends that are ranchers in Rocky Ford, Colorado–– Jack and Sylvia. They put up with me coming out to visit and photographing them while they work. The next few pictures are all taken in Colorado and are of them and some other friends of theirs who invited me to a branding. This one is Jack working a young horse in the pen.

Reflection
The first chore of the day is to get the cattle fed. I love this picture of Jack standing on the empty bed with his pitchfork, just looking out over the land and the cattle. Americana at it's best.

Day is Done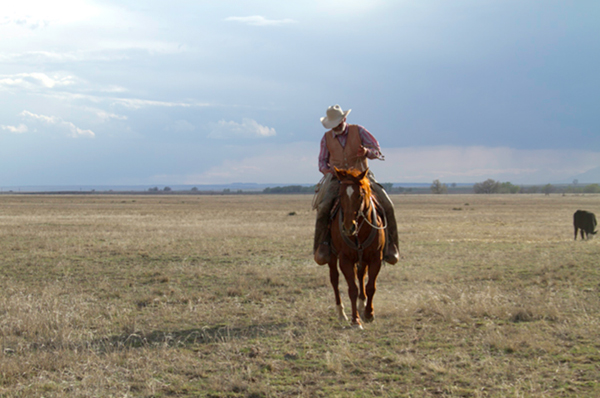 I had been out riding with Jack to check and doctor the cattle. It was getting late in the day and it was time to head home.

Out with Mom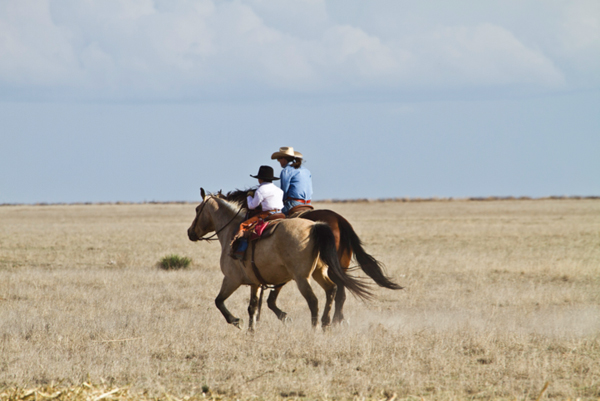 Bonnie and her son Regan are Jack and Sylvia's daughter and grandson. When ranching is in your blood, this is how you spend family time.


Through the Middle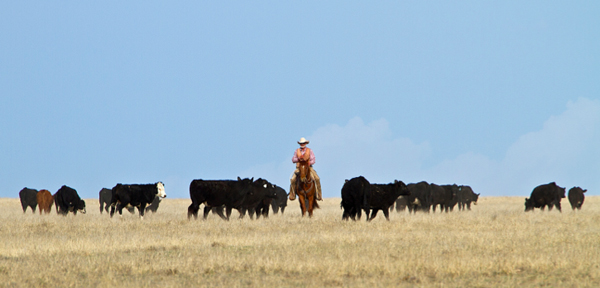 When cattle are all around you, there's only one way to go!

Heading Out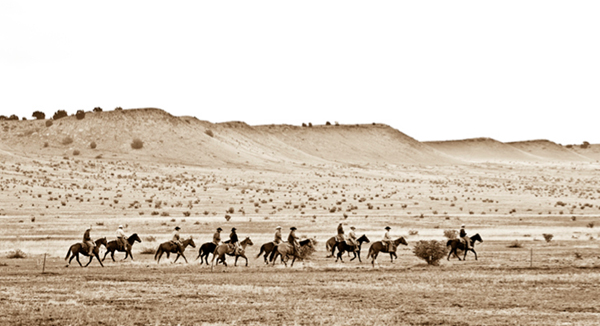 These cowboys and cowgirls were heading out to gather the cattle to drive them in for branding. The Welch family was kind enough to invite me, through Jack and Sylvia, to photograph their branding. I love the feel of this image in sepia. It could be any time in the last 100 years.

Morning Drive
My husband Alan and I had gone to Lost Valley Ranch in Colorado to meet some friends and spend a week riding in the mountains. We took a day and went down with our friends to visit Jack and Sylvia. There were some folks that needed some extra hands to round up and separate some pairs, so we went to work, and I got some great shots too!

Blizzard Ride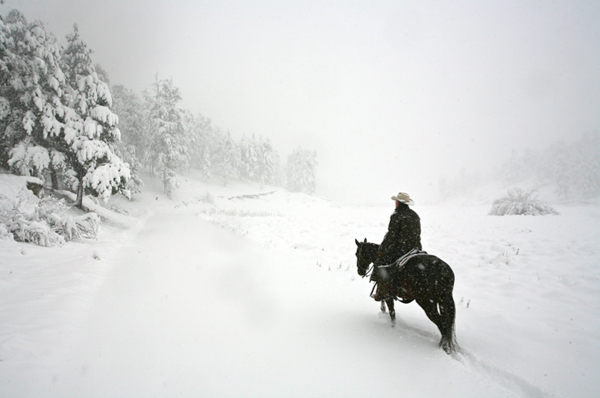 The weather changes so quickly in Colorado. The day after we were rounding up the pairs, a blizzard hit! We were riding and freezing, and riding some more so that I could get some beautiful snow shots.

Taking it all In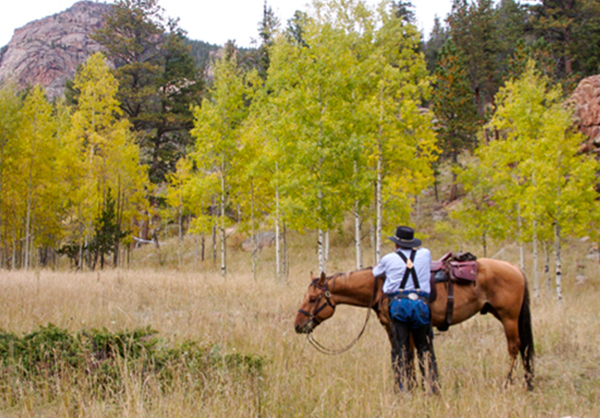 On another trip to Lost Valley, we rode up to Hankins Pass to have lunch. Before we headed back, I took this photograph of Andy getting his last look at the beauty of the Aspen trees and the mountains.

Red Cup
In 2008, I took this photograph at Price Canyon Ranch in southern Arizona. It wasn't set up. One of the cowboys just happened to leave the cup sitting on the windowsill. It was a perfect shot. Toby Keith wrote his Red Solo Cup song in 2011. Maybe he saw it too!

Out for the Evening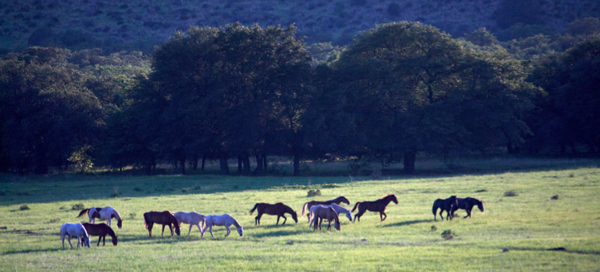 The light in the evening was so beautiful as the horses were turned out for the night at Price Canyon. I shot this from a bluff overlooking the meadow.

Flying High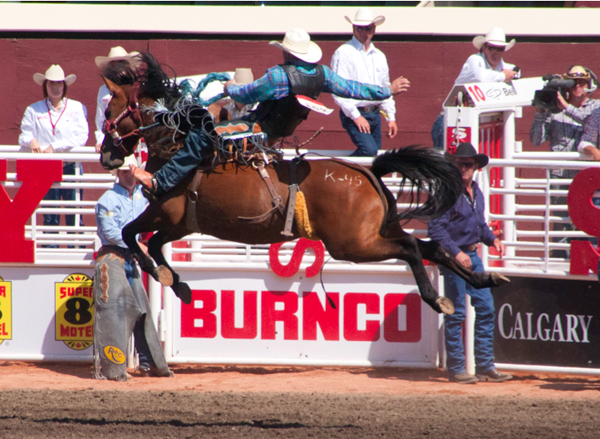 Calgary Stampede is such a great time. It's an amazing rodeo, and I never knew that horses could fly! I had some pictures in their Western Photo Gallery, so it was a great excuse to go to Stampede.

Meeting in God's Country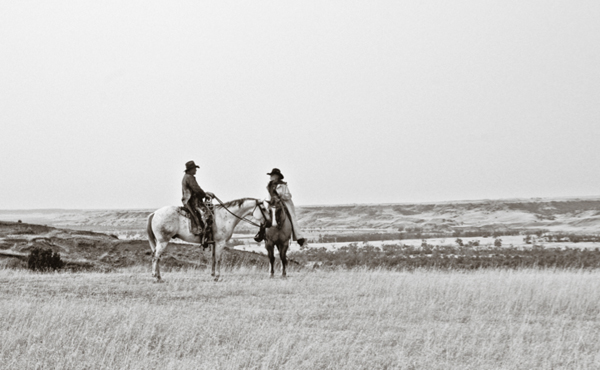 South Dakota has its own kind of beauty. I was lucky enough to be at the Artists Ride photo shoot in 2007, and photographed these two cowboys as they stopped to take a rest and shoot the breeze.

Family Resemblance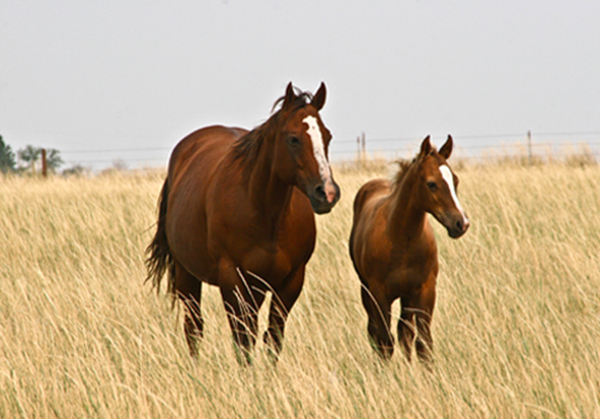 Driving down the road in South Dakota there was a field with mares and foals. It's hard to miss the resemblance between these two!

Corn's Growin'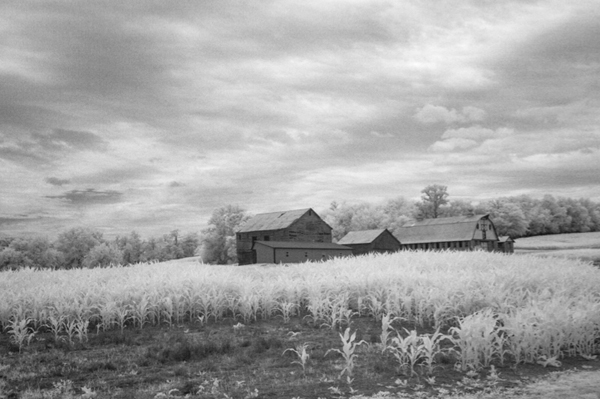 This is an infrared shot of a farm near where I live. You can see how the infrared makes the corn stalks and trees that would normally be dark in a regular black and white image, appear white. Green is reflected by an infrared filter, which is what makes it appear light instead of dark.

Rompin'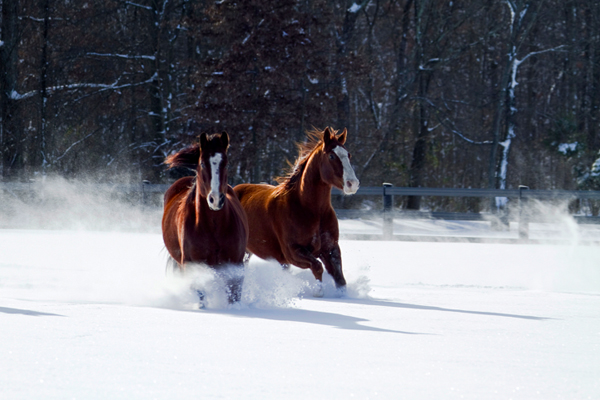 This picture and the next one are two that I have hanging in my studio because I never tire of looking at them. This is two of our own horses, Cody and Bug, running in fresh snow. I love the crispness of this image and the detail in the snow spray.

3 Down, 1 Up
I recently did a show in Arizona and had this picture hanging. Hundreds of people stopped in their tracks and were transfixed by this image. The contrast of the horses and the snow, and the detail of the snow on the branches displays nature at her finest. This scene is one that I am fortunate enough to see out my own window in the winter.
About the Author: Nadine Levin is a professional photographer with more than twenty years of experience. She has dedicated her career to photographing the most breathtaking images of the natural world – landscapes, seascapes, wildlife, and animal portraits. She is most renowned for her renderings of the Old West and offers a unique perspective by photographing on horseback. The majority of her work is produced in limited edition Giclee prints. This gives her images a three-dimensional aspect that attracts galleries and hotels throughout United States to showcase her exclusive photographs. Learn more about Nadine and her work at www.nadinelevinphotography.com