Western Horsemanship and Riding Clinics
Looking to expand your western riding skills and natural horsemanship knowledge? Here's a look at three educational opportunities for riders who want to try something new and improve their riding.
by Jocelyn Pierce


Riders of all levels can benefit from additional training and instruction to improve riding technique. Whether you're a developed western rider determined to hone in on specialized skills, an English rider wanting to try to a new discipline, or a beginner, there are countless educational programs available. We look at Vista Verde Guest Ranch, The Home Ranch, and Horse Show by Appointment--all fun, comprehensive, and quality programs suitable for any rider.
Vista Verde Guest Ranch
Vista Verde Ranch Guest Ranch offers clinics and horseback riding daily and also hosts an annual Horsemanship Retreat. Located in Steamboat Springs, Colorado, Vista Verde's riding program is a well-rounded educational experience that will leave guests with expanded horsemanship knowledge. Guests can expect to learn from instruction, horsemanship clinics, and may even be able take part in starting and training young horses.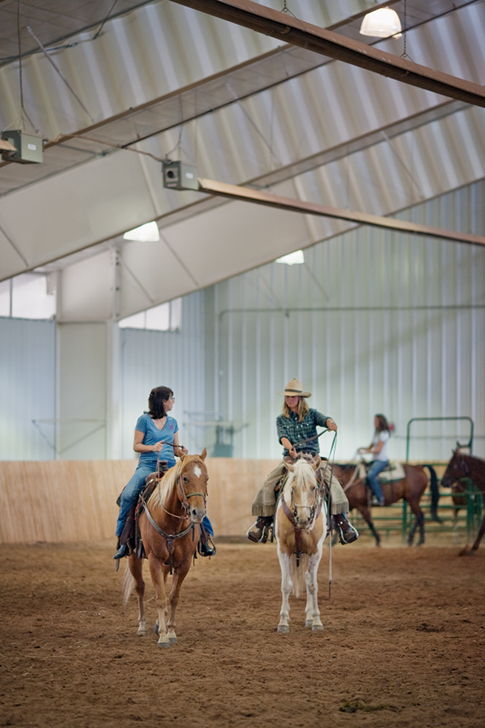 Vista Verde Ranch offers an annual four-night Horsemanship Retreat, where guests can focus on their riding with a retreat-like feel after a day in the saddle.
"We take a lot of time really teaching our guests how to ride and it starts the first morning at orientation, which is almost like a mini clinic," said Stephanie Wilson, Director of Hospitality at Vista Verde. "In the orientation, we explain how to read the horse, speak horse, and how to clearly communicate to the horse."

Clinics are offered throughout the week and range from basic horsemanship for novices to focused cattle work for more advanced riders. For the novice, Vista Verde instructors teach the fundamentals. Riders learn about body position and how the body and hands affect the response of the horse.

As guests build on this foundation, they can learn how to work cows and practice more difficult movements.

"Our philosophy and how we approach our riding program is that if we can teach our guests to truly ride and communicate with our horses really well, consistently and clearly, our horses will be better," said Wilson. "If you have better horses, the guests will have a better riding experience."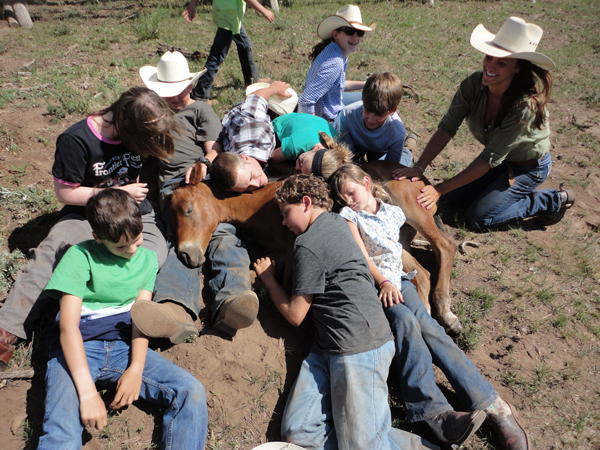 Vista Verde takes great pride in their herd of horses and has their own breeding program, enabling guests to learn about working with horses in various stages of training.
Vista Verde takes pride in their herd of horses and even has their own breeding program to ensure quality horses for guests. Guests can have a firsthand look at horse training in various stages. Typically, four to eight foals are born every year, and Vista Verde offers a foal training clinic, popular among guests. Guests are able to observe and help with halter breaking, and can play with the foals. Similarly, guests can watch demonstrations on the process of training or starting a young horse in the colt clinic, and some may be able to participate.

Return guests might end up riding a horse they handled in a colt starting clinic years before, making it a really fun and unique experience.

"Everything we are doing, we do to have fun, but we are also focused on an educational aspect," said Wilson.

Vista Verde also hosts a four-night Horsemanship Retreat. Held once a year, at the end of the winter season, this specialized retreat is for those seeking a getaway with an educational focus and lots of riding. With no set agenda, individuals are able to work on specific goals. The retreat is geared towards novice level riders looking for a little more depth than a typical clinic can offer.
The Home Ranch
The Home Ranch, located in Clark, Colorado, is a Relais & Chateaux dude ranch, offering a variety of lessons, retreats, and vacations. The Home Ranch focuses on natural horsemanship based training and providing guests with quality horses. Experienced wranglers teach guests the importance of horsemanship and communicating clearly to the horses.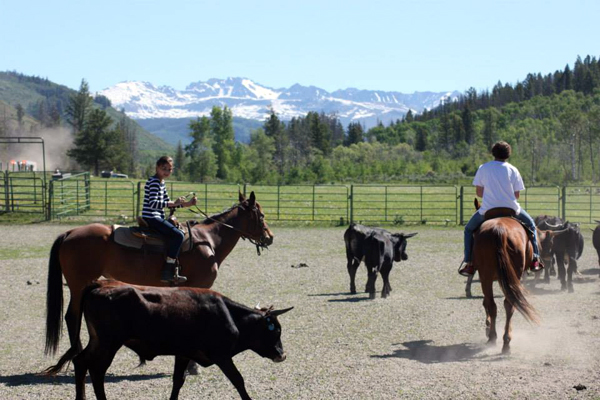 The Home Ranch offers a wide range of educational riding programs including horsemanship, colt-starting demonstrations, working cattle, and roping.
In addition to access to a million acres of trail riding in the Routt National Forest, guests have a wide range of educational riding programs including horsemanship, colt starting demonstrations, working cattle, and roping. The weeks are varied and programs are flexible based on what guests like to do.
"Some guests want to get out and ride and enjoy the beautiful scenery, others want to learn as much natural horsemanship as possible, and others want to learn to work cattle and do some barrel racing," said Selina from The Home Ranch. "The sky is the limit, as long as it is safe."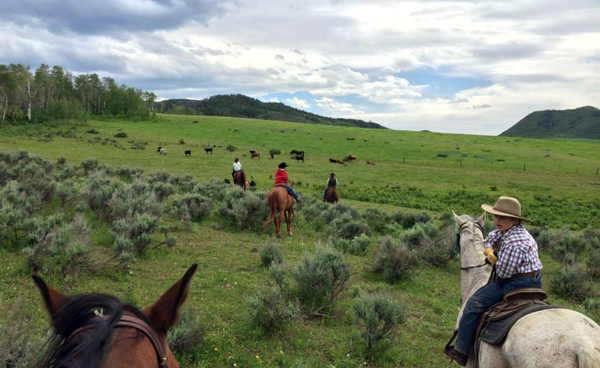 The Home Ranch has a junior wrangler program for kids wanting to learn more about riding and horsemanship.
The weekly Cattle Competition is a Home Ranch tradition similar to team penning. Called Home Ranch Stockmanship, the team at The Home Ranch works to move cattle efficiently through effectively communicating with the horse.
"What guests learn depends on what their riding experience is when they arrive," said Selina. "For a novice they can expect to learn the basic fundamentals of horseback riding. For the advanced riders, we hope to have them depart with deeper sense of being and connection with the horse."
In addition to the many clinics and natural horsemanship workshops, The Home Ranch also offers a six night Yoga and Horse Retreat for Women. This yoga horseback retreat developed by cowgirl Tammy Pate and equestrian yoga instructor Janice Baxter, concentrates on combining yoga principles with horsemanship to better understand the human-horse connection.
Horse Show By Appointment
For a custom learning experience, Horse Show By Appointment (SBA) and Steed Training offer the HSBA Reined Cow Horse Experience. Just a short drive from the popular equestrian community of Wellington, Florida, riders of all levels and disciplines are welcome.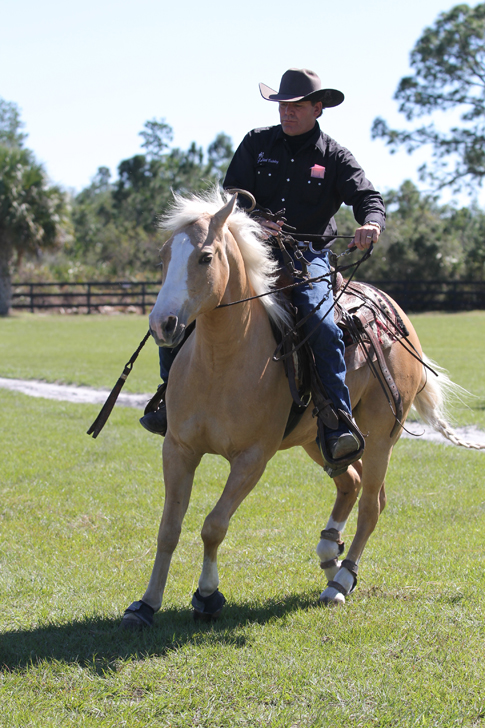 Participants receive instruction from clinicians with world and national championships and ride horses with numerous championship titles. Photo by Mary Adelaide Brakenridge/Phelps Media Group.
Guests can build their own learning experience, opting for a one day or multi-day clinic at Bynum Farms in Indiantown, Florida. HSBA can also bring their show horses to a facility near you for added convenience.
Participants receive instruction from Rick Steed, winner of numerous world and national championships, and Trevor Steed, also a world champion. Rick Steed believes in simplifying horsemanship and putting the horse first, all the while having fun and setting riders and horses up for success.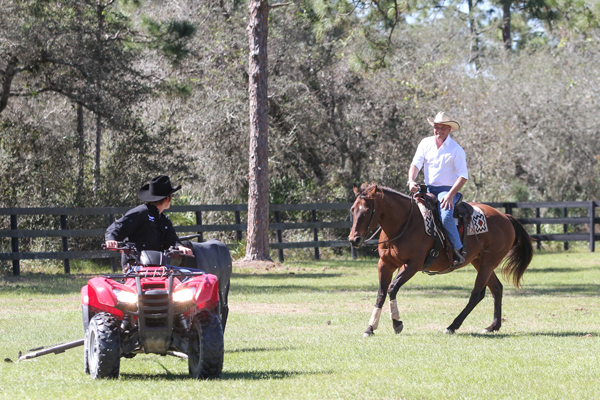 Participants first work with a mechanical cow in order to better understand the finer points of working cattle. Photo by Mary Adelaide Brakenridge/Phelps Media Group.
The horses provided for the clinic are well schooled, and many have numerous championship titles, making them the best mounts to show riders the ropes.
"We're really excited to be able to share this experience and learning opportunity with riders of all abilities," said Rick Steed.

Focused on progressing to working with cattle, HSBA and the Steed Training team first explain the basics of riding a cow horse and then work with a mechanical cow to help riders better understand the finer points of working cattle.

Participants then perfect their reining pattern with one-on-one instruction and demonstrations from Rick Steed. The pattern helps riders to focus on precision, quality of the gaits, and of course the infamous sliding stops and spins, all tools for the cow work to come.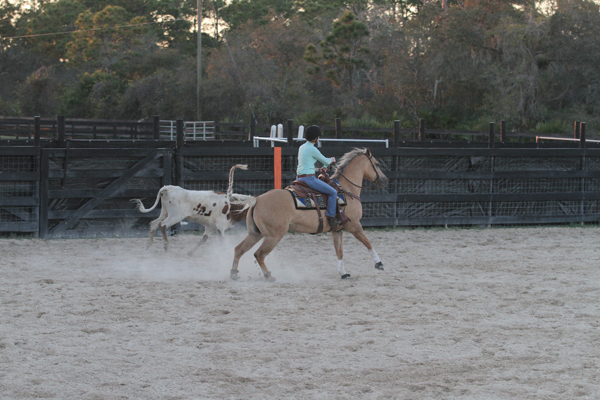 HSBA and Steed Training welcome all levels of riders and disciplines and will work with you to custom build your clinic. Photo by Mary Adelaide Brakenridge/Phelps Media Group.
After lunch, instructors further prep participants for cattle work, by teaching the basics of staying with the cow and turning with the cow, while explaining how the horses are trained to do their job. Finally, riders are brought into the ring with a live cow, where the day's preparations and newfound skills are put to the test.
Email HSBA to find out more about the Reined Cow Horse Experience.

About the Author: Jocelyn Pierce is an avid equestrian and lover of travel and photography. Her passion for adventure has led her on numerous excursions throughout North America and Europe. When she's not riding and competing her homebred mare, she enjoys hiking, camping, and snapping photographs.