Washington, DC Tribute to The American Mustang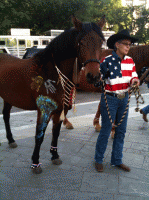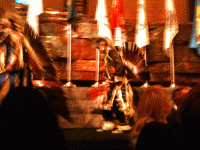 Last night I attended a dinner at the Smithsonian's National Museum of the American Indian to honor and support American Mustangs, A Tribute to The Native American and The Horse Nation. The event was organized by Madeleine Pickens, as a part of her quest to raise awareness of Wild Mustangs and support her foundation for the preservation of America's Mustangs, savingamericasmustangs.org.
Wild Mustangs stood outside of the museum with their handlers dressed in red, white and blue. I was impressed at how patiently the Mustangs stood to meet guests, who were excited to get up close to these beautiful horses. Earlier in the day, the Mustangs were on the National Mall for members of the public to meet.
At the event at the museum, prominent Native American tribal leaders, many of Washington's elite, and of course the Mustangs turned up for the dinner, where fifth season American Idol Katharine McPhee sang along opera singer Josh Page and GRAMMY nominee and eight-time Native American Music Awards winner, Jana Mashonee. After a great dinner and dessert, I was excited to see that our gift bags included two Georgetown cupcakes! It was quite the event in support of America's Mustangs.
Learn more about Equitrekking's Emmy winning PBS TV show and equestrian vacations at Equitrekking.com and EquitrekkingTravel.com and watch wild mustangs in Equitrekking's first season on DVD in Equitrekking Wyoming.