Washington Bridle Trails Association Horse Show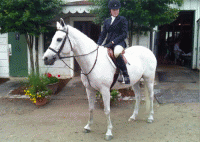 I just returned from the Washington Bridle Trails Association (WBTA) Horse Show at historic Meadowbrook Stables, where hunters and jumpers have been competing since yesterday. I was out to support friends who compete and Meadowbrook's horses. As a Meadowbrook rider, I get to ride many well trained mounts during my lessons, including wonderful Dirk, a Thoroughbred whose stall was fully adorned with colorful ribbons. I was not surprised.
Meadowbrook Stables has been around since 1934 and was originally established by the Meadowbrook Saddle Club to "encourage Olympic Type Equestrian Events and to make open country riding possible for city residents." It still serves that purpose today, allowing Washington urbanites like me to ride close to home.

Alexis Mozeleski, a young rider who recently reported on her experience competing in the IEA Nationals in Atlanta for Equitrekking.com, competed in several classes. We'll have more from Alexis in the coming weeks as she competes in the Upperville Horse Show, where you can meet me and the Equitrekking team. We'll have a booth for Equitrekking and Equitrekking Travel on Saturday, June 12th, so please stop by and see us in Upperville, Virginia!