Volunteer Opportunities with Horses
"Your life and mine should be valued not by what we take...but by what we give."
-Edgar Allen, Founder of Easter Seals
By Jill Overacker
Summer is a great time to begin volunteering or to start your search for opportunities this fall. Giving of your time is an excellent way to help out an organization you deem important and is a great alternative if you are unable to give a monetary donation. There are many horse-related places to volunteer, and you may be surprised to discover that opportunities are closer than you think. In the spirit of giving back, getting outdoors and making a difference, we have put together a list to help ignite your volunteering-with-horses appetite. Many of these opportunities do not require you do have previous horse experience. They only ask for a willing and positive attitude. The rest, they say, can be taught.
Frank Campbell, the Region 10, 2009 PATH International Volunteer of the Year helps out at the Colorado Therapeutic Riding Center. Photo by CTRC
PATH International - Helping those with special needs
PATH (Professional Association of Therapeutic Horsemanship) International – formally known as NARHA – offers many volunteering opportunities throughout the United States and abroad. PATH promotes and conducts equine-related activities as therapy for individuals with special needs. Riding helps these individuals gain strength, freedom and confidence. Volunteers are needed to lead horses, spot riders, help prepare for lessons and whatever else an individual center may require. According to the PATH website, there are more than 800 participating centers and more than 42,000 riders globally. PATH relies on some 30,000 volunteers each year to make the program successful. You can find a PATH participating center near you by visiting the PATH International website.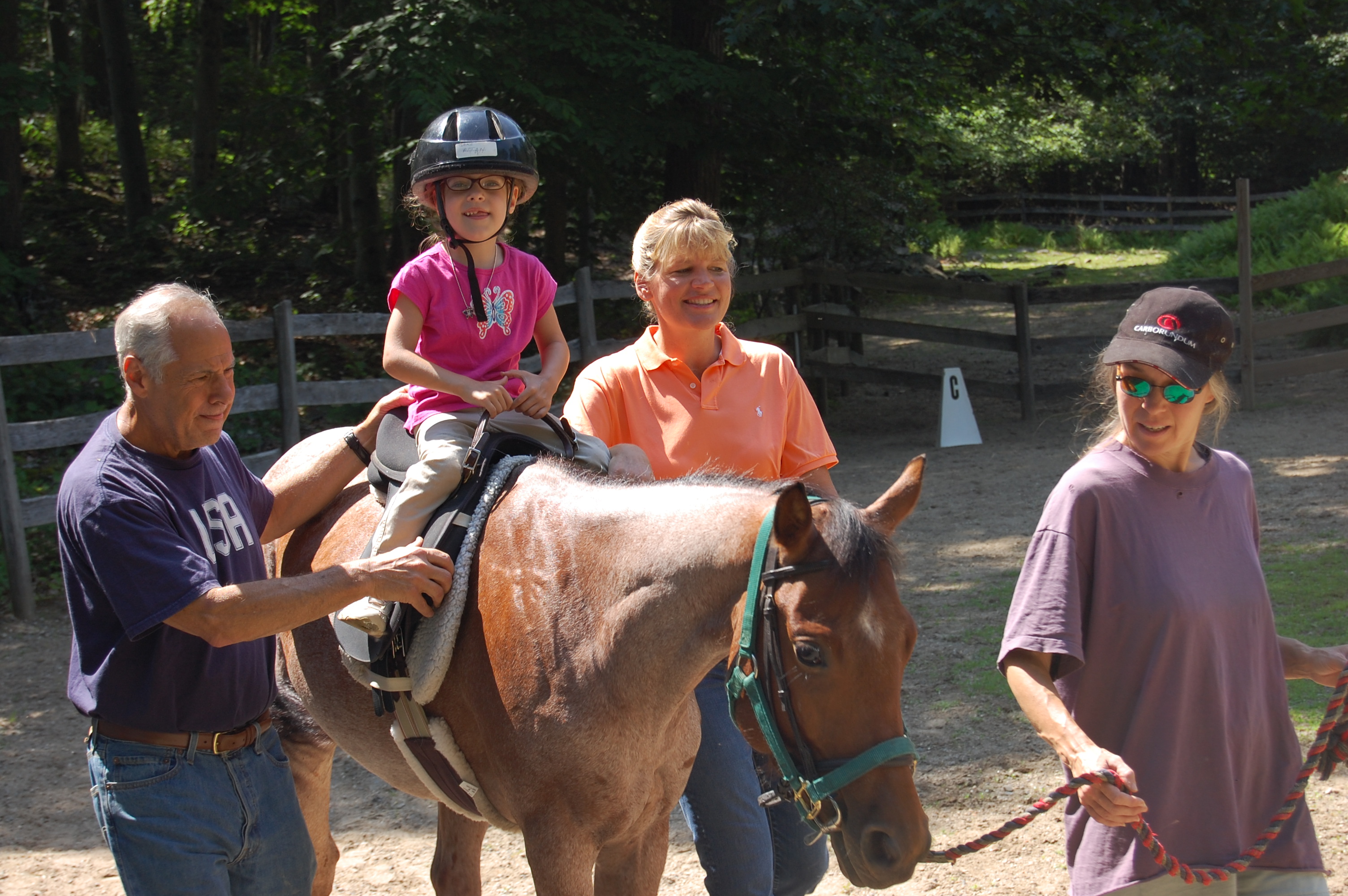 Grace MaacKessy learns about balance and independence as she rides her lesson horse, Lucy at a PATH International center. Volunteers Jeffery Prager, Jill Pustola and Julie Kemp (left to right) help ensure Grace's safety. Photo by Jennifer Meineke.
Helping at Local Horse Rescues
Looking for something a little different? Horse rescues are always in need of help. With the large amount of neglected, abused and unwanted horses, combined with upkeep costs of each horse, the needs of these organizations are always great. Donating your time, whether it is a small amount each week or a large chunk once in a while, will be much appreciated. I found the Find a Rescue page on Horse-Welfare.org to be a good resource in locating local rescues. However, as many rescues are now online, doing a basic search on any search engine may give you just as accurate results.
Kadillac, a rescue at Days End Horse Farm in Lisbon, Maryland shows off his now healthy body after receiving love and care from Days End's dedicated volunteers. Photo by Days End Horse Farm.
CANTER - Giving ex-racehorses a new life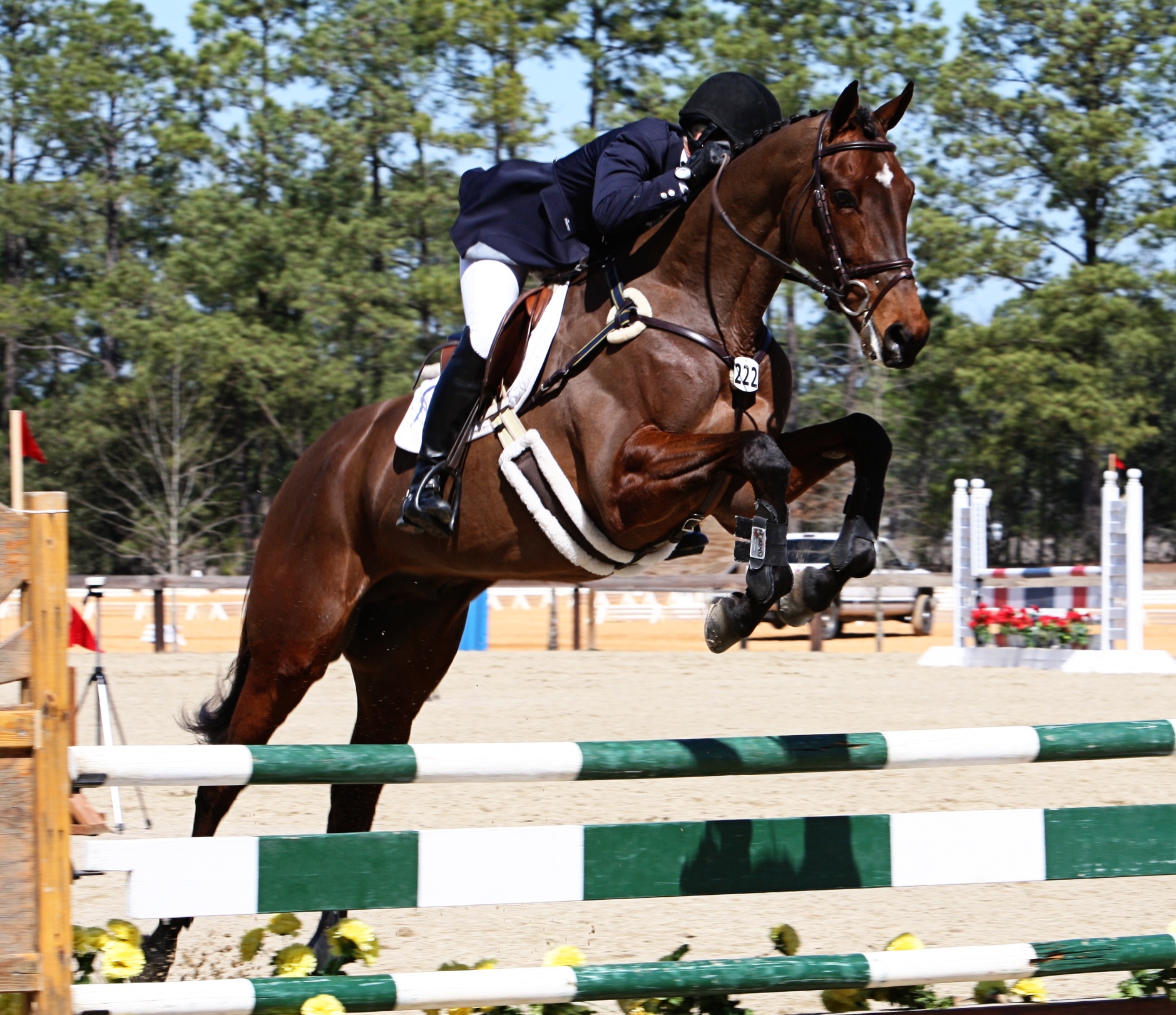 Palmer is just one of the many ex-racehorses who, through the CANTER program, are able to find new careers and homes.
CANTER (Communication Alliance to Network Thoroughbred Ex-Racehorses) is an organization that rehabilitates and retrains ex-racehorses in an effort to help Thoroughbreds find new careers outside of the racetrack. They work to connect buyers and sellers online and have a program that allows track owners to relinquish horses, typically because of soundness issues, to CANTER. CANTER then works with veterinary programs to provide the needed medical attention to these horses. The organization relies 100% on volunteers for all of their needs and, thanks to the hard work of volunteers, more than 15,000 Thoroughbreds have been placed into new homes since CANTER's inception in 1997. Volunteers are relied upon for everything from marketing and fundraising to walking the backside and speaking with trainers to actually fostering ex-racehorses at their homes. Find out how you can become a CANTER volunteer.
Ron Gardner and Sue Pelto of West Wind Equestrian Center in New Hudson, MI stand with Dakota, one of the many CANTER horses they help retrain for a new career and a new home. Photo by West Wind Equestrian Center.
Other volunteer options exist in great quantities; they just need to be discovered. VolunteerMatch.org is another great resource that allows you to search for volunteer opportunities based on your interests. We encourage you to share your volunteering experiences with others by commenting below. Let us and others know how you discovered an opportunity and let others know what it means to you to volunteer with horses!
Share with us your horse volunteer experiences on Facebook and Twitter, we love hearing from you!