Horseback Riding in France - Visiting Mont St. Michel - Part 4
Caroline and Alexis Visit Normandy's Mont St. Michel For Dinner and High Tide
by Caroline Maffry
Visiting Mont St. Michel
In order to witness the highest tide of the year come in around the Mont that evening, our hosts, the Jouvins, insisted that we stay an extra night, allowing us to the opportunity to experience this rare tide, and also enjoy dinner together in Mont St. Michel.
We freshened up from our six hours in the saddle and set off with Jean-Pierre, Annette, and Catherine for Mont St. Michel.


About a half hour drive from Avranches, Mont St. Michel is recognized as a UNESCO site. Its first inhabitants date back to the 6th Century A.D. Today only 50 residents remain but it is visited by over 3 million people annually.
As we got closer to the sight of the Abby jutting out of the sea, we drove towards the most beautiful sunset I have ever seen. Since we were driving, a photo was not possible to add here and show you. In some ways though, a photo would not have done it justice and so I will leave it to you to imagine and hopefully one day witness yourself.
The small town streets were lined with cars and people waiting to see the rare level of high water when it peaked. We continued towards the Mont and arrived at the jetty. We were early enough to still find a place to park. We marveled at the sight of Mont St. Michel in front of us, now adorned with lights, as the sunset was barely visible below the horizon.
We waited for the water to reach its peak and then climbed several sets of stairs, taking us to the Abbey walls. Catherine pointed out in the distance where we had ridden earlier that day and showed us where we would have crossed the bay if it had been possible.
Having been to Mont St. Michel twice before, we did not visit the Abby atop this massive rock this time, but it is a must on your first visit as the views stretch for miles. I must confess that I was quite happy that I had visited the Abby before because after 6 hours in the saddle, the 400 some odd steps to reach the top were maybe more than my legs could take in one day!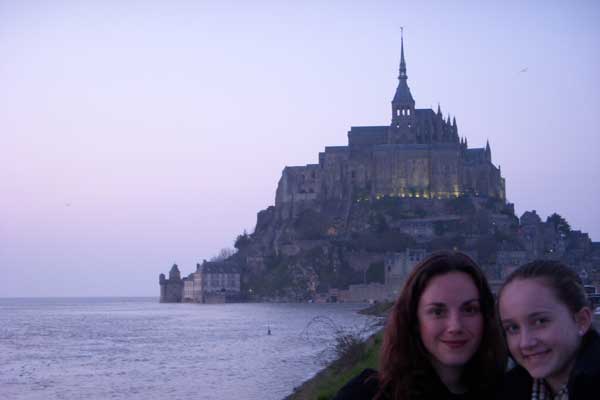 With the vigorous ride we had earlier, even my 13-year-old daughter was happy to not have 400 steps to climb (she had visited Mont St. Michel once before too). She was very pleased when we commenced our descent towards the restaurant.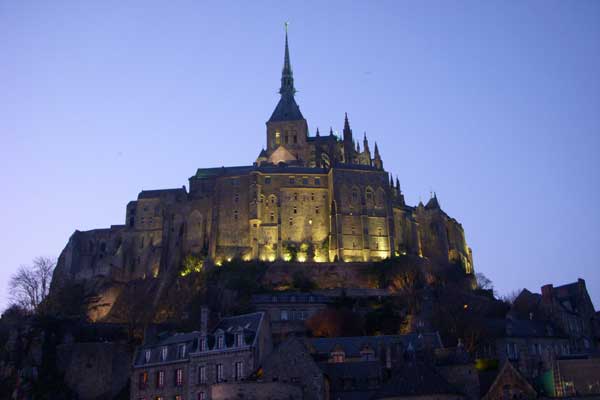 Dinner was at Le Saint-Pierre, a lovely restaurant and hotel where the Jouvins customarily take their riding guests. With Normandy's traditional cider to drink, we dined on an assortment of meats cooked to perfection, including agneau de pré-salé (salt meadow lamb), a local specialty due to the salt marsh diet of the sheep.
Very sleepy and exhausted from the day, we returned to the Chateau and said our good nights as we climbed the stairs to our room for one final night in Normandy.
Read more on Foods of France for more information on the meals eaten on this trip.

For more information on Cheval-Plaisir, visit www.cheval-plaisir.com or contact the Jouvins at info@cheval-plaisir.com, tel number: 02 33 60 52 67
Or start from the begining: