Visiting Hideout Ranch with an Enthusiastic Rider- When You're Not
A mom and her teenage sons travel to Hideout Ranch on the Arizona-New Mexico border for an inspiring spring break ranch vacation.
by Laurie Orth
Spring break planning for myself and my teenage boys involves some deal breakers. We need two clean, comfortable rooms, one for them, and one for me, two bathrooms, and we need daily activities we can enjoy. We need good food that won't cause Montezuma's revenge, and we enjoy a relaxed atmosphere at meal times. Traveling to a location to stay for a while is a plus too. It's much easier than packing up daily and driving a lot. Our spring break trip this year ticked all those boxes and so much more.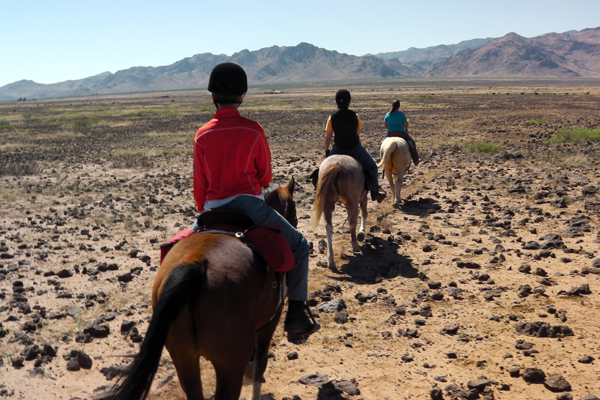 Horseback riding with Hideout Ranch.
For years, I've wanted to visit a working horse and cattle ranch, and this year I was able to do so. After spending a long time looking at websites and reading reviews, I chose Hideout Ranch near Portal, in the far southeastern corner of Arizona. What attracted me was the small number of guests the ranch catered to, the reiterated comments of what a great time guests had, and how welcoming the ranch owners Craig and Tamara Lawson made everyone feel. I was also impressed by the numerous repeat guests.
In April 2014, my boys and I set out from Augusta, Georgia, and flew west to Tucson, Arizona. We drove the very pleasant 2.5 hours to Hideout Ranch. The scenery on the drive out was so beautiful. I thought my 17 year old son Dylan would use up all his camera disc space chronicling every mile of Interstate 10 and Highway 80. We arrived at the ranch as the sun was setting behind the mountains, just in time for dinner.
Craig and Tamara came out to meet us as we parked the car behind The Red Dog Saloon, the ranch's focal point. We met the other two couples who were guests and ate a wonderful dinner of homemade chicken, salad, and dessert. Everyone sat around a comfortable guest ranch table, getting to know each other. As the meal wound down, a few of us helped bring dishes in to the kitchen, and Craig showed us to our cabin for the week.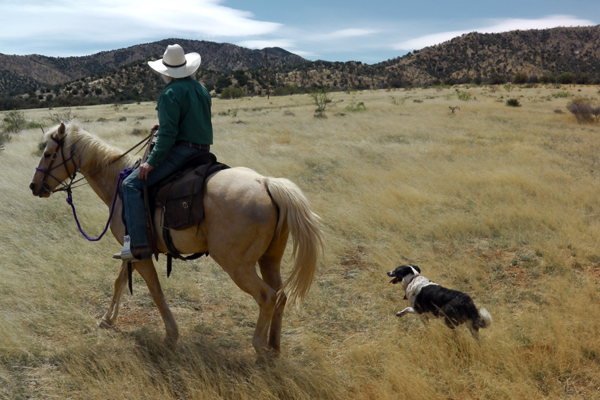 Horseback riding with Hideout Ranch.
We stayed in The Annex, a lovely, well appointed two bed/ two bath cabin, located within sight of The Red Dog, even though it's 4 miles away by dirt roads. It had everything we could have dreamed of, all the comforts of home: a washer/dryer, a full sized kitchen with coffee fixings, a master bed and bath with a huge tub, and a second bed room with two twin beds and bathroom. There was also a futon in the living room.
The Annex is surrounded by lots of trees, and every bird under the sun was there nesting during our stay. Each morning, the serenade started with a lone parrot, followed by a few early rising warblers, then the hoot owl added his plaintive song, until a huge chorus of birds heralded in the rising sun. Each morning, I got the coffee going in time to step out on the porch to listen and watch the humming birds hover for a drink from the feeders.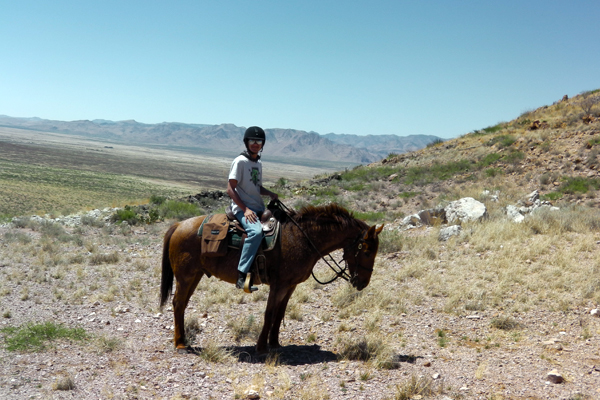 Yaqui and Dylan take in the views. Hideout Ranch boasts mountain and high desert riding trails.
On our first full day, after coffee and chatting with the other guests on the front porch, and a scrumptious breakfast at The Red Dog, we set out to the livery to meet our horses. Craig and Tamara do a great job assessing riders of their previous experience and matching them with appropriate horses. All of their horses are veteran trail horses, sure-footed and safe, ready to escort guests through the amazing landscape. I was given a very sweet roan mare named Cimarron. Emmitt, my 12 year old, was given a 14.3 hh Overo Paint gelding named Washoe, and Dylan was given a red roan gelding named Yaqui.
While the other guests set out on a more advanced ride of their own, Tamara gave each one of us an assessment lesson in the round pen.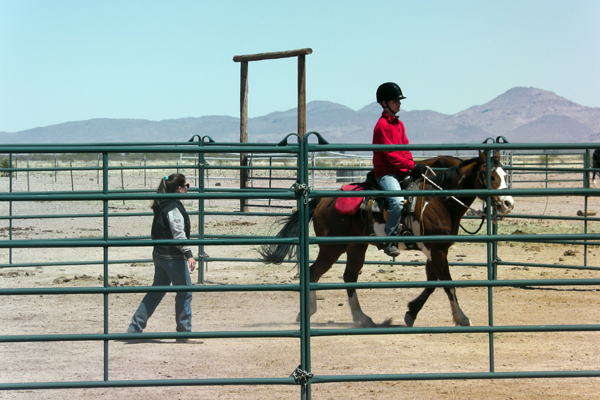 Emmitt in the round pen, riding Washoe, with Tamara.
We come from a hunter/jumper background, so we had a lot more leather to deal with, western reins being what they are. To be completely forthright, I will say here I am a nervous rider. I was impressed with the sweet nature of my pony, Cimarron. We headed out with Tamara for a few hours, staying near the ranch, to get the feel of riding outside a ring. The scenery was beautiful and our horses were steady, as we mostly walked, with a short bit of sporadic trotting.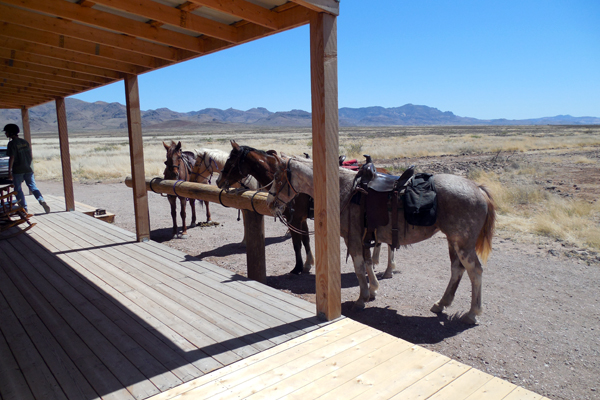 We circled back to the Red Dog for lunch, and parked our horses right in front.
After lunch, we rode a few hours more, taking in the sun, the mountains, the cattle, including longhorns, jack rabbits and a stop at the watering hole for the horses.
The boys had a great time riding and, although I rallied for a strong finish, I still ended the day as I began, a nervous, and now tired rider. At dinner that night, as Craig was going over the next day's 5-6 hour ride, I realized I wasn't ready to tackle that. With a heads up from Tamara, I opted out and Emmitt said he'd like to stay with me for the day, leaving the big ride up to Dylan and the other guests.
Day two began the same, and Emmitt and I enjoyed a relaxing time taking pictures of all the other riders as they caught, groomed, and tacked up their horses.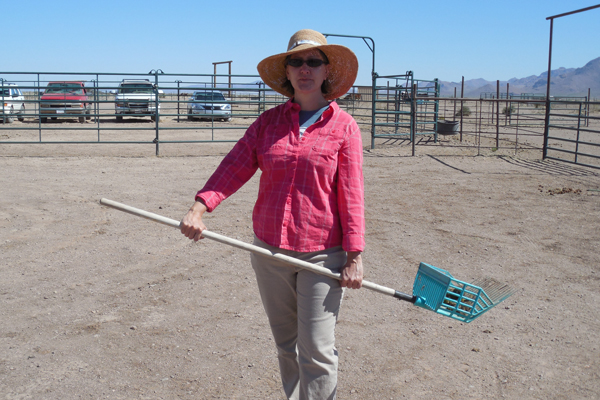 I was the unofficial poop scooper, cleaning up the livery yard while everyone else was busy with their horses.
Another wrangler, Jennifer, joined the ride that morning, to ride with Dylan and to be on hand in the event that he needed to turn around and come back, if it got too difficult for him. As a mom, I really appreciated the extra care Tamara and Craig put into our visit, to ensure we were all taken care of.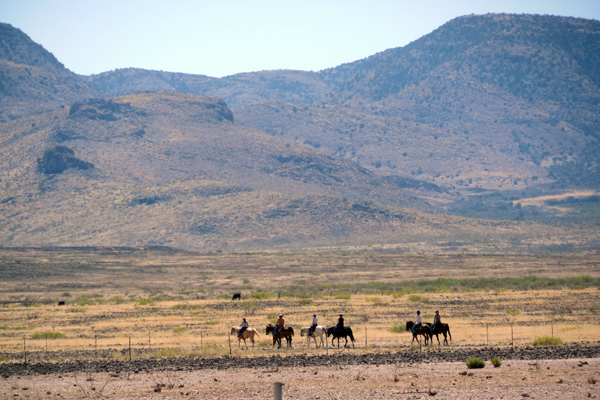 I got some great pictures of the riders moving out and towards the mountains.
Then Emmitt and I spent the day on our own, taking pictures, reading, and enjoying some peace and quiet at The Red Dog.
Our group of guests enjoyed visiting, and each night before dinner, we'd sit outside and snack on chips and salsa, have drinks and watch the sun sink behind the mountains. Josie, Craig's blue Australian Cattle Dog, loved to plop herself down in the midst of us all and keep an eye on things. She also enjoyed belly rubs and gave lots of dog kisses to those who loved on her.
The next day, Tamara graciously offered to take Emmitt and me to Tombstone for a day of sight seeing, while Craig took the others on another long and glorious ride.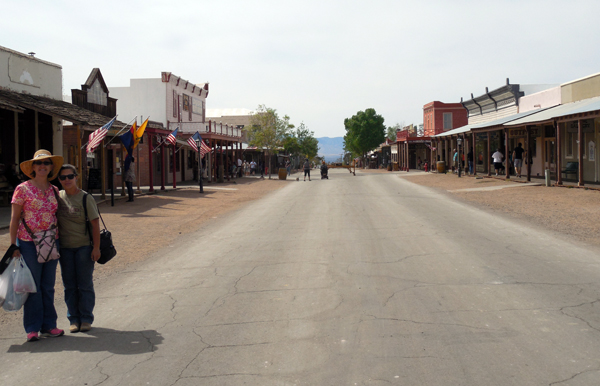 Laurie and Tamara in Tombstone, AZ.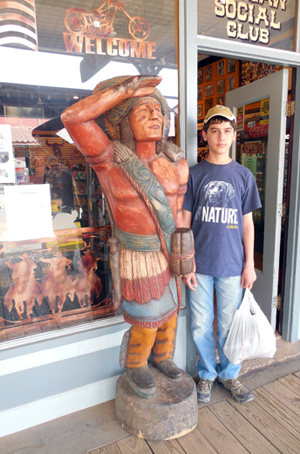 Emmitt in Tombstone, AZ.
Dylan loved every minute of his time riding the trails with his pony, Yaqui. They were fast friends. I loved watching him revel in this ranch experience, so totally different than life in Georgia.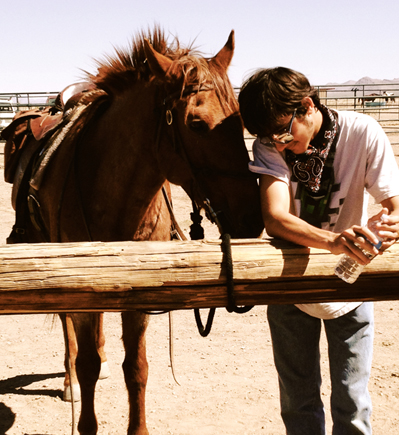 Yaqui and Dylan sharing a moment
After some serious Indian jewelry shopping in Tombstone, (ok, I found a beautiful silver and turquoise pendant of a running horse, and some fun, horseshoe earrings) we returned to the ranch where Emmitt asked Tamara if he could help her with dinner. I snuck outside to the porch and watched the sun set, while they were busy making brownies and potatoes to go with Craig's ranch masterpiece of delicious, mesquite-grilled, inch and a half Ribeye steaks.
Everyone returned to their beds that night full of steak and smelling of wood smoke.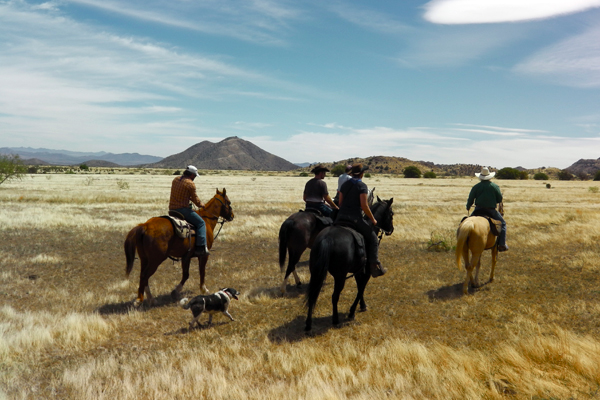 Craig out front leading a spectacular ride, with Josie bringing up the rear.


Dylan and Emmitt helping Tamara in the kitchen.
By now, Dylan and Yaqui were reading each others' minds, and there were many more miles to go together.
While the riders went on another breathtaking ride, Emmitt and I spent the following day driving to the eclectic town of Bisbee, Arizona for some more scenery and shopping.
We gathered again on the porch that evening to trade stories and look at pictures taken during the day. Both boys helped Tamara in the kitchen that night as she made chicken and dumplings. Emmitt enjoyed the time he spent learning in the ranch kitchen. I really appreciated the special attention Emmitt received from Tamara.
We ended the evening with a fun concert of live music sung by Tucson artist Janice Deardorff. She sang lots of songs of the Wild West, and even did some favorites we could sing along too, like Home on the Range.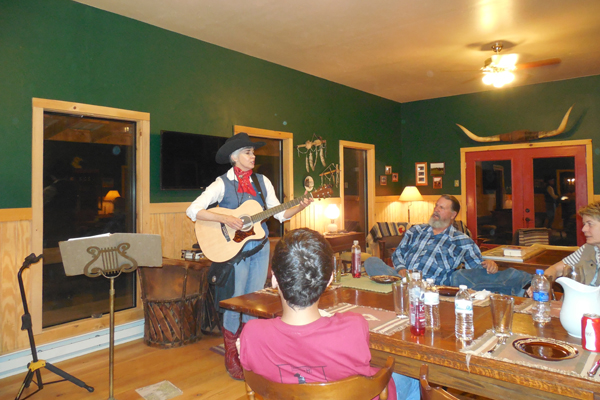 Live music from Janice Deardorff at Hideout Ranch.
Our week had gone by so quickly. All of a sudden, we were looking at packing our bags up and flying back home. I would never have imagined we would be so sad at the prospect of leaving Hideout Ranch. On our last day, we were all fairly choked up with having to say goodbye to everyone. Emmitt quietly asked Tamara if he could stay to help her cook. Dylan was heartbroken to have to tear himself away from his beloved pony Yaqui, aka Yaks, or the Yakster. He didn't know if he would cry or not, when he had to say goodbye.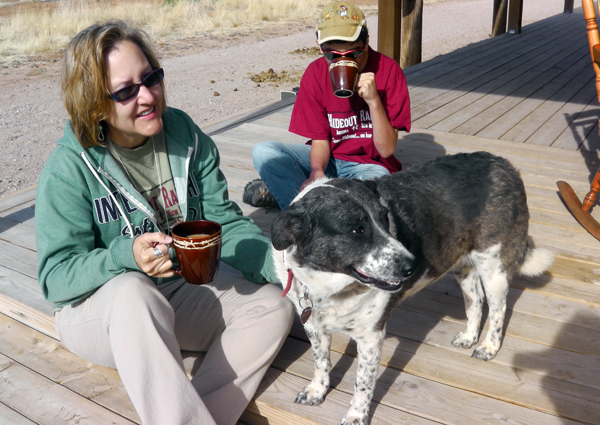 Sitting with Josie, the dog, having morning coffee.
After our breakfast, full of glum faces, we headed down to the livery to get some pictures, and Dylan took Yaqui out one last time.
He groomed Yaks while everyone else was getting ready for their ride that day. We said good-bye and hugged our friends, as they loaded up their saddled horses into the trailer, and then hit the road for their Hideout adventure for the day.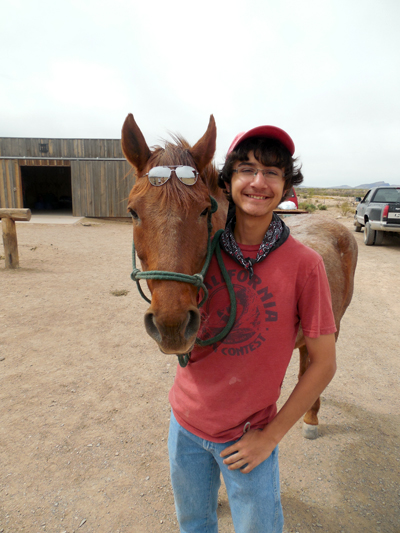 We got a few more pictures of Dylan goofing around with Yaqui, and then he had to lead him to his pasture and let him go.
What a week those two had together. What an amazing, life changing, incredible week we all had. It's hard to describe, but we were all touched by our time at Hideout Ranch.
It was an extraordinary experience. I was privileged to watch my boys grow in so many ways. I grew as well. As I hugged Tamara one final time, with promises to return, Dylan squeezed her hand. He was the saddest of all to have to leave.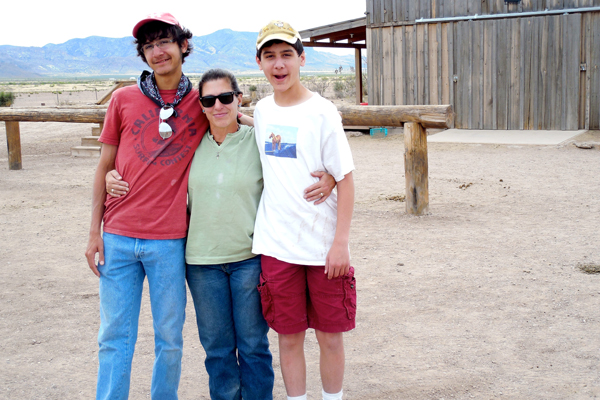 Dylan, Tamara, and Emmitt.

How you can go: Learn more about visiting this guest ranch on the Arizona-New Mexico border on Hideout Ranch's website and more great ranches in the Equitrekking Vacation Guide and Top20Ranches.com.
About the Author: Laurie Orth is a wife and mother and music educator at a home school co-op in Augusta, Georgia. She and her boys have taken recreational riding lessons in the hunter/jumper world for 7 years. She is planning the entire family's next visit to Hideout Ranch.