Virginia- Manassas Battlefield Park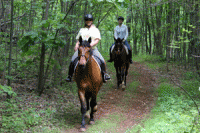 When winter was ending and spring had arrived, my sister Diane Oliver and I loaded up two horses and went to Manassas National Battlefield Park. Summer (trail horse and foxhunter) and Americoma (a thoroughbred who was newly in foal) were thrilled to be out on a trail.

We had obtained our permits and had stuffed them in our pockets. We were armed with a map produced by the Battlefield Equestrian Society. So what if it was a couple years old-how much could it have changed? The over 5000 acres of the park are located at Sudley Road and Route 29 in Virginia and preserve a part of Civil War history. Horseback riding is only allowed in a portion of the park, but the loops were well marked on the map. Unfortunately the trails did not agree with the map totally, so following trails partially marked was quite a challenge.

Since it was a beautiful day with the birds singing and deer jumping, we really didn't mind meandering around the trails. Every so often we would get to a road, so could therefore try to locate where we were on the map.

When we decided it was time to head back home, we realized that we couldn't get to our trailer without crossing major roads or people's property. We were thrilled to come upon a park ranger's building and a park ranger's car. We waited on our horses to talk to the ranger who was sitting in his car talking on a phone. The next thing we knew, he started his car and started to take off. We kept waving and finally got him to stop and roll his window down. We asked hi him what would be the easiest way to get back to the trailer parking area. I pulled out our map and he looked at it and said that since he was in a car, he wasn't familiar with the horse paths and so couldn't help us. At that point, we realized that backtracking was in order and with our superior tracking skills (looking at the ground for hoof prints), we were able to find our way back.

All in all, the battlefield was a great place to ride and even with the poor maps we weren't lost too long!