Vermont Horse Riding & Winter Horse Drawn Sleigh Rides
Might you be thinking about where to vacation next? Read about my recent winter holiday in Vermont to enjoy horseback riding, dog sledding, skiing, and dashing through the snow on a horse-drawn sleigh ride, and I guarantee you'll be booking your own Vermont winter experience!
by Caroline Maffry
If you grew up watching Irvin Berlin's 1954 classic, White Christmas, then you appreciate what I envisioned when a wedding invitation arrived for a winter wedding near Stowe, Vermont. I have traveled all over the world but I had yet to visit Vermont, New England's winter playground, so I was most excited. I'd only dreamed of what it might be like to spend a winter holiday in such a picture-perfect setting. Despite my excitement, I was wondering if I might have an unrealistic expectation from the movies.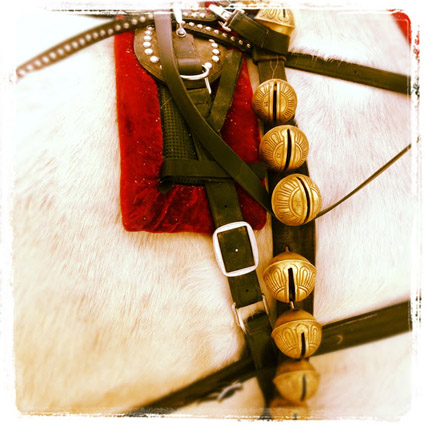 The sleigh bells at Gentle Giants Sleigh Rides in Stowe, Vermont.
Travels to Vermont
As I started the drive north to Vermont, I imagined the idyllic Vermont inn, the skiing, the sleigh rides, and the snow. Although Washington, D.C. does see a good amount of snow each season, it has been a number of years since there has been a good snow fall, so I was exited beyond description at the thought of it all, particularly all that snow.
We drove further away from the hustle and bustle of Washington, D.C. – NYC corridor, and continued through Connecticut and Massachusetts. As the landscape started to change, I felt as if I was en route to a foreign country and I was as giddy as a child. The evergreens started to appear in perfect rows and line the narrowing roads that twisted in and out of quaint mountain towns. There were several "oh, look!" outbursts from the car as we passed signs for bear and moose crossings.
Still something was missing…where was the snow? I started to become worried that unlike the happy ending in White Christmas, where the snow started to fall just in time for the finale, I would not be so lucky to have a winter wonderland blanketed in white waiting for me upon arrival.
We arrived at the Maple House Inn, in Morrisville, just north of Stowe. One of the newest bed and breakfasts serving the northern Green Mountains ski country, it was perfect for our first Vermont experience.
We settled into the inn, (also the home of the bride) and where our family was staying for the week. With our accommodations in the farmhouse, the claw footed tubs, quilts on the beds and a smell of apple cider throughout was a welcoming aroma that made me feel at home despite having only been there minutes. We were greeted with a hot meal on the table, and after the long drive, we went to bed dreaming of snow, in the hopes that it would start to fall.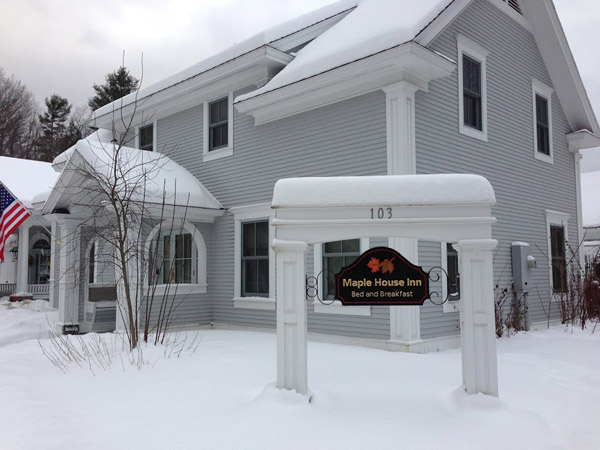 The Maple House Inn in Morrisville, Vermont.
In fairytale-like fashion, we woke up to ten inches of fresh snow on the ground, with it still falling. Seven more inches would fall that day and several more each day thereafter. What a perfect treat! Since the wedding was not for a few days, we set out on a series of adventures to really experience what Vermont has to offer. Being an avid equestrian, horses were definitely on my to-do list, but with the new fallen snow, hitting the ski slopes had to be first!
Skiing in Vermont

Having grown up in Europe with the Alps, I am lucky to have been exposed to years of skiing and many years of lessons and therefore I love downhill skiing. If you are a downhill skier, Stowe is the place for you. Mountfield Mountain has more than four gondolas to get you to the summits and a wide range of ski trails for skiers of all abilities. The Stowe Mountain Resort notes on its website that "Mt. Mansfield is Vermont's highest peak (4395') and offers a wide range of terrain for every ability level. It's well-known for the double-black diamond (most difficult) 'Front Four' trails, but also offers some of the longest intermediate cruisers in the East, and a lovely group of beginner trails."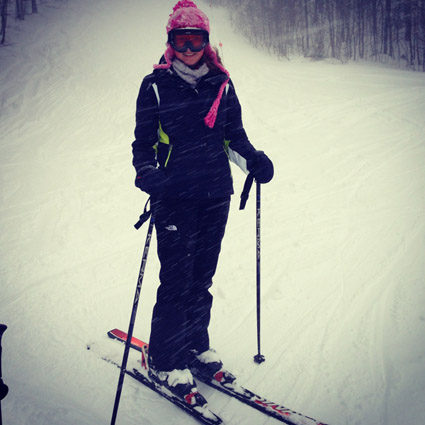 The author's daughter on the slopes.
As the snow fell throughout our day on the mountain, we had fresh powder and several hours of wondrous conditions. We were happy that we had the right equipment, an absolute must, as the temperatures never were higher than 25 degrees. What a first day in Vermont!
After skiing, in front of fire.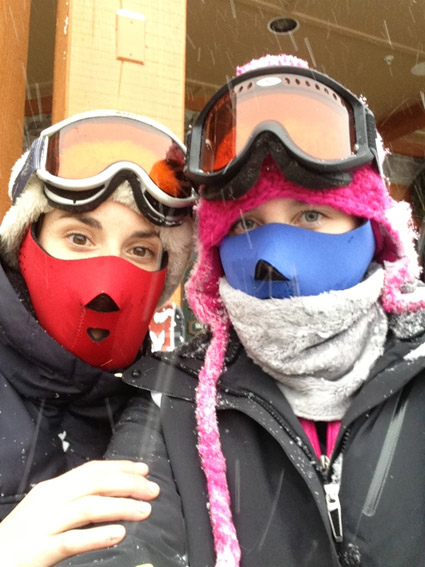 Caroline Maffry and her dauther Alexis Mozeleski in Ski masks
For ski-in/ ski-out lodging, the Stowe Mountain Lodge is the place to be. Although we did not need accommodations this trip, I am definitely going back to stay with them. A huge thanks to Peter Mix at the concierge desk at the Stowe Mountain Lodge for all of his help and knowledgeable suggestions!
Adventures in Dog Sledding in Vermont

After a few hours relaxing at the Inn from our day of skiing, we headed out for an evening dog sledding tour right in Stowe! Umiak Outdoor Outfitters offers several dog sledding options but we decided to start with the 20 minute evening tour run out of Stowe and offered two evenings a week during the winter months.
The snow was still falling and I have to admit that I am not an experienced snow driver. With my cousin's four-wheel drive and very cautious and slow turns, we pulled up at the Stoweflake Resort and Spa, where we were to meet our dog sledding guide. With a few minutes to spare, we kept warm by the fireplace inside the Stoweflake Resort and Spa. I took the liberty to peak in at their Spa which looked so relaxing and lovely, but that would have to be for the next trip as it was time to meet the Siberian Huskies eager to pull our sled with an age-old form of transportation.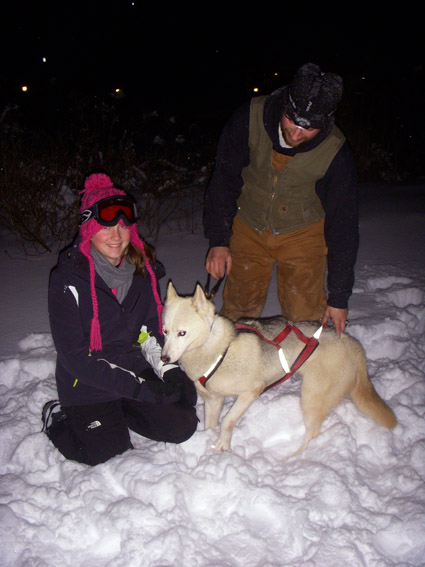 With the dogs in Vermont.
As I cozied up with my daughter in the comfortable touring sled, we set off with our guide on a 20 minute trek. The dogs were much smaller than I expected but with a team of ten, they were more than able to get us going. Our experienced musher used specific sounds and cues to her team of Siberian Huskies, as she let them know where to turn and speed up.
There was a peaceful silence as the snow fell. Only the sound of the sled pulling through the snow gave off a subtle crunching noise. The darkness was eerie at first as I thought back to those signs of bear or moose crossings we saw driving into Vermont. Although I cannot be certain we were not being watched by wild animals from a distance, the dogs were a reassuring comfort to have nearby.
Nighttime Dog Sledding with Umiak Outdoor Outfitters.
Umiak's website was right, "This affordable introduction to Stowe sled dog rides is a wonderful way to end a day of skiing!" Reservations are necessary so plan ahead to ensure your spot!
Trail Riding in Vermont in the Winter

We set out the next morning and headed towards Jeffersonville, VT, about 45 minute north of Morrisville. The snow had stopped falling and the sun was peaking up over the mountains at us. A beautiful day for trail riding on horseback!
We followed our GPS navigation system that led us through several small towns until we lost service and had to use conventional methods of navigation for the last leg of the drive, (reading the street signs). As much as I hoped to not get lost with my teenage daughter in the middle of Vermont, there was a peaceful relief knowing that we were out of reach of any calls, emails, or streaming data that we all categorize as normal in most of our everyday lives now.
We pulled off the road and followed the signs to park the car and headed up the rest of the hill on foot. As we started up the hill, a horse drawn sleigh came out of nowhere. It was just as beautiful as you could imagine and hard to believe that it was all real.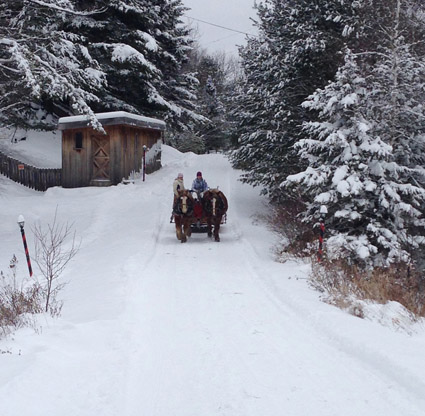 Horse drawn sleigh coming downhill.
We stepped onto the porch and into the rustic office to introduce ourselves to the group of young guides at Lajoie Stables. I was extremely excited for this part of out trip as not only had I never been trail riding in the snow before but this would be my first experience riding in a western saddle. Yes, my first time.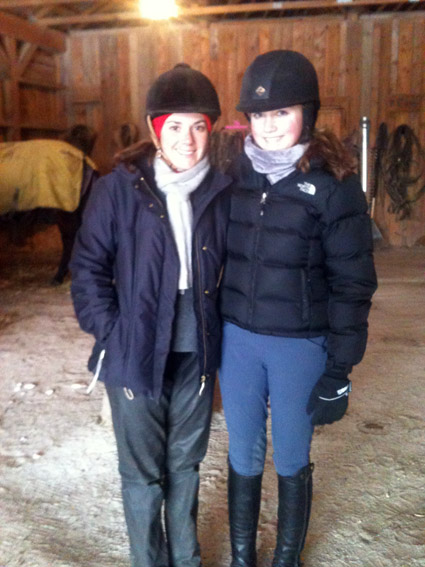 Caroline Maffry and Alexis Mozeleski ready to ride in the snow.
Thankfully our horses were very calm, because I did not feel as though I had the same element of control that I do when riding English disciplines. Our guide, Brooke, was very sweet and personable, laughing and talking to us the whole ride. She pointed out the mountain peaks and explained some of the history about Lajoie stables and we all exchanged stories about our love for horses and riding. We were amazed at her tolerance to the cold as our fingers and toes slowly started to freeze. We were prepared for the elements with everything from full length chaps, long underwear, hand and feet warmers and ear bands under our helmets, but with temperatures in the low twenties, mother nature had the upper hand.
As we left, I had a new respect for working with horses in the cold. I will never have the right to complain at a horse show again after what I saw these girls enduring. The horses on the other hand loved it!
A many thanks to Christina, Amanda and Brooke for allowing us this experience while on our trip to Vermont. Not only was this ride enjoyable to us as experienced equestrians, but being out of my element and in a western saddle, I am confident that non-riders or those with little experience would feel very comfortable on this trail.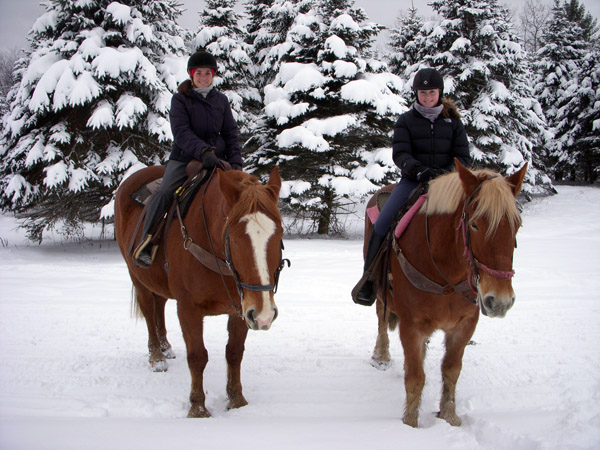 Caroline Maffry & Alexis Mozeleski on the trail with Lajoie Stables, trail rides and sleigh rides in Jeffersonville, Vermont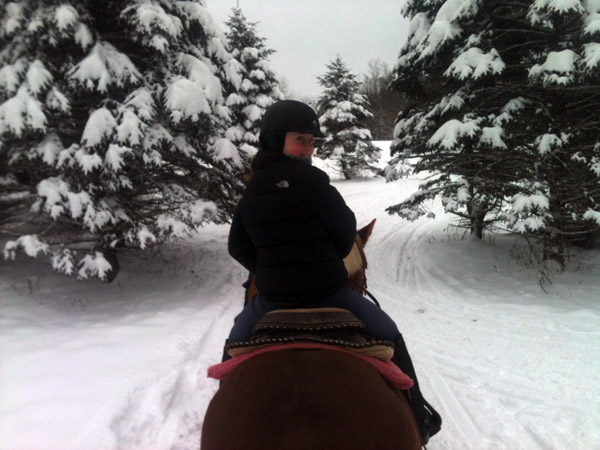 Alexis Mozeleski looking back to make sure her mom could keep up in her first western saddle experience.
A horse-drawn sleigh ride in Vermont

A horse-drawn sleigh ride is a classic experience not to be missed during your time in Stowe! So that is exactly what we did. What winter vacation would be a dream come true without the perfect sleigh ride to end the week.
The morning after the wedding at the Maple House Inn, I joined ten family members for a New Year's Eve sleigh ride with Gentle Giants Sleigh Rides in Stowe, across the street from the Topnotch Resort and Spa, which can arrange other horse riding excursions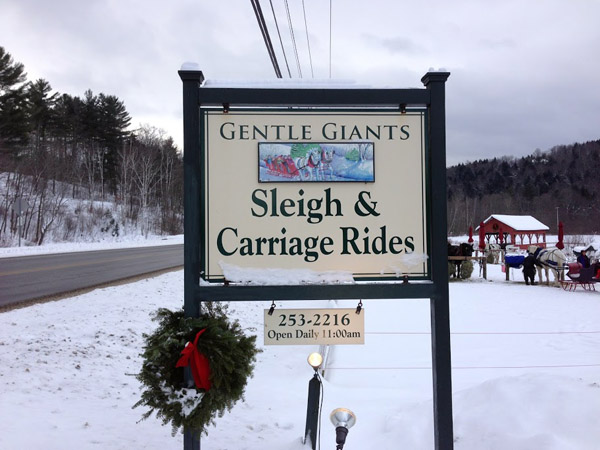 At Gentle Giants, Sleigh & Carriage Rides, Stowe, Vermont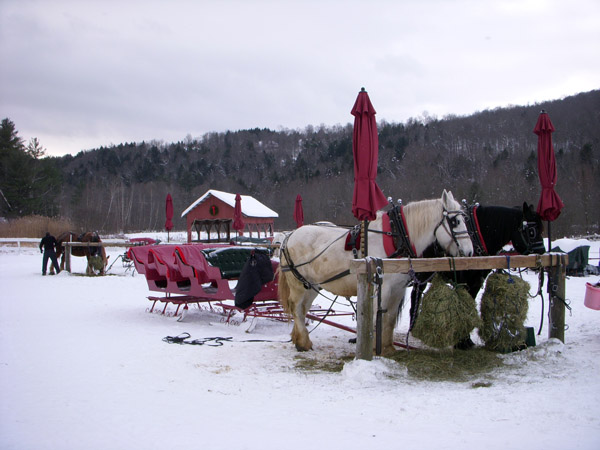 The open sleigh and horses at Gentle Giants in Vermont.
There was a light flurry of snow falling as we all climbed into the 12 passenger sleigh. Its bright red paint stood out against the pure white snow. The large Percheron horses stood more than 18 hands high, looking eager to start their day of work. The mountain winds carried the sound of their harness bells into the distance, as if it were a part of nature itself.
Our driver had been seasoned in the trade many years before and as I sat next to him in the front of the sleigh, it was evident that like with any partnership with a horse, this team was at ease together and communicating effortlessly.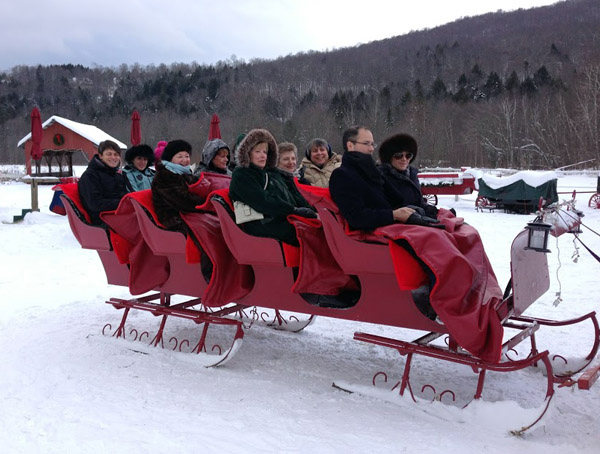 A full sleigh in Vermont.
The sleigh pulled through the snow and as we passed through the covered bridge and into the woods, we truly entered a world of magic. If you can imagine living a live version of the age old song, "jingle bells", that was what we experienced for a moment in time, surrounded by untouched new fallen snow, good company, and the beautiful sound of the bells. Then, as if on queue, the driver started to sing the words to Jingle Bells, changing the words ever so slightly to, Dashing Through the Snow, in a "two-horse" open sleigh, and the horses stepped into a brilliant trot, pulling us behind them. The bells made an even more cheerful sound than before and you knew that each and every person in that sleigh had started humming the song to themselves.
In between brisk trots, we enjoyed listening to the driver tell stories about the history of Vermont, how drivers kept their sleighs and passengers warm before the invention of hand and feet warmers. There were stories about proposals, and families, how much these horses eat every day, details about how the harnesses work, and how many trips through the covered bridge and into the magic these unlikely teams of drivers and horses made a day.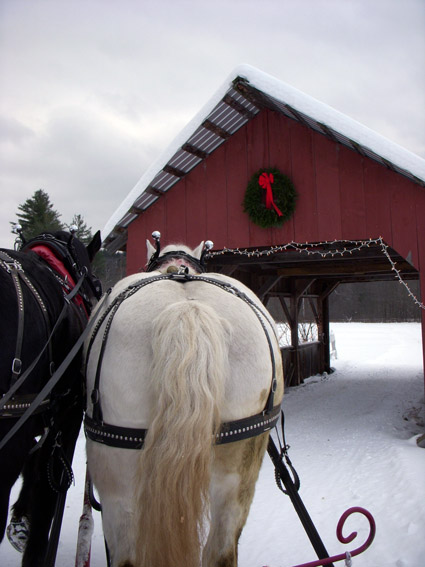 Rear of horses pulling the sleigh through a covered bridge.
Caroline Maffry and Alexis Mozeleski with sleigh horses.
The sleigh was turned toward the stable, and we passed one last time through the covered bridge. As we all tend to reflect about the year gone by on New Year's Eve, I couldn't help but think that this this was a perfect way to enter from one year into another, with ones family, in a "two" horse open sleigh.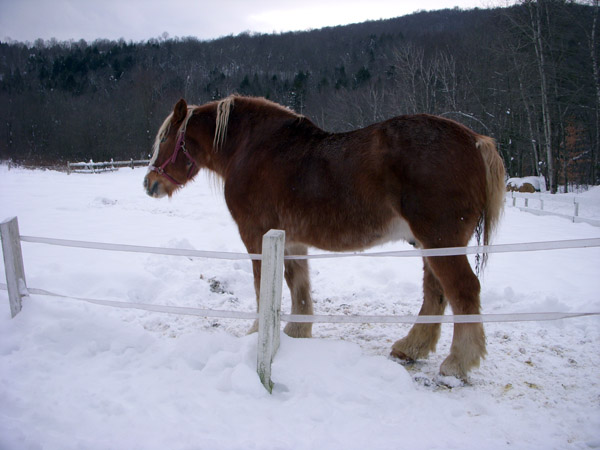 Gentle Giants Horses.
Thank you to Rochelle of Gentle Giants, our driver, and of course Donny and Mack, such beautiful animals that gave us such wonderful memories for our first visit to Vermont.
Local Vermont Culture

Other local culture that we experienced was literally a taste of Vermont with a tour the famous Ben & Jerry's Ice Cream Factory in Waterbury. On the drive back to our Inn, we enjoyed the local shops and winter scenery and of course picked up the state's most famous product, maple syrup.
Although we were in Vermont for a week, we did not have enough time to get to everything we wanted to do. When you are next in Stowe, be sure to check out its galleries, antique stores, and art events and other local highlights from ice climbing near Smuggler's Notch, snowmobiling, snowshoeing, cross-country skiing, ice skating, and sledding and more!
See you on the trails!