Vermont Summer Road Trip- Top Places & Events for Horsin' Around
The best places to saddle up, spectate, meet pretty horses and enjoy a horse lover's road trip this summer in Vermont.
Vermont in the summer is so nice, and a road trip is so doable. If you're a horse lover or looking to saddle up this summer, below are some recommended places to horseback ride, spectate at equestrian events, meet Morgan horses and enjoy equine history. True die-hards or those who want to really soak in the beauty and horse culture in Vermont, may want to consider grouping all of these destinations together.
Take your pick of equestrian adventures and enjoy this trip through summer in Vermont!
Top places to enjoy horses out of the saddle in Vermont
Morgan Horse Farm
The UVM Morgan Horse Farm dates back to Colonial Joseph Battell, who assembled a herd of Morgans and started breeding them in the late 1800s. Listed on National Register of Historic Places, this architecturally stunning white, Victorian style barn located outside of Middlebury, welcomes visitors for guided tours for a small admittance fee from 9am to 4pm daily, from May 1-October 31. Meet some of the 60-80 registered stallions, mares, and foals at the farm, which is famous for supplying top stock to Morgan breeders around the world. (74 Battell Dr, Middlebury, VT 05753)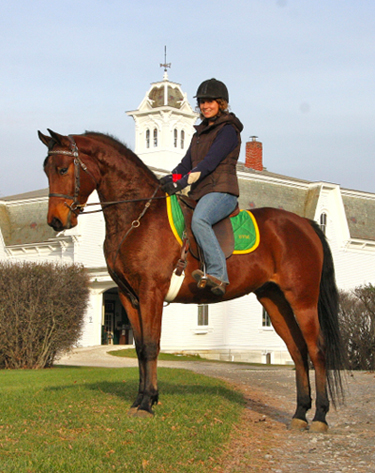 UVM Reese outside of the Vermont Morgan Horse Farm.
National Museum of the Morgan Horse
The interesting museum is dedicated to the Morgan breed, a Vermont treasure. It focuses on the contribution that Morgans have made throughout history as work horses, cavalry horses, ranch horses and racehorses. The museum collects and preserves original works of art and historical materials related to the Morgan horse. It's open Wednesday through Saturday, 10am to 5pm. (34 Main St. Middlebury, VT 05753)
Learn about Morgan horse history in Equitrekking's interview with Kathy Furr from the National Museum of the Morgan Horse in this video.
Shelburne Museum
This unique museum is well known for its folk art, including horsey weathervanes, but also has an impressive collection of carriages. Over at the Horseshoe Barn and Annex, carriage driving enthusiasts and history lovers, can take in over two hundred carriages and horse-drawn vehicles, from the late 19th to early 20th centuries. Learn more about visiting Shelburne Museum in my blog. (6000 Shelburne Road, Shelburne, VT 05482)
Vermont Summer Horse Festival
This annual Vermont summer festival is held at the The Harold Beebe Farm, a well-equipped hunter/ jumper showground just off scenic Route 7 North in East Dorset. The festival features top equestrian competitions for six weeks throughout July and August. Equestrian spectators are welcome to the show grounds to watch horse and riders compete, shop the onsite boutiques, and enjoy lunch. Consider pairing a trip to the festival with riding and a stay at the Mountain Top Inn, which is approximately two hours from the horse show grounds. It's what I did on my trip to film for Equitrekking. (52 Graves Farm Road, Waitsfield, VT 05673)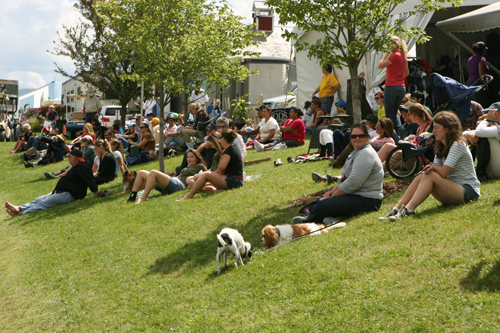 Hanging out at the Vermont Summer Horse Festival. Photo credit David Mullinix Photography.
Vermont Barns
Vermont's barns are a great compliment to a Vermont road trip. To see the best ones, drive through Franklin County, Routes 22A and 30 on the western side of the state and Routes 12 and 14 in central Vermont. These routes offer prime barn viewing. If you're headed to the Vermont Summer Horse Festival in Waitsfield, you can even stay in The Inn at the Round Barn, which dates back to 1910 and is particularly special since there are only five round barns remaining in Vermont. (1661 East East Warren Road, Waitsfield, VT 05673)
Vermont Icelandic Horse Farm
Spend one hour or up to five days riding Icelandic horses through the Mad River Valley with the Vermont Icelandic Horse Farm. Icelandic horses are known for their smooth ways of moving and versatility, making for a fun ride for a variety of skill levels. If you pick a multi-day option, you'll spend nights in the cozy Mad River Inn, which dates back to 1860. Featuring picture windows and period antiques throughout, it's a nice place to relax after a day riding country lanes, peaceful meadows, gurgling streams and lush woods. (3061 North Fayston Road, Fayston, Vermont)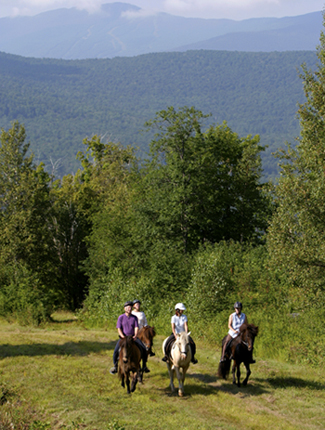 Riding with the Vermont Icelandic Horse Farm.
Mountain Top Inn
Located in Central Vermont, just 11 miles from Killington, the Mountain Top Inn is a classic resort set on 350 acres with sweeping views of a pretty mountain lake and the Green Mountain National Forest. The Resort's Equestrian Center is open from June through October and welcomes riders of all skill levels to enjoy guided trail rides with scenic Green Mountain views. Guests may also take lessons in English or Western riding, introduction to cross-country jumping and dressage and more. There's locally sourced food in the resort's restaurant, a private beach on the lake and a variety of packages for equestrians, including Adult Horse Camp, and plenty to do for non-riding companions. (195 Mountain Top Road, Chittenden, VT 05737)
On the trail with the Mountain Top Inn in Vermont.
The Vershire Riding School
Another option for Adult Horse Camp is The Vershire Riding School located on over 400 acres and with a variety of equestrian facilities, including five dressage sand arenas, an indoor, varied levels of cross country jumping courses and miles of trails. This horse camp is open to all riding levels and runs both on weekends and during weekdays. You are welcome to bring your horse or ride on of theirs. Learn more in this article on Equitrekking. (336 Vershire Riding School Road, Vershire, VT 05079)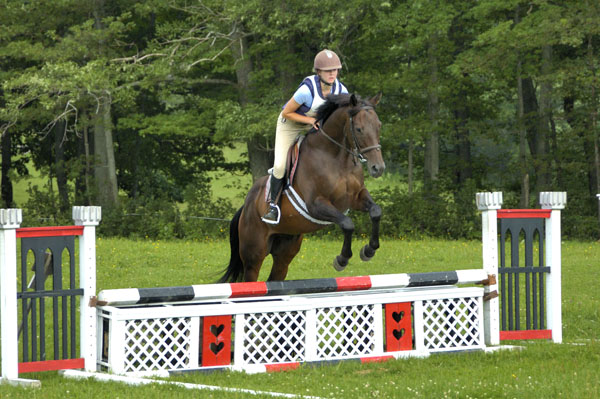 The adult camp program includes daily lessons, as well as stable management and other aspects of horse care.
Check out more great places to horseback ride across the USA and around the world in the Equitrekking Vacation Guide and at Top20Ranches.com.