On the Trail of the Anasazi—Zion, Utah
A rider explores the East Gate of Zion National Park with Zion Mountain Ranch.
by Corinne Brown

It's not everyday a horseback rider can guide her horse between two clusters of wild, shaggy buffalo, free-roaming on 600 acres. I found myself silent and holding my breath as our horses picked their way through the sage with the indifferent beasts grazing on either side. When ever a horned head raised up to watch us, I urged my horse slightly in the opposite direction.

We headed up the wide grazing area along the rim of Meadow Creek toward the remains of an ancient Anasazi settlement where weathered pit houses, gentle mounds of earth and rock still lie, a testament to a village that once made this place sacred ground. Hoping not to cause a stir or a stampede, I only exhaled once and we found ourselves safely beyond the animal's reach. As I looked back, I wondered how the Plains Indians dared get so close when they were on the chase. These animals are big!


You too can discover the many adventures of Zion Mountain Resort by horse or foot and unwind in a unique enclave in Southern Utah where East meets West. That is, where the East Gate of Zion National Park meets the Old West, as brought to life by a 3000 acre resort whose goal is to provide the curious visitor with a chance to experience the West the way it once was.

The return of the buffalo to this natural setting seems an apt effort to bring the red earth landscape to life, especially since part of the offering at this pristine and beautifully maintained resort is the "Village of Many Nations," designed as a tribute to the many tribes that once inhabited this area. Its 80 acres encompass a performance stage, examples of Native American dwellings such as a Hogan and a sweat lodge and numerous hand-painted tipis (available for overnight stays), a visitor center, a medicine wheel around which many can gather, and numerous other educational exhibits that allow the visitor to learn about and experience native American ways. The grazing buffalo nearby confirm the Native Americans' presence in this place as well.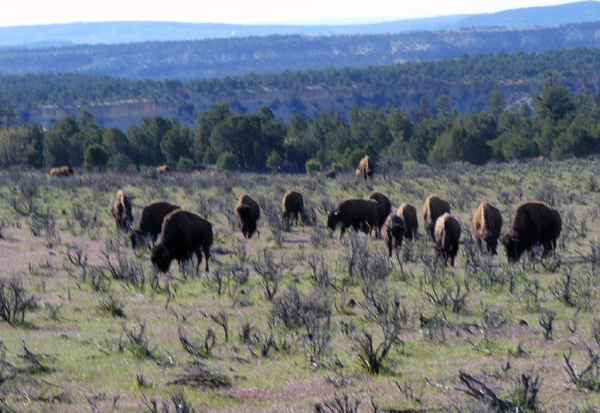 But for the equestrian, simple one hour or half-day rides are a tempting treat. Situated 70 minutes by car from the spectacular magic of Bryce Canyon and only 2 hours from the North rim of the Grand Canyon, Zion Mountain Resort abounds with majestic scenery in every direction. (Back roads accessible by ATV can take the non-equestrian to many of these views.) Nearby Springdale, a resort town, can equip the mountain enthusiast for canyoneering, hikes and mountain biking as well.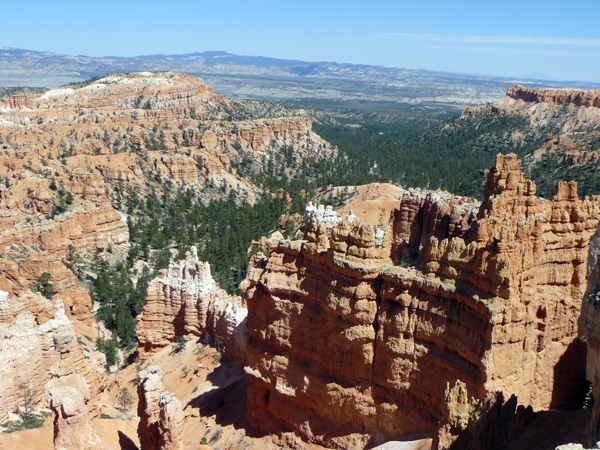 During my time at Zion Mountain Ranch, I learned from the knowledgeable team who understands the ecology, the landscape, and the need to conserve and protect the environment. A terrific restaurant operates on the premises, The Buffalo Grill, and can satisfy the heartiest appetite, or you can handle meals on your own.
The roomy hillside lodges, some two-story, other's just one room, are built of lodge pole pine and offer comfort in a rustic setting, with all the creature comforts in mind. Nicely designed kitchens, dining and living rooms, make these cabins perfect for a one-night to a weeklong stay, encouraging the user to consider Zion Mountain Resort as a hub. To this writer, the most ideal way to explore the area is to come for a week and visit all the places of interests.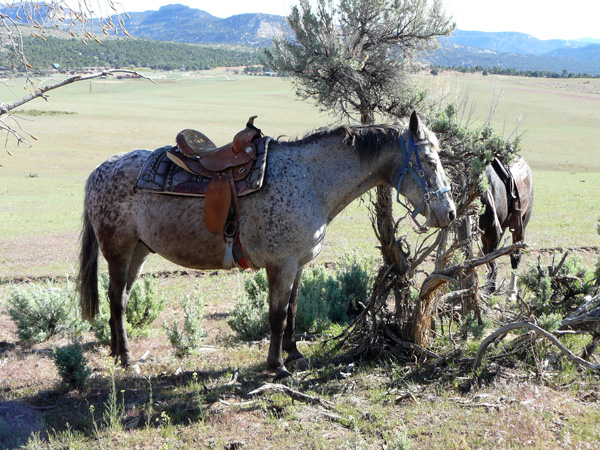 Back at the ranch, the rental horses were sound and willing, and several in our expedition were gaited––an unexpected feature in this wild terrain, but one that made the ride all the more fun. Our guide, a young barrel racing champion, knew her mounts and the trails equally well. When we stopped to explore, she tied the horses to trees, while we released their girths so they could relax. A few steps in any direction revealed Ansaszi pot shards, an arrowhead, and best of all, a horned toad that let us have a much closer look.

Spectacular scenery, viewed through juniper pine, also revealed wildlife, waterfowl and a kaleidoscope of colors, especially in the early morning sun. Canyons and mountain ridges contrast in the high desert light while the centerpiece of the area–– the green grassy buffalo meadow is an oasis in a rocky environment.


Corinne's advice on how you can go too: Advance arrangements need to be made for extended rides or to bring your own horse. Whatever you do, be sure to bring your camera and notebook to record the myriad wonders of mountain, land and sky that await you here. It's definitely worth the trip. By car, only 63 miles from St George, one hour and 20 minutes from Las Vegas.