Equitrekking's Guide to U.S. Horse Museums
Calling all Horse Lovers! Check out Equitrekking's Guide to U.S. "Horse Museums" featuring museums with collections of Western art, carousels, horse history, carriages, horse-drawn vehicles, Native American culture, ranching history and more!
We've visited horse museums across the USA while filming for Equitrekking. In our quest to help others find out about equine museums too, we've also compiled the most comprehensive guide to horse museums and museums with horsey collections. These equine museums include great collections of Western art, antique carriages and horse history. Add these to your bucket list.
Have a museum to recommend that we've missed? Let us know about it and we'll post it here!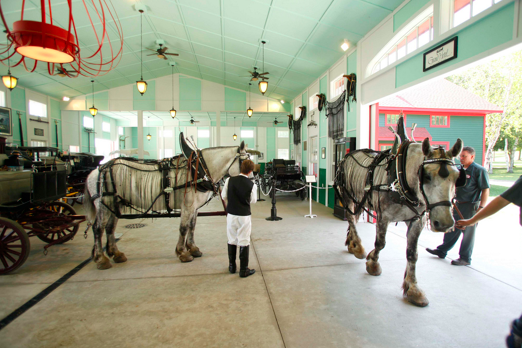 The Grand Hotel Stables on Mackinac Island, Michigan features an antique carriage collection.
Horse Lovers Guide U.S. Horse Museums by State
Arizona Horse Museums
Horse Soldier Museum
Museum of the Horse Soldier endeavors to preserve the history and heritage of U.S. mounted services and recognize the horses' contributions to U.S. military history.
6541 E Tanque Verde Rd
Tucson, AZ 85715
Tel. (520) 722-2706
Phippen Museum of Western Art
** Great for Western Art Lovers...
Since 1984, this Western museum has exhibited museum quality Western art, and educate the public about the unique heritage, history, legends, and influence of art of the American West.
4701 Highway 89 North
Prescott, AZ 86301
Tel. (928) 778-1385
Phoenix Art Museum
** Great for Western Art Lovers...
This museum showcases art of the American West including early 19th-century explorer artists, paintings by members of the early 20th-century Taos School and more.
1625 N. Central Avenue
Phoenix, AZ 85004-1685
Tel. (602) 257-1222
California Horse Museums

Angels Camp Museum
This California museum has a humble curb presence, yet houses one of best collections of carriages representative of the Mother Lode country, all contained in a 10,000 square foot building, the Angels Camp Museum Carriage House located on the museum grounds. The collection even includes a stagecoach driven by Hank Monk, one of the most famous "knights of the lash". There are all manner of logging wagons, a hearse, pleasure vehicles and a display of horseshoes used to keep the wagons moving in the deep snows of the Sierra. The carriages have been collected from local families.
753 South Main Street
Angels Camp, CA 95222
Tel. (209) 736-2963
Autry National Center
Located in Griffith Park northeast of downtown Los Angeles, California and across from the Los Angeles Zoo, this history museum is dedicated to exploring and sharing the stories, experiences, and perceptions of the diverse peoples of the American West with the Autry's collection of over 500,000 pieces of art and artifacts.
4700 Western Heritage Way
Los Angeles, CA 90027
Tel. (323) 667-2000

Carriage and Western Art Museum
Founded in 1972, this equine museum's collection consists of over 50 saddles once belonging to famous people, such as Cisco Kid, Will Rogers, Clark Gable, Jimmy Stewart and many others and carriages you will see in the collection are mud wagons, army wagon, circus wagon, and more.
129 Castillo Street
Santa Barbara, CA 93101
Tel. (805) 962-2353

Oakdale Cowboy Museum
Promotes and preserves the western heritage of the Central Valley in California by honoring its ranching and rodeo traditions.
355 East F Street
Oakdale, CA 95361
Tel. (209) 847-7049
W. K. Kellogg Arabian Horse Center
With an Equine Research Center and the Kellogg Arabian Horse Library, this horse lovers destination is home to approximately 85 purebred Arabian horses used in Equine Sciences' teachings, outreach, research and internationally recognized breeding and training programs. You can tour the Horse Center as a visitor from Monday through Friday from 8am to 5pm.
3801 W. Temple Ave.
Pomona, CA 91768-4076
Tel. (909) 869-2224
Colorado Horse Museums
Denver Art Museum
For Western American Art lovers, this Colorado museum has important collections of western paintings and bronzes
100 W 14th Ave Pkwy
Denver, CO 80204
Tel. 720-865-5000
Leanin' Tree Museum of Western Art
Since 1949, this Boulder, Colorado museum has exhibited the private western art collection of Ed Trumble, Founder and Chairman of Leanin' Tree, with cowboys, Indians, wildlife and landscapes and 250 paintings and 150 bronze sculptures created by over 100 artists on permanent display.
P O Box 9500-W
Boulder, CO 80301
Pro Rodeo Hall of Fame and Museum of the American Cowboy
The ProRodeo Hall of Fame and Museum of the American Cowboy focuses on the rodeo, its history, and its impact on Western American culture.
101 Pro Rodeo Drive
Colorado Springs, CO 80919
Tel. (719) 528-4764
District of Columbia Museums
The National Museum of the American Indian (NMAI)
While not a "horse museum", this museum traces Native cultures in the Western hemisphere, including information and artifacts related to Native cultures and horses.
Independence Avenue Southwest
Washington, DC
Tel. (202) 633-6644
Florida Horse Museums
Florida Agricultural Museum
25 minutes from downtown St. Augustine in Flagler County, the Florida Agricultural Museum focuses on the history, importance and contributions of agriculture in Florida, including the conservation of heritage livestock like the rare Florida Cracker cattle and horses. The Florida Cracker horses trace their ancestry to Spanish stock brought to Florida in the St. Augustine area during the 16th century.
7900 Old Kings Road
Palm Coast, Florida 32137
Tel: (386) 446-7630
Florida Carriage Museum & Resort
One of the world's largest private collections of European and American Carriages and equine artifacts.
3000 Marion County Rd.
Weirsdale, FL 32195
Tel. (352) 750-5500 or 888-750-1417

Idaho Horse Museums
Appaloosa Museum and Heritage Center
Since 1975, this Moscow, Idaho museum has collected, preserved and exhibited objects and information that illustrate the history of the Appaloosa horse and its region of origin. During the summer, have a picnic outside and watch live Appaloosas grazing nearby.
2720 W Pullman Rd.
Moscow, Idaho 83843
Tel. (208) 882-5578
Illinois Horse Museums
Horse and Buggy Museum
Over 50 pieces of machinery are displayed inside a 6000 square foot building. Focuses on 1820 to 1920 when horses were a primary source of power for farming and transportation.
210 E. Main, Biggsville, IL 61418
Tel. (309) 221-0066
Indiana Horse Museums
The Eiteljorg Museum of American Indians and Western Art
The Eiteljorg collects and preserves high-quality Western art and Native American art and cultural objects. Its collection includes artists such as T.C. Cannon, N. C. Wyeth, Andy Warhol, Georgia O'Keeffe, Allan Houser, Frederic Remington, Charles Russell and Kay WalkingStick. The institution's contemporary Native art collection has been ranked among the world's best.
White River State Park
500 W. Washington St.
Indianapolis, IN 46204
Tel. (317) 636-9378
Kentucky Horse Museums
American Saddlebred Museum
Located on the grounds of the Kentucky Horse Park in Lexington, this horse museum houses the largest collection of Saddlebred artifacts in the world, including house trophies, photographs, tack, and artwork.
4083 Iron Works Parkway
Lexington, KY 40511-8483
Tel. (859) 259-2746
Carriage Museum of America
Located at the Kentucky Horse Park in Lexington, this is the only full-time library dedicated exclusively to the carriage industry
4089 Iron Works Parkway
Lexington, KY 40511
Tel. (859) 259-2933
The International Museum of the Horse at the Kentucky Horse Park
An over 60,000 square foot museum dedicated to horse history and culture.
4089 Iron Works Parkway
Lexington, KY 40511
Tel. (800) 678-8813
The Kentucky Derby Museum
On the front steps of historic Churchill Downs, this museum traces the history and tradition of the Kentucky Derby.
704 Central Avenue
Louisville, KY 40208
Tel. (502) 637-7097
Maine Horse Museums
Skyline Farms
A living carriage museum with an antique carriage and sleigh collection.
95 The Lane
North Yarmouth ME 04097
Tel. (207) 829-9203
Maryland Horse Museums
The Fire Museum of Maryland
Fire fighting history and displays of hand pulled, horse drawn, and motorized equipment.
1301 York Road
Lutherville, MD 21093
Tel. (410) 321-7500
Thrasher Carriage Museum
The Thrasher Carriage Museum features collections of horse-drawn vehicles, including pleasure vehicles, funeral wagons, sleighs, carts, and more on display in the renovated 19th century warehouse.
19 Depot Street
Frostburg, Maryland 21532
Tel. (301) 689-3380
Michigan Horse Museums
Grand Hotel Stables & Carriage Museum
Working stable with 20 antique carriages.
Surrey Hills at Grand Hotel
Mackinac Island, MI 49757
Tel. (800) 334-7263

Michigan Firehouse Museum
26,000 square feet museum in a restored firehouse interpreting Michigan's fire fighting history.
110 W. Cross Street
Ypsilanti, MI 48197
Tel. (734) 547-0663
Missouri Horse Museums
Pony Express National Museum
Museum and historic stables focusing on the need, creation, operation and termination of the Pony Express mail service that lasted from April 1860 to October 1861.
914 Penn Street
St. Joseph, MO 645032
Tel. (800) 530-5930

Montana Horse Museums

Big Horn County Historical Museum
Includes 26 historic buildings, farm equipment, horse drawn wagons and antique vehicles related to the history and culture of Big Horn County.
1163 3rd Street East Hardin, MT 59034
Tel. (406) 665-1671

The Charles M. Bair Family Museum
Charles M. Bair family home with four galleries including a Native American collection, western paintings by Charles Russell and Joseph Sharp, Edward S. Curtis photogravures, and modern European and American paintings. Enjoy the barn history and ranching display.
2751 MT Highway 294
Martinsdale, Montana 59053
Tel. (406) 572-3314
Nebraska Horse Museums

Fort Robinson Museum
From Crazy Horse to the cavalry to the K-9 Corps, experience the history of this Plains Outpost through more than a dozen historic structures and sites such as the 1904 blacksmith shop, mare barn and harness shops. Visitors can stay at Fort Robinson State Park, where blue-coated cavalrymen once bunked. Read more about trail riding at Fort Robinson.
Fort Robinson State Park and Museum is 3.2 miles west of Crawford, NE on US Highway 20
3200 West Highway 20
Crawford, Nebraska 69339
Tel. (308) 665-2919

Nebraska City Museum of Firefighting
Showcases the history of the Nebraska City Volunteer Fire Department, which is the oldest department in the state of Nebraska, organized in 1856, and the evolution of firefighting, safety and prevention. Through the years, several teams of horses were the main factors in the "equipment" of the Nebraska City department.
1320 Central Avenue
Nebraska City, Ne 68410
Tel. (402) 873-4403
New Mexico Horse Museums
Hubbard Museum of the American West
Historic Western museum with the famous Stradling collection includes bits, spurs, bridles and saddles from around the world, and a collection of carriages, wagons and horse drawn vehicles spanning hundreds of years. The Hubbard Museum also holds the collection from the defunct Museum of the Horse.
26301 Hwy 70 West
Ruidoso Downs, NM 88346
Tel. (575) 378-4142

International Research Center for the P.R.E. Horse
The International Resource Center for the P.R.E. Horse houses a Museum for the Pure Spanish Horse with an art gallery, Hall of Fame, Lending Library with hundreds of DVDs videos and books that every horseman will enjoy and more. It's open from 9:00 am to 5:00 pm Monday through Friday and after hours by appointment. The center is only ten minutes from the Albuquerque International Sunport Airport in the heart of the charming Huning Highland Historic District of Albuquerque and boasts easy access from Interstate 25. Many hotels and restaurants are within a short walk. If you plan on visiting the center and would like information about accommodations please call us at 505.294.0800 or Email the museum for assistance.
The Museum of Indian Arts & Culture
Premier repository of Native art and material culture, telling the stories of the people of the Southwest from pre-history through contemporary art.
710 Camino Lejo off Old Santa Fe Trail
Santa Fe, NM 87504
Tel. (505) 476-1250
The New Mexico Farm and Ranch Heritage Museum
24,000 square feet of exhibit space, focusing on the 3,000-year history of farming and ranching in New Mexico.
4100 Dripping Springs Road
Las Cruces, NM 88011
Tel. (575) 522-4100
New York Horse Museums
Long Island Museum
40,000 items dating from the late 1700s to the present, including American artifacts of everyday life, works of art and nearly 200 historic carriages.
1200 Route 25A
Stony Brook, NY 11790-1992
Tel. (631) 751-0066
National Museum of Racing and Hall of Fame
Permanent exhibitions feature equine art collection, trophies, silks and thoroughbred racing memorabilia.
191 Union Avenue
Saratoga Springs NY 12866-3566
Tel. (518) 584-0400, 1-800-JOCKEY4 or 1-800-562-5394
New York City Fire Museum
I recently stumbled across this museum that is housed in a renovated 1904 Beaux-Arts firehouse built for Engine Company 30. I was impressed by its collection of horse-drawn wagons and history of fire fighting before mechanized vehicles. There's interesting historic photos and information about brave fire horses.
278 Spring Street
New York, NY, 10013
Tel. (212) 691-1303
The Harness Racing Museum & Hall of Fame
The history of harness racing and the story of harness racing's interest and appeal.
240 Main Street
Goshen, NY 10924
Tel. (845) 294-6330

The Metropolitan Museum of Art
In addition to its massive art collection and special exhibits, there are some not to miss horsey art and artifacts sprinkled throughout the MET. Look for the Edgar Degas bronze horse sculptures.
1000 Fifth Avenue
New York, New York 10028-0198
Tel. (212) 535-7710

North Carolina Horse Museums
Wild Horse Museum
Located in Old Corolla Village, the Wild Horse Museum, run by the Corolla Wild Horse Fund, charts the history of the wild Spanish Mustangs that roam the northern beaches of the Currituck Outer Banks. Special exhibits for kids.
1129 Corolla Village Road
Corolla, NC 27927
Tel. (252) 453-8002

Ohio Horse Museums
Merry-Go-Round Museum
Ride the old carousel and enjoy carousel animals from 1895 to 2011, including signed horses, menagerie carvings, and a new wolf with insight into the three historic carving styles. The museum has an active program of restoring antique carousel figures and related items.
301 Jackson Street
Sandusky Ohio 44824
Tel. (419) 626-6111
Oklahoma Horse Museums
Gilcrease Museum
Dating back to 1949, this Tulsa museum houses a large and comprehensive collection of art and artifacts of the American West.
1400 Gilcrease Museum Road
Tulsa, OK 74127
Tel. (918) 596-2700
National Cowboy & Western Heritage Museum
Collection of classic and contemporary western art, including works focusing on American cowboys, rodeos, Native American culture, Victorian firearms, frontier military and western performers and works by Frederic Remington and Charles M. Russell, as well as sculptor James Earle Fraser's magnificent work, The End of the Trail.
1700 Northeast 63rd Street
Oklahoma City, OK 73111
Tel. (405) 478-2250
National Museum of Horse Shoeing Tools & Hall of Honor
An entertaining look at the tools, life and products in the horse shoers' world.
8849 US Highway 177
Sulphur, OK 73086
Tel. (580) 622-4644

Museum of the Western Prairie
The activities of frontier soldiers, cowboys, Native Americans and homesteaders in Southwest Oklahoma.
1100 Memorial Drive
Altus, OK 73521
Tel. (580) 482-1044
Oregon Horse Museums
Favell Museum of Western Art
Art and artifacts focused on America's Western heritage, including original paintings by many famous western artists.
125 West Main Street
Klamath Falls, OR 97601
Tel. (541) 882-9996
South Carolina Horse Museums
Aiken Thoroughbred Racing Hall of Fame and Museum
Aiken's contribution to the thoroughbred racing industry from 1900 to the present through aesthetic and educational experiences for visitors of all ages.
135 Dupree Place
Aiken, South Carolina 29801
Tel. (803) 642-7631
National Steeplechase Museum
Documents, a trophy room, trophies and memorabilia, jockey silks and film related to the sport of American Steeplechasing.
200 Knight's Hill RD
Camden, SC 29020
Tel. (803) 432-6513
South Dakota Horse Museums
Crazy Horse Memorial- Crazy Horse Museums
Memorial to the spirit of legendary Lakota leader Crazy Horse and museum that tells the story of Native Americans by displaying outstanding examples of Indian culture and heritage.
Crazy Horse Memorial
12151 Avenue of the Chiefs
Crazy Horse, SD 57730-8900
Tel. (605) 673-4681
Texas Horse Museums
American Quarter Horse Hall of Fame & Museum
Larger than life bronze statues and the history of the American Quarter Horse and a Hall of Fame for horses and humans.
2601 I-40 East
Amarillo, Texas 79104
Tel. (806) 376-5181
Amon Carter Museum of American Art
American art, including Carter's personal collection of works by Frederic Remington and Charles Russell.
3501 Camp Bowie Boulevard
Fort Worth, TX 76107
Tel. (817) 738-1933
Frontier Times Museum
The only public museum in Bandera County- houses eclectic and eccentric collection honoring the legacies of the American cowboy and Bandera ranching traditions with displays on local rodeo champions, the Harvey Chelf Barbed Wire Collection, the Debbie Henderson Western Hat Collection, and the Frontier Times Museum Texas Heroes Hall of Honor.
510 13th Street
Bandera, TX 78003
Tel. (830) 796-3864
The National Cowgirl Museum & Hall of Fame
Cool cowgirl exhibitions on the lives of southwestern women who have distinguished themselves as exemplifying the pioneer spirit of the American West.
Fort Worth Cultural District
1720 Gendy Street, Fort Worth, Texas 76107
Tel. (817) 336-4475 or (800) 476-FAME
Vermont Horse Museums
The National Museum of the Morgan Horse
For Morgan horse lovers and history buffs, the National Museum of the Morgan Horse houses a special history of this American breed.
34 Main St.
Middlebury, VT 05753
Tel. (802) 388-1639

Shelburne Museum
The Museum exhibits about 225 carriages and horse-drawn vehicles, including sleighs, stagecoaches, and commercial wagons. More from our visit to Shelburne Museum.
6000 Shelburne Road
Shelburne, VT 05482
Tel. (802) 985-3346
Virginia Horse Museums
The Museum of Hounds and Hunting
Opened in 1985 in the north wing of the Mansion at Morven Park, the Museum preserves the art, artifacts and memorabilia of a centuries-old sporting tradition of foxhunting in America.
Morven Park
Leesburg, VA 20178
Tel. (703) 777-2414

National Sporting Library and Museum
Founded in 1954, NSLM shares and preserves the literature, art and culture of equestrian, angling and field sports.
102 The Plains Road
Middleburg, Virginia 20118-1335
Tel. (540) 687-6542
Washington State Carriage Museum

Northwest Carriage Museum
Collections of 19th century carriages, buggy's, wagons and historical artifacts.
314 Alder Street
Raymond, WA 98577
Tel. (360) 942-4150

West Virginia Rural Museum
West Virginia State Farm Museum
An operating farm museum with log cabins, antique tractors, horse drawn equipment, and an early farmhouse and operational 19th century blacksmith shop. Open April 1 thru Nov. 15. Tuesday thru Sat. 9am to 5pm and Sundays 1pm to 5pm. Call ahead to verify hours and dates.
1458 Fairground Road
Point Pleasant, WV 25550
Tel. (304) 675-5737
Wisconsin Horse Museums
Wesley Jung Carriage Museum at Wade House
Wisconsin's most extensive and diverse collection of carriages, sleighs, wagons, and more, the Wesley Jung Carriage Museum contains nearly 100 horse- and hand-drawn vehicles.
Wade House
W7824 Center Street
Greenbush, WI 53026
Tel. (920) 526-3271
Wyoming Horse Museums
Buffalo Bill Historical Center
Impressive museum focused on American West art, history, culture, the nature of Yellowstone, Buffalo Bill, Native American culture and more.
720 Sheridan Avenue
Cody, WY 82414
Tel. (307) 587-4771
Cheyenne Frontier Days Old West Museum
The history of the world's largest outdoor rodeo and western celebration with year-round programming, exhibits and activities that celebrate the heritage and pioneer spirit of the American West and the history of this extreme sport.
N. Carey Avenue
Cheyenne, Wyoming 82003
Tel. (307) 778-7290

Have a museum to recommend that we've missed? Let us know about it and we'll post it here!

* Please note that this guide was compiled in January 2013. While we do every effort to keep it up to date, please visit the musuem website or call them direct prior to your visit for the most up to date information. If you have an addition or notice something that we need to change, let us know about it!