Uruguay Gaucho Cattle Drive
Cattle Drive with gauchos... South American cowboys
Working estancias, South American ranches, allow guests to saddle up and help out with daily tasks, like moving cattle across the grasslands.
We'd just left a nearby estancia during a storm, and it was our final night in Uruguay at El Charabon Estancia, an upscale working ranch that takes in guests to experience Uruguay's gaucho culture. Gauchos are South American cowboys, and they have a distinctive culture, having lived a nomadic lifestyle, moving cattle across the grasslands, until relatively recently.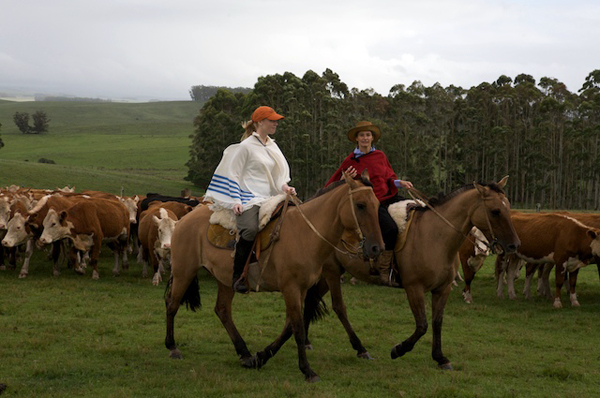 Inside the warm, estancia's living room, I sipped hot tea and ate a delicious, homemade pastry, waiting for the storm to subside. El Charabon Estancis is owned by Graciela, a local artist whose work lines the walls.
Many times when you stay at ranches in Uruguay, you are staying in someone's longtime, family home, which gives you a closer look at real life for working people in this small, coastal country.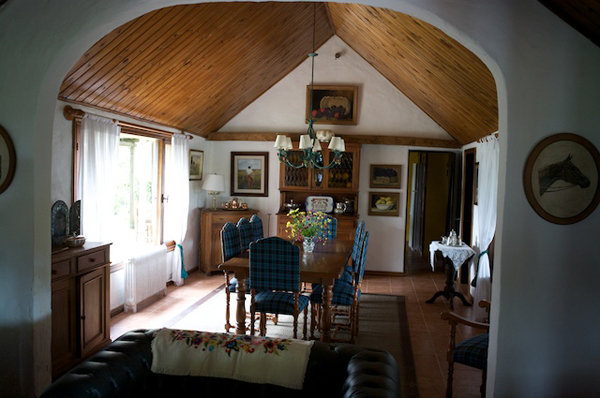 At El Charabon in the Rocha Province, near Brazil's border, there are still true gauchos at work and Graciela has captured many of these country scenes in her oil paintings. These South American cowboys haven't yet been replaced by modern technology. They still ride the range to move cattle and sheep, much like the iconic American cowboy.
Borrowing a wool poncho, I rode out to help the gauchos on a cattle drive to a new pasture.
I understood why our lead gaucho had a tanned, weathered face as I was pelted by the wind and water from a quick but violent rainstorm and then dried off quickly as the bright sun broke through the clouds.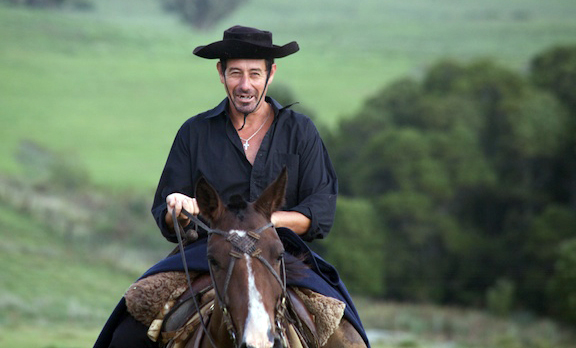 The sun is intense here, so while I was happy to be dry, I was hopeful that my waterproof sunscreen was still intact. Historically living a nomadic lifestyle, gauchos have lived and worked outside through all kinds of weather and seasons. I hunkered down into my sheepskin saddle and continued to work too, surrounding the cattle to push them through the rolling green hills dotted with Eucalyptus forests.
My Criollo horse was responsive and at ease, but truthfully, the gauchos and the dogs did most of the work, and it was amazing to be with them for a day in the life of an authentic South American cowboy.
Learn more about life in Uruguay in the Equitrekking Uruguay travel TV episode.
Learn more about working ranches, cattle drives and horseback riding ranches in the United States and abroad in Equitrekking.com's Vacation Guide and check out Uruguay holidays at EquitrekkingTravel.com.