Uruguay- Finca Piedra Horse Riding
Saddle up to ride with me on a sustainabe estancia in Uruguay
Uruguayan Riding Style
Jason, the owner of Finca Piedra, a sustainable estancia, Pedro, Finca Piedra's gaucho, and I took off on our Criollo horses to explore the farm. I had never ridden a Criollo horse before and never in Uruguay, so had to adjust to the way of riding and the tack.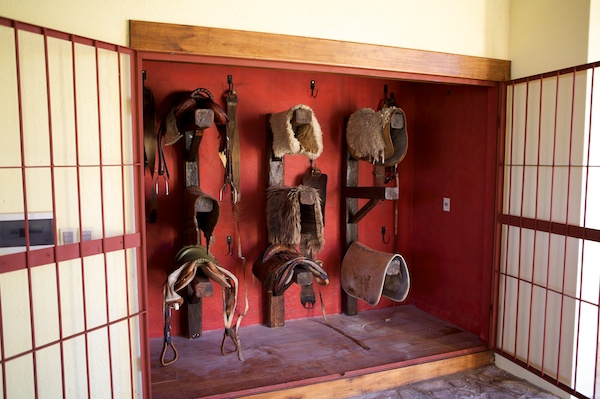 The traditional style saddles here are flat and wide and covered with sheepskin, making them comfortable to sit on, but since they are so wide I also felt a bit unstable at first. I am used to American English and Western saddles that have a more rounded seat. You really have to find your balance on the sheepskin saddles.
They ride with longer stirrups here in Uruguay, and I opted to have mine brought up a bit, but still had some trouble gripping with my legs at first. My horse Manteca, a ten-year-old white Criollo horse was well seasoned and fast. Jason rode Indio, a 15-year-old Criollo, and Pedro rode Torrito, an eight-year-old Criollo.
I watched Pedro ride as we trotted through the cornfields. He rode what I thought was a bouncy trot with total ease, while I posted to avoid bruising my bum too much on day one of my riding. Pedro laughed at me, as I tried to sit Manteca's yo-yo trot.
The gauchos are still alive and very important in Uruguay. Like our American cowboys, they are there to work with and protect the cows, sheep and horses on the farm, lassoing sick cattle, moving the animals from pasture to pasture and more. In Uruguay, I have seen people all over riding horses that they are using for their work and for transportation. It is an agricultural society where horses still have a vital role.
Sierra de Mahoma
Sierra de Mahoma is a large outcropping of granite rocks that really stands out amid the flat grasslands surrounding it. This special place has microhabitats, including sierra forest and small wetlands that serve as a rest stop for migratory and threatened species. Locals call it the "Ocean of Stones" and as we approached a high point, we looked out onto what seemed like endless boulders. A large cross amid the rocks marked a pilgrimage site for the Virgin Rosario. Jason told me that many Uruguayans believe that a visit to this site can bring them luck or even heal them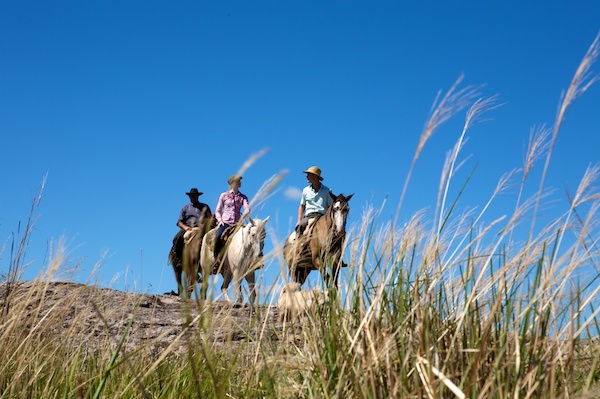 After climbing around and visiting a local pilgrimage site up top, we galloped part of the way back to the ranch for a quick lunch, before riding to the vineyard. Tannat, a red wine grape, grows very well here in Uruguay. It was originally brought over from southwest France.
Cattle Round-Up
Next it was time to help Pedro herd some cattle, which was not an easy task. The three of us had a good time, working the cattle and moving them in various directions so I could attempt to learn the art of moving cattle some of the more wiley cattle I'd met in Uruguay.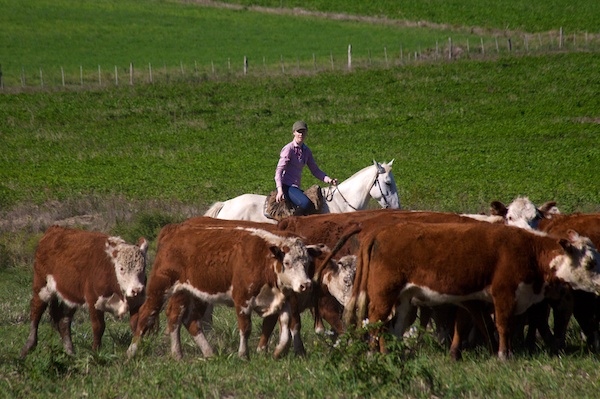 Darley Newman is the host of the Emmy Award-winning Public Television series Equitrekking, which takes viewers on horseback riding vacations around the world. Equitrekking is broadcast on PBS stations and on international networks. Learn about equestrian vacations you can enjoy at EquitrekkingTravel.com and search for trips in the Equitrekking vacation Guide.