Uruguay- El Charabon Estancia Cattle Drive
Round-up Cattle with the Gauchos in South America on a cattle drive
El Charabon is a working South American cattle estancia located in the Rocha Province of Uruguay, not too far from the Brazil border. I rode a wonderful, smooth Criollo out to the far fields to round up cattle. Five of us, including the owner, Jorge, my guide Paola and El Charabon's gauchos would gather cattle to move them to another pasture.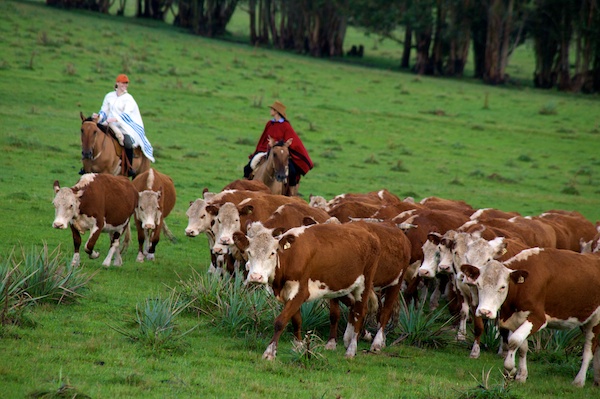 Jorge let me borrow his wool poncho, which is what the gauchos typically wear when it's cooler here in Uruguay. At first, I didn't want to wear it, as it didn't seem totally fashionable, but once I had it on, I was very glad. As the rain poured down on us once again, I knew that I would sleep well on the flight back to the USA this evening, after riding horses and herding cattle in the rain.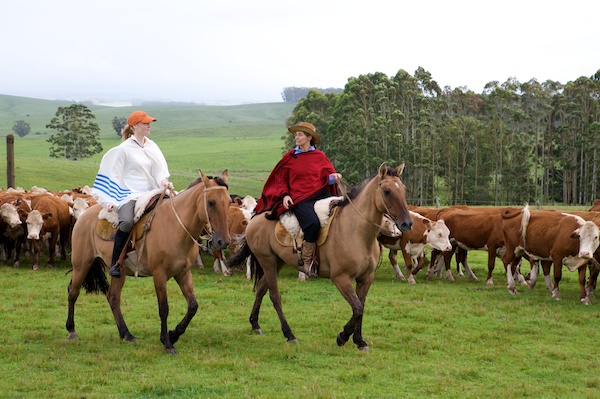 I did have fun though, as we headed up the cattle and moved them on out. They were a pretty easy bunch, but that's probably because their gaucho has trained them so well. We had more pastries back at the house before leaving.
Darley Newman is the host of the Emmy Award-winning Public Television series Equitrekking®, which takes viewers on horseback riding vacations around the world. Equitrekking is broadcast on PBS stations and on international networks.