Under the Tuscan Sun On Horseback in Italy
We all have our bucket lists (or we should!) and smack at the top of many is riding in Tuscany. Who hasn't watched (or read) "Under the Tuscan Sun" and not wanted to drop everything and journey to this enchanted land? Ann Jamieson did it! Keep reading!
by Ann Jamieson
The iconic cypress trees stand sentinel over fields, farms and villas. Poppies spring up hillsides, line railroad tracks. Stone houses with tile roofs dot the landscape, fields of olive trees and vineyards are everywhere. Tuscany as it has appeared in photos and films now sweeps before me for real.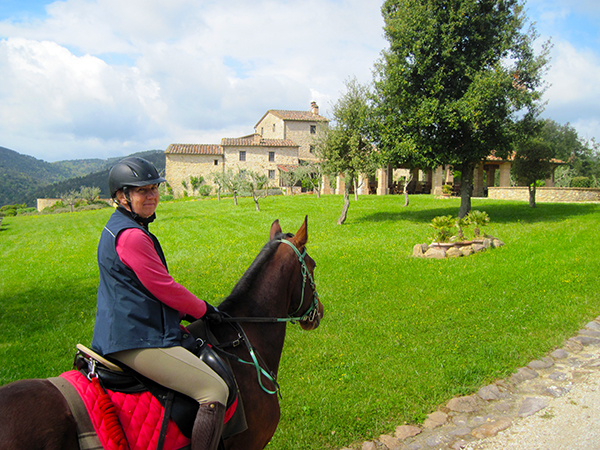 The author, Ann Jameison, riding in Tuscany!
Thanks to Vittorio Cambria, host of the "Feast of the Conquerors" tour I found myself on an Alitalia jet headed for Rome. I could scarcely believe I was finally on my way!

Along with Tina, Wendy, Gina and Renee, a group of friends from Aiken, South Carolina (an American horse paradise!), we met Vittorio in the medieval walled city of Siena and were taken on to the Villa Ferraia. Pulling into the driveway, we couldn't believe our eyes. An imposing villa rose before us, the Tuscan hills falling and rising behind it. Lemon, orange and kumquat trees lined a walkway to a covered patio, terraced gardens revealed numerous cozy sitting areas, and a koi pond proved a perfect place to relax and chill out (one of many such places at the villa!).

Quality shown through everywhere we looked, from the building materials to the plumbing fixtures (a jacuzzi tub in every room) to the hardware. Exhausted and famished after many hours of travel, we were naturally eager to taste the legendary Italian cuisine. Our first bite was of Pecorina cheese served in the study (called the carraia--in ancient times used to store the oxcart); it was sublime. When we sat down at the massive table in the dining room, we were served family style with big platters of linguine with artichoke sauce.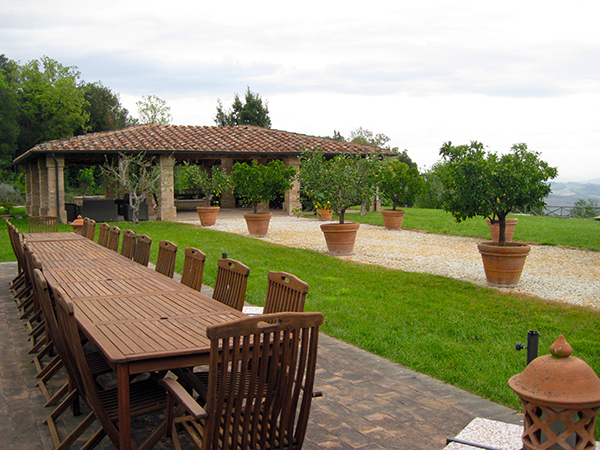 One of the sweet outdoor areas for meals.
All it took was one bite. We all looked at each other. Was this not the most astonishing bite we had ever put in our mouths? Somehow, every single meal, every single bite, whether pasta or chicken or pork or the incredible salad greens, stayed at the same unsurpassable caliber.
Although it was difficult to tear ourselves away from the food, we were, after all, here to ride, so off to the barn we went. The horses are located down the driveway just a few miles from the villa. A variety of breeds are represented to satisfy the wants and needs of every guest. Anglo-Arabs, Lipizzans, Maremannos (a native Italian breed that looks like a warmblood) and a cross between a Sicilian mare and Berber (Barb) stallion are all possibilities for the day's ride.
Vittorio is clear about what he expects from his horses. "I don't want boring horses! I want horses that are forward, without being crazy." And that's exactly what he has.
My mare, Zingara, was one of the Sicilian/Barb crosses and she was an absolute joy. Fast, light, responsive, alert and incredibly comfortable, she was the perfect choice for fun-filled hours in the saddle. Vittorio rode a powerful Lipizzan which entertained us as it demonstrated airs above the ground over muddy patches and narrow streams.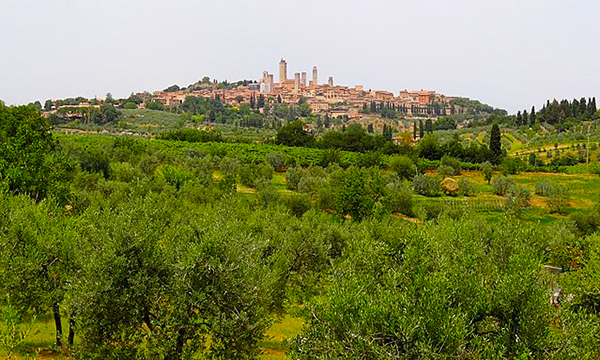 A view of San Gimignano as seen from the Via Francigena after passing through the town walking south. Photo credit: Bjørn Christian Tørrissen.
Renee has ridden around the world (she's done seven African horseback safaris in addition to other rides). She, Tina, and Gina, had to flee a herd of stampeding elephants in Kenya on the Masai Mara ride. Galloping through tall grass, the frightened riders not only had to escape the elephants, but also avoid unseen holes in the footing.
Luckily, no such terrors exist in Tuscany. The only wildlife we spotted was a herd of wild boars. Although they certainly can be destructive (Vittorio fought a losing battle attempting to mitigate the damage they wreak on his plantings), they aren't the huge boars that can be very dangerous. They ran the other direction when they spotted us on the horses.
I'd always heard that Tuscany was hilly but I wasn't prepared for the size of the hills. More like small mountains, we were constantly climbing or descending them. The reward was the fantastic vistas we were treated to at the summit. And generally we were climbing on nice wide sandy roads, so there were many exhilarating gallops to get to the tops of those hills!
The scenery varies. At times we were riding through green fields, or crossing blue-green streams. Abandoned villas are frequently seen, with fields of olive trees still being tended. Vittorio attributes these abandoned relics to the rising tide of people tired of country life who flee to the cities.Sometimes we rode through small villages, such as the tiny medieval (11th century) town of Tocchi. These villages, too, have lost much of their population to the cities. Schools that served them for centuries are now shuttered closed.

Siena, Tuscany view from the Campanile. Photo credit: Raymondlafourchette.
At times we found ourselves riding on cobblestones, and we learned that these were old Roman roads we were now traversing. Astonishing to think that the road beneath our feet was once trod by Romans.

Many of the rides went through forests, and across rocky landscapes. These forests earlier had been populated with masses of chestnut trees. Chestnuts were a huge business for the Italians, especially in Tuscany, where much of the population depended on chestnuts as a main food source, and in addition processed and sold them for their livelihood. Unfortunately an insect introduced through some non-native plants coming in from China proved fatal to the chestnuts and almost entirely wiped them out, taking sustenance and income with it. We saw some of the buildings along the trails that had formerly been used for processing these chestnuts.
Not all of the time was spent on horseback. Vittorio, a fascinating and knowledgeable host, took us both to Siena and San Gimignano for visits. A Unesco World Heritage site, the old section of San Gimignano retains 14 of its towers still intact (most medieval cities had their towers destroyed in wars). San Gimignano, like most medieval towns, is located on top of a hill for protection. We also visited a great local tack shop (Italian leather is to die for, wondrously supple!) and a shop specializing in terra cotta. All of us came home with wonderful reminders of our trip.
About the Author: Writer of the "For the Love of the Horse" series (collections of amazing true stories about horses), Ann Jamieson has recently taken her stories to a new medium with www.ahorseinyourinbox.com, an online story subscription website. Stories are now delivered weekly to your inbox! Read the story anywhere: waiting in line, at a horse show, at the doctor's or dentists office, or print it out to read if you prefer a paper copy.

Ann has shown her Secretariat grandbaby Fred Astaire to year end zone awards in the adult hunters, competed in hunter paces and qualified for the Adult Amateur Dressage Championships. She is an "r" judge in hunters, jumpers and equitation.