Turkey- Horse Riding Kiliclar Valley, Cappadocia
Horse ride the beautiful Red and Rose Valleys in Cappadocia, Turkey
We've spent many days riding through Cappadocia's fairy chimney valleys in Central Turkey, and I don't think we'll run out of trails anytime soon. The scenery changed today on our ride through Kiliclar Valley on our way to the Red and Rose Valleys (Gulludere and Kizilcukur) in Cappadocia. Here there are white ice cream cone formations and narrow passageways between the white domed rocks. Our horses took the sometimes challenging rocky terrain with stride, much more surefooted than I would have been on these trails.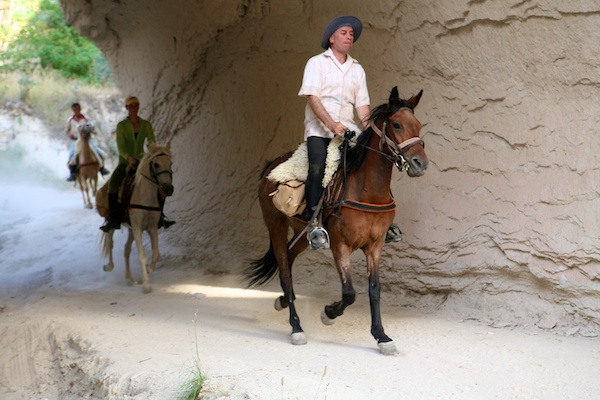 The lookout point over the Red and Rose Valleys wowed me, and my guide Ahmet Diler said it was one of his favorite spots as well. It was late afternoon, so the sun was at a perfect point in the sky to illuminate the soft, pastel colors of the valley.
The colors and rock formations reminded me a bit of some of the more spectacular areas of the American West, except that we were in Turkey and below us a woman was driving a horse cart, which she used to haul produce from her farm to her house. For many people in Turkey, the term "horsepower" still holds true. Many folks drive horses instead of motorized vehicles.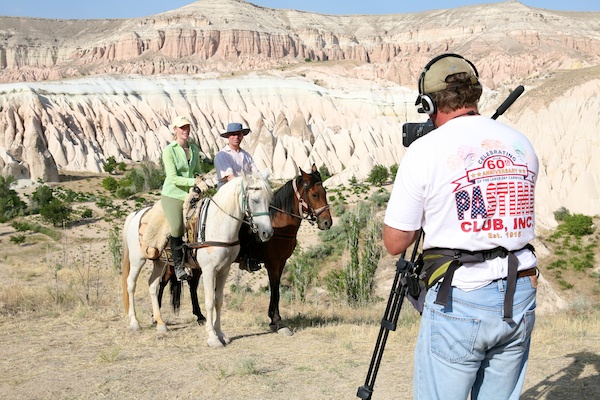 We rode horses down a path winding into the Rose Valley, where we were able to canter along a flat, straight trail through a series of rock covered passageways. In this valley, there are a myriad of hidden churches.
It was exhilarating for us, and the horses were glad to pick up the pace as well. I would certainly sleep well tonight and look forward to exploring another fascinating valley on horseback again tomorrow.