Turkey- Güzelyurt Horseback Riding
Meet the locals of Guzelyurt, an off the beaten path village in Cappadocia
An introduction to Guzelyurt
Güzelyurt is a part of Turkey, which has not been totally discovered by tourists, allowing travelers who do make it here to see Turks living a traditional lifestyle. We're riding here with Ahmet Diler of Kirkit Voyage, who grew up in Cappadocia and seems to know everyone in the area, making me feel a bit like a local on my travels here.

Ahmet's stables in Guzelyurt are right on the edge of the village. We arrived the night before to pick our horses for the next days trek. I have ridden a lot of different breeds, but before this trip to Turkey had not ridden many Arabians. This breed is prized for its endurance, spirit and intelligence, and I was a little worried before I traveled here that the horses might be too spirited! I am glad to say that the Arabians that I have ridden in Turkey have been just right.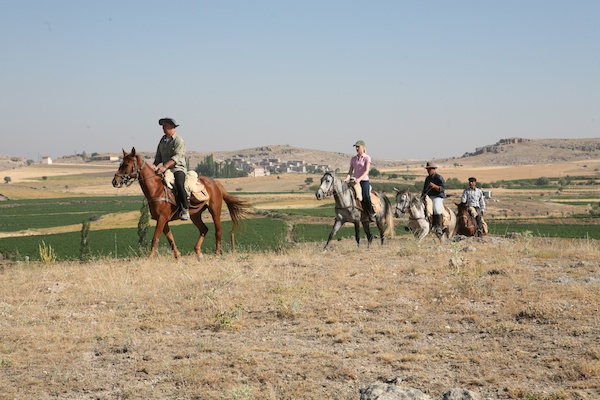 For the past few days, I had been riding an angel of an Arabian named Incion. I was a little nervous to switch, but was pleasantly surprised by how well my new horse, Üzüm, was listening to me as we left from the stables, right on the edge of the village.

We headed along a trail through farmland towards the high church and monastery of Analepsis. The church and monastery rest on a hill overlooking a lake and the village. The setting is peaceful on the outskirts of town. We passed people working in their fields and women and men riding donkeys and carrying supplies to their homes. People here still very much have an agricultural lifestyle. Ahmet explained that most people have a plot land that they cultivate for themselves and their family.
Til the cows come home!
If you arrive to Guzelyurt in the morning or evening, as we did on the preceding day, you'll see a procession of cows leaving and coming back to the village. In this village, the cows literally come home at night and some even walk right through the front door and into their owner's house. Families may keep a cow that provides them with fresh milk. During warmer months, they pretty much send their cow to day care during the day.
Residents let their cows out onto the streets and a shepard herds them out to the fields for the day. At night, the shepard drops them off in the village and each cow walks to its owner's home.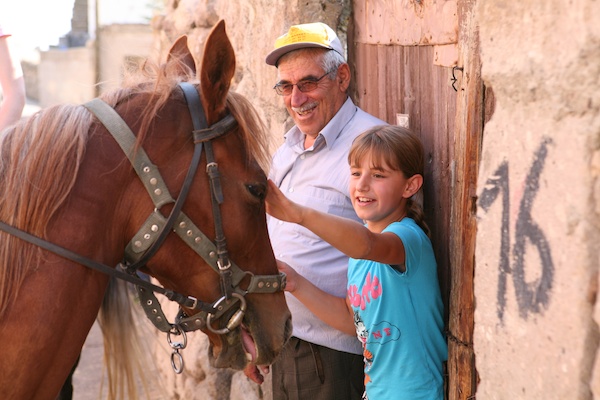 When we rode into town, many children came out of their stone houses to greet us and our horses. The kids were excited to see a film crew, and Greg, our cinematographer, let them come over and check out our camera and what we were filming.
Drinking with the locals
We were then graciously invited by a local family to have ayran, a popular drink here in Turkey. Ahmet described ayran as the national drink of Turkey. Ayran is made from yogurt, water and salt. There are mass made, mass sold brands, but my first experience with ayran would be the homemade kind, sitting in the courtyard of a traditional Guzelyurt home. As two women separated wheat by hand, I had my first sip. It tasted very salty and a little tangy to me, but I have to admit, it was refreshing, especially since it is so hot right now here in Turkey.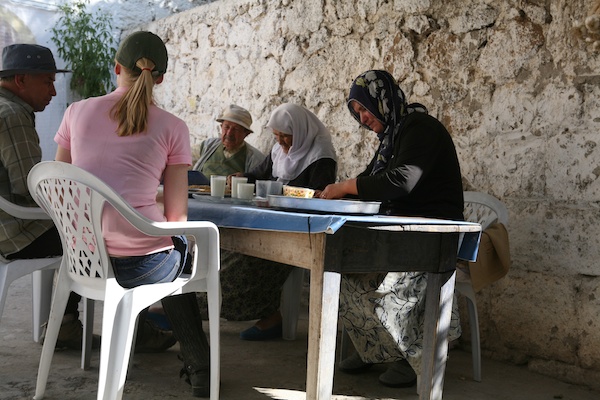 I asked the grandmother of the family what she would do with the wheat that she was putting into her smaller bowl. She told me that it would be mashed up for their cow, who was currently out for the day. I also asked her (Ahmet translated) how she got her cow to come back each night. She pointed to the bowl and said that because she feeds her cow well, it keeps coming home. Sounds a lot like my cat!
We were invited inside of their home. When I think about Turkey, I do think about Turkish carpets and the house had carpet on top of carpet. It was neat and tidy. Several generations live here in this house right in the middle of the village. It was a neat locals experience to hang out in their home while they went about their daily life and a priviledge.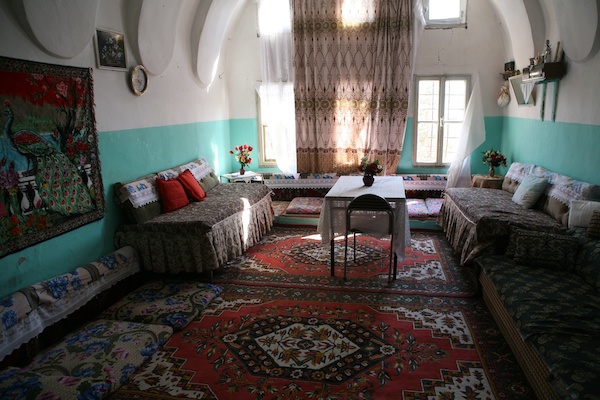 Watch the Equitrekking video promos and purchase Equitrekking DVDs in our Store. Learn about equestrian vacations and book a horseback riding vacation in Turkey with our sister company EquitrekkingTravel.com.