Tryon Horse Country Tour in NC
Take an insider's tour of the horsey area of Tryon, North Carolina.
After hearing about Tryon, North Carolina for years, I was excited to tour the rolling hills of this horsey area that rests along the border of North Carolina and South Carolina, my home state, in Polk County. Tryon is located about an hour from Asheville and about a half hour from Hendersonville, destinations where as a child I learned to ride horses while at summer camp. The scenery in Tryon is pretty and bucolic with many horse farms resting amid the Carolina Foothills.
Local horsewoman Libbie Johnson served as my guide and host, arranging a special insiders tour of Tryon equestrian sights and a wine and cheese party where I'd speak to area Equitrekking fans about my globetrotting life. Libbie graciously invited me to stay in a historic cottage on the Cotton Patch farm, where in 1956 the United States Equestrian Team stayed while training for the Olympics in Stockholm.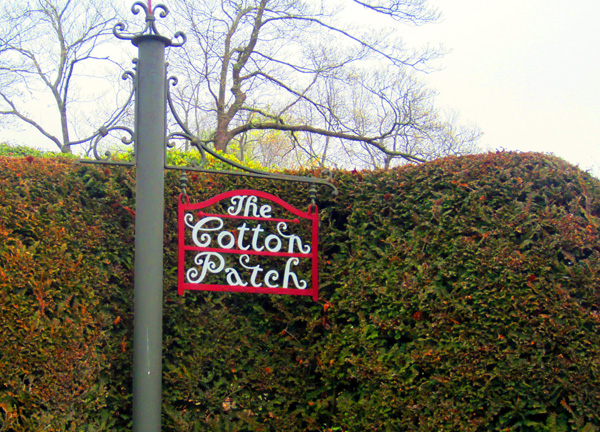 My Speaking Event Party at FENCE
14 Hands wines, one of Equitrekking's newest sponsors, and Polk County Economic and Tourism Development sponsored my speaking event in Tryon. It was appropriately held at the Foothills Equestrian Nature Center (FENCE), a 380-acre nature preserve of trails for hiking, horse riding and bird-watching and stables for over 300 horses, three lighted show rings, a therapeutic riding center, TROT, and a cross country course. We enjoyed 14 Hands Hot to Trot Red Blend (my favorite), Cabernet Sauvignon, and crisp Chardonnay.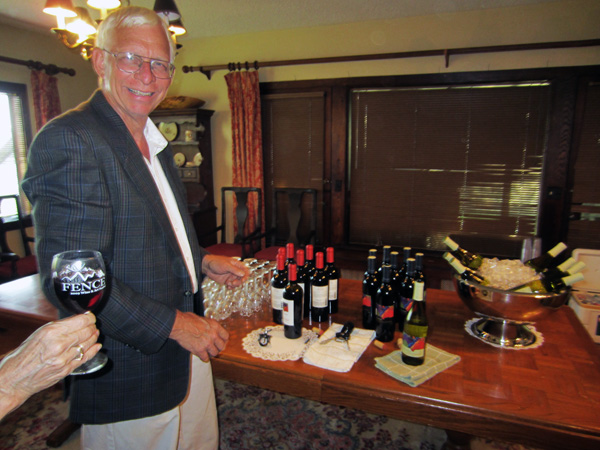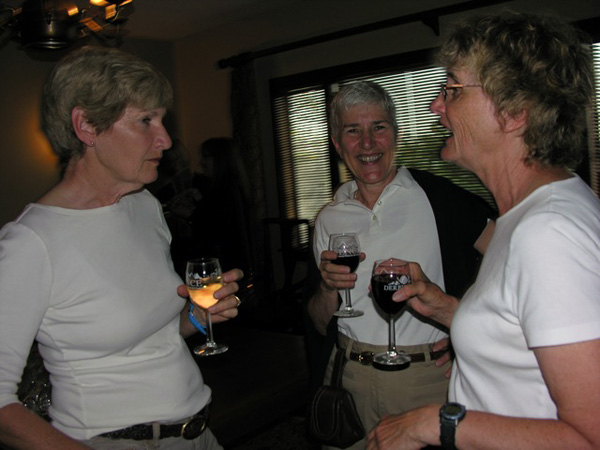 I chatted with equestrians from across the area and beyond. Fans from as far away as Atlanta drove in to attend the event, where I spoke about my adventures riding horses around the globe, including harrowing elephant charges, magical Petra and stunning rides in Ireland and answered questions about how we film our series and riding vacation planning and preparation with EquitrekkingTravel.com and the Equitrekking.com.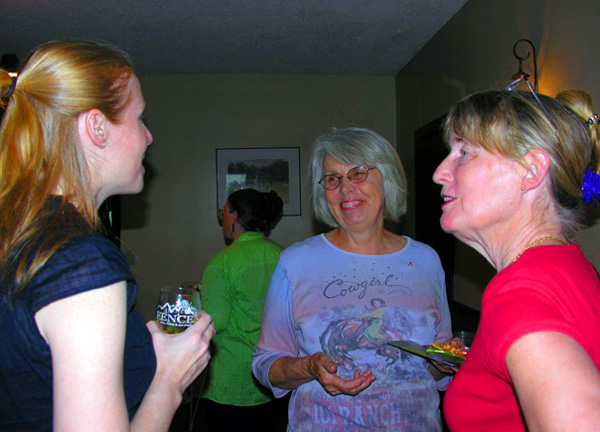 I was interested to hear from residents of Tryon about the diverse breeds and riding types popular in the area, including Paso Finos and Icelandics.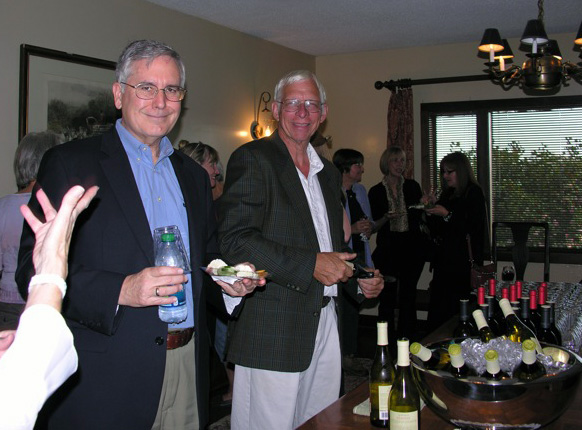 I also spoke about the importance of educating people about horses in general, as they enrich our lives in so many different ways, as well as being a source of economic stimulus and support for many communities in the USA and around the world, including Tryon.
Tryon Horse Country Tour History
One of the reasons why so many equestrians have flocked to the Tryon area is both for its rich equestrian history and its wonderful trail system. Many of these historic trails date back to the 1920's, when people traveled to Tryon to fox hunt. They are preserved by the Foothills Equestrian Trails Association. There are around 100 miles of trails that private landowners maintain and preserve.

Libbie told me that having a home on this trail system is sort of like having a beachfront house in a beach area. It's a very desirable place to live for an equestrian. Who wouldn't want to be able to ride out of their backyard through miles and miles of diverse trails!
Carter Brown History and Houses
Libbie took me to see several of Tryon's cool old homes designed by Carter P. Brown, a Michigan innkeeper and equestrian who came to Tryon in 1917 and began promoting the area's equestrian pursuits. He designed several area homes made of beautiful old wood. They still remain occupied today.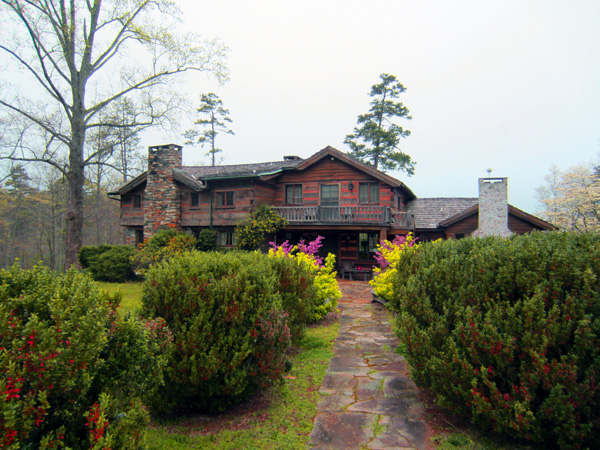 We walked through one rambling home with old wood interior, taking in the intricate details of Carter Brown's work. His style is reminiscent of the area's Southern mountain folk architecture.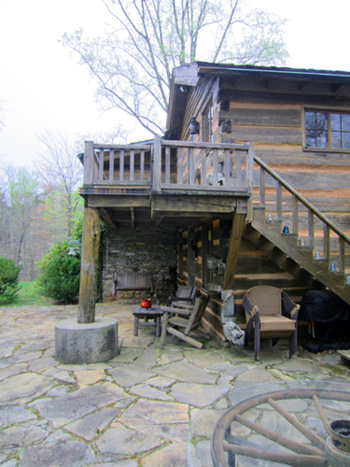 Carter Brown also opened an area inn in 1917, the Pine Crest Inn, which is listed on the National Register of Historic Places. Guests visiting Tryon can still stay at this historic inn today.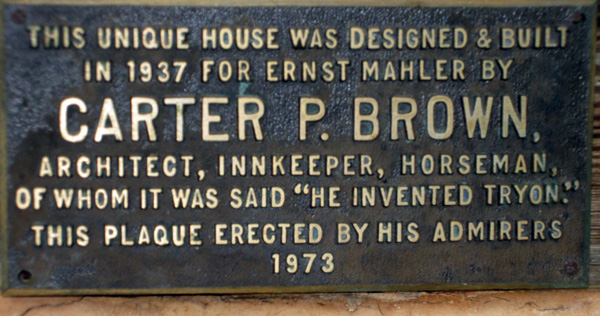 Morris the Horse and Downtown Tryon
If you visit Tryon, make sure to get a photo with Morris the Horse. The symbol of Tryon can be seen on area mailboxes as well as standing tall at the corner of Trade and Pacolet Streets in a little downtown area surrounded by wooded hills.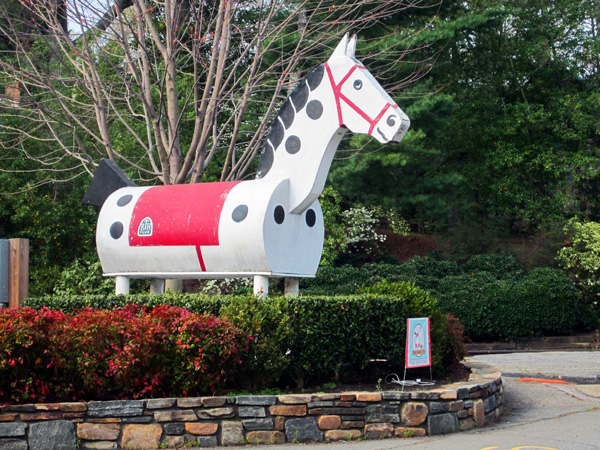 Originally, Morris was a toy horse created to advertise Tryon's first horse show in 1928 held in Harmon Field and sponsored by the Tryon Riding and Hunt Club. In 1928, they would have driven the horse around town to promote the horse show. Today, this replica reminds residents and visitors of Tryon's equestrian past and the wooden horses that were once made in Tryon and shipped worldwide.
Icelandic Horse Farm
Who knew I'd find Icelandic horses in Tryon! At HulinnDalur, an area Icelandic Horse Farm with a nice covered arena and a tolt track, something I've only seen in Iceland, I met Mufasa, a pretty dark chestnut gelding who was born in Iceland in 1996. Thought to be the tallest Icelandic in the world, Mufasa stands at 16 hands high, pretty tall for an Icelandic horse, which stands at an average of 13 or 14 hands high.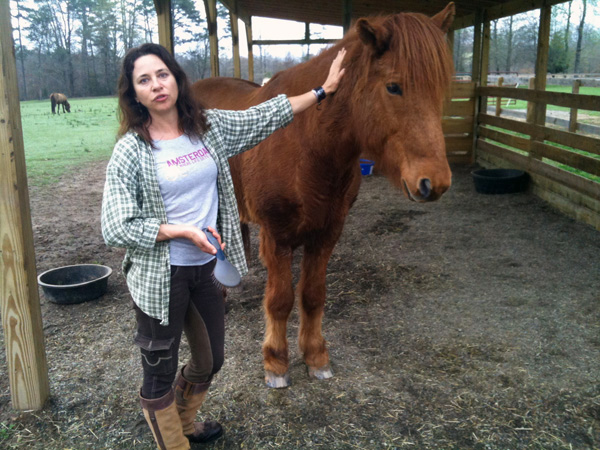 This farm owned by Sara Lyter often hosts clinics.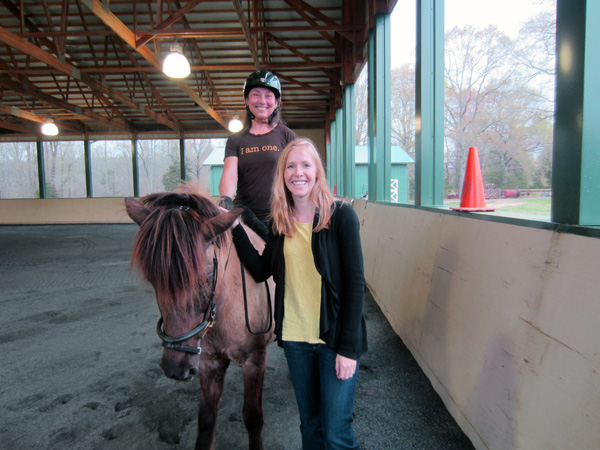 Watch videos about Iceland travel and Icelandic Horses.
Harmon Field
Our next stop was Harmon Field, a forty-six acre recreation area that is the frequent site of horse shows. There are four horse rings and one hundred and forty stalls and nice foothill views.
If you visit, pay your respects to John Livingston McKnight, an Irish rider who was well-known horse owner and trainer in Tryon for three decades. It's not unusual for Tryon residents to be buried with their horses and dogs, and McKnight is buried at Harmon Field with his two horses. A lawn jockey, a frequent fixture in Tryon, marks the grave nearby.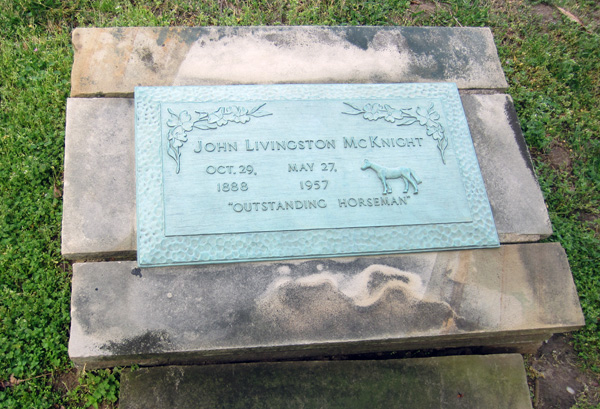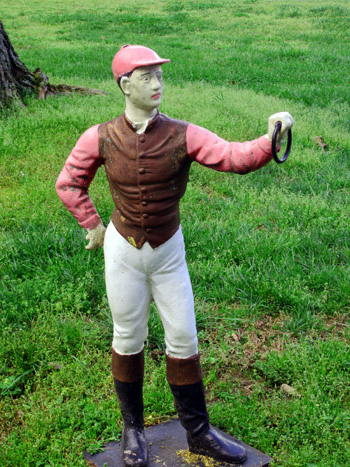 Shopping at The Farm House
Libbie took me by The Farm House, an equestrian tack and apparel store located right over the border in Landrum, S.C that has been serving area horse lovers for over 30 years. Looking around at all of the saddles and clothing choices, you know that the population of around 1500 Tryon residents loves horses.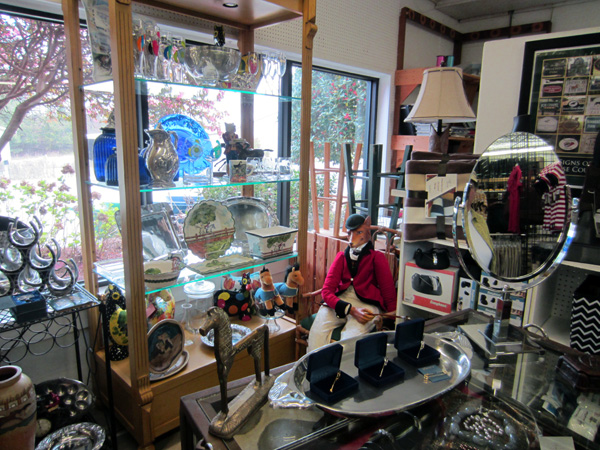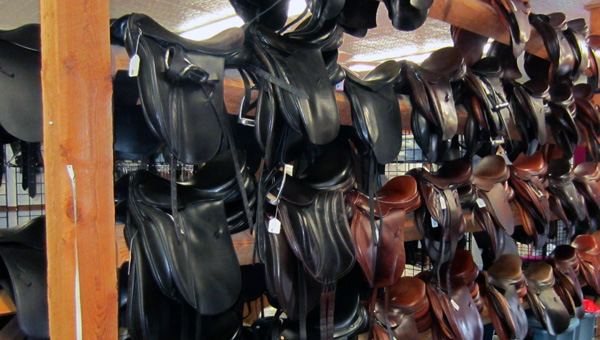 Aquatred at Still Creek Farm
For horses that need physical therapy and rehab, I took a look at Still Creek Farm's Aquatred, also known as the HydroHorse, just down the road in Columbus, NC. There were two horses using this in-ground water filled treadmill that allows for non-jarring workouts.
I took this video so you can see it in action. There are whirlpool water-jets and air blowers to help cure and strengthen injured horses.
Resources for your visit to Tryon:
Tryon Horse Country website, featuring a variety of links to Tryon area equestrian organizations and clubs.
Tryon Style, a book I'm reading by Libbie Johnson with a comprehensive history of Tryon's equestrian legacy.