Traveling Single to Rancho Las Cascadas in Mexico
A solo woman traveler from Atlanta, Georgia shares her experience of taking a horseback riding vacation at Rancho Las Cascadas in Mexico.
I love to travel. As a single woman, though, I usually find it nerve-racking (and a little lonesome) doing so by myself. It's difficult for me to really relax and unwind, when I'm worried about finding my way in a strange place. So when I was looking for vacation ideas about five years ago, I searched the Internet and stumbled across Rancho Las Cascadas. Oh, what a find!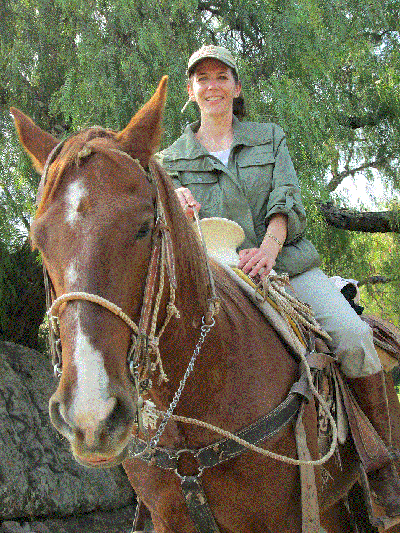 Calypso and I during my second visit to the Ranch.
The most appealing thing I read about the Ranch (at the time) was that I would be taken care of throughout my entire stay. The staff would pick me up at the airport, feed me, entertain me, and show me the sites. I had never really ridden a horse (besides head-to-tail trail rides) but I love animals and was willing to try something new. I had no idea the experience would ignite such a passion within me.
Well, Uschi and the staff did as promised. A driver was waiting for me at the airport and he brought me straight to the Ranch. Within an hour of arrival, I was on the back of a horse exploring the beautiful countryside and experimenting with my first-ever canter. I must admit, my insides felt like they were about to become "outsides", but I was having fun.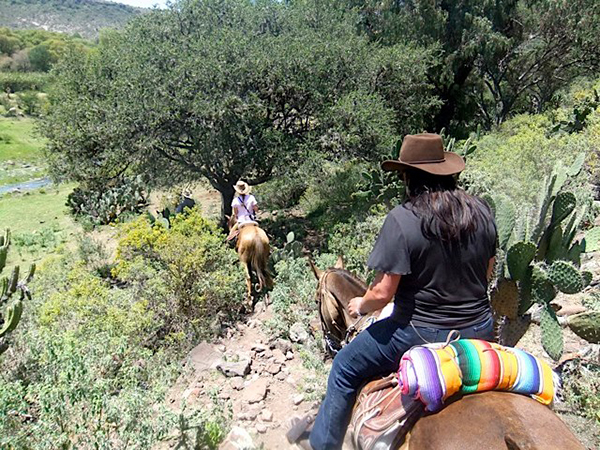 Cactus and colors on the trails at Rancho Las Cascadas.
As a beginner rider, I appreciated the fact that I could spend some quality respite time touring the local markets, investigating ancient ruins, practicing my Spanish with shopkeepers, or simply relaxing in the hot tub. I was always accompanied by a Ranch staff member who explained things to me in English, helped me barter for my purchases, and generally made sure I was safe and comfortable no matter what we were doing.
One of the things I remember most was walking through Tula, a nearby town. I saw a woman sitting on a street corner using a knife to take the prickly skin off some cactus. My guide explained that she was selling the cactus as food. I thought I misunderstood, so I asked in Spanish, "Comer?"
"Yes, yes!" he responded. "To eat!"
To prove it, he purchased some and asked the chef to cook it for dinner that night so the other guests and I could try it.
On my first trip to the Ranch, my guide purchased cactus from this woman so I could see what it tasted like.
My first visit ended after seven short days. But the memories never left me. Three years later I returned to the Ranch to once again escape from the stress and drama of everyday life. That's when I truly fell in love with the horses, riding and beautiful Mexico. I realized life is much less complicated when you're riding a horse. All of your attention and energy is focused on becoming one with the magnificent and powerful animal. There are no thoughts of paperwork, meetings, or sensitive issues. They can all wait.
After my second trip, I found a barn close to home and started riding every weekend. I have actually become pretty good at it. I also know that I'm definitely much happier because of it. I tell everyone that riding is my therapy. It allows me to strip away all the stress and start each week with a fresh perspective.
In total, I've traveled alone to the Ranch four times and am planning my next trip soon. I love it! There is still so much to discover. And I know that Uschi and her staff will always keep me safe, well-fed, and entertained.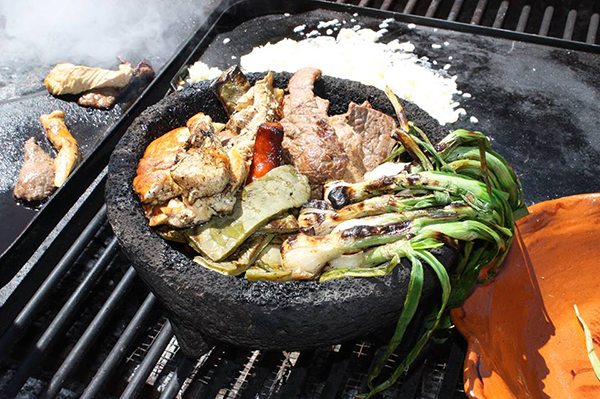 Just one of the festive dishes you might try at Ranch Las Cascadas.

Learn more about Rancho Las Cascadas. Check out their pages on Top20Ranches and in the Equitrekking Vacation Guide.