Training Future Equestrians with 4-H Youth Camp
An exciting 4-H youth horse camp was recently held at Fort Valley Ranch, located in Fort Valley, Virginia within the beautiful Massanutten Mountain Range and adjacent to the George Washington National Forest. Through a donation and with the help of a few adult members of the Shenandoah Trail Riders and Horseman's Association participants learned basic horse care with hands-on grooming techniques, leading, and riding skills.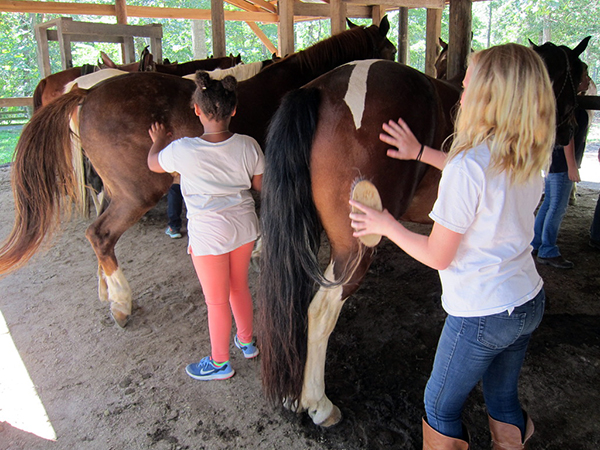 Learning to groom and lead at Horse Camp.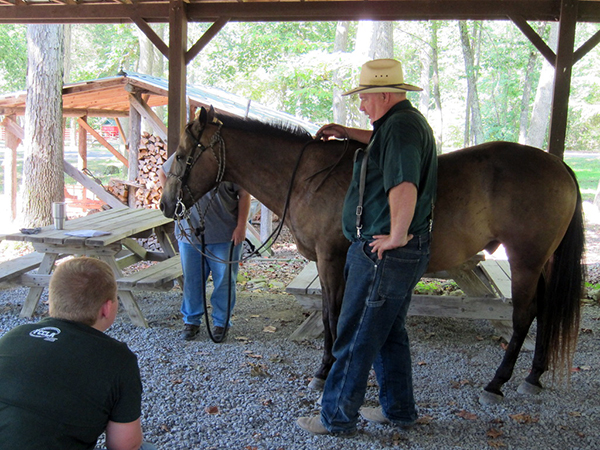 Mr. Shumaker demonstrating bridling and rein pressure.
This was a unique opportunity for these individuals who had never ridden before. It was interesting to view the youth's confidence and skills grow over the course of a few days of just being around these majestic animals.
Group is all mounted and lined up to hit the trails!
They thoroughly enjoyed their trail riding experiences through the forest. With all participants displaying a genuine interest in horses, we will have encouraged growth in a new generation of "cowgirls & cowboys"! I am certain a few will be returning to Fort Valley Ranch with their families to kick up more dust on the trails from the hooves of horses.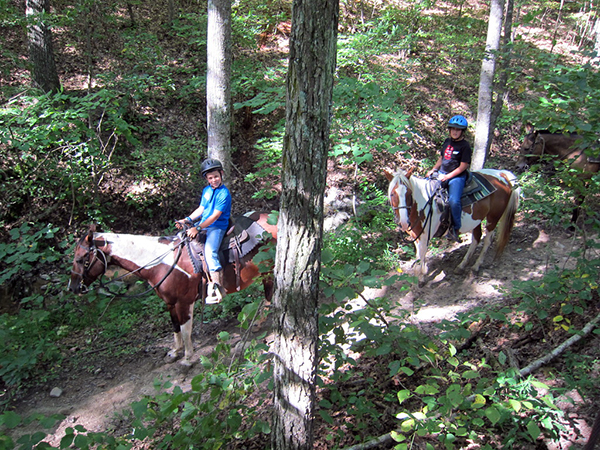 Kids on the trail.
Fort Valley Ranch has a herd of thirty or so head of horses and mules. In addition, the facility has cabins and horse stalls for overnight horse camping, restrooms, camp store, and a large covered picnic pavilion for entertaining. Wagon rides are also an option for non-riders or special occasions.

Reservations for trail riding are also recommended, especially during the summer season. Owner Bill Shumaker has several ranch hands to assist him. As I witnessed during the week we attended our camp, there was a steady stream of clients from all walks of life coming and going for trail rides. Mr. Shumaker also conducts several different horse camps throughout the summer as well for other various youth organizations.
About the Author: Susan St. Amand is a Board Member of the Shenandoah Trail Riding and Horseman's Association and employed with the Virginia Cooperative Extension as a 4-H Youth Program Assistant. She grew up in Northern Maine with horses on a farm and has been a transplant to Virginia for the past 25 years. She enjoys planning horse vacations with friends and has currently completed many rides in Maine, Pennsylvania, New York, West Virginia, Tennessee, North Carolina, as well as Virginia, trailering her own horse.