Trainer Lisa Molloy's New Community OTTB Project
Lisa Molloy is an OTTB (off-the-track-Thoroughbred) trainer that I previously interviewed on Ex-Racehorse Adoption Blog. She is both a fierce advocate and loving supporter of ex-racehorses. Lisa has a new project for OTTB lovers. A Facebook community page called Thoroughbreds for Adoption to help our beloved OTTBs find the loving homes they deserve.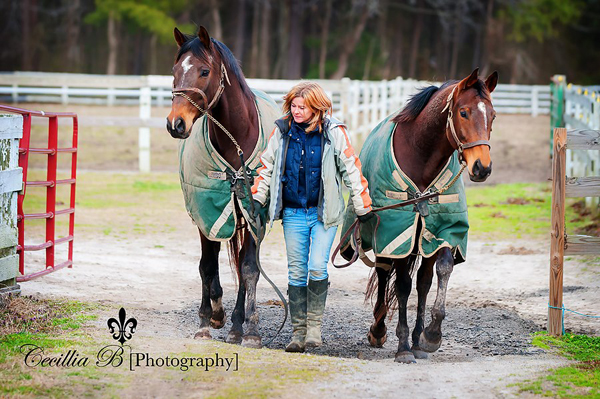 Lisa Molloy leading a couple of OTTBs / Photo Credit: Cecillia B Photography
Raina for Equitrekking: Lisa, what's been happening in your life since I last interviewed you?
Lisa Molloy: Wow, so much has changed across the board from geographical location right through to the charities with whom I now work. The essence is still the same but my life has been tipped on it's head, given a good shake and the way everything fell into place has been humbling and yet so inspiring.
I resigned my post at New Vocations last July, moved out East to Virginia and went straight back to business, but with a little bit of a twist. I brought together several well established Thoroughbred adoption/ training programs all together under one roof and set about working for not just one entity but three organizations. Horse rescue is a passionate emotional "business" and everyone has their own beliefs and ideas about how to best help these horses and that of course leads to tensions and in some cases resentment.
Turning For Home, ReRun and Akindale Thoroughbred Rescue were all able to come to the table and say let's get this done, let's find these horses homes and let's show people that although we have different programs, we are all working towards the same end, which is placing Thoroughbreds in safe, loving homes. And it's working – 30 horses have passed through the barn since August 2012. I think considering it really was like starting from scratch, we are achieving our goal of placing horses and really putting ourselves on the map.
The policy across the board is transparency, honesty in our transactions and full disclosure combined with a solid commitment to our horses. I feel privileged to have a barn full of such wonderful horses and honored to have such a supportive team both in my barn but also in terms of supporters, adopters and those heading the three charities. Life is good!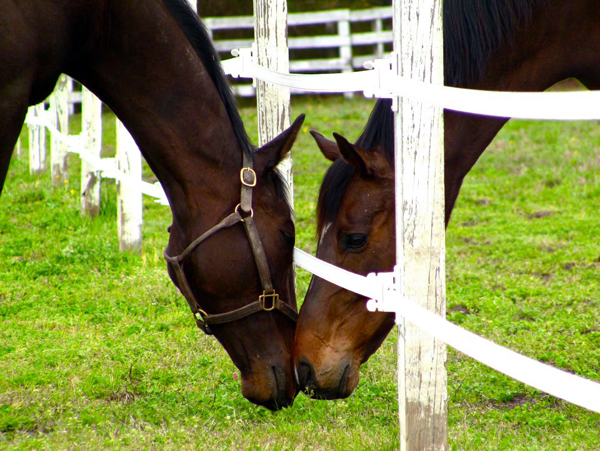 Off-the-track-Thoroughbreds Noah and Crypto/ Photo Credit: Michaela Witten
Raina: Can you tell us about your new OTTB project and what inspired you to create it?
Lisa Molloy: Social media, especially Facebook, is such an awesome way of getting the horses out there and seen. Although some people like to just peruse the pretty pictures, just by hitting the share button it can lead that picture or video to land in the lap of someone that is prepared to offer the perfect home.
However it's human nature to stay with what you know, what is familiar to you and Facebook is no different – charities garner supporters or people that favor their page and look no further. I was trying to think of ways to broaden peoples awareness of what charities and rescues are out there, how the programs differ and what horses may be right in your backyard looking for homes.
While of course it's preferable for someone to choose "my" horses, this is a cause where egos need to be checked at the door and the horses must come first. The horses do not care which charities hold them, they just want a safe place to land. I also wanted to make things easier for those looking to adopt. Just like at my own farm, I want to be able to see a vast array of Thoroughbreds all under the same roof. One morning after just a single cup of coffee, Thoroughbreds For Adoption was born as a community page on Facebook.
Raina: What are your goals with this new community?
Lisa Molloy: I would like to see charities and rescues from across the country and Canada come together and list their horses, because the statistical information I have available at the moment shows that some postings have had over 2000 views – that is huge and shows that the interest and support is there. The page had 700 likes in just 24 hours! I would like some of the smaller or lesser known organizations to utilize and make full use of the platform we now have available to us. I would hope that we can all forge forward and that the page can be a conduit for those involved in Thoroughbred retraining, rescue and rehoming to come together and have more open lines of communication between each other and with the public.
When starting the page, I wanted to make sure it wasn't just an extension or guise for my own page or the charities with whom I work. In order to achieve more balance, I added several admins to the page who can edit, post and respond the same as I can. I picked a diverse range of people so all viewpoints could be represented and am thrilled to have the opportunity to welcome them on board as we navigate this new adventure in social media. Manning the ship with me is Elizabeth Dickerson (Northstar Horse Rescue in Rockland, Maine), Claire Jazbec (Canter Ohio), Mindy Lovell (Transitions Thoroughbreds) and Erin Pfister (Akindale Thoroughbred Rescue) – it's going to be dynamic and exciting!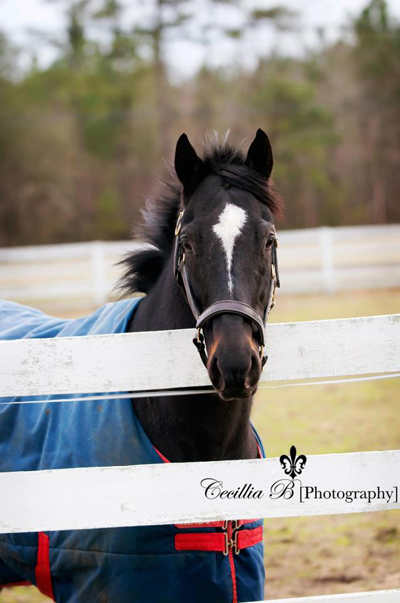 Mr. Midnight looks like a sweetheart / Photo Credit: Cecillia B Photography
Raina: How can someone contribute to your new project?
Lisa Molloy: The most meaningful way is to support the page and share, share, share those listings of horses looking for homes. We intend to also feature horses that cannot be adopted but require sponsors. If someone happens to have a few bucks to spare, which I know is a tremendous challenge in these economic times, perhaps they will consider assisting in a sponsorship capacity. We also will be posting date reminders for the Thoroughbred Horse Show Association and Thoroughbred Celebration Horse Shows so those adopting (hopefully due to the page) can learn more about the programs and incentives they offer for adopted horses and owners looking to get out, have fun and show their wonderful new partners.
Raina: Since we last chatted, do you think the state of awareness for OTTBs and their need for adoptive homes after their racing careers end is being addressed more?
Lisa Molloy: The awareness is definitely there and the amount of OTTB couture and accessories that can be purchased to adorn both horse and rider has sky rocketed. Many of these companies donate a percentage of their proceeds to Thoroughbred charities. People really are proud to showcase their Thoroughbreds, but we still have a long way to go. Although there has been a surge in getting them back out on the show circuit and changing the public perception, the younger sound horses with minimal starts and no vices will always find homes.
It's the older horse with multiple starts and injuries that will never be competitive at the higher levels that needs the most assistance. We need to educate the public more about the injuries and surgeries these horses have sustained or undergone so they can make better informed decisions regarding the potential usability and not automatically have a knee jerk response and shy away at the mention of "condylar fracture" or "screws". Some of my most successful adoption stories have been horses that were continually passed over due to age, size, starts or injuries and someone with tremendous heart took a calculated risk on them when nobody else would.
I was contacted only today by someone that had previously adopted two horses from me – one had suffered a hind limb snake bite, leaving one leg with the proportions of an elephant and the other had stifle ligament damage. They were still with her, well cared for and much loved and she couldn't have been happier with her choice. Stories like that are what makes me glad to get up in the morning and optimistic that even the most difficult adoption prospect has someone out there waiting for them – we just have to find them!
OTTB Hugo being presented with a child's drawing / Photo Credit: Cecillia B Photography
Raina: Is there anything else you'd like to share?
Lisa Molloy: I think by the end of 2013 there will be a lot to reflect upon. I've teamed up with a young upcoming photographer Michaela Witten to think of more innovative and creative ways in which to photograph and video the horses showing more than the average walk/ trot/ canter video, including new and exciting perspectives including helmet cam footage. I'm working towards establishing a surgery fund for horses that require relatively simple procedures, such as chip removal, that will benefit them for the rest of their lives. I have a few more things up my sleeve and am hoping that they come to full fruition.
From an industry prospect, I think the Turning For Home program is going to become the model for many other tracks to follow and will become the norm and no longer the exception. If every track implemented this type of program on some level, no matter how small, we'd be able to safely rehab and retire many more horses. They like to say "At Parx, We Take Care of Our Own." That should be the mantra for every track.

Lisa Molloy's links and OTTB resources:
Twitter: @lisaky72
Thoroughbred Celebration Horse Shows
The Thoroughbred Horse Show Association
---
About the Author: Raina Paucar is an adventure loving equestrian and retired female jockey. She likes to ride and compete in many disciplines, explore new places and read great books when she's not sewing or writing. She currently works with her own off-the-track-Thoroughbred (OTTB). Her career in media focuses on equestrian lifestyle. You can add her to your Google+ circles, subscribe on Facebook and follow on Twitter.