Trail Riding at Mt. Rogers, Virginia's Diamond in the Rough
Have you ever ridden in a place where the views literally take your breath away? Where when you look out over the scenery you can't help but think Heaven has to look like this?
by Ashley Agee, The North Carolina Cowgirl
There is a spectacular place called Mt. Rogers National Recreation Area which has had an impact on me. Many of the riders who have been there to trail ride say they were in complete awe of the views seen on top of the mountain and that it was unlike any other place they had ridden.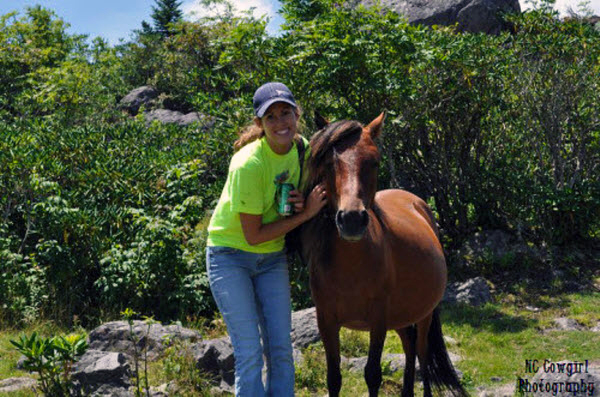 The North Carolina Cowgirl, Ashley Agee.
So what is it that makes Mt. Rogers so great, you may ask? Well, at certain riding spots you can see for miles. You can see the mountains in the distance, the valleys with wild animals and the flowers and plants swaying in the wind. You can smell the fresh scent of vegetation and feel the breeze as it blows through your hair.
Mt. Rogers is also a wonderful place to go trail riding because it has over 500+ miles of trails. Many of the trails are rocky and very hilly, which require your horse to have all four shoes and be in good condition.

For the sake of keeping this article short, I want to share with you one of the best trails at Mt. Rogers that I've ridden. While I'm not positive of all the trail names, I can share with you the names of the places where we stopped that have great views.

My Favorite Spots–– The Scales at Mt. Rogers

On this particular sunny Saturday morning we started riding at 10am. There were fifteen of us eager to trail ride and some in the group decided to rent horses from Doug Cregger, who runs a guided trail riding business at Mt. Rogers. We met Doug at his stable where he had the horses ready and saddled. Everyone grabbed the horse they wanted and were suited to ride, and we began our journey up the mountain.
The trail began on a mountain road but about half way up the mountain there was a cut off trail for horses. This trail took us off the main road and up a steep path to the top of the mountain. It took about forty-five minutes to ride to the top and as we ascended further we started to feel the air beginning to cool. Once on top we stopped at a beautiful place known as the Scales.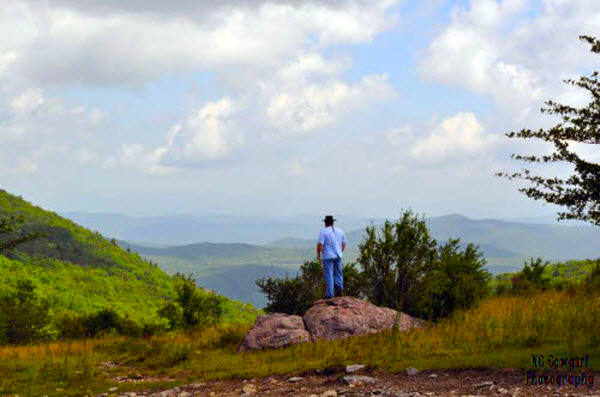 Looking out over the Scales.
The Scales is a small fenced-in camping area where campers, hikers, and horseback riders can stop to take a break and use the facilities. Many years ago it was the spot where cattle were weighed before being herded off the mountain. That is why it is called the Scales. Today, there are still cattle living on the mountain. They are used to keep the vegetation down during warm months, but pulled off during colder months.
The inside of the fence is an area of grass that that is meticulously maintained. There are no hook ups for electric power. However, there is a water source that is tapped into a spring. There is also a nice outbuilding for use. Outside of the fence on all sides are tie posts for horses so that riders can tie up their horses and let them rest. No matter where you look from the Scales, the views are incredible. On this day, it was sunny and birds were flying high in the sky. We could see the neighboring mountains in the distance and on one side there was a herd of longhorns grazing in the tall grass.


Rhododendron Gap at Mt. Rogers

After the horses were cooled down and rested we legged back up and continued on to our next destination, Rhododendron Gap. The ride to Rhododendron Gap was about an hour long and just as beautiful as the Scales. We rode along a dirt path in the middle of wide open fields. Both sides are filled with the incredible beauty of nature. Not only could we see for miles but my spirit was filled with a sense of peace and calmness, as I watched deer in the distance enjoying a peaceful snack on the lush grass around them.

The view on the trail this spring.



View from last fall.

At Rhododendron Gap, we once again tied up our horses and took advantage of a massive rock that we could climb on to look out over Mt. Rogers. I would guess the rock is around four to five stories high and quite easy to climb. Once on top, there were plenty of places to sit and enjoy lunch while also taking in the colorful scenery around us. In my opinion, this is one of the best views on this trail.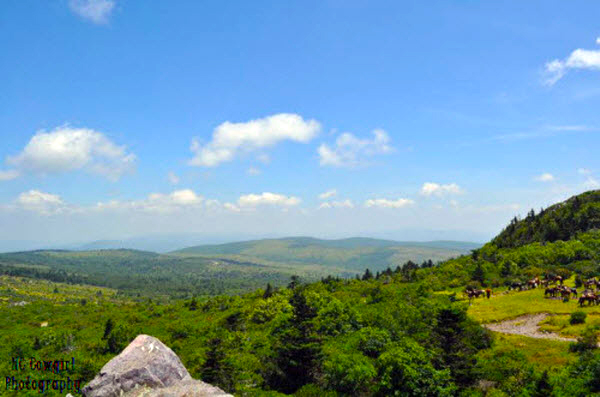 Rock at Rhodedendron Gap.
Not only did we get to enjoy the astounding views this time but we also got to enjoy the company of wild ponies. Right before we were getting ready to ride again a herd of wild ponies led by a black and white stallion appeared.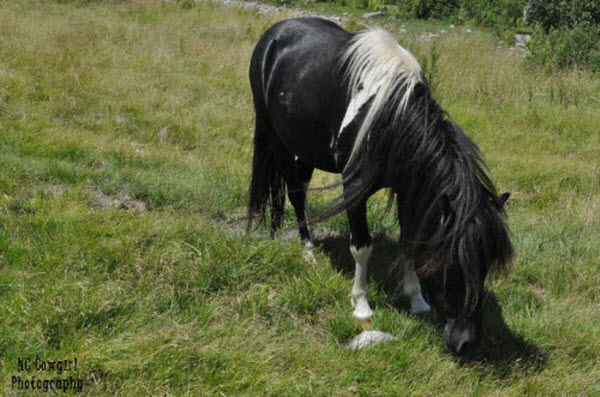 Please note that the park rules prohibit feeding the ponies.

The ponies were as friendly and curious about us as we were about them. They came up to us and allowed us to take pictures of them. Some of the mares had foals trailing their sides while others appeared to be pregnant.
Mt. Rogers wild, free-ranging ponies.
Now of course the views are well worth the ride alone but for me the ponies were the icing on the cake. This was my first encounter with the Wild Ponies of Mt. Rogers and I was in complete awe of them. I couldn't believe how friendly and laid back they were. I assumed that they would be mean and scared of us but that was far from the truth. They seemed to enjoy people as much as we enjoyed them. On this particular ride, this was the only encounter with the ponies that we had, but I do want to say I have been back many times and each time I've always come across a new herd.
After everyone had a chance to enjoy the ponies, we continued on our ride. Most of the second half of the ride was spent in the woods on a smaller trail called the "VA Highlands Trail". Certain parts of this trail cross through creeks that are wide enough to stop and let the horses drink. We stayed on this trail about an hour before we came to our third and final stop which was a small store that sold souvenirs, drinks and ice cream! Who doesn't love ice cream after a long ride! I think some might have argued this was the best stop just because of that.

Once everyone's tummies were full from the frozen treats, we headed back down the trail toward the Scales. All in all, the trail ride took about 8 hours including with the rests we took. That might seem like a long time to ride but it is very much worth the stiff legs that came from riding that long. Not only did Doug's horses do great, but everyone was extremely pleased with the ride.

That ride was the start of many rides at Mt. Rogers for me. I now make it a point to go back at least once a month to ride. Each time I go, I still ride with Doug and he shows me new trails. I swear, I thought it couldn't get any better than that day but it has. There are so many wonderful places to ride at Mt. Rogers and after two years of going I still haven't ridden all the trails. I highly recommend that you come at least once to ride at Mt. Rogers National Recreation Area.

The great thing about this place is that you can stay at Arthur's Cabin, which is five minutes from Doug's stable. The cabin can sleep up to 12 people comfortably and it's right at a horse camp if you choose to bring your own horses. When we rode, some of us took our own horses and kept them at the horse camp which is called Rocky Hollow. The rest of the group rented horses from Doug, so when it was time to ride, we just loaded up our horses and took them to the stable. All of us rode out from there.

So don't wait any longer to plan your next trail riding adventure. Come ride at Mt. Rogers! To see more pictures from past trail rides at Mt. Rogers go here.


About the author: My name is Ashley Agee and I am the writer behind The North Carolina Cowgirl Blog. I'm an avid horse girl who loves spending my free time riding my three horses and enjoying life. While I do compete some, I enjoy trail riding more. I've been riding horses for about 25 years now and have done everything from Hunter Jumpers to Barrel Racing. Not only do I love everything about horses but I also love meeting, talking, and riding with new people. So don't be a stranger. Follow me on Facebook and Twitter so we can chat!