Trail Riding Virginia's Northern Shenandoah Valley and Beyond
A member of the Shenandoah Trail Riding and Horseman's Association highlights her favorite Virginia horse trails in the Northern Shenandoah Valley, George Washington National Forest, Blue Ridge Mountains, Mt. Rogers National Recreation Area and beyond for the Equitrekking 50 State Trail Riding Project.
by Susan St. Amand
The motto for Virginia is "Virginia is for Lovers." Well, I say that "Virginia is for Horse Lovers!" Virginia provides such a great variety of horseback riding venues and equestrian events. It was ranked 12th by the American Horse Council in 2011 in the horse industry and 15th for farm based horses in 2007 by the Census of Agriculture.
Doswell, Virginia is the home of the Meadows Farm, birthplace of "Secretariat". Loudoun County boosts a treasure trove of fox hunting and eventers. In the Plains you will find revered polo matches. Lexington is home to the Virginia Lexington Horse Center, which hosts state and national equine related events every weekend throughout the year, and the list goes on. So even if you are not trail riding, there are many opportunities to view horses in action and many other equine organizations all over the state that you can contact for equine events and trail riding.
With this in mind, I will highlight areas of trail riding that I have truly enjoyed and frequented, most of them within local distance from my home in the Northern Shenandoah Valley.
George Washington National Forest
The George Washington National Forest covers a large area along the Appalachian Mountains situated along the western part of Virginia and into West Virginia as well as connecting to the Jefferson National Forest on the southern end of the valley. This mountain range is also found between the Allegheny Mountains to the west and the Blue Ridge Mountains to the east, running along the Interstate 81 corridor.
Needless to say, the area has very many beautiful and scenic mountain views. The area is also steeped in Civil War history. Here you will find many Civil War designated battlefield areas, tourist shops and antiques as well as Civil War re-enactments. The Manassas Battlefield, located in Manassas, Virginia, has access for horseback riding for those interested in riding part of a civil war trail.
As for the Shenandoah Trail Riding and Horseman's Association (STRHA), our group enjoys riding the various mountain trails traversing through the George Washington National Forest. The far-reaching views of the valley once you reach the top of the mountains are magnificent. However, these trails are not for the faint-hearted and horses should be well-shod as the trails are very rocky.
STRHA maintains a relationship with the George Washington National Forestry Department regional office (Lee Ranger District) located in Edinburg, Virginia and has helped maintain trails and parking lots over the years with them. There is primitive camping available within the forest. Most accessiblity is through gravel roads leading to trail heads and most trailer parking areas are not very large.
The Lee Ranger District of the George Washington National Forest has trail maps and information of the area. They may be contacted at: 95 Railroad Ave Edinburg, VA 22824. Telephone: (540) 984-4101 or by visiting the forestry webite.
One of the GWNF trails is Big Schloss. Big Schloss offers fantastic views of the mountains and is a great stop to enjoy your packed lunch during the trail. The views continue to impress no matter how many times you trail ride up there or what season it is.
Big Schloss, Virginia.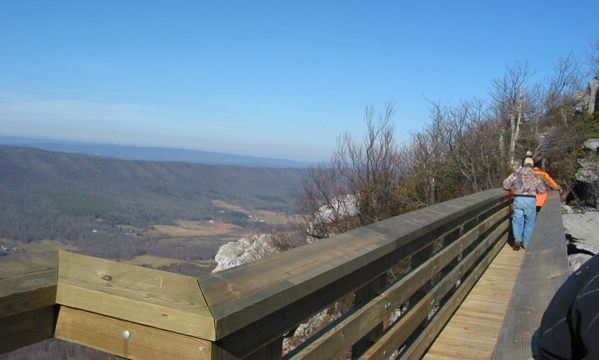 Big Schloss, Virginia.
Another favorite trailhead is Laurel Run. Different loops of this horse trail can be ridden from here. One of our favorites is a summer moonlight ride through here and enjoying hotdogs over a campfire.


Laurel Run Horse Trails in Virginia.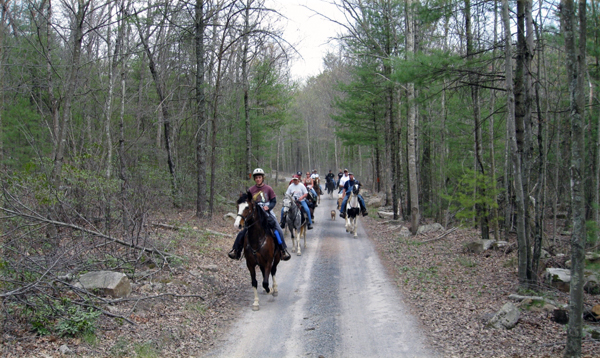 Laurel Run – Moonlight Horseback Ride.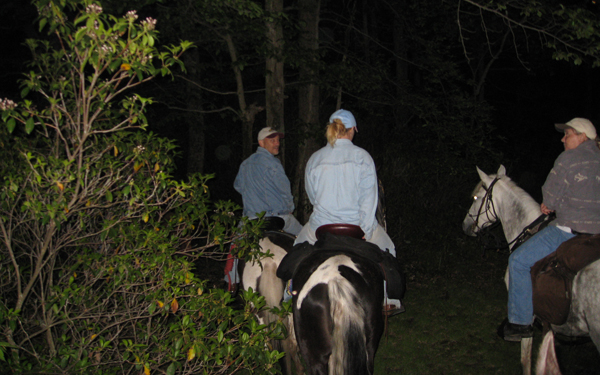 Laurel Run – Moonlight Horseback Ride.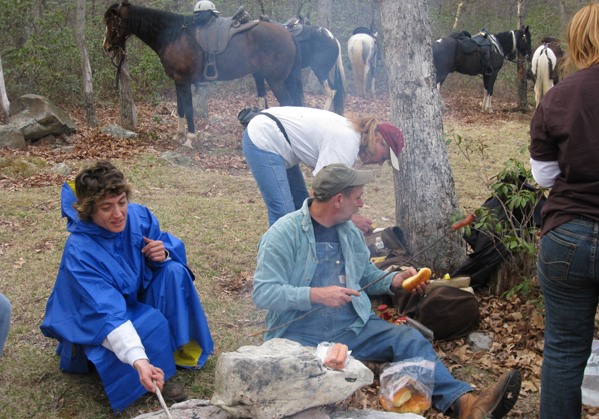 Laurel Run – Moonlight Ride Hotdogs.
Blue Ridge Mountains
Graves Mountain is located in the Blue Ridge Mountain area. A horse camping site owned and operated by Graves Mountain Lodge of Syria, Virginia off Route 670 (telephone 540-923-4231) offers primitive camping with showers and restrooms. One of the trails in the area will take you by Camp Hoover, which has been restored for public viewing for history buffs. This retreat was used by President Hoover and his aides as a getaway for hunting, fishing and horseback riding. Some of the riders watch our horses as we walk down the path to view the retreat cabins.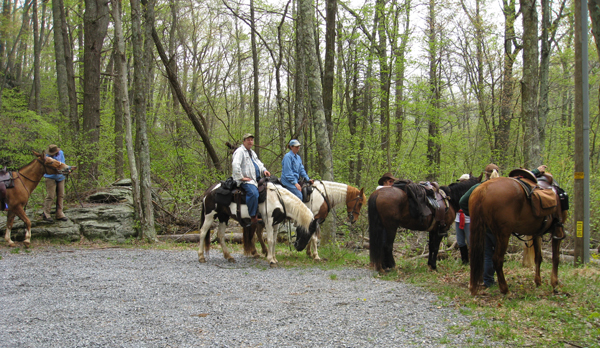 Graves Mountain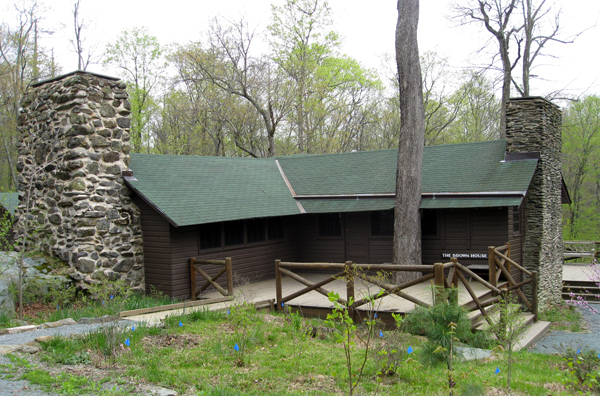 Graves Mtn. - Hoover Camp
Mt. Rogers National Recreation Area
Mt. Rogers is the highest area in Virginia, and home to wild, free roaming ponies that were left behind after coal mining ended in the area.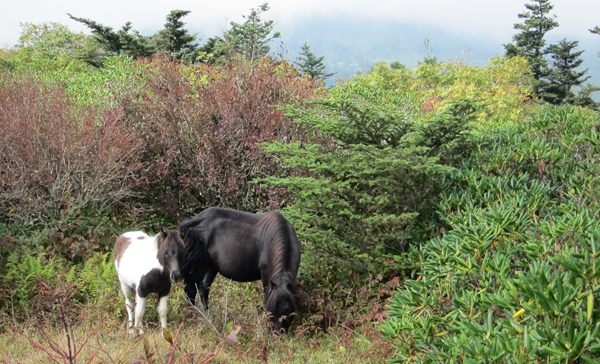 Mt. Rogers Wild ponies.
There are several privately owned horse camping areas available near the Mt. Rogers National Recreation Area with full facilities. One is the Rocky Hollow Horse Camp, which was where our group stayed. The camp is located at 40 Camp Drive in Troutdale, VA. You can find out more by emailing Rocky Hollow Horse Camp or calling 888-644-0014. Owned by the Russell family, there are full site hookups, a dump station, stalls and cabins to rent.
Virginia State Parks
Virginia also has many state parks that are horse friendly and offer trail riding and/or overnight horse camping. To find out all that are available, see their website.
Those local to us in the Northern Shenandoah area are Sky Meadows and Andrew Guest State Parks, which offer day riding only. One of the overnight horse camps we recently experienced was Douthat State Park, located towards the southern end of the Shenandoah Valley. This is one of the latest state parks to offer overnight horse camping with individual closed-in stalls for equines and spacious camping sites. A full shower and restroom building provides separate private shower rooms. With it being a new camping site, all was very clean and functional. Trails lead from the campsite to access the Jefferson National Forest trails.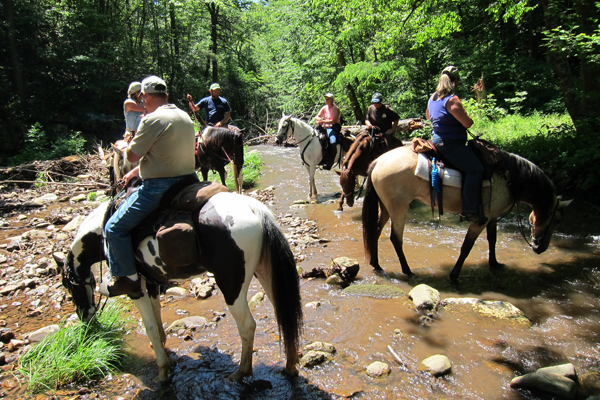 Douthat State Park in Virginia.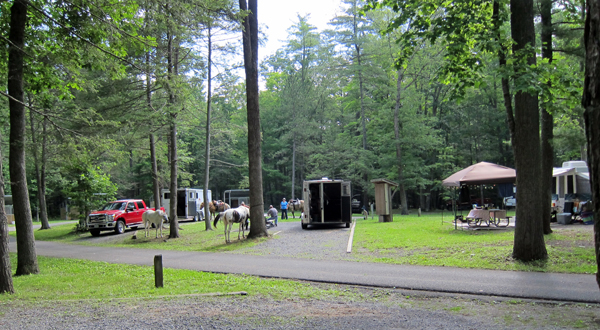 Douthat State Park in Virginia.
Chesapeake Bay Area Horseback Riding
Lastly, for a change of pace, the Eastern Shore Trail Ride is held in late spring and again in the fall in the Northhampton area of the Chesapeake Bay. This is a popular beach ride event and well attended. It is organized and held in conjunction with the Northhampton Fire & Rescue Company 16 and held on privately owned property. It includes primitive camping sites and lunches are catered for a fee. This is one of the few opportunities to ride on the beach in Virginia. We love to get in the water and get wet.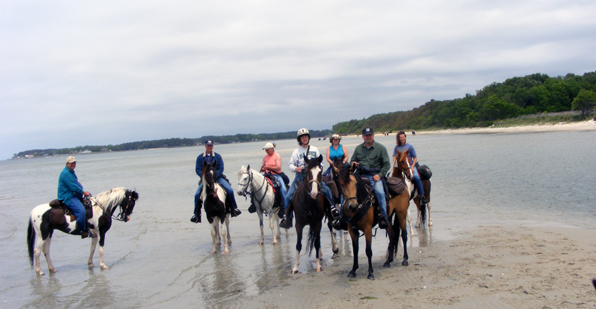 Eastern Shore Beach Ride in Virginia.

About the Author: Susan St. Amand is a Board Member of the Shenandoah Trail Riding and Horseman's Association and involved in a variety of Virginia Cooperative Extension projects. She grew up in Northern Maine with horses on a farm and has been a transplant to Virginia for the past 25 years. She enjoys planning horse vacations with friends and has completed rides in Maine, Pennsylvania, Tennessee as well as Virginia trailering her own horse.
Visit the Shenandoah Trail Riding and Horseman's Association website for upcoming trail rides in the Shenandoah Valley area and other contact information or email Susan.