Trail Riding Shenandoah River State Park in Virginia
Members of the Shenandoah Trail Riders and Horseman's Association began the 2016 New Year on the right "hoof" by hitting the trails at one of Virginia's top-rated state parks and one of the best in the nation, Shenandoah River State Park, located eight miles south of Front Royal, Virginia.
by Susan St. Amand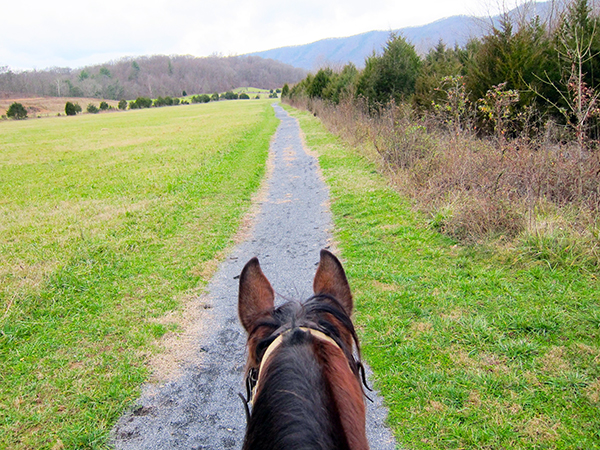 Well groomed stone dust gravel paths along the Shenandoah River bank
This park, whose official name is the Shenandoah River Raymond R. "Andy" Guest, Jr. State Park, contains several different trail riding loops totaling over 14 miles. There's a variety of terrain to ride, from climbing mountains with views of the Shenandoah River to flat field riding along well-maintained stone dust paths meandering beside the river banks. The park is 1600 acres with an assortment of activities for the outdoor enthusiast other than horseback riding, such as hiking, mountain biking, camping, ziplining, canoeing or kayaking so be ready to share the trails with others who are not on horseback. Horses should be acclimated to meeting up with hikers and bikers. Otherwise, it is a great place to ride for all levels and disciplines of riders and horses.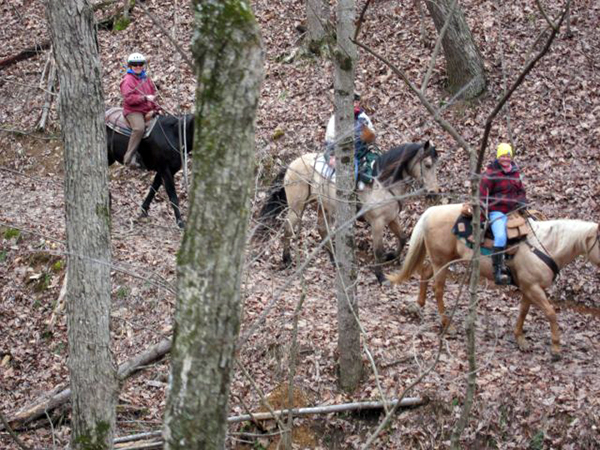 Riding along a mountainside trail
Benches are sporadically placed along the river banks to sit and enjoy the view as well as eagle nesting platforms. A visitors center is also located in the park that contains some basic outdoor recreation necessities and souvenirs, as well as an informative natural display of the local Virginia wildlife you may catch a glimpse of while in the park.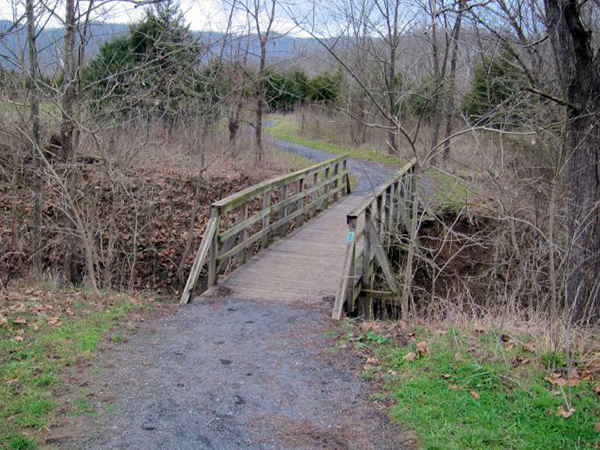 Small wooden water bridge crossings
Shenandoah River State park has undergone many renovations and updates in the last several years. It has also accommodated equestrian's requests by adding a couple of additional trail riding loops which are all well-marked. It is a clean and highly maintained park, making it very close and convenient for equestrians to hit the trails for short trail riding excursions during the winter months. In addition, for folks traveling through and visiting the area, Skyline Caverns is located off Route 340 on the way to Shenandoah River State Park. Skyline Caverns is one of many caverns located in the Shenandoah Valley open to tourists.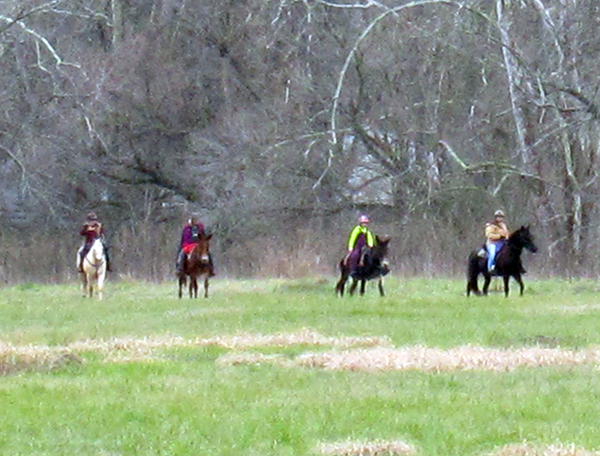 Riding on the trail along wide open fields
Cabins are available to rent at Shenandoah River State Park for overnight stays, however, there are no overnight horse stabling facilities located within the park.
About the Author: Susan St. Amand is a Board Member of the Shenandoah Trail Riding and Horseman's Association and employed with the Virginia Cooperative Extension as a 4-H Youth Program Assistant. She grew up in Northern Maine with horses on a farm and has been a transplant to Virginia for the past 25 years. She enjoys planning horse vacations with friends and has completed rides in Maine, Pennsylvania, Tennessee as well as Virginia, and trailers her own horse.