Trail Riding in the Green Mountain State—Vermont
Did you know you can ride an elite system of bridle trails from the Rockefeller Era in Vermont? Learn about great horse trails near Woodstock, in the Marsh-Billings-Rockefeller National Historical Park and beyond from Chelle Grald of the Green Mountain Horse Association–– part of the Equitrekking 50 State Trail Riding Project.
by Chelle Grald

If Vermont were a gem, it would be an emerald. It is first and foremost green – forests and fields with farms tucked between hills and running with clear streams. It is many-faceted, with covered bridges, clear running streams, endless dirt roads and stone walls. It is sometimes muddy, sometimes rocky, often challenging and never flat. The views are breathtaking.
It sounds like postcard New England, and it truly is. Great trail riding is available in Vermont to just about every backyard horse owner in every corner of the state. Certain areas stand out as destinations because of their concentration of well-developed trails and the general horse-friendliness of the community. The area around Woodstock, Vermont is one such place. Here are two reasons to come Equitrekking in Woodstock.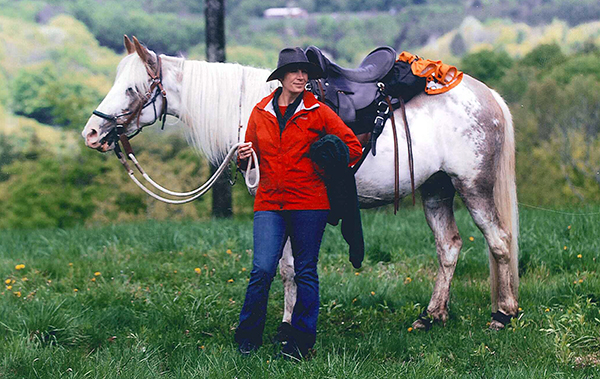 The author Chelle Grald, seen here, is Trails & Rides Manager for the Green Mountain Horse Association.
The Green Mountain Horse Association

The Woodstock area is east-central Vermont. It is an area with a rich equestrian tradition – the birthplace of the Morgan Horse breed and the location of the oldest 100-mile competitive trail ride in the nation. There are over 300-miles of mapped, off-road trails winding through this picturesque area of farms, estates, and quintessential Vermont villages. Horses are everywhere.
The Green Mountain Horse Association (GMHA) is ground-zero for horse activity in this area. Founded in 1926 to promote and preserve trails and equestrian events, GMHA has been going strong ever since. The non-profit facility is supported by its members and the thousands of competitors who come each year for trail rides, horse trials, and shows on its grounds. GMHA maps, marks and maintains many of the trails in the area, working cooperatively with the surrounding towns, the state and private landowners. Members of GMHA can ride from the grounds free of charge on most days of the riding season on several permanently-marked loops. These loops range from 5 to 15 miles. The trails are a mixture of quiet, wooded single track, wide bridle paths, fields, and dirt roads.
There are some spectacular views and many surprises tucked back in the hills. Accommodations for horses and riders are available for overnight and multiple-day visits. Each month of the riding season, GMHA hosts both competitive and pleasure trail rides. These organized rides, open to everyone, offer chances to see more of the trail network and enjoy social time with fellow trail riders. There are also several horse-friendly B&Bs in the area that offer housing for your horse and trail-riding right outside your door. To learn more about trail riding at GMHA, visit the website at www.gmhainc.org.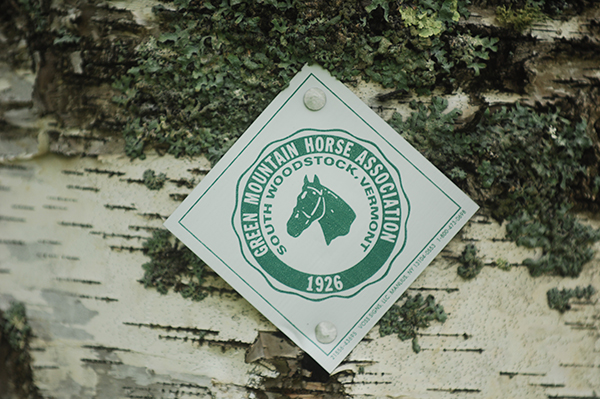 Many of the trails in the neighboring towns of Woodstock, Reading, West Windsor, and Hartland, Vermont are marked and mapped by the Green Mountain Horse Association. Photo: Spectrum Photography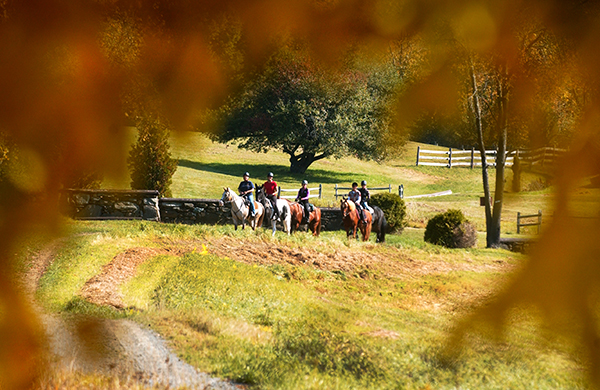 Riders leave the grounds on one of GMHA's popular Fall Foliage weekend pleasure rides. Photo: Spectrum Photography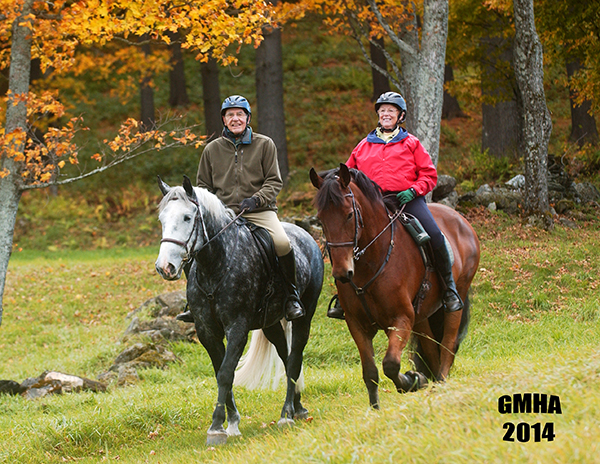 Ed and Kim DiPietro from New Boston, NH, enjoy Vermont in all seasons, but Fall is especially spectacular. Photo: Spectrum Photography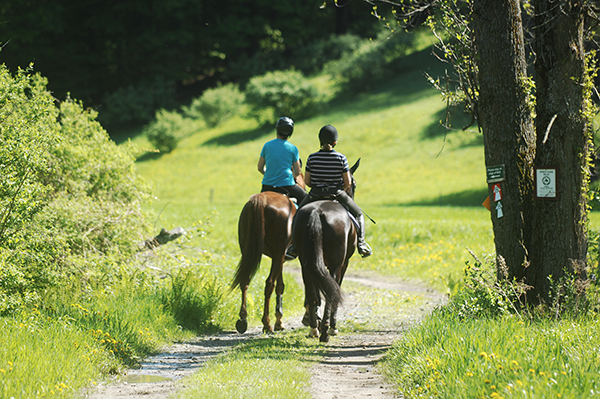 Summer brings long days exploring green hills. Photo: Spectrum Photography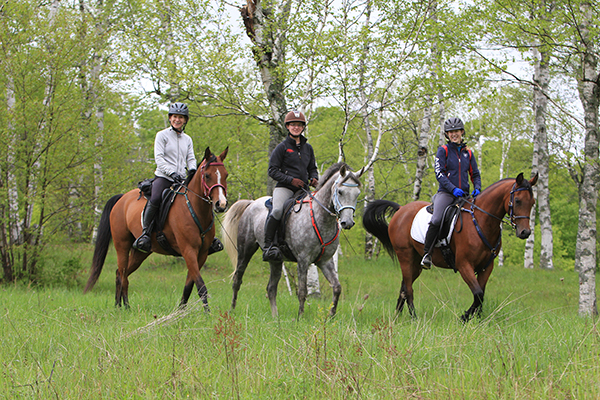 It's Memorial Day Weekend, and Spring has sprung in Vermont. Robin Malkasian, Kat Waters, and Mollie Bachner enjoy the soft green of spring. Photo: Nick Goldsmith
Marsh-Billings-Rockefeller National Historic Park

This gorgeous treasure of a trail system is just at the edge of picturesque Woodstock, Vermont. The park is the beautifully-conserved estate of George Perkins Marsh, one of America's first conservationists. It was given to the American people by its third owners, Laurance S. and Mary F. Rockefeller. The trail system covers over 20 miles and consists of wide, well-groomed bridle paths and narrower hiking trails. It is free to the public and open year-round for riding, driving, and hiking. No wheeled vehicles are allowed on the trails. The trails are well-marked and free maps are provided at the trail head.

This trail system is a personal favorite of mine. It is beautiful in all seasons and quite passable in the early spring and late fall, when other local trails may be less so. There is nothing like a professionally-maintained trail. The footing is well-drained and graded and the trails are wide enough for large carriages and lively canters.
Its history as an elite system of bridle trails in the Rockefeller Era is well-evident. You will cross stone bridges and encounter watering troughs sculpted out of rocks. At the top of the hill there is a 180 degree view of the valley and the town below. If you wish to pause there for a break and a picnic, there are benches and hitching posts. If you wish, you can follow the trails right through the dooryard of the mansion and ride past the formal gardens, conservatory and swimming pool. Tourists will smile in appreciation as you become part of a scene from a bygone era.
The park is also a wonderful place to accustom a young horse to joggers, backpacks, baby carriages, and dogs on leashes. There will be plenty of those on beautiful weekends. The wide trails make for a fun and drama-free experience. After riding, explore the fun restaurants and boutiques in historic Woodstock, which is probably one of the cutest towns on the planet. To learn more about the park, visit the Marsh - Billings - Rockefeller National Historical Park website. There you will find directions, a trail map, and more about the history and happenings throughout the season.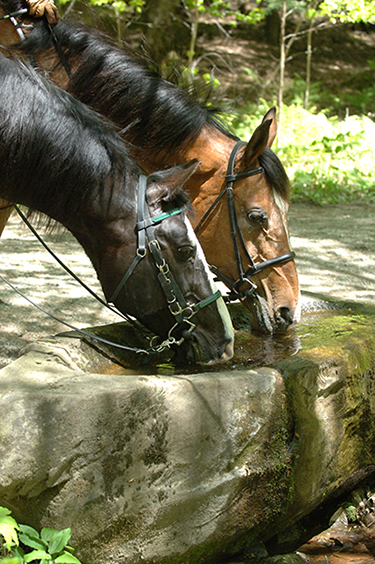 The horses enjoy a cool drink from an ancient trough carved in stone from the Rockefeller era. The bridle paths in Marsh-Billings-Rockefeller NHP offer stone troughs, hitching posts, and picnic benches for enjoying the view. Photo: Spectrum Photography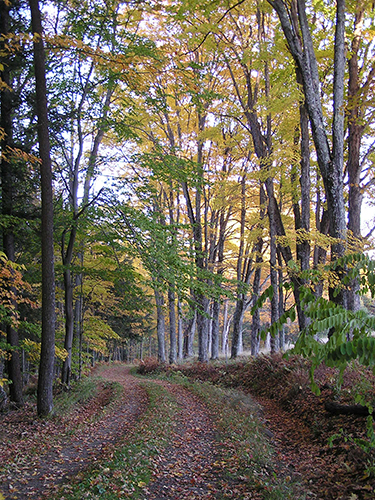 The over 20 miles of well-groomed bridle paths are well-marked and easy to follow with the map supplied by the Park Service. Photo courtesy of Marsh-Billings Rockefeller NHP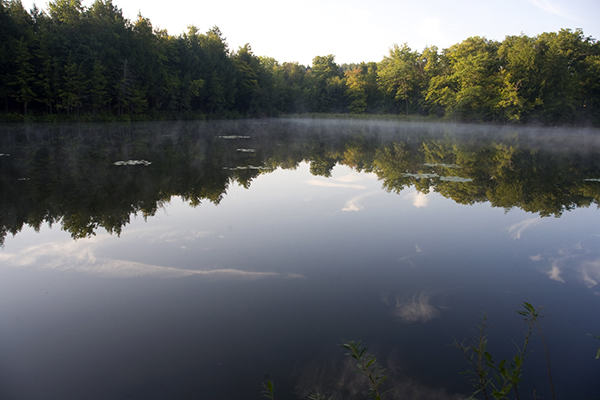 The trail around the Pogue is a favorite that winds around a serene pond. Photo courtesy of Marsh-Billings Rockefeller NHP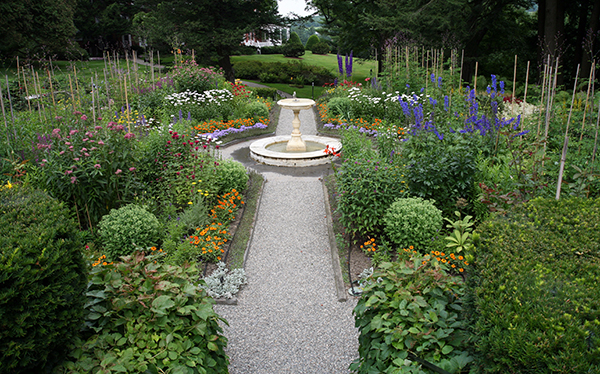 The bridle path runs right by the Rockefeller mansion and alongside the formal gardens, conservatory, and swimming pool. You will feel like royalty from another time! Photo courtesy of Marsh-Billings Rockefeller NHP
About the Author: Chelle Grald is the Trails & Rides Manager at the Green Mountain Horse Association in South Woodstock, Vermont. When she's not exploring trails or managing trail rides for a living, she's riding, camping, and exploring anyway with her husband, Eric, and their Tennessee Walking Horses – just for fun. Contact Chelle by info@equitrekking.com?subject=Equitrekking%2050%20State%20Article-%20Vermont">emailing her.