Trail Riding the Cascade Mountain Range in Washington State
Robert Eversole, of The Back Country Horsemen of Washington (BCHW), shares his favorite horseback riding adventures in the Cascade Range and along the Pacific Crest Trail as part of Equitrekking's 50 State Trail Riding Project.

Horse Riding Near Mount Rainier

Washington State has a tremendous variety of riding locations, terrain, and experiences to savor. When people think about Washington, one iconic image that frequently comes to mind is Mount Rainier with its magnificent peaks and glaciers. With an elevation of well over 14,000 feet, this imposing active volcano dominates the horizon from many locations throughout the state. Excellent horse riding opportunities featuring dramatic views of Mount Rainier can be found a short distance from the flanks of this prominent landmark.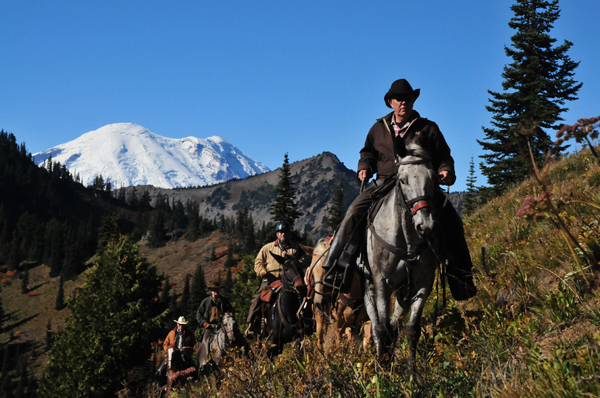 Back Country Horsemen of Washington members riding the Pacific Crest Trail. Front to back Tahoma Chapter President Don Boltz, Tahoma member Paul Velotta, Tahoma member Gene Brent, and Tahoma member BJ Volke.

Although any ride is a good ride, the ridges and valleys of the Cascade Range bordering Mount Rainier offer unparalleled experiences as well as scenery that is truly breathtaking. Imagine riding around a bend in the trail and discovering a view that makes you feel as though you can reach out and touch the startlingly white glaciers framing the vast body of the mountain that contrast against a cerulean blue sky. That's riding near Mount Rainier or "The Mountain" as we generally refer to it.

Sand Flats Horse Camp and Government Meadows Horse Camp

A favorite riding location that offers these views and experiences is located within the Mt. Baker-Snoqualmie National Forest, along the Pacific Crest Trail. Also known as the PCT, or simply the Crest Trail, this path stretches 2,663 miles from Mexico to Canada, much of it through wilderness areas along the Cascade Mountain Range in Oregon and Washington. A 15 mile long section drawing equestrian users from near and far runs between the popular Sand Flats Horse Camp through the Norse Peak Wilderness to the Government Meadows Horse Camp, all of it along high mountain ridges forming the backbone of the Cascades.
The Sand Flats Horse Camp.

The Sand Flats Horse Camp is the easiest to access because it is located on excellent roads, near a popular ski resort, at the base of a valley. Camping at Sand Flats results in starting every ride with a steady climb and many switchbacks to make your way up several thousand vertical feet to the tops of the surrounding ridges where the trail lies; your mount should be in good condition before you ask for this type of exertion. Getting to the Crest Trail from the Government Meadows camp is much easier as your truck will do the hard work of climbing to the ridge tops where you and your horse will spend most of your time. It will also mean slow driving over about twenty miles of gravel Forest Service roads.
A view of the Sand Flats Horse Camp from the trails above.

This isn't a guest ranch. Both camps offer parking areas, vault restrooms, and highlines for stock use. Beyond that, riders coming here need to be prepared and bring along all that they require, especially potable water. Although you're in the Cascades, which true to the name features a lot of tumbling water, water borne pathogens make much of it unsuitable for human consumption without treatment. As tempting as it may be to sip from a picturesque stream, don't take a chance; Giardia doesn't make for good horse riding.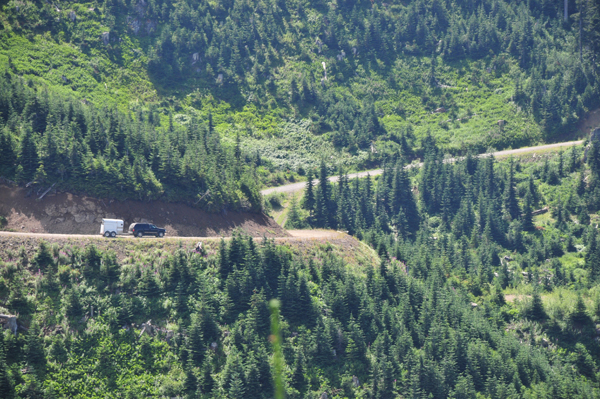 The road going to Government Meadow Horse Camp.

While you can ride between the two camps in a day, it would be a very long day. A better option is choosing one location and then taking day rides out from camp. Some very hardy and seasoned riders use these trailheads as bases for multi-day backcountry pack trips using the Crest Trail as a corridor into the heart of the wilderness.

Horseback Riding on the Pacific Crest Trail

Regardless of which camp you'll call home, riding the Crest Trail will be a wonderful experience. This is high country riding at its best with grand panoramas of Mount Rainier and surrounding mountain ridges stretching like ocean waves before fading into the distance. Riders glancing down from the grandeur of the immense vistas will find a smaller world of alpine flowers in every hue bounding the length of the trail. Riders can look forward to a peaceful ride with few interruptions as the Norse Peak Wilderness area is managed to keep the wilderness wild by restricting group size as well as excluding motorized equipment and bicycles. These same wilderness rules are part of the reason why observant riders will have a chance of spying the resident elk and mountain goat herds during their trip.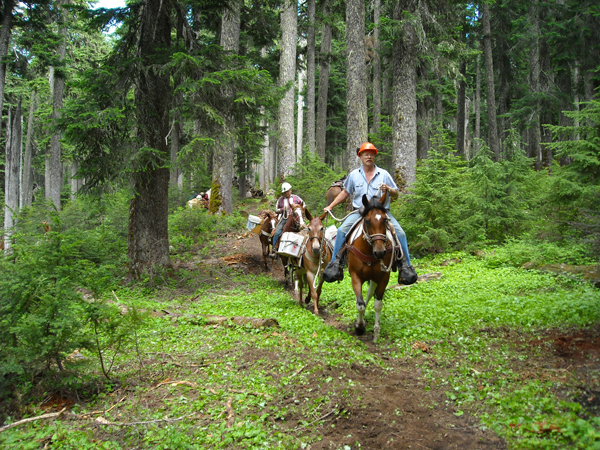 Back Country Horsemen ride the Pacific Crest Trail in Washington State.

If you're interested in visiting the Crest Trail don't let the words "wilderness" and "mountain" deter you. Yes, there are sections of vertigo inducing heights where one stirrup brushes the mountainside and the other dangles above a valley far below, however the majority of this section of trail is maintained to a park-like degree by various volunteer organizations. For any rider there's a good chance of encountering a trail maintenance crew and it is certain that everyone on the trail will find ample evidence of the work these groups have accomplished.
The Back Country Horsemen of Washington (BCHW) is one such group. BCHW has partnered with the U.S. Forest Service and the Pacific Crest Trail Association to help maintain these trails. Every year hard working members of BCHW put in hundreds of hours of trail work into this section of trail. From clearing downed trees with man powered crosscut saws to building bridges and much more, you'll see what your fellow equestrians have been up to on your behalf.
The work of equestrian groups such as BCHW on the Crest Trail prompted this beautiful statement from Beth Boyst, U.S. Forest Service, Pacific Crest Trail Manager, "They have been called living legends, and I've been fortunate to meet a few in my role as the Pacific Crest Trail Manager. These legends are the unsung heroes who have the skills and abilities to ride horses and mules, pack tools and equipment into our beloved wilderness, and support trail and fire crews in a variety of backcountry settings."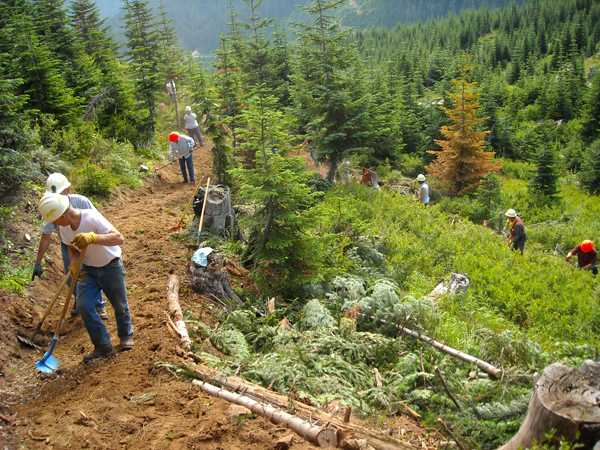 Back Country Horsemen of Washington work party on the trails.

If you'd like to help keep this, or other trail systems open to equestrian use get in touch with your local Back Country Horsemen organization, they'll put you on the right path.
For more details on the camps described, visit North America's largest equine trails and camping directory; www.TrailMeister.com.

About the Author: Robert has served on the Board of the Back Country Horsemen of Washington and owns www.TrailMeister.com, North America's largest equine trail directory. Robert writes for numerous equine magazines and teaches horse riders how to Stay Found as well as how to camp with their equines, when he's not trail riding himself.