Trail Riding at Big South Fork Recreation Area in Tennessee
Wild weather didn't stop Susan St. Amand from having fun at Big South Fork Recreation Area as part of Equitrekking's 50 State Trail Riding Project.
by Susan St. Amand
About Big South Fork Recreation Area
Big South Fork Recreation Area is located on the Northeastern end of Tennessee, straddling the Tennessee and Kentucky state lines, turning into the Daniel Boone National Forest on the Kentucky end. It is located between Oneida, Tennessee via Route 297 and Jamestown, Tennessee via Route 154. The Big South Fork Recreation Area is comprised of 120,000 acres and over 212 miles of horseback riding trails.
Our group entered from the east side of Big South Fork from Oneida. This route entails going through "the Gorge" which involves hairpin turns going up and/or down to enter the Big South Fork Recreation area. Caution--slow speeds and good working truck and trailer brakes are essential to maneuver this area.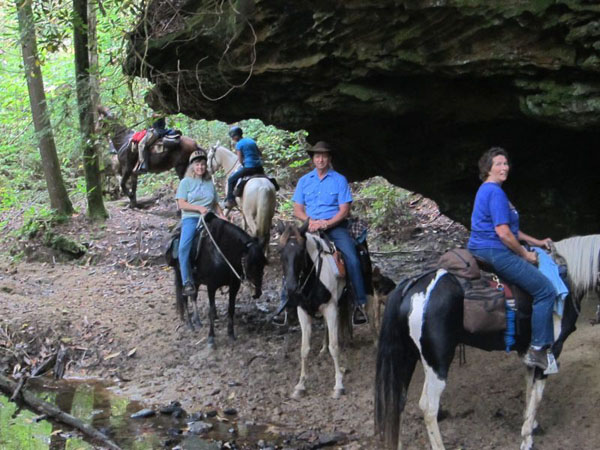 Adjacent to the Big South Fork Recreation Area is Spruce Creek, one of several large residential subdivisions consisting of equine owners and enthusiasts. This equine owners' paradise has been in existence for approximately 25 years. Many of the owners own these small farm residences as a second home and come out to vacation here with their horses as the Big South Fork Recreation area is very equine friendly and offers a multitude of trails to ride.
There are a large variety of trails and it is very scenic. Big South Fork Recreation Area has been in existence for approximately 45 years and has consistently catered to horseback riding. Many areas have tie rails to tie your horse to visit the scenic outlooks or sites. Trails are generally well marked and maintained.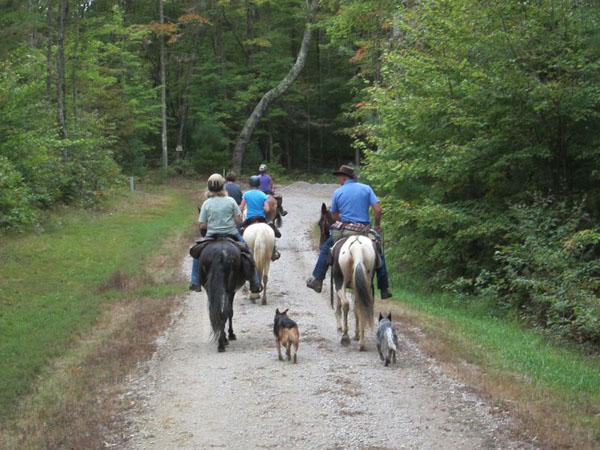 Maps of the Big South Fork Recreation area are available almost anywhere locally or you can download a map from their National Parks website. The website also contains information on two equestrian overnight camping facilities within the park (Bear Creek KY & Station Camp TN) as well as other recreational activities and amenities.
Where to Stay
This is my second time coming to Big South Fork to trail ride. My first time was five years ago. Our group stayed with private residents of Spruce Creek, however, there is an overnight stabling and horse camping facility nearby called True West Campground. Trails lead out from their facility into Big South Fork.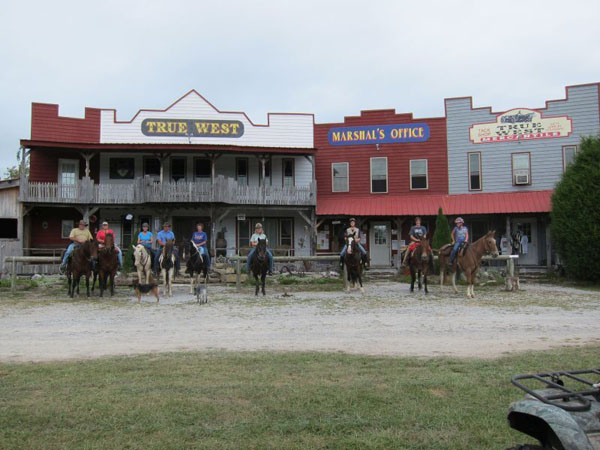 The owners are very friendly and accommodating. On a couple of our rides out to Big South Fork, we dropped in by horseback to sit on their porch and eat our lunch as well as browse in their tack and gift store as the horses were tied on the tie rails located in front of their building.
Other overnight stabling and horse camping facilities in the Big South Fork area include Zenith Stables and Big Fork Campground.
Trail Riding at Big South Fork Recreation Area
The first day of riding we rode a loop of 11 miles to Wildcat Den and out to Fiddlers Arch. The rock formations are unique in nature and found throughout the Big South Fork Recreational Area.

The geological makeup of the ground surface in the area is sandstone. At times you may come across what appears to be steps and/or ledges in the trail out of sandstone. The good thing is that sandstone is gritty like sandpaper; therefore horses climbing over these sandstone rocks tend not to slip as compared to riding over other types of rocks.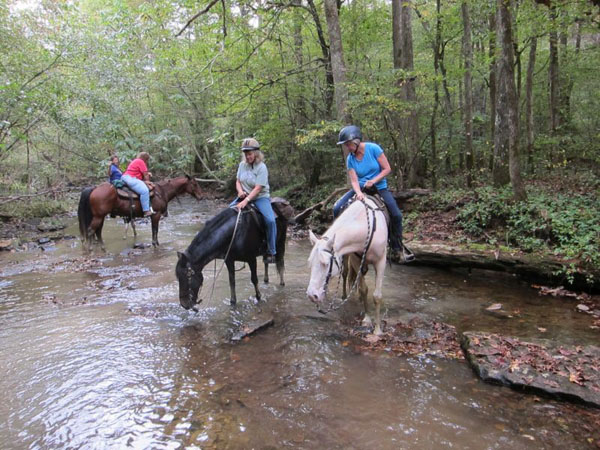 The second day we trailered our horses to the Troxel-Wood trailhead and rode another loop of 12 miles to Yellow Cliff, out through Saddle Valley and came back through Teepee Loop.
Day Trip to Muddy Pond
On the third day of our horse camping trip, the rains from a hurricane brewing off the Atlantic Coast started coming in, so we decided to visit Muddy Pond, a local attraction area consisting of Mennonite stores, leatherworks, and Sorghum Mill. At the Muddy Pond General Store, you will find Mennonite crafts, quilts, furniture, groceries and bulk organic foods. My personal favorite was the garlic dill cheddar cheese curds and homemade maple walnut fudge.
Next-door was the Leather Shop, which carried a variety of Mennonite leather constructed horse tack and quality leather belts for both male and female which are personally cut to your size. And finally, the third store, Custom Leather by Jay. Here again, handcrafted and hand tooled quality leather saddles, bridles, and other miscellaneous horse tack is to be found at a very reasonable price. Saddles can be custom ordered for your horse. Muddy Pond is a must if you happen to be in the Big South Fork Recreation area and a good way to spend a rainy day.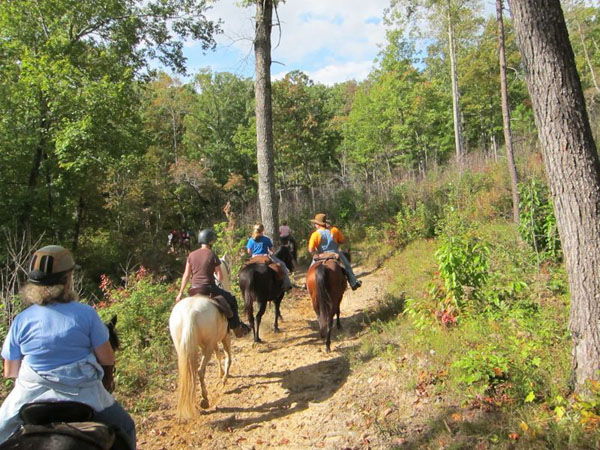 Further down the road is the Muddy Pond Sorghum Mill where Mennonites make Sorghum the old fashioned way using a large hot wood furnace with each bottle of sorghum individually hand processed and packaged for sale or shipment. The sorghum processing mill is similar to the maple syrup processing I am familiar with from growing up in the Northern Maine area.
On day four, the rains continued to hammer us, so we embarked on another day trip, heading north for a three hour drive to Lexington, Kentucky-the Horse Capital of the World to visit the Kentucky Horse Park.
Read Part II about Susan St. Amand's day trip to the Kentucky Horse Park here.
About the Author: Susan St. Amand is a Board Member of the Shenandoah Trail Riding and Horseman's Association and employed with the Virginia Cooperative Extension as a 4-H Youth Program Assistant. She grew up in Northern Maine with horses on a farm and has been a transplant to Virginia for the past 25 years. She enjoys planning horse vacations with friends and has completed rides in Maine, Pennsylvania, Tennessee as well as Virginia, and trailers her own horse.