Tracking Game on my Okavango Delta Horse Safari, Botswana
Game Drive with Night Vision in the Okavango Delta. What do those animals do at night!?!?!
We knew elephants, cats and other animals roamed through our camp in the Okavango Delta during our horse safari. We could hear the sounds as we went to sleep at night. In the morning, Greg, our director of photography, was awoken by a troop of noisy baboons, who played games, using the roof of his tent as a trampoline. We walked to breakfast seeing elephant dung and tracks on the trails. I wondered what these animals did all night.
After a morning ride, John Sobey, who runs Macatoo's horse safari camp in the Okavango Delta, had a solution. We hopped into the land cruiser and took off for a game drive to collect and reset the infrared cameras that he uses to study area game.
If you want a rugged vehicle, check out what they're using in the Okavango. These land cruisers have to go through water, over really uneven dirt roads and sometimes fallen brush, as they attempt to get around one of the most untamed areas of the world. I mean, look at it. The thing has a snorkel! After putting my feet on the dashboard a few times, so my dry boots wouldn't get wet, we landed at the tree that John had used to set up his infrared cameras.


He'd left them for several days and had collected a variety of images of animals at play during the day and at night. The cameras detect motion and snap photos of movement, like this hyena at night and during the day.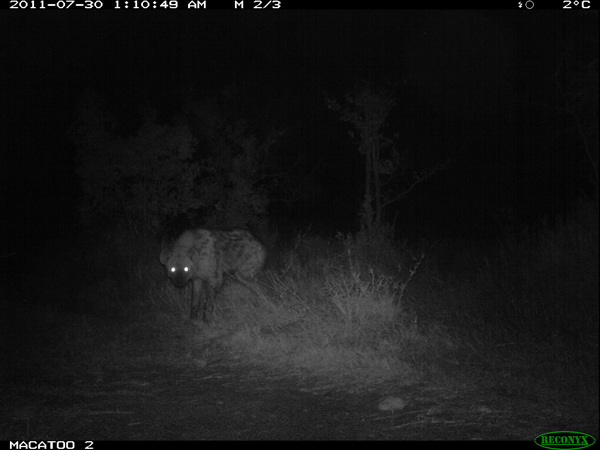 He'd learned that a hyena was in the area, not only by the tracks she left on the road, but by her image on screen.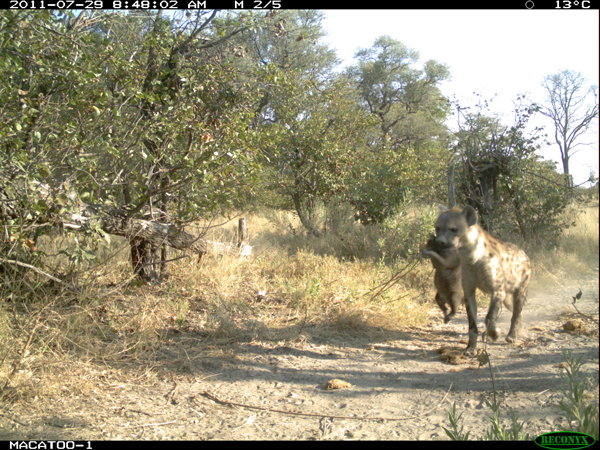 Many of the animals use the few dirt roads that are in the Okavango as their highways. In fact, you are more likely to be in an animal traffic jam than a vehicle one! We downloaded the images and checked out who'd been walking the Okavango highways recently.
We saw lots of wildlife, including some close encounters with a giraffe, baboon, kudu and impala.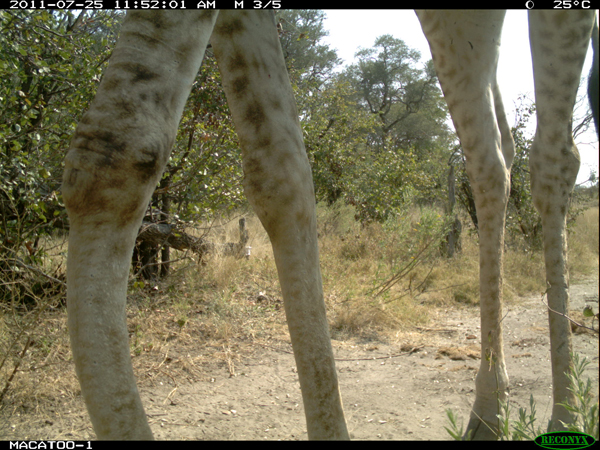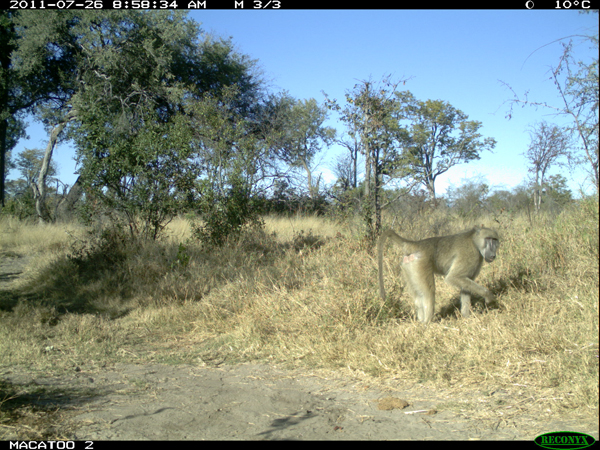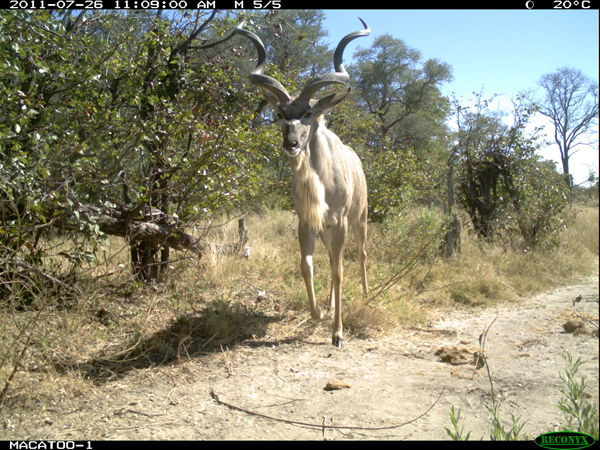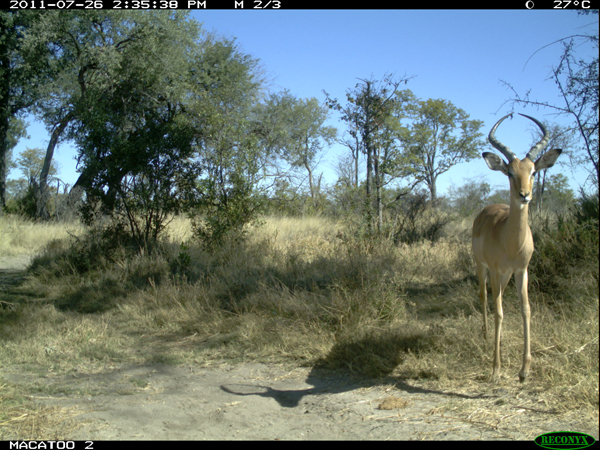 We decided to set up the cameras for the remainder of our stay to see who was lurking about. We headed to an area of mopane trees, whose butterfly-shaped leafed trees the elephants in particular like to eat. We hoped to get some nighttime elephant action. While setting up the cameras, some members of our crew who will remain nameless (Greg and Chip), decided to strike a pose.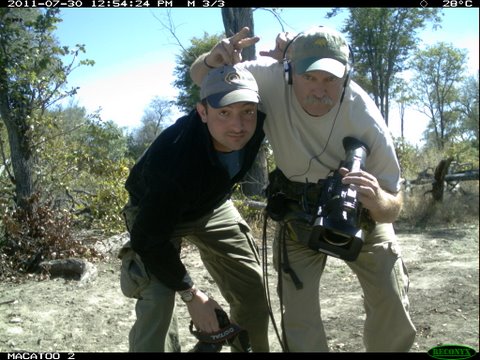 But for real... John just sent these images of what happened at night. Check out the elephants on a mopane highway lane. I wonder if they were out for a disco or something.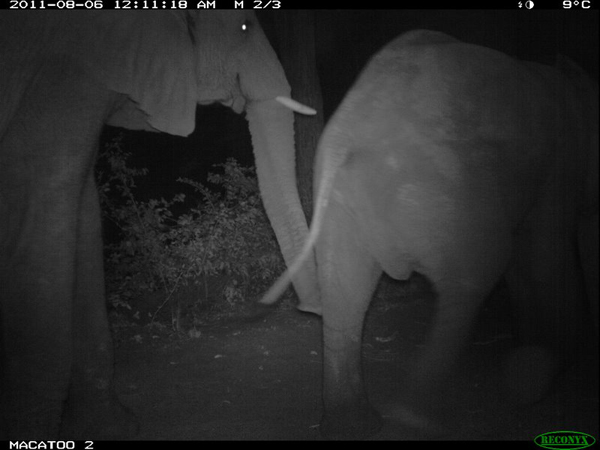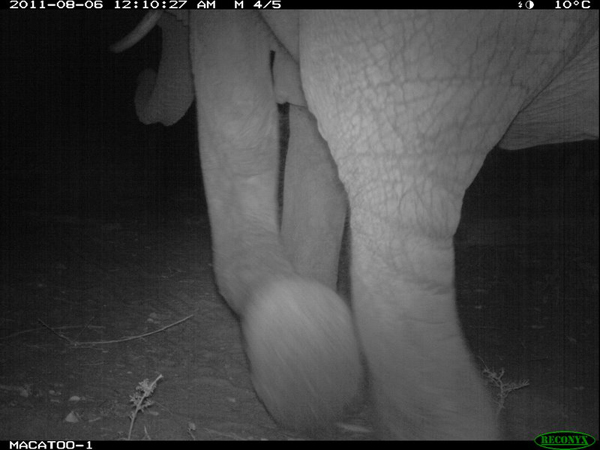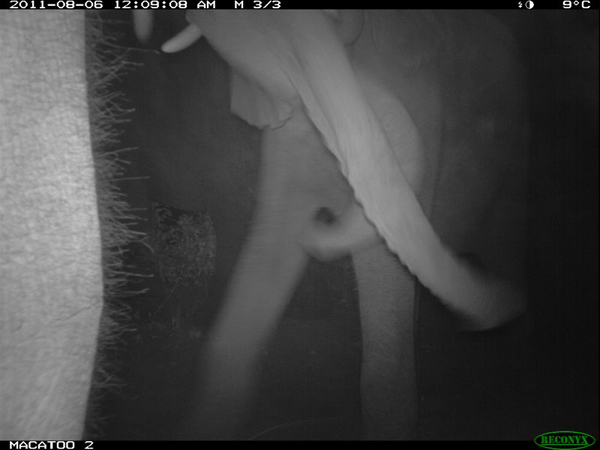 Learn more about taking a horse safari in Botswana and the ultimate Okavango Delta Horse Safari and ask us about the best Botswana vacation for you. We've taken them all so are happy to help! Learn more about travel to Botswana from Botswana Tourism.