Top Cattle Drive Vacations- Cattle Drives in CO, WY and MT
Five Great Cattle Drives at diverse ranches in Wyoming, Colorado and Montana.
by Darley Newman
I've driven cattle at a variety of ranches across North America and South America, participating in everything from city slicker-type cattle drives put on for the benefit of us tourists and authentic cattle drives, where you've gathering and moving cows to summer or winter pastures. These experiences can be a challenge and great for team-building, as you definitely need teamwork to get the job done. They also allow you to get into natural and remote areas, playing cowboy, learning about a new way of life and getting closer to the land and nature.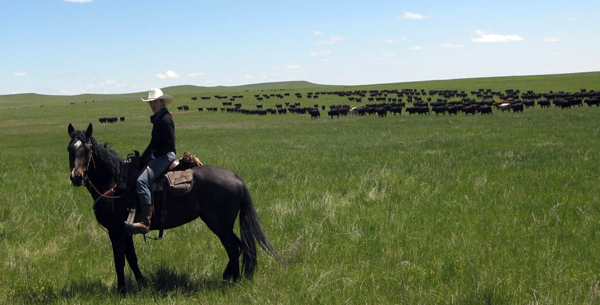 Moving cattle at New Haven Ranch in Wyoming.
A challenging, confidence building adventure is the way many people describe cattle drive vacations. Where you decide to go will determine what you get out of the experience, but if being outdoors, learning new skills and having an active adventure is something that interests you, a cattle drive vacation might be a good fit for you.
Below we've compiled five diverse cattle drive vacation experiences at ranches across the USA. While some offer cattle drives combined with dude ranch activities that may be good for beginners, others offer pure authenticity and longer drives are meant for those who want to really experience what cowboys of the past and today do during genuine cattle drives. Check out more choices for cattle drives in the Equitrekking Vacation Guide.
1. Bear Creek Guest Ranch, Montana - Native American Cattle Drive Adventures
This Montana guest ranch offers authentic cattle drive vacations at Rumney Ranch in the Blackfeet Reservation in Northern Montana, east of Glacier National Park. During spring and fall drives, guests gather more than 1500-2000 head of cattle and move them to summer or winter pastures. Learning from Native American cowboys and your guide, longtime Montana rancher Bill Beck, Bear Creek Ranch provides an authentic western cattle drive and fosters learning about Native American culture.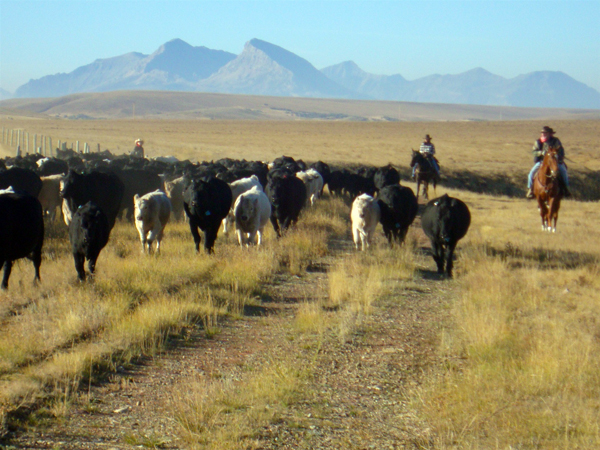 2. HorseWorks Wyoming - Working Ranch Cattle Drive
Round up cattle on a working ranch in Wyoming, located in Grass Creek, between Thermopolis and Cody. HorseWorks Wyoming offers working ranch vacations amid the sagebrush hillsides, rims and ridges. Round-ups here can be dusty, rugged adventures, making for a challening, genuine cattle drive vacation. Each day's pace is determined by what needs doing on the ranch, so while one day may be more relaxed, another may involve intense ranch work. Your host, Nate Brown, is a Wyoming legend, having been a cowboy his entire life, so you're learning from one of the best.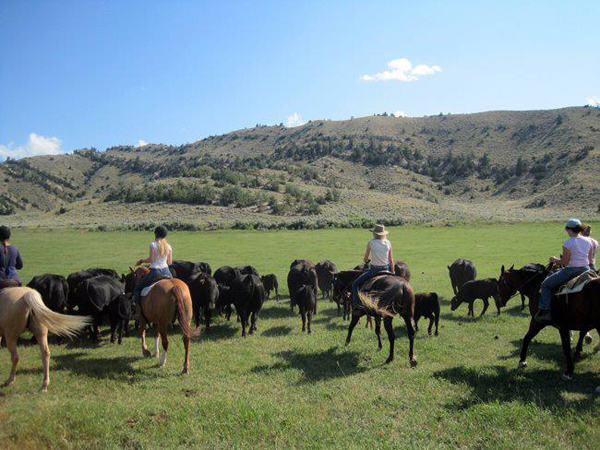 3. New Haven Working Cattle & Guest Ranch - Wyoming Cattle Ranch
Another challenging working ranch vacation, New Haven Ranch in Hulett, Wyoming, offers a variety of ranch adventures, including moving cattle through diverse terrain. Take part in branding calves, loading and shipping cattle and mending fences. Located on the edge of the Black Hills of Wyoming about an hour away is the Devils Tower National Monument, the scenery includes timbered canyons, high plateaus and endless sagebrush prairie. With a maximum of 8 guests at a time, you get personalized attention at this working cattle ranch.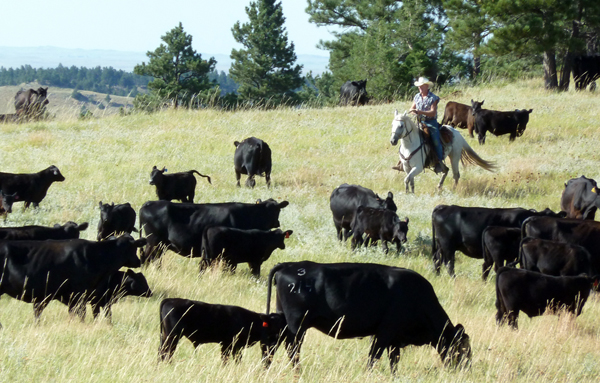 4. The Hideout Lodge & Guest Ranch - Wyoming Cattle Drive Adventures
Another working ranch adventure, The Hideout Lodge & Guest Ranch needs help tending to their over 1200 head of Black Angus, their calves, and the hundreds of yearlings. Located on a real 100-year old operational ranch, guests help out with different tasks according to the seasons. In the spring, there are big gatherings, brandings and riding the wide open valley prairies at elevations between 4,200 and 4,800 feet. In the summer, climb higher to find cattle amid pine forests, creeks, alpine meadows and mountain lakes. There is cattle work year-round at the ranch. Guests can try gathering, branding, fencing, sorting, searching for cattle and moving cattle and learn about rotational grazing to protect the environment.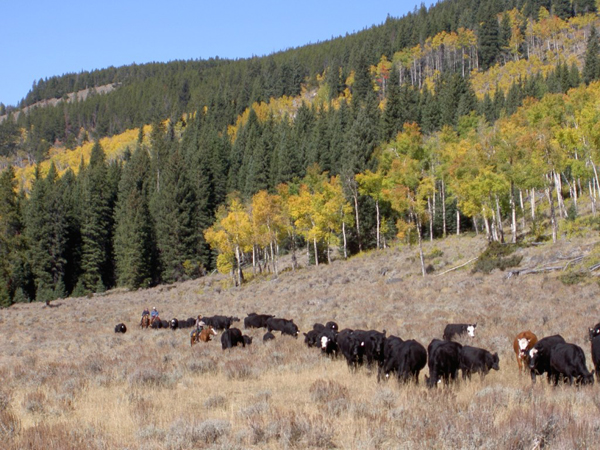 5. Black Mountain Ranch - Colorado Dude Ranch Cattle Drives

For a Colorado cattle drive adventure with Texas Longhorns, venture to Black Mountain Ranch, a dude ranch in McCoy, Colorado. Located between Vail and Steamboat Springs, guests venture into the Rocky Mountains to find the ranch's Longhorn cattle. With no fences in the area, the rides can be far into the high country. At this Colorado dude ranch, every cattle drive is different. Guests may need to push cattle down to the arena, check them out to make sure they are healthy and then brand them. Once in the arena, there's the chance to test your roping skills. Cattle drives happen once a week at this Colorado ranch.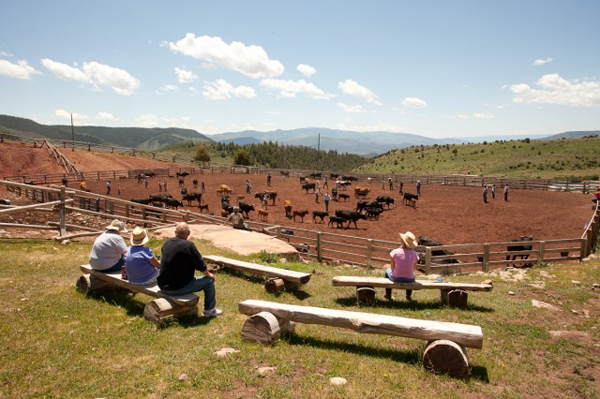 Check out other great cattle drive vacations in the Equitrekking Vacation Guide. Learn about the latest Travel Deals to these ranches and many more.