Tips For Building A Dude Ranch Driving Tour
Travel ideas for building a road trip around your next dude ranch vacation, combining affordable car travel and accessible public lands with lots of fun activities.
Crude oil prices are at record lows, and prices at the gas pumps are continuing to drop as a result. One obvious impact on vacationers is that driving options for holiday travel may have become substantially more affordable than comparable air travel options.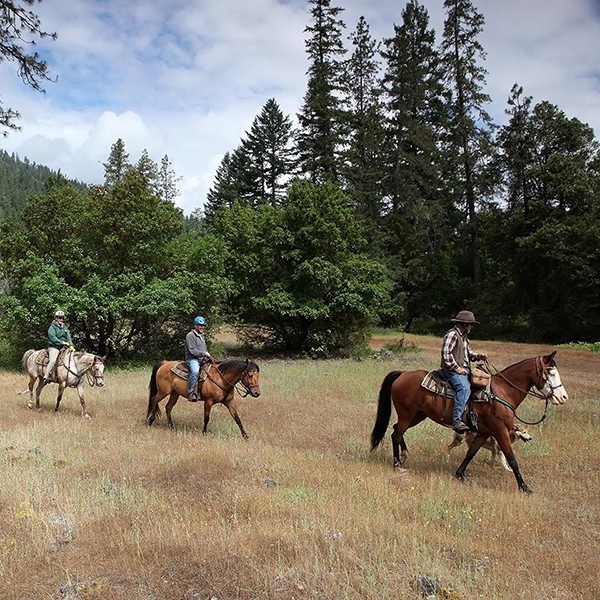 Three of the best trail horses at Marble Mountain Guest Ranch-- Fancy (in the lead), Charlie, and Calista.
Most dude ranches and riding venues are located in remote areas that are often surrounded by vast stretches of pristine undeveloped public lands. Surrounding forest service lands, BLM lands, state parks, national monuments and historic preserves are an impetus to slow down a driving trip and detour into these surrounding wild-land resources. The combination of affordable car travel, and accessible public lands is a perfect recipe for building a driving tour around a journey into the dude ranch of your choice.
A planned driving tour can be as simple as mapping out a route through targeted areas with time allotted for some exploration. Road-side historical markers are enlightening and cost free. The periodic step outside of your car can also provide needed exercise and relief during a longer drive. So, other than road signs and rest stops, why make a longer, albeit a cheaper drive to the ranch site? Here are a few thoughts for your consideration.
1. Fishing - Consider bringing your fishing rod on a driving tour. Many dude ranches are within reach of world-class fishing options and most rivers that follow public road-ways will also have public fishing access points and campgrounds. State Park campgrounds and Forest Service campgrounds are either free, or nominally priced and they often have camp hosts on location who gladly share insights and local fishing tips. Caution though, a little research might be in order to pre-select region specific flies or tackle, and to ferret out local fishing regulations.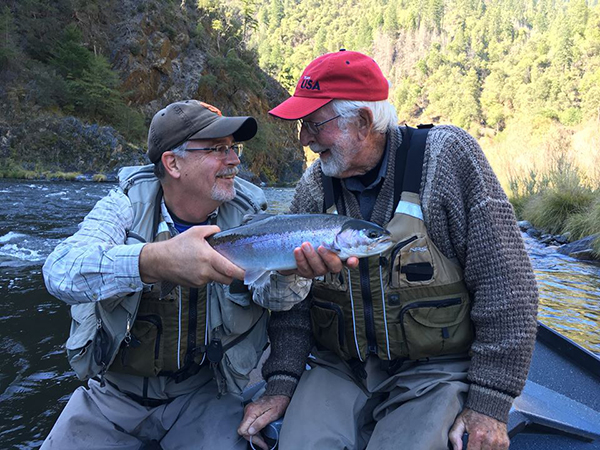 A father and son fishing trip at Marble Mountain Ranch, a Top 20 Dude Ranch.
2. Photography - If you have a passion for photography, a driving tour works well by providing access to scenic vistas and wildlife viewing. These engineered openings in an itinerary allow the patient photographer to set-up and prepare for that perfect Ansel Adams lighting moment. Just carrying your camera kit will also allow that impromptu photo shoot when a surprise opportunity is manifest.
3. Birding - Birding is a natural for road trips and driving tours. Work on your bird sightings list by creating a list of hopeful bird sightings based on the season and geography of your travel map. This might be the golden opportunity to tick off some birds on your bird life list that might otherwise be difficult sightings from your home base.
4. Bed and Breakfasts - Regional history, period architecture, fine cuisine, and small venue personality can all be yours, with a driving route that capitalizes on bed and breakfast short stays. Avoid that corporate owned chain motel, and immerse yourself into local flavor by staying at private Bed and Breakfasts while inbound to the dude ranch, and then away from your dude ranch vacation.
5. Local events - Have you ever wanted to visit the Ashland Shakespearian Festival, or do a wine tasting tour through the Napa Valley? How about visiting an authentic western rodeo in Wyoming, or taking an Arizona jeep tour? What about hitting the Jackson Hole Grand Targhee Bluegrass Festival or another music festival? The point here is that regional tourist events and travel destinations are only limited by your interests, and by the regions you might choose to visit en-route to your vacation destination.
6. Mountain Biking - Golf Tours – Zip Lines – Helicopter Rides - Tree Canopy Tours and more. What will draw you and awe you? The options and variables for a driving tour can be overwhelming to the point of distraction. If you don't have a single purpose for adding an extended driving tour to your ranch vacation, it might be wise to take the overview exploratory approach. Try plotting a route, and doing an internet search for each pass-through region. Simply searching "What to do in….XYZ" will fill your plate with options that will provide a basis for wandering with a purpose.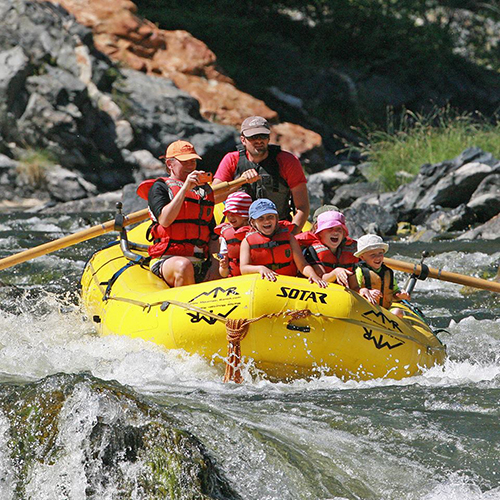 Rafting in California at Doug Cole's guest ranch.
Many national parks, state parks, and chambers of commerce also have pre-planned driving tours and printed maps that highlight local attractions. They are generally available to the public at no cost. The host locales are motivated and will do all they can to encourage your visit.
One obvious choice for a driving tour en route to an Arizona destination is going to be driving along the rim of the Grand Canyon or perhaps a drive through the numerous preserves highlighting the dessert aboriginal peoples. A visit to a Wyoming dude ranch might bring you through the iconic Yellowstone National Park. One of my favorite west coast driving tours is the Rogue-Umpqua Scenic Byway, aka the "Highway of Waterfalls" in Southern Oregon. This particular drive includes each of the fishing, scenic touring, photography, birding and B&B potentials listed above. The West coast also has the option of the incomparable Redwood coast driving tour with some of the worlds largest and oldest conifer forests.
To quote Emmerson: Life is a journey, not a destination. As you plan a route to the dude ranch of your choice, consider purposeful detours and wanderings, and choose a passage through new and unfamiliar terrains. Your newfound peripatetic itinerary might reveal your inner wanderlust and provide meaning to otherwise mundane travel routes.

About the author: Doug Cole, the family patriarch and Marble Mountain Ranch owner, has been riding since 1962, rafting since 1968, outfitting since 1981 and a ranch owner since 1994. "I followed my passions into my career path. Ranch specialties include wrangling, fly fishing, rafting, marketing, maintenance, and distributor of his quirky and dry American ranch humor. Proud founder and director of the "Somes Bar Liar's Club" and Patron to the "Somes Bar Department of Redundancy Located In Somes Bar".

Learn more about Marble Mountain Ranch in the Equitrekking Vacation Guide and Top20Ranches.com.