Three Great Ranch Vacations for the Christmas Holidays
Three great ranches in three different states that have strong Christmas holiday traditions and invite guests to join in the festivities.
Interested in a vacation during the holiday season? Want to get away from your area for a white Christmas or travel somewhere sunny and warm? We chose three different ranches in three different states that have wonderful ranch traditions during the holidays that guests can enjoy, including horseback riding and horse-drawn sleigh rides. So grab the family or fly solo to these three great dude ranches for the holidays.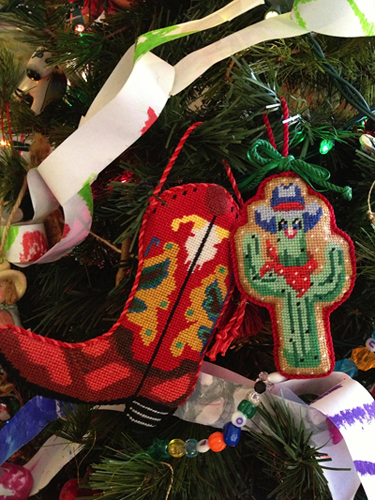 Cowboy Christmas ornaments decorate the tree at Elkhorn Ranch in Arizona.
Arizona's Elkhorn Ranch Christmas Celebrations
Fifty miles southwest of Tucson, Arizona, Elkhorn Ranch welcomes guests to enjoy Christmas at the ranch in sunny Arizona. Surrounded by the picturesque Baboquivari Mountains and the open Sonoran desert country of the Altar Valley, this ranch takes around thirty-two guests each week to experience horseback riding around the ranch and on miles of mountain and desert trails. Solo travelers, couples, families and friends are welcomed by generations of the Miller family during the holiday season.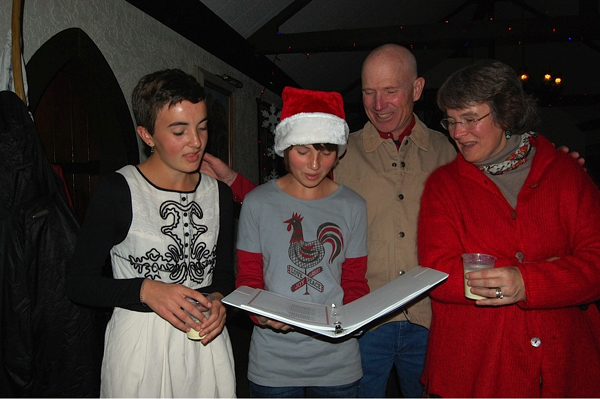 The Miller Family, the owners of Elkhorn Ranch, caroling on Christmas Eve–– the girls, Clara and Alicia are the 4th generation of Millers and helping to continue the dude ranching tradition.
With six guides, small riding groups are arranged each day so guests may have the length and pace of trail rides that they desire.
For Christmas, guests are invited to enjoy a decorating party, Christmas Eve caroling and a midday feast on Christmas Day. At this winter season ranch, which has been operated by the Miller family since 1945, the Millers are still involved with the day-to-day happenings at the ranch and interact with guests to bring added cheer during the holiday season.
For more details visit Elkhorn Ranch's website or info@equitrekking.com?subject=Equitrekking%20Christmas%20Holidays%20at%20Elkhorn%20Ranch">email owner Mary Miller.

Colorado's C Lazy U Ranch for Christmas
Want a quintessential Christmas in the snow? C Lazy U Ranch's Colorado Christmas Week includes sleigh rides, sledding, and Christmas tree decorating with family and friends in the heart of the Rocky Mountains. Each of the ranch's elegantly rustic suites comes complete with a Christmas tree and decorations. Guests can enjoy other activities outdoors, too, including cross-country skiing, ice skating, tubing and horseback riding. For those who want to stay warm, C Lazy U has a 12,000 square foot, heated indoor riding arena.
C Lazy U horse-drawn sleigh rides create memories on a Christmas Colorado vacation.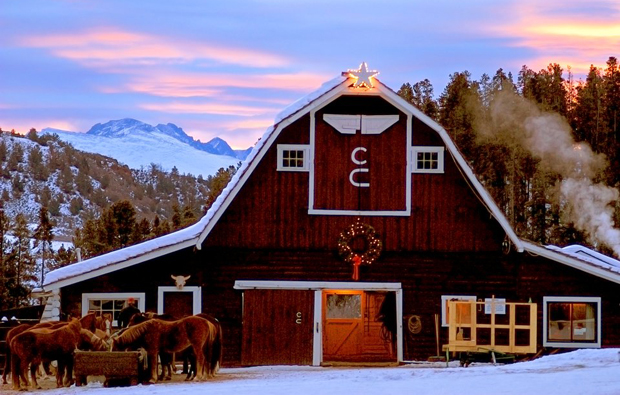 There is normally horseback riding in the morning and afternoon and you can ride in the 12,000 square foot, heated indoor riding arena.
The in-house gourmet chef prepares a complete Christmas dinner where each family is served a turkey to carve with all of the traditional fixings. Christmas carols are sung around the grand piano and crackling fire, while Santa pays a visit on a horse-drawn sleigh.
Learn more about Christmas at this Granby, Colorado ranch on C Lazy U's website or by info@equitrekking.com?subject=C%20Lazy%20U%20holiday%20special%20from%20Equitrekking%20">emailing C Lazy U.

Montana's Lone Mountain Ranch for Christmas
Montana's historic Lone Mountain Ranch is another great place for those seeking a white Christmas. This year's plans include a group Christmas tree outing to find the ranch Christmas tree, tree trimming with all the guests, caroling, a cookie decorating party for the kids, live cowboy music, a visit from Santa on Christmas eve, stockings in all the cabins, and several holiday feasts. Guests will also be able to enjoy a special holiday sleigh ride pulled by Lone Mountain Ranch's draft horses.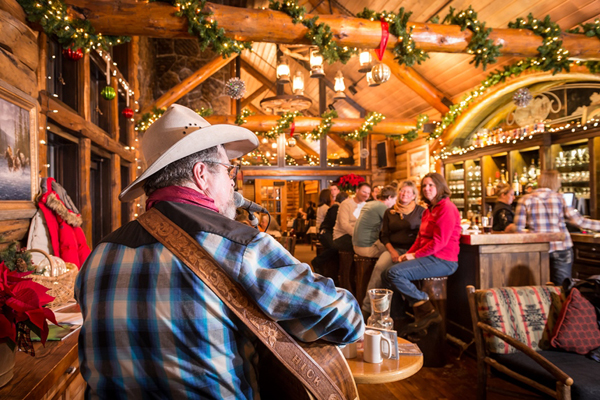 Live music in the ranch saloon, a cozy space with a copper top bar and handmade western bar stools.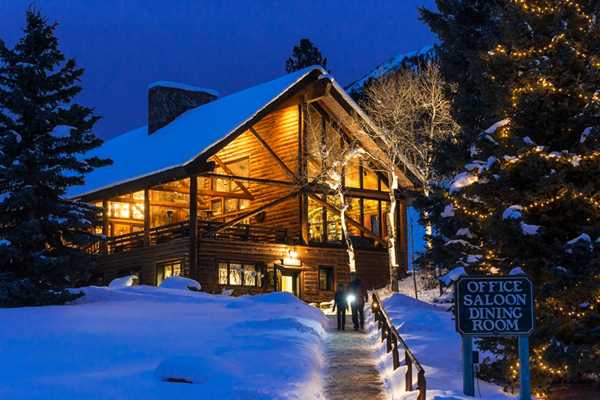 The ranch saloon has large windows that look out over the Aspen trees and surrounding mountain ranges.
Guests may also enjoy spur of the moment sing-a-longs, moonlight snowshoes, and backcountry skiing into Yellowstone. It truly feels like a cowboy Christmas at the ranch, as lights and garland are festooned about at this Montana ranch.

Learn more about this Big Sky, Montana ranch at Lone Mountain Ranch's website or by info@equitrekking.com?subject=Equitrekking%20Christmas%20article-%20Lone%20Mountain">emailing Lone Mountain Ranch.

Check out more great ranches and horseback riding vacations for winter travel in the Equitrekking Vacation Guide and great ranches at Top20Ranches.com. For upcoming travel discounts, including on winter vacations, check out Equitrekking Travel Deals.