Three Great Guest Ranches for Seniors
Gather family and friends for a reunion or enjoy some off-season quiet – these guest ranches are great choices for senior adventurers.
By Karen Braschayko
Whether traveling alone, in a group, or with generations of family, senior vacationers tend to favor guest ranch opportunities with a variety of activities available. With the scheduling flexibility retirement can provide, seniors may have more time to enjoy the surrounding area or explore ranchlands widely.
Here are three guest ranches that particularly appeal to senior travelers.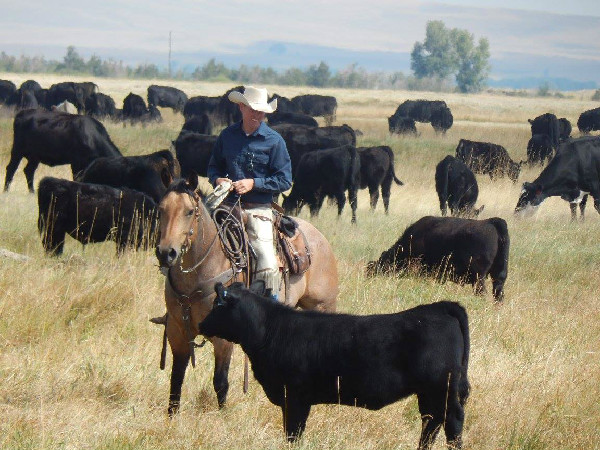 Guests can join in the cattle work -- or not -- during a ranch vacation. Photo courtesy Vee Bar Guest Ranch.
Sundance Trail Guest Ranch
Red Feather Lakes, Colorado
Located two hours north of the Denver International Airport, Sundance Trail Guest Ranch encourages guests to leave their phones and watches behind, savor the moment, and connect with their families. Sundance welcomes advanced to novice equestrians and employs a six-step program designed to help beginner riders gain proficiency. Sundance can tailor riding experiences to the skill level and tastes of guests. Wranglers are happy to coach riders, and nose-to-tail rides are not on the menu. Staff members hold horsemanship safety certifications, and guest welfare is a top priority.
Sundance is a rare ranch that allows dogs, as long as they are horse friendly of course, and you may also bring your own horse. Taking just 24 guests at a time allows Sundance to customize the experience, and the ranch is happy to accommodate special diets, allergies, and food intolerance. It's also wheelchair friendly. Guests can access over 880,000 acres of the Roosevelt National Forest. The ranch emphasizes minimizing impact on this wilderness and a "leave no trace" philosophy. Many other activities are available during non-horse times, including hiking, fishing, whitewater rafting, rock climbing, disc golf, and shooting.
Family groups often appreciate the range of activites at a guest ranch, such as river tubing. Photo courtesy Vee Bar Guest Ranch.
Bucks and Spurs Guest Ranch
Ava, Missouri
Bucks and Spurs Guest Ranch, on 700 acres in the Ozarks, is set near Mark Twain National Forest and within driving distance of Branson, Missouri. The ranch focuses on natural, locally-grown foods, including Angus beef raised on the ranch and breakfast eggs fresh from the coop. Help move the cattle and ride for hours per day or enjoy quiet time by the river – guests are welcome to participate or relax as desired. Often appreciated by riders over a tender age, Bucks and Spurs provides Missouri Fox Trotter horses for a smooth, gaited ride. The ranch's expertise is in natural horsemanship.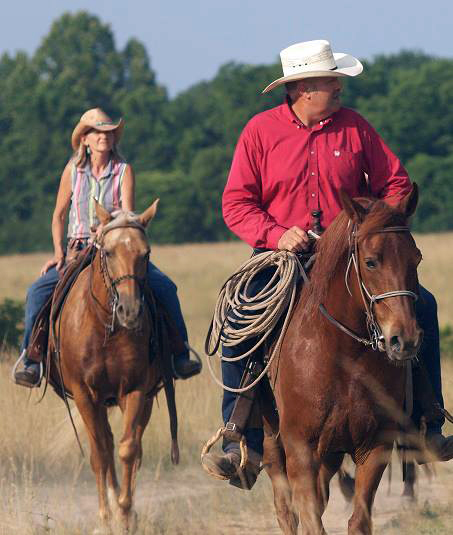 All ages of cowpokes can enjoy a ranch vacation. Photo courtesy Bucks and Spurs Guest Ranch.
Guests are treated with family-style meals in the owner's home, and the seclusion offers a break from constant connectivity. The ranch is owned by a family who has been farming in the Ozarks for generations, and they built the log cabins from timber on the ranch. Located on two miles of the Beaver Creek, guests may also enjoy kayaking, canoeing, swimming, tubing, and fishing. Also convenient are horseshoes, campfires, volleyball, arrowhead hunting, and exploring the Civil War borderland area.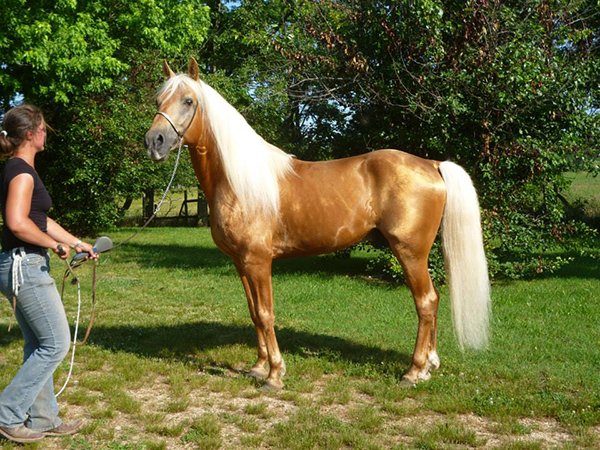 This Missouri Ranch trains Fox Trotter ranch horses.
Vee Bar Guest Ranch
Laramie, Wyoming
The Vee Bar Guest Ranch appeals to both multigenerational family vacations and senior travelers by specializing in hosting family reunions. Those wishing for a quieter experience often come in the fall after kids are back in school, with the ranch open year round. A variety of activities are available for either family bonding or solo enjoyment such as river tubing, hiking to waterfalls, sightseeing in the Snowy Range Mountains, archery, trapshooting, trout fishing on the premises, fly fishing in the mountains, nearby skiing in winter, and a saloon for billiards and games. Delicious ranch cooking, historic buildings to explore, and a hot tub for sore muscles complement the experience.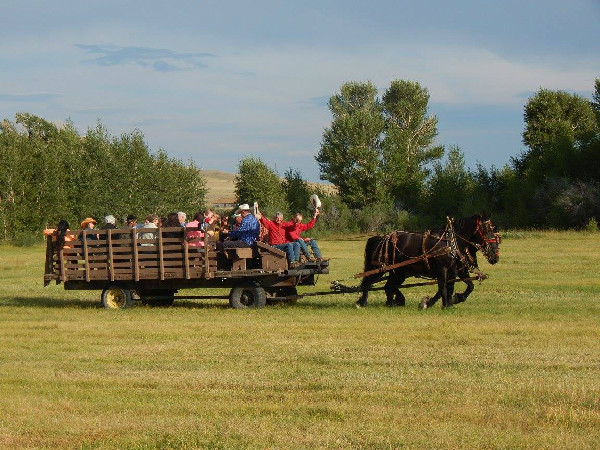 Wagons rides are available for riders and non-riders alike. Photo courtesy Vee Bar Guest Ranch.
The ranch can accommodate an array of riding levels and interests, offering range riding and ranch work such as herding cattle and team penning. Rides across Sheep Mountain in the Medicine Bow National Forest, wagon rides, and a camp out are also available. Vee Bar has a variety of packages, so guests can choose the levels of adventure and relaxation right for them.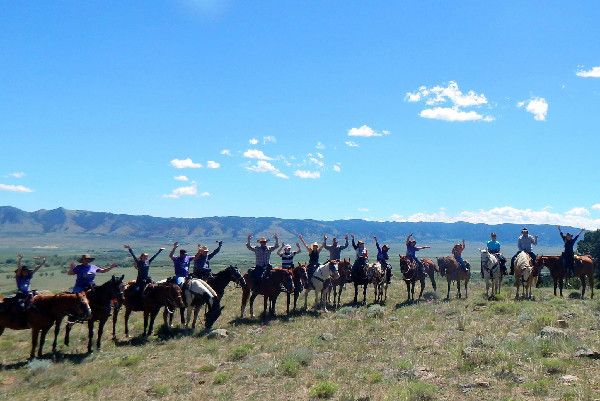 Family reunions are a specialty of some guest ranches. Photo courtesy Vee Bar Guest Ranch.
Karen Braschayko is a freelance writer and horse lover who lives in Michigan.