Therapeutic Horses of Caisson Stable
Learn about how horses are helping wounded warriors through a therapeutic riding program
By Susan Seligman

Natasha McKinnon is a bubbly 24-year-old chatting away about horses. But it is not your usual equine conversation. Soldier McKinnon lost part of her leg when her convoy was hit in Iraq. The horses of the Caisson stable are helping her walk again, gaining strength and confidence in her post-war life.

Working in conjunction with Walter Reed Army hospital and North American Riding for the Handicapped Association (NARHA) trained therapeutic riding instructor Mary Jo Beckham, the Caisson horses have been put into service as therapy horses for wounded warriors through the U.S. Army Caisson Platoon Equine-Assisted Program. The effort has gained national attention and a new lease on life for wounded soldiers returning from Iraq.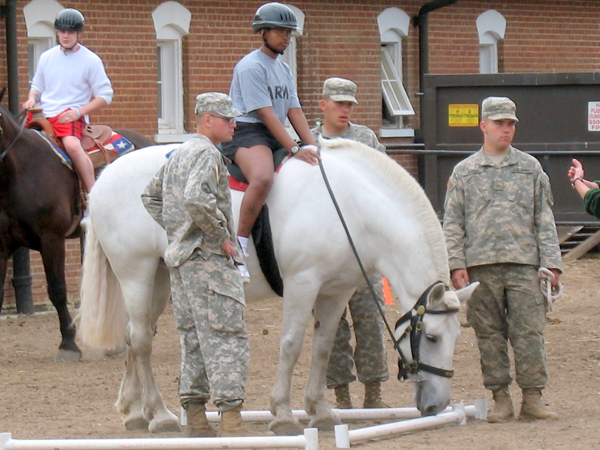 "The therapeutic riding program has brought out Natasha", says Mary Jo Beckham. "Here's a photo of the first day of the program. Natasha is sitting far away from everyone else at the orientation. She was scared to death of the horses. She began riding in a crouched body position. But as she began to bond with her horse you could see the transformation. Look at that smile!" Beckham beams as she points out Natasha in a later picture. Her mother said she hadn't seen her smile since all that had happened. The riding was a real breakthrough."

McKinnon explains how the riding simulates walking and helps her with her prosthesis.

"The idea here is to work on muscle movement. Amputees lose mobility in their muscles, hips, trunks and abs. The horses become an extension of our lower bodies; riding makes us steadier and stronger, helping with balance. It's also a relaxed fun atmosphere for therapy." McKinnon has been so changed by the horses that she is planning a career as a veterinary technician at Kent State University after she finishes her service with the army.

The program has made an impact on the Caisson soldiers as well.

"Helping these soldiers is a great honor," notes Caisson platoon member Sergeant Banzhoft, a volunteer in the therapeutic riding program. "It feels good helping them get back on track mentally and physically. It makes the wounded warriors push themselves more than others who return."


Banzoft tells the story of Max, a soldier whose whole military career was jumping out of airplanes. "He was gung- ho to get back into action after losing his leg. He went through the riding program here and was soon jumping out of airplanes with his prosthesis."

Those of us involved with horses know what a wonderful gift they are in our lives. For the wounded soldiers in the therapy program here, the horses are a fitting gift for those who have sacrificed so much in the name of freedom. It has been a special heartfelt day at the Caisson stables. I was honored to be a part of it.