The Equine Land Conservation Resource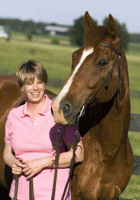 Sustaining the Equestrian Community through Education and Advocacy
by Deb Balliet, CEO, Equine Land Conservation Resource

In 1997, four co-founders incorporated the Equestrian Land Conservation Resource (the name has been changed to Equine Land Conservation Resource) in Pennsylvania. The formality of incorporation was the result of over a year's worth of meetings of these four individuals who had previously served on a strategic planning committee of the United States Pony Clubs. The Strategic Planning committee had been charged with identifying the issues that would threaten the viable future of the U.S. Pony Clubs and its mission, and loss of land was identified as the critical issue. However, it soon became apparent that the issue, while vital, was not part of that organization's mission. The four co-founders persisted, and, after a year's worth of "kitchen table" planning meetings, ELCR, a 501(c) 3 not for profit organization, was born.

The early years involved reaching out to key funders and the development of relationships with allied organizations such as The Conservation Fund, American Farmland Trust and a variety of equine organizations. The Conservation Fund provided incubator office space in Washington, D.C. for one year to enable ELCR to become a viable, independent organization. In the first decade, ELCR worked on several significant farm preservation projects including Callithea Farm in Maryland and Horizon Farm in Illinois. Simultaneously, ELCR cemented its position as a trail advocacy and educational organization under the leadership of Executive Director Kandee Haertel. In 2006, the Board of Directors made a strategic decision to move ELCR to the National Horse Center in Kentucky Horse Park to increase its visibility in the horse world. The benefits of ELCR's move in 2007 have proved invaluable to the organization's ability to meet its mission and extend its reach amongst equestrians nationwide.

ELCR's mission is to "advance the conservation of land for horse-related activity." We are concerned about the broad range of horse land issues. We ask the question, "Where will you ride, drive, compete, race, raise foals, and grow hay in the future?" We address issues faced by all horse owners regardless of size, breed, and discipline.

Across the country, we are losing 6,000 acres of agricultural, forest and other lands each day. Conservatively, we need 36,000,000 acres to feed the estimated 9 million horses in the U.S. At the 2008 Kentucky International Equine Summit, David O'Connor, President of the US Equestrian Federation and Eventing Gold medalist in the 2000 Olympic Games acknowledged that the loss of land for horse-related activities is the greatest threat to horse sport, industry and recreation in the United States. If you are interested, the video clip of Mr. O'Connor's remarks is available for viewing at www.ELCR.org.

ELCR's many programs include providing information, resources and networking opportunities for horsemen on the following topics:

• Farmland Protection
• Community Land Use Planning
• Trail Access and Stewardship
• Land Stewardship/Best Management Practices
• Equine Economic Development
• Liability Issues

Looking ahead, we anticipate that farmland protection and community land use planning issues will explode and consume 65% or more of our time and resources.

Our Equestrian Partners program, a membership program for organizations, is comprised of conservation-minded organizations from various sectors of the horse world—breeding; media; competition and discipline; equestrian parks and facilities; land conservation and stewardship; recreational riding and driving; government; and commercial. We have experienced 40% growth in the program in the last year. Our membership totals over 126 organizations with a reach to 1.1 million equestrians. We provide information, guidance and support to our Partners via quarterly conference calls, regional meetings, an on-line bulletin board with model forms, and a ListServ.

The Equine Land Conservation Resource maintains a web site at http://www.elcr.org and updates it regularly with news and information of national, state and regional interest. On the website, we provide information on how to protect horse lands and share success stories from around the country.

ELCR regularly produces educational publications. Recently, we have produced Horses Make Good Neighbors and a Guide to Equestrian Friendly Conservation Easements. You may peruse descriptions of these and our other publications on our web site at http://www.elcr.org (click on Publications.)

Additionally, we provide legislative updates and consult with individuals, communities, horse parks, and equine organizations on the preservation of farmland, training and competition sites, trail access, and community land use planning processes. In 2008, we provided technical assistance on the conservation of 48,000 acres of horse lands and 792 miles of riding trails.

Organizationally, twelve years is a short time, but it is long enough for us to know that in order to preserve the equestrian hobby, sport and industry we so love, we must engage every horseman in their communities. We look forward to working with communities to conserve land so that our passion for horses and equestrian sport may live on for generations.