The Hideout Lodge & Guest Ranch- Top Pick for Solo Travelers
With a limit of around 25 riders weekly, this Shell, Wyoming working ranch east of Yellowstone National Park welcomes many solo travelers, most of whom are horse owners or are active riders.
by Darley Newman
Equestrians appreciate The Hideout Lodge & Guest Ranch's Authentic Horsemanship approach. Ranch staff work hard to treat and handle the horses with respect and pay attention to the detail and personalization that goes into making a great guest ranch experience.
Ranch owners and management dine with guests and facilitate conversations at the dinner table; working to make sure everyone feels involved and connected. During the booking process, you'll be asked a lot of questions, starting the trip with the first e-mail or phone conversation with the ranch's office to ensure the ranch is a good fit and the traveler's needs and goals for the vacation are met.


For single women travelers looking to gain confidence in the saddle, this ranch is a particularly good fit.
"We have large number of excellent female wranglers and my wife operates the barn together with our head wrangler," writes ranch manager Peter De Cabooter, a Belgian native and nephew of Paula Flitner, one of the owners and founders of The Hideout. "Nine years ago when we took over the ranch, my wife was afraid of horses. She went from zero to a very accomplished rider who is very good in ground work and liberty also and continues to get more and more training to improve herself from clinicians and trainers. She shares this knowledge with guests and many female riders admire her because they see that even if you start out riding at later age you can still become an accomplished rider. She is an inspiration because she has not forgotten how it was to be a beginner."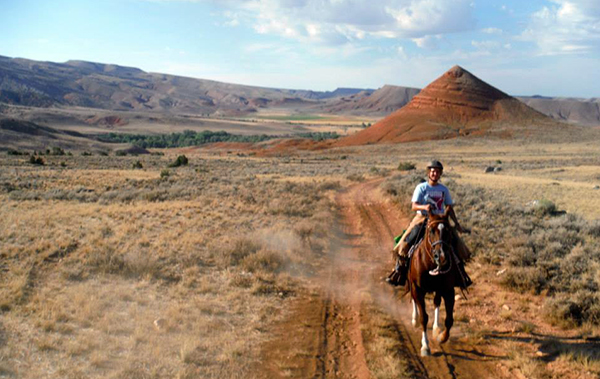 Picking up the pace, loping, at The Hideout.
Single Supplement Lowdown:
The Hideout Lodge & Guest Ranch only charges a single supplement when the ranch is at capacity.

When to go:
Solo travelers are welcome year-round. Many solo travelers enjoy visiting in the shoulder seasons when there are even fewer guests.
Learn about The Hideout Lodge & Guest Ranch on their website and on their page in the Equitrekking Vacation Guide and at Top20Ranches.com.