The Gift of a Trail Ride
Equitrekking contributor and competitive trail rider Stacey Stearns remembers a fateful gift that restored her confidence and inspired her lifelong love of trail riding.
By Stacey Stearns
I hated trail riding when I was growing up. I always had "hot" horses, and while they honed my equitation skills, their behavior wasn't always ideal on the trail. My nervousness on the trail with them only made the situation worse. I needed a break from horses by the time I reached college.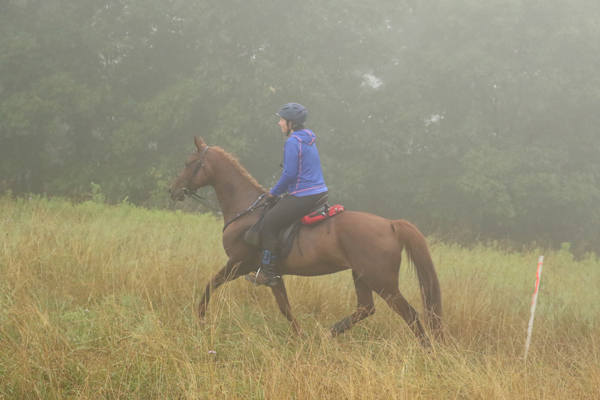 Riding hot horses on the trail challenged the author's confidence. Photo by Stacey Stearns.
I was a member of the National FFA Organization, an agricultural group for youth in middle school through college, and served as a state officer. I went on an international trip organized by FFA to Scotland, Ireland, and France in June one year. We stayed with host families while we were in France.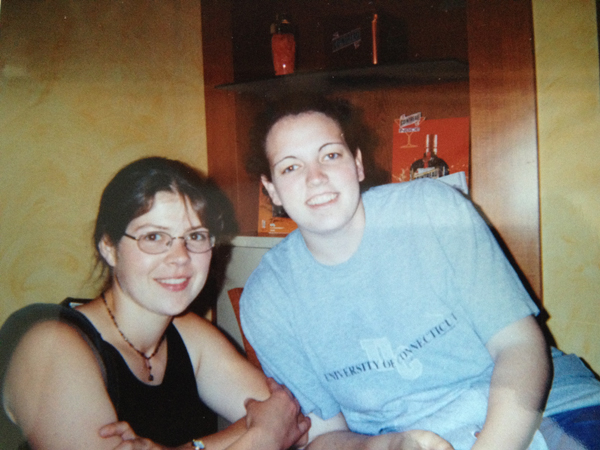 Stacey (right) and her French host sister (left). Photo courtesy Stacey Stearns.
My host sister decided to take us trail riding one afternoon. When they found out that I could ride I was given a tall, grey gelding, as he needed a more experienced rider. My initial trepidation was immediately assuaged as I settled into the saddle and realized that their definition of a challenge was nowhere near mine. He was a perfect gentleman, and we soon began our leisurely ride through the French countryside.
My companions, including my host sister, weren't equestrians. We arrived at a long, flat stretch of dirt road that gently curved right and one of the guides told me to halt and wait. They sent the others ahead. Once they were safely waiting for us at the end of the road, she told me I could canter down to them.
I squeezed my gelding forward and we gamely cantered down the dirt road, with the trees lining the left creating a shady reprieve, and large fields on our right. All too quickly, we had reached the rest of our group and I settled back into a walk.
Freedom. That's the feeling I have when floating down a stretch of trail on a horse. And at that moment in the French countryside, freedom returned, and my confidence was restored. I dismounted as a very different rider than the one who had mounted. That grey gelding, whose name I don't recall, but whose face will always be in my heart, gave me back the joy of riding by rekindling my confidence.
Back at the stables, the guides let me continue riding around their yard while they helped all of my friends dismount and put their horses away. I rode through the pond and over to the fields to visit the other horses, enjoying the afternoon and not wanting to leave.
France was the beginning of a new chapter in my equestrian life. Later, I worked as an assistant horse trainer, first in Maine and then in Massachusetts. My horses in Massachusetts where the final linchpin in creating the rider I am today. Sometimes I wonder where I would be without my grey French gelding though.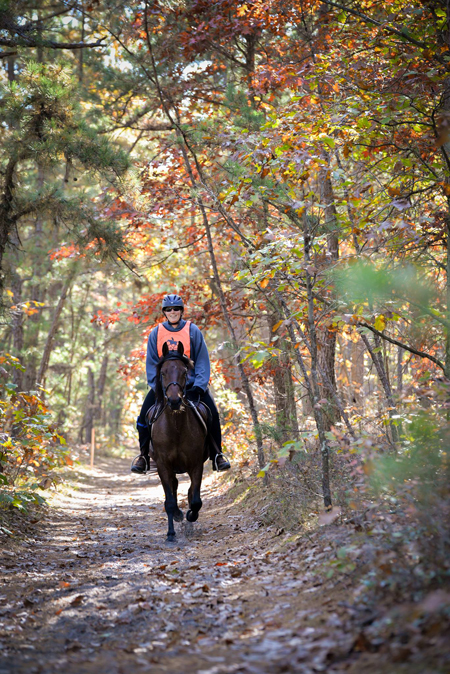 Stacey Stearns and her Morgan gelding, John, now enjoy competitive trail riding. Photo courtesy Stacy Stearns.
Now, trail riding is my exclusive equestrian passion. I have logged over 1,000 competitive miles with the Eastern Competitive Trail Ride Association and also ride with the American Endurance Ride Conference. Between the ears shots from my Morgan horses dominate my Facebook and Instagram posts. I'm sure some of my non-equestrian friends wonder if I ever stop riding.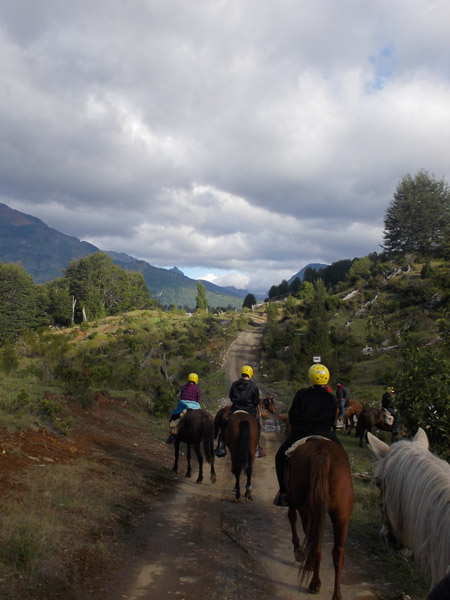 Since that day in France, Stacey has been on countless trail riding adventures --including a ride through Patagonia. Photo by Stacey Stearns.
We have an incredible gift as equestrians. Not everyone has the opportunity to enjoy life between two ears. We need to build each other up. My host sister in France realized that of the three of us staying with her, one really enjoyed horses. She found a farm and took us riding. The guides at the facility gently fed my confidence and rekindled the joy. Seize the opportunity to help someone else grow as an equestrian, and share the joy of riding.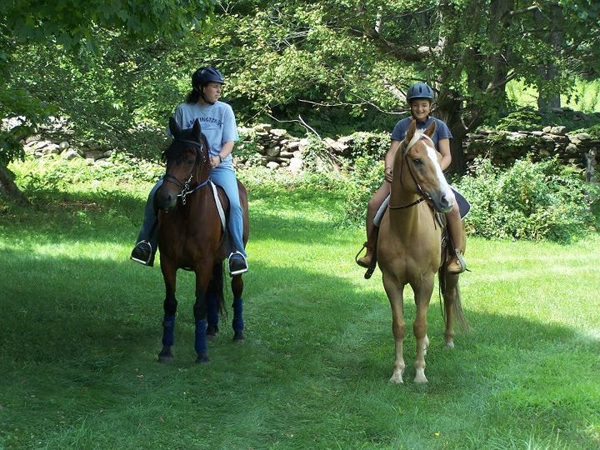 Reach out to your fellow equestrians and be supportive of them on their journey to becoming a better rider. Photo by Stacey Stearns.
It's not a magical cure or something that can be done once. We need to build each other up every single day, on every ride. So many friends, family members, and strangers met on the trail have built my confidence as a rider. My wish is that I can give back just as much as they have given me. How do we do this? Here are a few steps:
Offer support. Listen. Often talking about our fears and challenges makes them less daunting. A kind word after a tough ride can go a long way. Help people focus on what went right, instead of what went wrong. Find the positive in every situation.
Take them riding. Do you have a trustworthy horse or one that will help build the confidence in your fellow riders? Share that horse. Maybe you don't have a horse that others can ride, but your horse will lead on the trail, and help someone else's horse become a confident trail horse.
Give the benefit of the doubt. We often judge ourselves based on our intentions, and others on what they actually do. Help others learn to give the benefit of the doubt –to others, to our horses, and ourselves. Everyone is doing the best that they can – your horse included.
Failure is inevitable. Redirect it. Mistakes are bound to happen, don't focus on them. Help others focus on how to put a positive spin on a mistake, and learn from it.
Create a fun atmosphere. Riding is something most of us do for fun, we need to remember that, and enjoy the journey.
This holiday season, and throughout the year, give your fellow equestrians the gift of confidence and support. In the end, that gift may mean more than you realize.
About the Author: Stacey Stearns is a lifelong equestrian from Connecticut. She lives on Mountain Dairy in Mansfield, her family's dairy farm, and enjoys trail riding and endurance with her Morgan horses