The English Cowgirl Visits the 63 Ranch in Montana
Ceri Howard, author of The English Cowgirl, fulfills her lifelong dream of visiting an authentic dude ranch with a vacation at 63 Ranch in Montana.
I've always dreamed of Montana. I can't say with any certainty how or why it came about, especially since many people in Britain have barely heard of the state. But for as long as I've been consciously aware of travel and the world beyond these shores, I've longed to visit.
63 Ranch in Montana. Photo courtesy Ceri Howard.
Almost three years ago, I was lucky enough to be planning the ranch holiday I'd always yearned to go on, and there was no doubt in my mind where this holiday should be. There's always a worry when you visit somewhere you've imagined for so long that it will disappoint when you get there, or that it could never meet your expectations. I'm very pleased to say this wasn't the case, and whilst I'm writing this retrospectively, I don't think there is a better measure of a place than the imprint it leaves upon you. I can honestly say I've thought about this place almost every day since.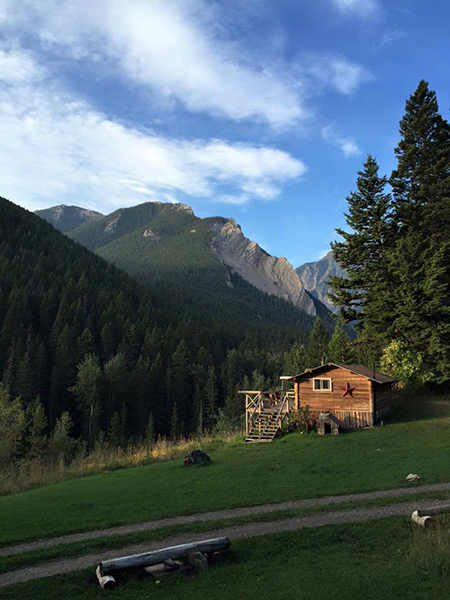 View of the cabins at 63 Ranch. Photo courtesy Ceri Howard.
We decided on 63 Ranch, near Livingston on the edge of the Gallatin National Forest, Montana. The ranch sits 5600 feet above sea level and dates back to 1863. Nestled beneath Elephant Head Mountain in Mission Creek Canyon, the ranch encompasses forest, grassy hills and rocky ridges and as you drive through the gate towards the ranch it absolutely takes your breath away.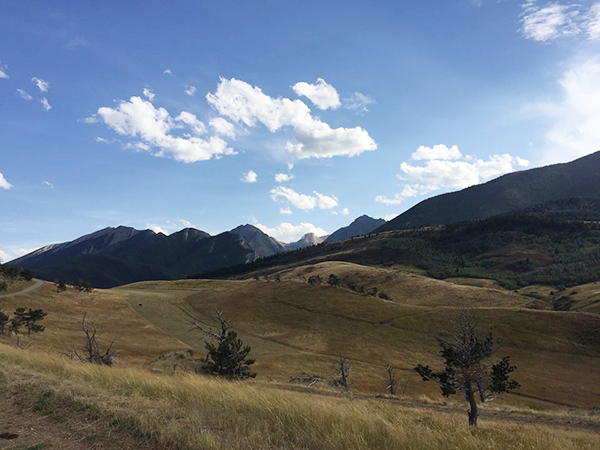 Scenic view of the ranch from one of our trail rides. Photo courtesy Ceri Howard.
63 Ranch is operated by Jeff and Deanna having been owned by the family since 1929, and you certainly feel as though you're being welcomed to the family when you arrive. We were instantly taken on a tour of the ranch, including the main lodge that dates back to 1929 and was designated a National Historic Site in 1982. This beautiful building is warm, cozy and inviting, full of all the western charm and character you'd expect in a Montana ranch house.
Our cabin for the week was small but had everything we needed; it was nice and private and featured an adorable little porch that quickly became our preferred chill out spot for the week (you just need to watch out for the wildlife that steals anything you leave outside!). The view from our cabin was simply breathtaking.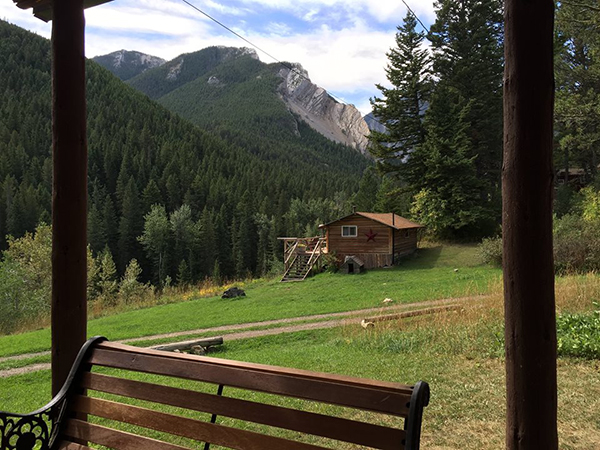 The view from our cabin. Photo courtesy Ceri Howard.
Part of the reason we chose 63 Ranch is that it offered an authentic working ranch experience that also catered for novice riders. My husband was incredibly keen to get in touch with his inner cowboy but had hardly ever ridden-- which ruled out a cattle drive. However, we were keen to find somewhere we could still do some real work.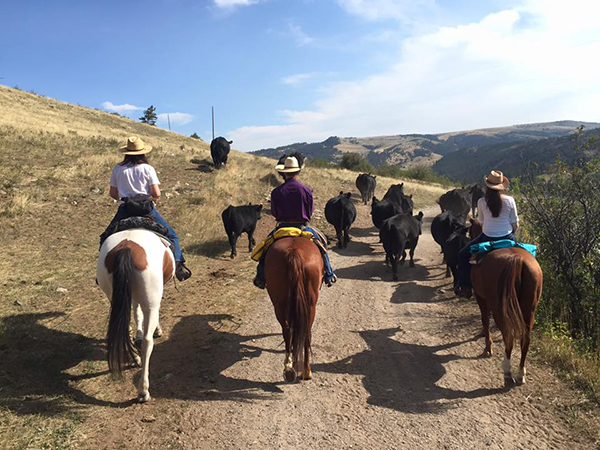 Pushing cows at 63 Ranch. Photo courtesy Ceri Howard.
We spent the week doing a mixture of trail rides and cow work with the option of up to six hours a day in the saddle. The trails were varied with many of them taking advantage of the stunning views, and as we didn't manage to do them all in the week, I'm pretty sure we have a justifiable reason to go back!
My favorite trail is actually the first we went on, affectionately named Bob's Bluff after the long-serving wrangler, Bob, who was always full of stories and anecdotes to accompany the ride. The trail winds steeply upward through thick trees and then suddenly emerges onto a rocky outcrop with views over the ranch as far as the eye can see.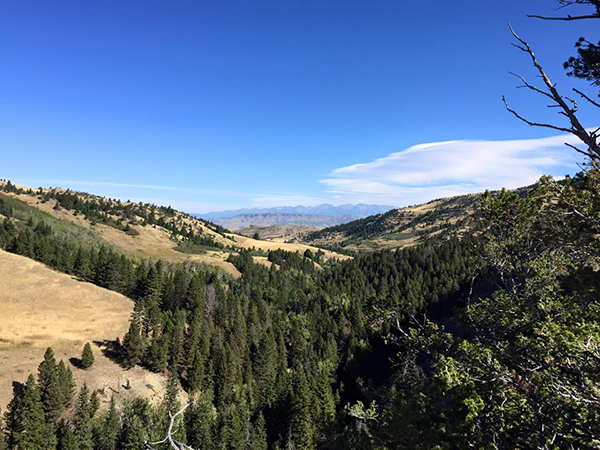 So many unbelievable views along the trail ride. Photo courtesy Ceri Howard.
Another favorite was Ammerman's Ridge that steadily climbs in height through huge meadows until you find yourself overlooking the valley beyond. One thing that surprised me as an English rider was being able to leave the horses to graze untethered part way through a ride without them wondering off--I'm pretty sure if I tried that back home I'd be hunting the countryside for hours!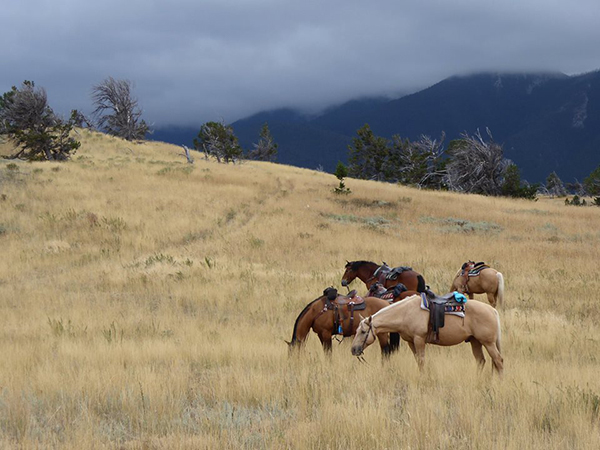 Well behaved ranch horses take a break on the trail ride. Photo courtesy Ceri Howard.
Amongst all the trail rides there were two days that required work to be done and learning to herd the cows was a definite highlight. The skill and cow sense demonstrated by Jeff and his horses was incredible to watch and for a few short hours, I absolutely felt like a real cowgirl! Our first job was to ride above the ranch to find and round up the cows grazing on the forested slopes, bringing them back down to the pastures in the valley for the night. The next day we moved them on to their new grazing further down Mission Creek, and I'm pretty certain my horse knew the job without any instruction from me!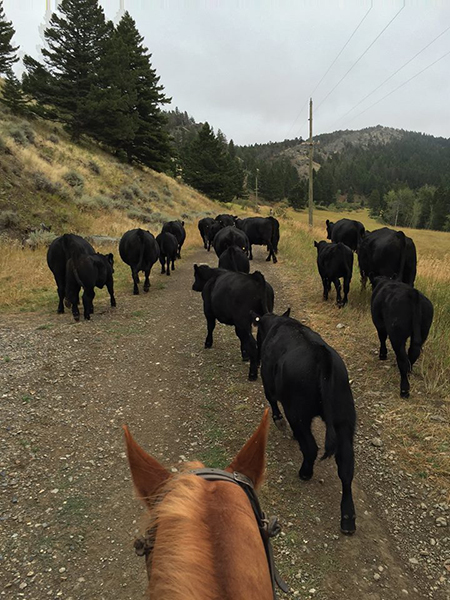 Cow work at 63 Ranch. Photo courtesy Ceri Howard.
All the horses were incredibly well looked after and loved by staff and guests alike. I loved hearing tales from other visitors who had been coming each year for the last ten years with fond stories of the horses they'd ridden, often opting for the same mount year after year. All the horses were keen to do their jobs, especially when it came to cow work, and they seemed as enthusiastic as us to ensure the cows knew their place!
The horses seem to love their job! Photo courtesy Ceri Howard.
Evenings were spent enjoying delicious home cooked food, sharing stories of the trails and past equestrian adventures, and relaxing in the comfort of the main lodge. We combined our stay at the ranch with a couple of weeks of road tripping around the national parks. If you have the time, I'd recommend starting in Glacier National Park before heading to the ranch for the week and then on to Yellowstone, which is incredibly close and not to be missed.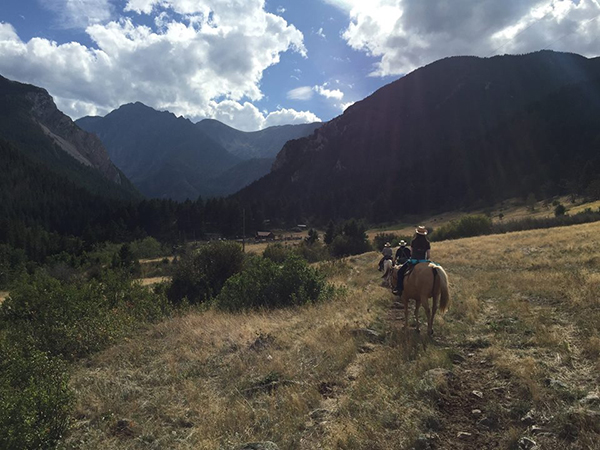 63 Ranch offers an authentic dude ranch experience amidst the incredible scenery of Montana. Photo courtesy Ceri Howard.
63 Ranch is (thankfully) not a luxury resort with spa's and pools, it's an authentic working dude ranch full of charm, character, stunning scenery, delicious food and a very warm welcome. We left reluctantly but happy, well fed, and with a little bit of our hearts always to be found in Mission Creek Canyon.
About the Author: Ceri lives in Northern England with her husband and beagle and writes under the pen name English Cowgirl, where she shares stories of her travels on and off horseback. She has ridden since her early teens, mostly riding English with a particular love for dressage, but has always been fascinated by Western riding and culture. Read more about her travels at website or find her on Instagram