The Best Ireland Horseback Riding Vacations for any Traveler
Find your match with these dreamy Ireland horseback riding vacations that are great for groups, families and solo female adventurers.
by Darley Newman
Having traveled to horseback ride in Ireland a few times, I have awesome memories of the abundant and diverse destinations where I've saddled up. Travelers often email us to find out what Ireland horseback riding vacations we recommend. Well, there are a lot of great choices! Here's a rundown of some of our favorites that are great for a variety of travelers, whether you're a single female adventurer, traveling with a group or taking the kids.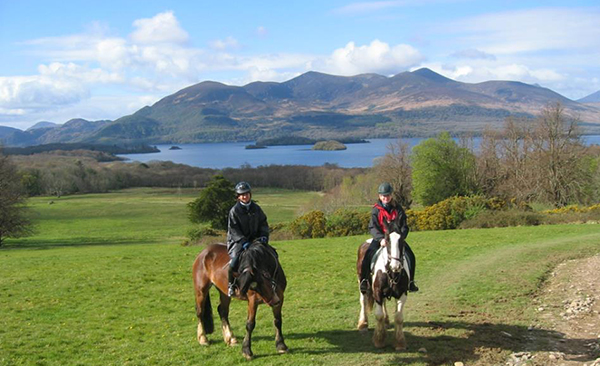 Riding along the Ring of Kerry in Ireland, which encompasses mountains, lakes and beaches and which we filmed for Equitrekking.
The Solo Woman Traveler
Castle Leslie and Mount Juliet are great for single female travelers who want to train in cross country or jumping mixed with trail rides. For those who want to enjoy a vacation focused on riding out, the most popular choice is Galway Riding Holidays. Your Irish hosts have carefully restored a 300-year-old farmhouse in County Clare, where you can stay for part or all of your trip, depending on if you choose the Residential Ride, Galway Clare Burren Trail Ride or Irish Castle & Monastic Ruin Ride. It's cozy, homey and quaint and there are usually other single women on these trips, so you'll likely make some new travel friends.
If you want to stay in one place during your Galway vacation, the Residential Ride is great for beginning and experienced rides and can be tailored to fit your riding level. You spend each night at the farmhouse on this vacation, enjoying daily-guided rides. The Irish Castle & Monastic Ruin Ride is also a more relaxed equestrian vacation where you spend each morning riding in the rural West's Irish bogs and rolling farmland and afternoons exploring ancient Irish castles and monastic ruins.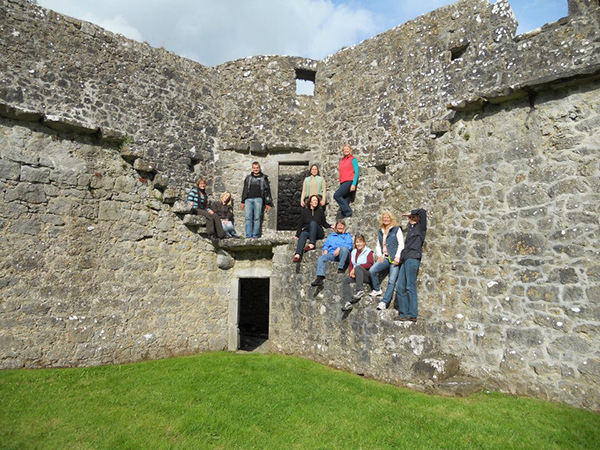 On the Irish Castle & Monastic Ruin Riding Vacation, travelers visit impressive Portumna Castle, one of the best preserved tower houses and castle grounds of the 14th century.
The Equestrian Adventurer
While all of the above riding holidays are great for adventure, those seeking a rollicking good ride should head out along the Connemara Trail with Willie Leahy or gallop on the beaches along the Ring of Kerry. Both riding vacations are guaranteed to get your heart pumping and give you time riding Ireland's beautiful beaches.
The Galway Clare Burren Trail Ride is a good fit for women travelers (and men, too) who want to trail ride and cover some distance. You'll travel about 140 miles from County Galway to the west through the rural areas of County Clare into the unique Burren region and on to the rough Atlantic coast overlooking the spectacular Cliffs of Moher.
Great for Families with Kids
Families with younger kids may want to visit Clonshire in Adare and take advantage of are year-round custom packages or the special kid camps in July and August. Castle Leslie and Mount Juliet are also great family vacation choices, where kids can learn to horseback ride in an arena either indoors or outside. The Ring of Kerry also welcomes kids older than age eight to saddle up, provided they are ready to be in the saddle for from four to five hours each day. We know some kids that have done this and loved it!
Great for Groups
Groups that want to be based in one place and enjoy a variety of other activities for non-riders should check out Mount Juliet and Castle Leslie. Besides equestrian sports, Mount Juliet also has many activities for your non-riding companion including a championship Jack Nicklaus Signature golf course, clay target shooting, a fitness center with an indoor pool, archery, fly fishing, tennis, croquet, a putting course, cycling and the spa. The small, nearby towns of Kilkenny and Thomastown offer atmospheric pubs, craft shops and history. In addition to being based at an Irish castle, Castle Leslie's cross country course, indoor jumping arena, fine cuisine, spa and fishing are attractive for groups or riders and non-riders.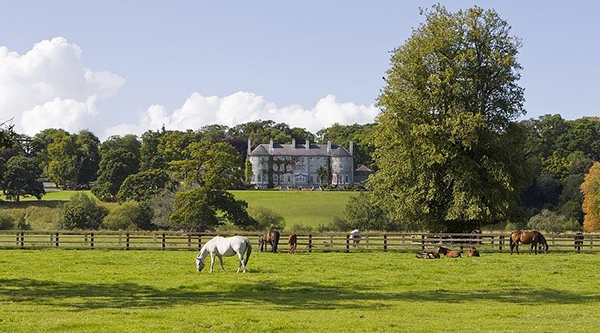 The beautiful setting at Mount Juliet Estate in Ireland.
Child Athletes (or future riders)
For kids that want to enjoy an Ireland horse camp experience and brush up on equestrian training, there are several options, ranging from Oakwood Stables' AIRE approved family run yard is located in beautiful Redcross, Co Wicklow, just one hour from Dublin to Tipperary Mountain Trekking Centre, a picturesque equestrian centre and bed and breakfast located in the pretty and peaceful mountain countryside of north County Tipperary. Pony Camps include horseback riding lessons for children with a focus on building confidence and balance in the saddle and having fun.
In the Dublin coutryside, Coolmine Equestrian Centre offers an special Intensive Eventing Camp for teens and Equestrian Irish Culture Camp for internationally minded teens with an interest in mixing horseback riding training with Irish culture. Teen riders who want an international perspective may also like Crossogue Equestrian Camps in Ireland, which welcomes unaccompanied teenage guests from around the world and is based on a generations-old Irish horse farm in Tipperary.
Families with kids may want to travel with or without their child to enjoy the Clonshire kid camps in July and August.
Fox Hunters
For those seeking a Irish hunt vacation, saddle up on the Aille Cross Trail & Fox Hunting in Ireland Vacation. This riding holiday takes place from January through December in some of the most stunning countryside in County Galway with its rolling hills, old stone walls and quiet country roads. Riders can either hunt with the famous Irish hunt the Galway Blazers or ride to Knock Ash and jump on the farm land surrounding Aille Cross.
Equestrian Clinic Seekers
Mount Juliet, Clonshire and Castle Leslie all play host to equestrian clinics throughout the year. Upcoming special clinics at Castle Leslie include the Mandi King Cross Country Clinic on May 1st, 2015, which you can join if you're vacationing there.
For beginners who want to learn to ride in Ireland or riders who wish to improve their riding skills while enjoying some gentle hacks, Castle Leslie offer several packages that include a series of lessons. The Castle's stables also have a Virtual Horse for beginners and those who want to work on their form.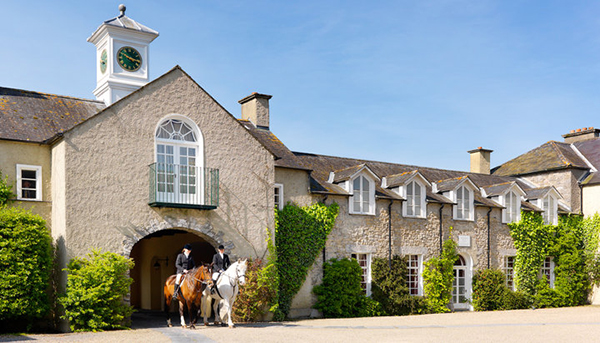 The Hunters Yard at Mount Juliet Estate in Ireland.
Short on Time
For those who want to ride in Ireland, but are short on time or want to combine a riding vacation with other sightseeing, the three day Happy Hackers or Horse Sport packages at Castle Leslie or the Ring of Kerry Mini Trail Riding Vacations are good options.

For those of you who can't decide which Ireland equestrian vacation to pick or are ready to book, enjoy perusing the ooptions or contact Equitrekking Travel's Julie Snyder (877-490-7786), who went with me to experience these riding vacations in Ireland and can help match you with a trip.