Thamalakane River Ride, Botswana
Ride the Thamalakane River in Maun, the gateway to the Okavango Delta, in Botswana.
Our second day of horse riding at Royal Tree Lodge, an upscale lodge on a private game reserve in Maun, took us into the Thamalakane River. The river is a record high levels this year, flooding many areas of Maun and even submerging some houses.

Horse riding into water can be a lot of fun, and I've certainly had a lot of experiences with water riding in Botswana. Botswana may be landlocked, but there's a great diverstiy of scenery for travelers and horse riders. You can be in the salt pans, a vast dry area that looks like the surface of the moon, the lush Okavango Delta, amid the vibrant wildlife of Tuli on the border of South Africa or right by the village of Maun and the Thamalakane River.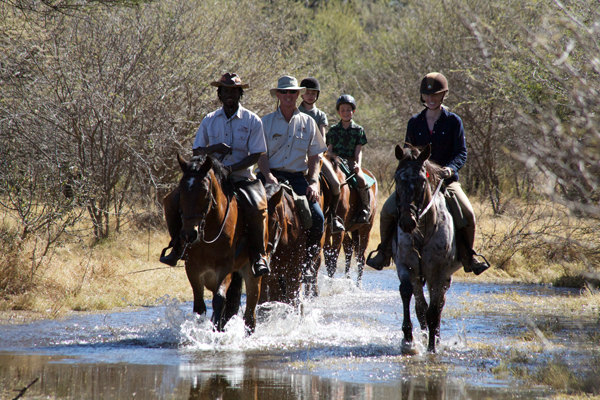 Riding from the stables towards the water, we saw a variety of wildlife. I rode with the same group as the day before, David Foot, his two children and our guide KB.
I was glad not to see any crocodiles as I rode my Appaloosa into water that came up over my boots. We could have gone even deeper, and many times, travelers ride and then have a picnic down by the water. The river is a good place to spot birds. Over 300 species of birds have been sighted in and around Royal Tree Lodge. Just another easy going ride on the edge of the Okavango Delta.
Learn about horse riding at Royal Tree Lodge at EquitrekkingTravel.com. Learn more about travel to Botswana at the Botswana Tourism website.