Ten Reasons to Get Involved with Therapeutic Riding
Help individuals with special needs to learn about horses, and you just may help yourself as well
by Karen Braschayko
It can be dirty, it can be difficult, and you may occasionally end up sweaty hot or shivering cold, feeling a bit frustrated or absolutely elated, but here are some reasons to give therapeutic riding volunteer work a try.
Therapeutic horsemanship helps individuals with special needs to ride, drive or interact with horses, both as a fun activity and to build strength and self-confidence. The Professional Association of Therapeutic Horsemanship (PATH) International, formerly NARHA, has affiliated centers across the globe. Therapeutic equestrian centers rely on assistance from thousands of volunteers to aid their students and to keep costs down, and you could be the next enthusiastic helper.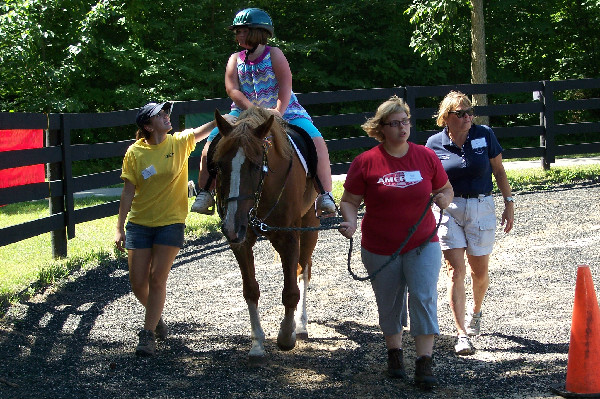 Volunteers assist a rider at Offering Alternative Therapy with Smiles (O.A.T.S.), a PATH International premier accredited center in Clarkston, Michigan.
Whether working in the ring or assisting in the office, whatever your schedule, budget constraints, willingness or ability, therapeutic riding has a place for your volunteer help. Here are ten reasons to give it a shot.
1. Build relationships. Therapeutic riding centers are great places to meet horse people with similar interests. You may network with professionals in the equine field, make a new friend or simply enjoy the camaraderie of working as a team to help others.
2. Get inspired. Watching riders with special needs enjoy their freedom atop a horse can be a priceless experience. There's nothing quite like seeing a child who came for a first ride a bit scared open into a confident, happy and stronger rider. Observing how parents, family members and friends of the riders have faced their challenges with patience and courage— these examples can stir bravery in your own life.
3. Feed your soul. Altruism is good for the spirit. Many volunteers have reported feeling centered and ready to face their struggles after helping at a weekly therapeutic riding session. You may also gain a sense of accomplishment, a new perspective and an appreciation of life.

4. Get some air. Enjoy the exercise, fresh air and barn time. Grooming and tacking horses, walking or jogging around the ring and being close to nature are all side effects of volunteer work. Volunteering can be a great break from work and normal duties, and it can be a lot more fulfilling than screen time.
5. Share your skills. Horse people are valuable helpers at therapeutic riding centers, but many centers seek assistance in areas from office help to carpentry. Horse people make great horse leaders, sidewalkers and barn helpers, but there is often a job for anyone who would like to help. From greeting parents and taking care of paperwork to helping with fundraisers and public relations, equipment maintenance, creating games and taking photos, many skills are needed at a therapeutic center.
6. See horses in a new dimension. Watching firsthand how a pony recognizes the need to be extra patient with an unsteady rider and seeing the direct aid equines can give to persons in need, you may see horses and riding in a new way. Volunteers often build friendships with the four-legged therapists, appreciating how the horses they love selflessly help others and accomplish amazing things.

7. Learn more about horses. If you are new to the equine world, getting comfortable with horses in a safety-oriented environment is a bonus as you learn to help others. If you have a lot of equestrian experience, passing it on to new volunteers can help you further master your skills and build confidence, or you may learn about a new discipline such as driving. Many centers provide free training and will help you find a comfortable role.
If volunteering time is not for you, here are other ways to get involved:
8. Donate used tack or equipment in good condition. Leftover feed, extra buckets, spare blankets –centers often have material needs, and donations help reduce costs for riders. Contact a center near you and see if they could use something you have sitting around your barn anyway.
9. Give goods. Some centers have a wish list, so take a look at their website. On your next store run you could grab toilet paper, garbage bags or hot chocolate for volunteers. Many centers are nonprofit organizations and will provide you with a receipt for a tax deduction. Some centers solicit goods and services for fundraising auctions as well.
10. Keep informed. Many centers provide updates via print newsletters, e-mail bulletins, websites, Facebook and other social media outlets, so sign up to keep in touch with your local center's needs. Become a member of PATH International to receive Strides magazine and read about new developments in therapeutic horsemanship.
Whether you have time, skills or funds to share, a therapeutic riding center is a worthy recipient. To learn more or find a center near you visit PATH International at www.pathintl.org or call (800) 369-RIDE (7433).
Karen Braschayko is a freelance writer and horse lover who lives in Michigan.