Tanque Verde Ranch Traveler Review
During my four-night stay at Tanque Verde Ranch, I loped along dusty trails, hiked past the largest cacti in North America, and indulged in exquisite fare.
by Jocelyn Pierce
On the eastern edge of Tucson sits Tanque Verde Ranch, a delightful guest ranch resort surrounded by the Rincon Mountains and vast expanses of the Sonoran Desert. Adjacent to Tanque Verde is Saguaro National Park, which adds even more riding trails and wilderness areas to explore. Open year round, Tanque Verde attracts a diverse crowd from near and far. With over 170 horses from which to choose, innumerable miles of trails, and resort activities and amenities to entertain and pamper, Tanque Verde allows guests to customize their vacation.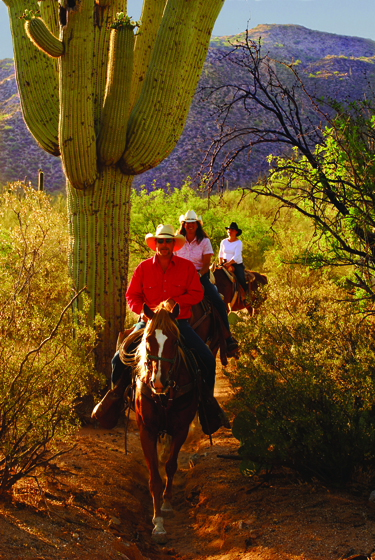 Photo credit Tanque Verde Ranch.
During my four-night stay at Tanque Verde Ranch, I loped along dusty trails, hiked past the largest cacti in North America, and indulged in exquisite fare. Housing was simple yet spacious with a charming old west quality. Buildings are scattered throughout the ranch–– a mix of brightly colored stucco, dark beams, and stonework accented with a spattering of cacti and flowers and tastefully lit with white lights. The staff was helpful and determined that guests enjoyed every moment of their stay.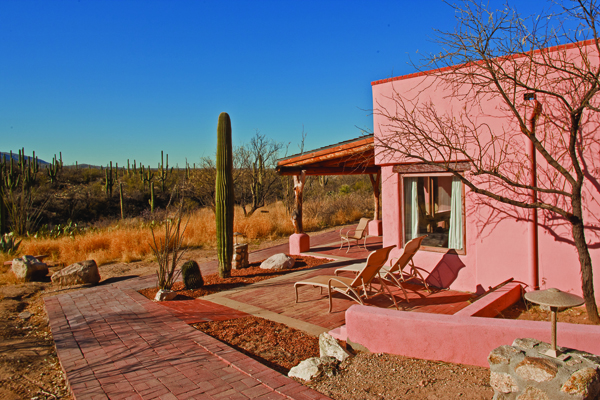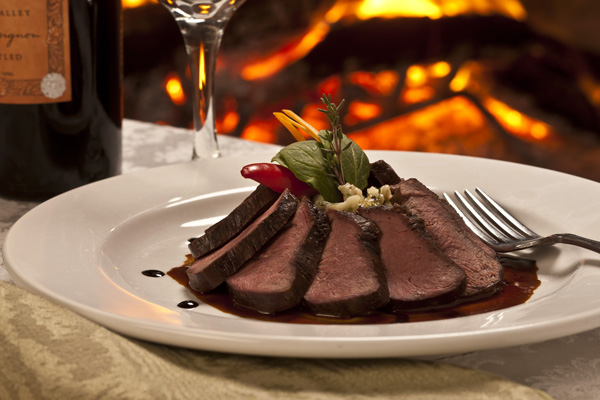 Photos credited to Tanque Verde Ranch.
While at Tanque, I rode six different horses, all of which were well mannered and safe mounts for any rider capability. With a light squeeze and a cluck they would jump into a lope, weaving their way on dusty trails past saguaros and prickly pear, and with the slightest cue from the wrangler leading the group, the horse would come to a steady halt. Scheduled rides run throughout the day, giving guests many options to ride and are grouped by skill level, so seasoned equestrians can move at a slightly faster pace while beginners will not be overwhelmed. For anyone who wishes to improve their riding abilities or aims to join a more advanced trail ride, daily lessons are also offered.
Photo credit Tanque Verde Ranch.
Non-equine enthusiasts also have plenty of daily activities from which to choose. Tanque offers guided nature hikes and lectures to learn about local flora and fauna, mountain bike excursions, fishing, and a number of on site amenities to appreciate–– including pools, tennis courts, and a spa. I enjoyed taking self-guided hikes on the ranch's property and through Saguaro National Park and encountered a variety of wildlife including coyotes, rattlesnakes, and javelina (similar to a wild pig). Throughout the day Tanque offers a variety of food, from elegant main courses in the dining room, to hearty cowboy meals served up on breakfast and lunch trail rides.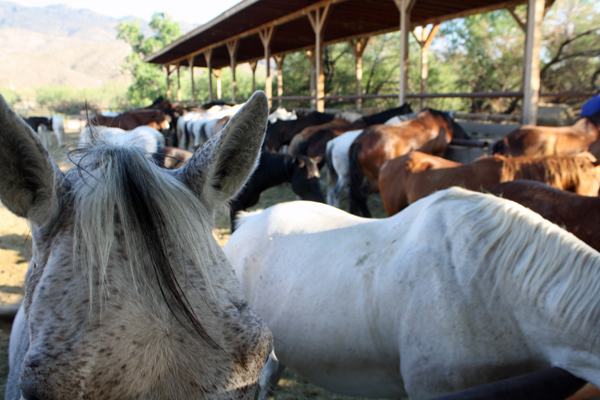 Photo credited to Jocelyn Pierce.
Tanque Verde Ranch allows guests to have a rustic western experience while enjoying the comforts of a resort. It's a great way to introduce people to the beauty and companionship of horses and riding with the backdrop of the tranquil desert. It is easy to see why loyal guests from around the world return year after year to Tanque Verde Ranch.

Learn more about Tanque Verde Ranch in the Equitrekking Vacation Guide and at Top20Ranches.com.

About the Author: Jocelyn Pierce is an avid equestrian and lover of travel and photography. Her passion for adventure has led her on numerous excursions throughout North America and Europe. When she's not riding and competing her homebred mare, she enjoys hiking, camping, and snapping photographs.