Try Something New: Take a Polo Lesson!
Mother and daughter equestrians try an afternoon polo lesson with top US polo player John Gobin.
by Caroline Maffry
Looking for something different from your typical day in the saddle? Don't have time for an equestrian vacation? Are you a skilled rider or horse enthusiast? If you have answered yes to these questions, its time to test your riding skills and try an afternoon of polo lessons, a fun game and activity for the whole family!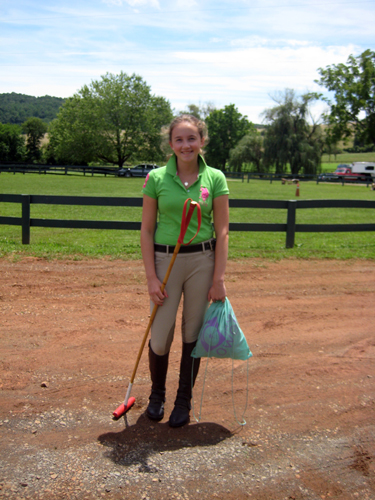 Teen rider Alexis Mozeleski gets ready to play polo.
As equestrians and horse enthusiasts, my daughter and I own a horse and train as hunter/jumper competitors. We know the in's and out's of the horse show world, what the judges look for, how to count strides, look for distances, and so on. Outside of the show ring, my daughter and I enjoy riding for fun when we travel. Some of our experiences have included riding across the Irish countryside and galloping the beaches in Kerry, riding through the gardens of Versailles outside Paris and across Normandy farm land and the Bay of Mont Saint Michel in France……but polo?
Trying a new discipline can be daunting, and I have always wondered what it might be like to try polo. Until recently, wondering about the game was as close to taking a go at it as I have gotten. Curious to experience how the riding skills required to play polo differ from how I have spent my life riding, I finally said to my daughter, "Let's do it. Let's take a polo lesson."
The Plains, Virginia

One Sunday afternoon we teamed up with John Gobin, US polo team captain, for our first polo lesson ever. We drove out to The Plains, Virginia to the Great Meadow Polo Club and Polo School, conveniently located just an hour or so from Washington, DC. John Gobin is the Great Meadow Club Manager and lives in Virginia during the summer months, spending the rest of the year between Aiken, South Carolina and Wellington, Florida. (See below for more information on John Gobin and his polo career.)
Established along with the club, the Great Meadow Polo School was started to build future generations of players, placing a high standard on horsemanship and safety. The School teaches the importance of riding skills, horsemanship and respect for the rules of the game.
As we arrived at John's Virginia farmhouse and stables, we were greeted by his wife and daughter. We immediately started talking to John's daughter about her pony and hunter competitions until John came in and said, "enough of that about jumping, are you ready for polo?" and off we went to the stable to meet our horses. John gave us a tour of the barn and the silo where his grooms and summer staff live and have turned into a cozy dorm. Then it was over to the wooden horse to practice swinging of the mallet prior to mounting real horses.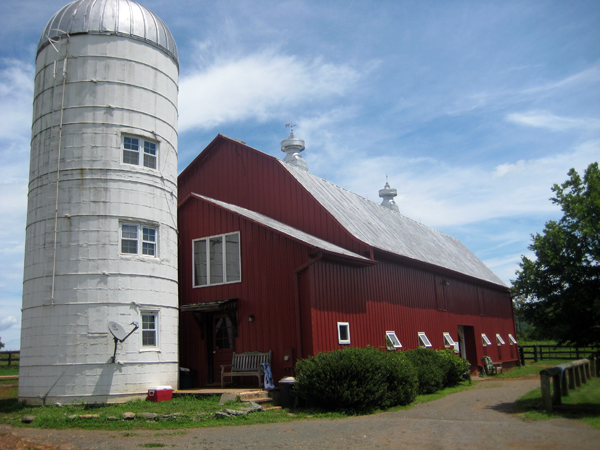 The barn at the Great Meadow Polo School.
John explained that having some practice on the wooden horse would help ensure that we didn't injure our horses when swinging our mallets while riding. Being seasoned equestrians, I wasn't sure if John believed that we were as accomplished riders as we are, but clearly he knew what he was doing with regard to polo so we didn't challenge him on it. So we mounted the wooden horse.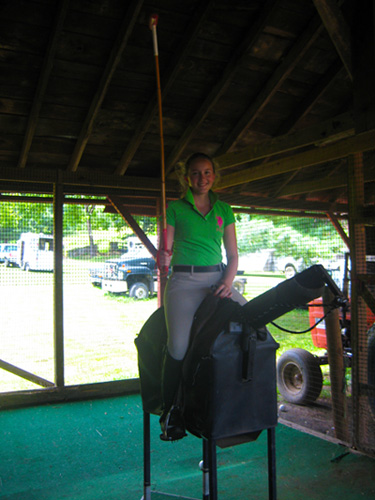 Alexis Mozeleski gets ready to practice on the wooden horse.
John showed us how to hold the mallet and hit the ball. We soon realized that this was not going to be as easy as we first thought, even while on a wooden horse! The mallet was heavier than I thought it would be, and I missed the first few attempts at hitting the ball, as I tried to gauge the distance between the end of the mallet and the ground. John said that you really have to lean over to hit the ball. My daughter was more of a natural and hit her very first ball.
Polo pro John Gobin helps Alexis learn how to swing the mallet.
John, his wife, and daughter all worked together to get the horses ready. As we watched, we immediately noticed the flatter saddles, lacking knee rolls. My daughter whispered, "That's not going to be very comfortable."
The saddles sported wider stirrup leathers to compensate for the weight polo players place as they stand and hover, leaning forward and to each side in maneuvering to hit the ball.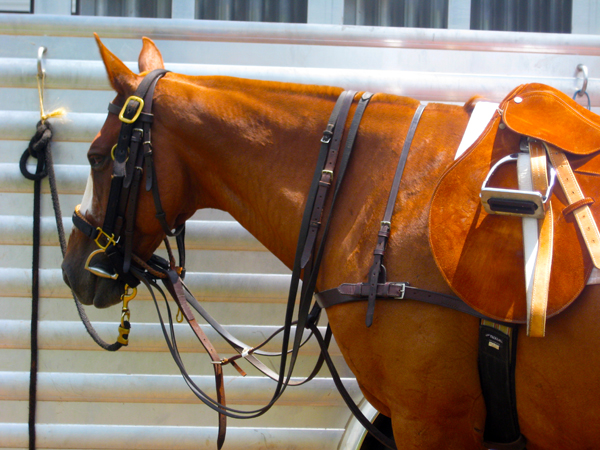 It felt a little strange being told how to hold the reins and move to steer. After all, my daughter and I have been riding for years. I am an instructor for English riding, and now here I was, being taught how to hold the reins while on a horse!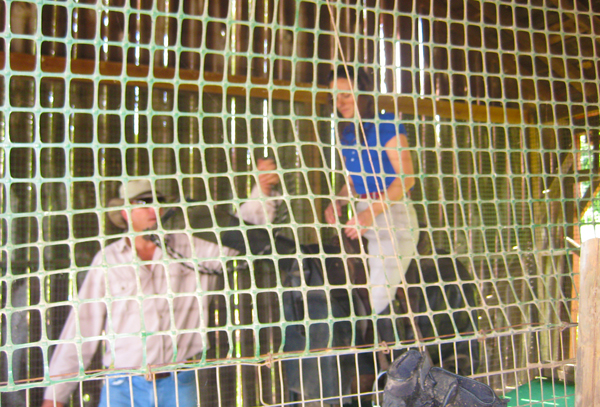 Author Caroline Maffry has her turn on the wooden horse.
We got the hang of it rather quickly and followed John across the property to the polo schooling field. We practiced hitting the ball up and down the field, first at the walk, then at a trot. We were out of breath quite quickly, and John let us take short breaks to catch our breath.
It was now time for a short game with John. We only played for about 40 minutes, and when I say played, I mean a very basic two against one game of chasing the ball up and down the field. To our credit, we were playing against one of the best if not THE best players in the world. Not wanting to look like we couldn't master the art of polo in under an hour, my daughter and I really did put total effort into blocking John's horse and trying to hook his mallet. He missed once (or just let us think he missed) and our efforts paid off as we hit the ball away from him, but we would pay the price later in soreness for those efforts against the pro.
I was beginning to take notice of the weight of the mallet, so John suggested we call it a day. To cool the horses down, John took us on a trail ride to the top of the ridge to see a spectacular view of Fauquier County. A lovely view and relaxing end to a perfect day with my daughter and trying out a new skill and experience with horses. We returned to the barn and enjoyed a cold drink with John and his stable hands.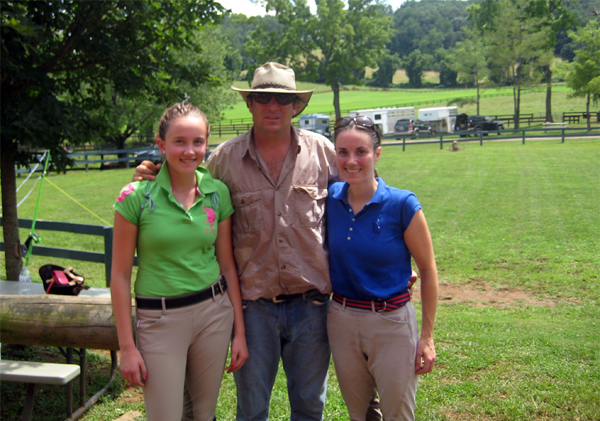 From left, Alexis Mozeleski, John Gobin and Caroline Maffy.
The game and its history
Known as "The Sport of Kings", polo was started by Persians as early as 5th century BC. Today the game is played in 16 countries and was once an Olympic sport. Polo is a team sport played on horseback, where the objective is to score goals with a wooden ball into the opposing team's goal using a long-handled mallet. Each polo team consists of four riders and their mounts. Originating as a training game for cavalry units in Persia, polo spread to the Byzantines in medieval times and was eventually formalized and popularized by the British, with the first polo club said to have been established in India, in 1834.
Mother/ daughter Caroline Maffy and Alexis Mozeleski try polo!
The recovery
Well, I thought I was in shape. I ride my horse several days a week and I am fit and only in my mid thirties… As we arrived home, I started to feel the pain set in. John warned me of the possibility of tendonitis, not being seasoned to holding the mallet, but this pain was throughout my body.
A hot bath and glass of wine helped, but it took a total of four full days to fully recover and not need to take Advil 'round the clock! My daughter seemed fine or was just too proud to admit her pain. Reluctant at first to try polo with me, she truly enjoyed the new and different experience.
Advice if you decide to try polo

If you are going to try polo, I recommend starting out slow and having a good idea of how to ride a horse first. John told us that many weekend Washingtonians come out to learn the game and learn how to ride simultaneously. I still am trying to figure out how one attempts both at once. Being a skilled equestrian, I was able to ride my polo pony with ease, maneuvering well as I rode with the reins in my left hand and mallet in the right. I can't imagine trying to learn how to ride a horse and swing the mallet safely and play the game.
It's fun to try something new from time to time. Even if you choose to not switch disciplines, you will come away with a true appreciation of the skills required and learn something about yourself, the horse, and the sport. All in all, I had a great day and a great experience.
John Gobin
John Gobin, Great Meadow Club Manager and a top professional polo player. Gobin began his polo career at the age of 15 in Rehoboth, Massachusetts and went on to become Captain of the US Polo Team. Formerly a member of the World Cup winning Budweiser team, Gobin played for the USA team in Chile and was also a member of the 1992 US team that defeated England in the Westchester Cup.
Polo Resources- Where to find lessons and where to watch

If you want to watch polo, Twilight Polo at Great Meadow takes place every Saturday night from May through September in the Washington, DC area. Accredited by the U.S. Polo Association, polo's national governing body, Great Meadow Polo Club also offers numerous programs dedicated to introducing the sport to new players and fans including individual lessons, a beginner polo school and a variety of matches for players from all ages, genders and skill levels.Visit their website at www.greatmeadowpoloclub.com
To receive more information on polo, or to get in on the action in the DC area and schedule a lesson, just fill out the online form at www.PlayPoloinDC.com and a Great Meadow Polo Club representative will contact you with more details.
The US Polo Association is a resource for both polo lessons and to find out where you can watch a polo match in your area or try summer polo clinics and camps. More about these resources and polo can be found on the US Polo Association website.
Other articles by Caroline Maffry are available on Equitrekking.com