Take a Horse Drawn Sleigh Ride at these Ranches
A classic holiday experience... at these dude ranches you can enjoy a horse drawn sleigh ride and lots of holiday cheer.
by Darley Newman
Taking a horse drawn sleigh ride is a quintessential holiday experience. At these guest ranches on the East Coast and in the American West, you and fellow travelers can take a ride drawn sleigh ride, enjoying hot coco, dinner, champagne and even getting your Christmas tree while on the trails.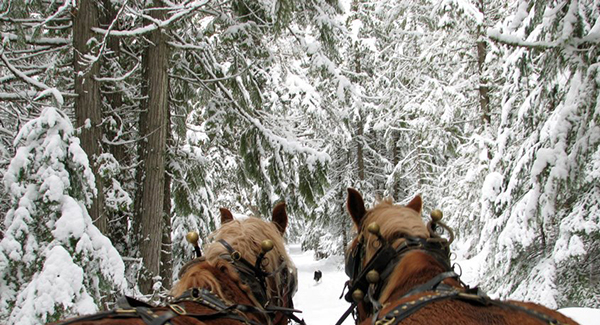 Between two sets of ears on a horse drawn sleigh ride at Western Pleasure Guest Ranch in Idaho.
Lone Mountain Ranch in Big Sky, Montana
At this beautiful Montana ranch, travelers can enjoy a sleigh ride dinner. Venture to Lone Mountain's North Fork cabin, where the mood is set with kerosene lanterns and meal cooked on an old fashioned wood-fired cook stove and cowboy songs by local musicians. Guests staying at the ranch for the week get this experience as part of their ranch stay. Those in the area can enjoy it, too, booking the experience or booking the sleigh ride dinner with a night at the ranch.
Sleigh Ride Dinner - HD from Stephani Gordon on Vimeo.
Circle B Ranch in New York's Adirondacks Mountains
East Coasters may want to take a sleigh ride closer to home at Circle B Ranch in Chestertown, New York. This ranch offers group sleigh rides that can include a bonfire and special evening rides for those looking for a little romance. The ranch has even had engagements happen during their evening sleigh ride experiences!
Bar W Ranch in Whitefish, Montana
Bar W Guest Ranch's sleigh rides are a popular Whitefish area attraction, especially for families. Guests take in views of Spencer Mountain's snow covered ridges on a short 45 minute jaunt complete with a hot beverage or a sleigh ride and a Montana-style dinner either at the Play Meadow or under a heated Gazebo complete with live country singer. The Bar W welcomes ranch guests and those staying in the area to enjoy these special holiday rides.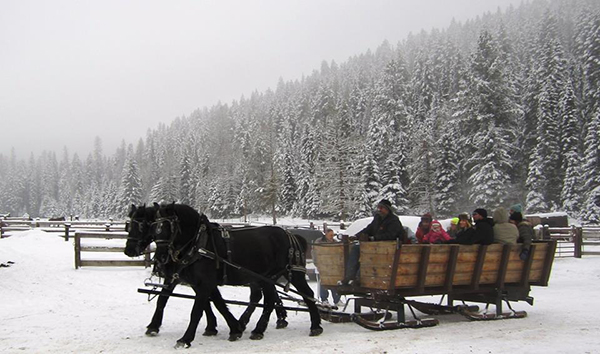 Beautiful Draft horses! Photo from the first sleigh ride of 2014 at Bar W in Montana.
Sombrero Ranches in Estes Park, Colorado
View snowshoe hares and moose as you sit under a blanket and ride through snow covered meadows and forests with Sombrero Ranches in Colorado. These winter sleigh rides include hot chocolate and marshmallows beside a warm fire and can also be complete with a Rocky Mountain dinner. For those looking for romance, private rides in the ranch's red sleigh with velvet seats and champagne, flowers, hot cocoa or dinner can all be arranged. Sleigh ride season generally runs from Thanksgiving to Easter, giving you a variety of holidays to celebrate in the snow.
Western Pleasure Guest Ranch in Sandpoint, Idaho
This Idaho dude ranch has a memorable way to get your Christmas tree. Take a trip in their horse drawn sleighs to the tree lot to get a fresh cut locally grown tree. The ranch also offers sleigh rides complete with "Country Gourmet" dinner and a concert. You'll be pulled by one of the ranch's many Draft horses–– Bud and Velvet, Bill and Larry, Queen and Justice, or Lady and Abbie–– making for great photo opportunities along the trail. Pass thick forests sprinkled with snow and take in stunning views of the Selkirk Mountains.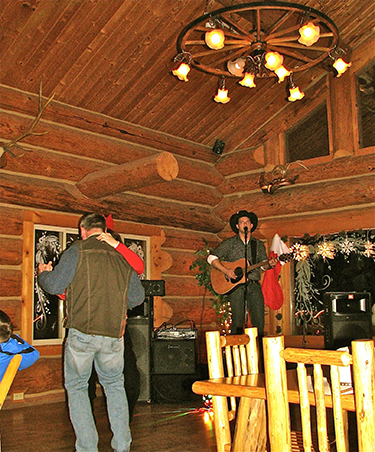 Live music from local artist Devon Wade back at the lodge following a horse drawn sleigh adventure.
Elk River Guest Ranch in Steamboat Springs, Colorado
Enjoy a horse drawn sleigh ride complete with hot coco or chili with Elk Mountain Guest Ranch, a ranch was homesteaded in 1902 where the average snowfall is 350 inches per year, making for plenty of pretty snow. Follow the draft horses through snow covered aspens and lodgepole pines in the Routt National Forest to a warm teepee, where dinner is served. Before or after your ride, grab a local brew or aperitif in the ranch's warm Silhouette Saloon.
The Home Ranch in Clark, Colorado
At the luxurious Home Ranch in Colorado, guests can enjoy a sleigh ride with a purpose. Join the fun in heading out in the horse drawn sleight to feed the ranch's herd of over 100 horses, enjoying views of snow covered Elk River valley. The experience is part of the ranch's all-inclusive winter vacations. Later in the day, continue to play outdoors with Nordic skiing, sledding, tubing, snowshoeing or a soak in the outdoor hot tub.
Winter Sleigh Ride Horse Feeding at the Home Ranch from The Home Ranch on Vimeo.
Learn more about great ranches to play in the snow in the Equitrekking Vacation Guide and a Top20Ranches.com.