Sundance Trail Guest Ranch Welcomes Solo Women Travelers
Those seeking an intimate guest ranch adventure in Colorado's Rocky Mountains may want to check out Sundance Trail Guest Ranch, located two hours north of Denver and bordering the Roosevelt National Forest.
by Darley Newman
Sundance Trail Guest Ranch, which welcomes up to 24 guests at a time, has lots of women travelers that come back year after year. Single women travelers make up a large percentage of the ranch's visitors, so you will likely be welcomed by other female travelers on your visit to this ranch.
Blue skies and Rocky Mountain views with Sundance Trail Guest Ranch in Colorado.
"Because we are small, a single person doesn't get 'lost in a crowd of couples', especially if it's a horse-crazy group (our favorites!). The women dump the guys (when they get whiny about butt pain) and all gravitate towards each other, forming a pack," writes Ellen and Dan Morin, the ranch owners.
This guest ranch is wheelchair friendly, pet-friendly, bring-your-own-horse friendly–– welcoming all-around! Activities abound. In addition to horseback riding, fishing, mountain biking, rock climbing, river rafting and archery are just some of the activities to get your blood pumping and help you work off all the food you might like to eat. Guests rave about the meals and the homemade cookies provided to snack on throughout the day and night.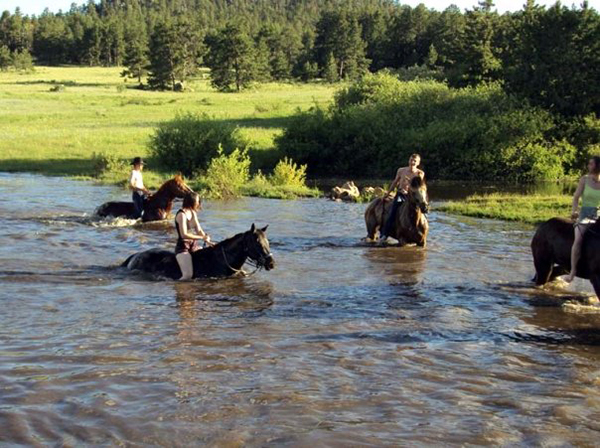 Take a dip! Sundance Trail Ranch offers a summer dude ranch and guest ranch experience, fall/winter/spring Bed & Breakfast Mountain Lodge stays with horseback riding, elopement weddings, family reunions, murder mysteries, family vacations, trail riding in Colorado!
Single Supplement Lowdown:
In the fall, winter and spring, single travelers who have a suite to themselves pay a tad more than half of the couple rate. According to the ranch owners, "those who share a suite pay half the couple rate, as we define a couple as any two people who share a suite! Friends, buddies, mom and daughter, dad and son, etc."
When to go:
This ranch offers year-round horseback riding and operates as a summer guest ranch and fall, winter and spring bed and breakfast. Guests may also bring their own horse or ride one of the ranch's horses.

Learn about Sundance Trail Guest Ranch on their website and other great Colorado ranches the Equitrekking Vacation Guide.