Summer Dude Ranch Resources- Planing Your Ranch Vacation
Planning a summer ranch vacation? There are a lot of great dude ranches and guest ranches from which to choose, which can make the process of picking where to go difficult, but also fun.
Having researched and ridden at a variety of dude ranches over our years of filming Equitrekking and vacationing ourselves, we've compiled a variety of resources to help you find the perfect dude ranch for your vacation. Whether you are a single traveler, organizing a group vacation, girlfriend getaway or multi-generational family escape, here are some resources from Equitrekking and our industry colleagues to get you started.
Equitrekking Dude Ranch Vacation Resources
Equitrekking's Top 20 Ranches
Twenty of our favorite dude ranches and guest ranches in North America with stunning photo galleries and what you need to know about each destination, including why they've been picked as an Equitrekking Top 20 Ranch. This site is great at helping your narrow your dude ranch vacation search and find quality ranches.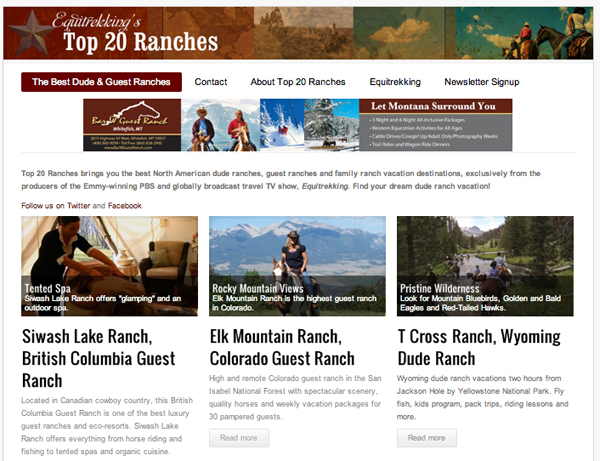 Comprehensive and searchable online guide to great dude ranches, guest ranches, cattle drives and global horseback riding resorts and riding vacations. Online since 2004, we've worked hard to make this a user-friendly resource. New additions to the guide include increased functionality to search by activity or discipline, including great places for beginning riders, riding lessons and clinics, ranches with fly fishing and more.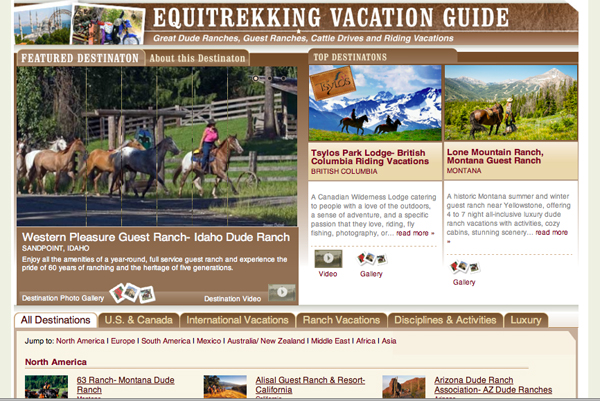 Continually updated with exclusive deals and discounts on dude ranches and horseback riding vacations, Equitrekking.com's Travel Deals features specials you won't find anywhere else. If you're searching for a last-minute deal, traveling on a budget or want a great vacation at a discount, this is a good place to start.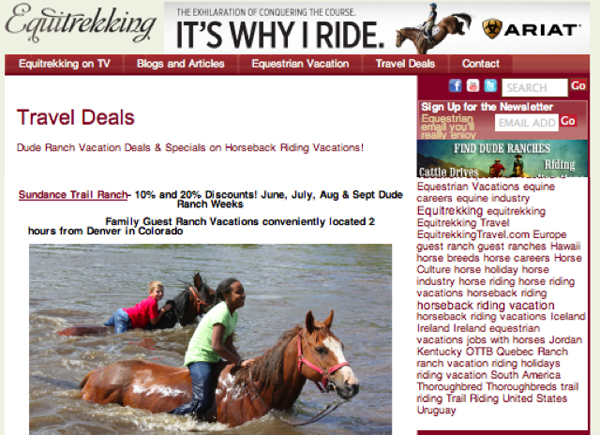 Equitrekking's Dude Ranch Blog
From resort ranches to ranch weddings to gourmet ranch escapes, Equitrekking's dude ranch blog has fun articles, ranch recipes, traveler reviews and photos to help you dream, plan and learn about dude ranches and guest ranches throughout North America. Beautiful photo journeys take you through dude ranches in various destinations, so you can see what the terrain, accommodations and style is like at a variety of American ranches.


Dude Ranch Resources from Our Industry Colleagues and Friends
Over 100 of the best Dude Ranches & Guest Ranch vacations, the Dude Ranchers' Association has been helping travelers choose Western vacations since 1926, so they have a ton of experience in the dude ranch arena. Accredited member ranches are required to uphold the highest quality and standards within the dude ranching industry. The DRA's expert staff helps travelers and travel agents customize the experience, guiding visitors to the ranch that suits their needs.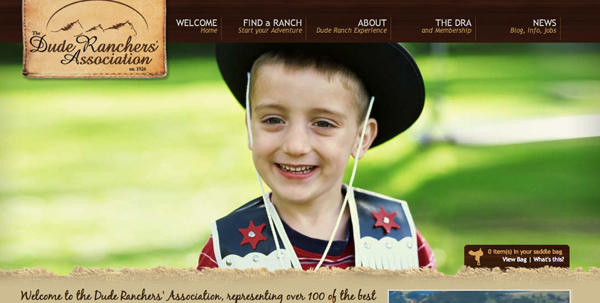 Arizona Dude Ranch Association
With 11 current member ranches, the Arizona Dude Ranch Association was formed to help introduce travelers to quality Arizona guest ranches that have met the association's high standards. All members are committed to preserving the tradition of Western hospitality. Many ranches offer year-round holidays, and some feature particularly good, sunny Arizona winter escapes.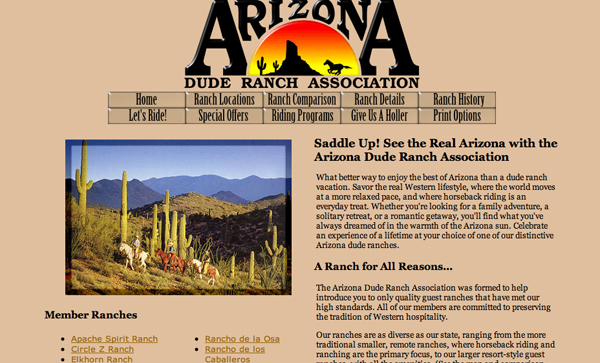 Wyoming Dude Ranchers Association
This association has high quality Wyoming dude ranches as its members. Ranches in this organization are committed to providing an authentic, Western Wyoming ranch vacation. The Wyoming Dude Ranchers Association website has photos and quick hit information to get you started and lead you to top Wyoming ranches.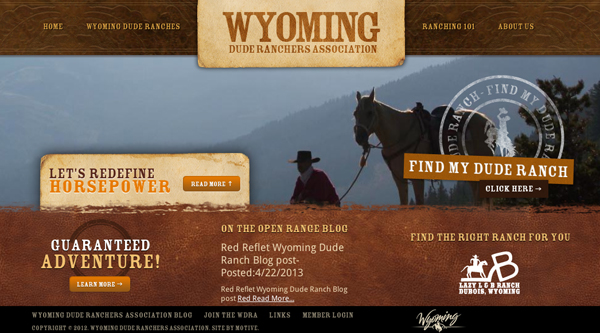 Colorado Dude & Guest Ranch Association
There are a lot of ranches from which to choose in Colorado. The Colorado Dude & Guest Ranch Association is comprised of 29 certified ranches located throughout the mountains and mesas of Colorado, so again, checking out their top picks can help narrow your search.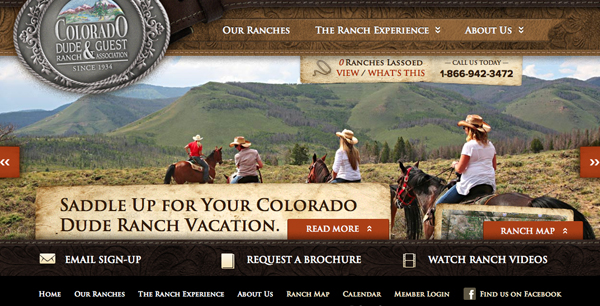 Have fun planning your ranch vacation. Happy trails!