Lori's Adventures Starring on Equitrekking on Mackinac Island
My adventure starring on Equitrekking and going behind the scenes with Darley Newman and the crew while filming on Mackinac Island, Michigan.
by Lori Odishoo
"Nominate your veterinarian for the Bayer Legend of the Year Award, and you will be entered for a chance to win a trip to Mackinac Island, Michigan and ride-along with host Darley Newman on the hit PBS TV show Equitrekking." Little did I know when I hit the submit button to nominate my vet that I was to be the lucky one to win this trip of a lifetime!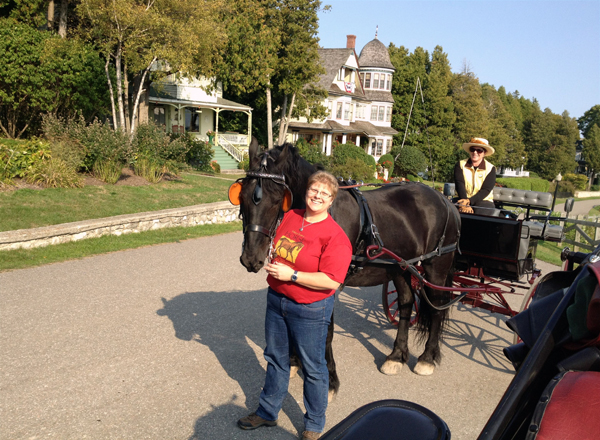 Lori acts as an Equitrekking wrangler, communing with the Friesians on Mackinac Island.
After months of waiting, the first day of my adventure finally arrived and off I flew to Michigan to meet up with Darley and the rest of the Equitrekking crew. We had agreed to meet in St Ignace and traveled out to Mackinac Island together. I was so nervous about meeting the crew, what if they didn't like me, or I didn't fit in? Those thoughts were quickly dispelled as Darley, Chip and Greg immediately made me feel welcome and comfortable. We boarded the ferry, and we were off on our adventure!
As the ferry gets close to the island one of the first things you see is The Grand Hotel sitting on the hill above the town and what an impressive sight it is and an equally impressive lighthouse greets you as you approach the harbor. Emerging from the ferry dock onto Main Street, you truly feel as if you have traveled back to another era. There's not a single vehicle in sight, just horse drawn carriages and dray wagons and bicycles. We hailed a horse drawn taxi and headed up to the hotel. If I thought The Grand Hotel was impressive to see from the water, it is ever more so up close. It is true old world grandeur.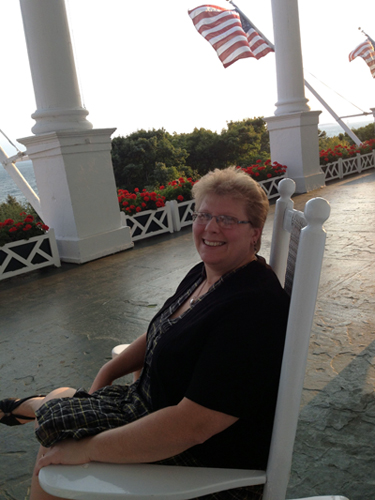 Lori rocks on The Grand Hotel porch.
With barely a breather to check in, the filming started in earnest. We started with an interview with the historian for The Grand Hotel and learned lots of fascinating history and details about the hotel. As soon as we finished there, we were off and running to our next appointment.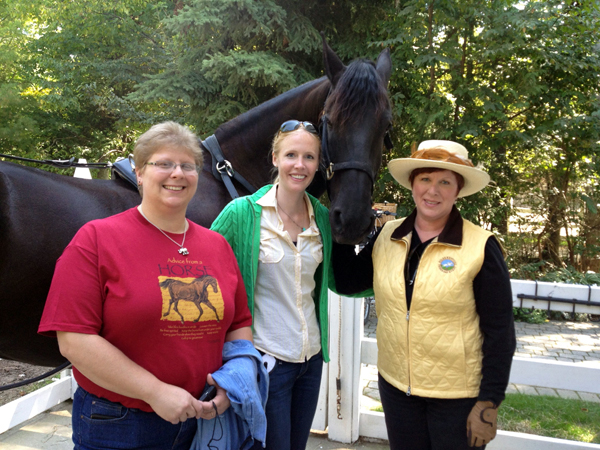 Lori Odishoo, Darley Newman and Lisa Eckhardt on Mackinac Island with a beautiful Friesian horse.
We met up with Don and Lisa Eckhardt, part time island residents and trainers of some beautiful Friesian horses. They had agreed to take us out in carriages and show us around the island. This was my first time getting to be around Friesian horses, and I think I have fallen in love with them (just don't tell my TB mare, Lizzy. She gets jealous). Equally as lovely as the Friesians was the scenery around Mackinac Island. Almost everywhere we went on the island was just picture perfect.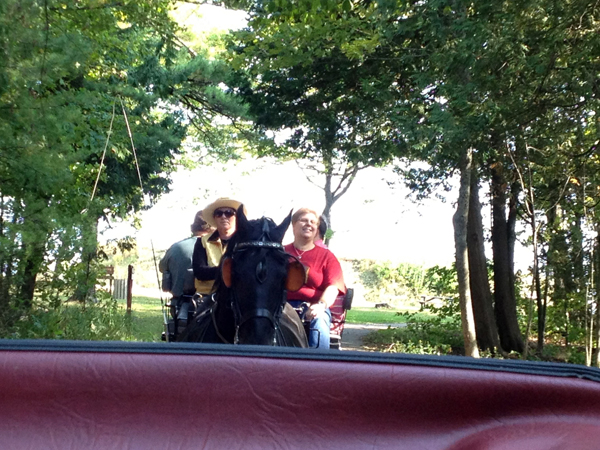 Lori and Lisa in the "chase" carriage for the filming on Mackinac Island, Michigan.
We topped off the day with a drink on the porch and dinner in the main dining room at The Grand Hotel. For all of the Somewhere In Time fans, when Christopher Reeve is walking forever through the dining room looking for Jane Seymour, it is not a camera trick, the dining room really is that large!!!! The company at dinner could not have been better. If you ever get a chance to spend time with Darley, Chip and Greg, I can guarantee that you will never have a boring moment.

Day two started out with filming at the brand new Grand Hotel Carriage Barn and Stable. If you are a fan of driving horses, when you get to Mackinac Island, this is a must visit place. The display of carriages and carts and sleighs is very impressive.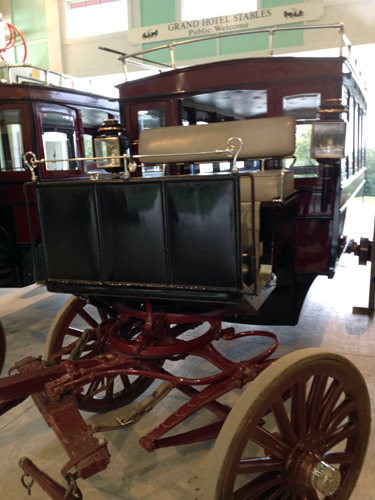 One of the antique carriages at The Grand Hotel Stables.
Up next for filming was Cindy's Stables and finally some saddle time! I had a chunky little pinto mare named Midge to ride.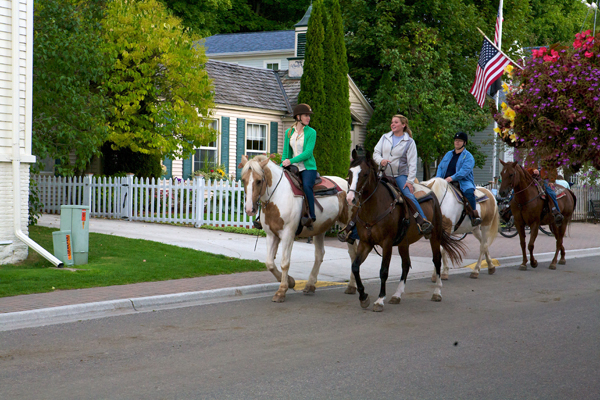 Riding Market Street on Mackinac Island while filming for Equitrekking Michigan.
Our original plan was to head up to the wooded trails but Mother Nature was not going to cooperate. You could see the dark clouds forming over the island. We decided to stick close to town and get the filming done and no sooner than we finished up and were riding back into the barn then the skies let loose. Talk about timing!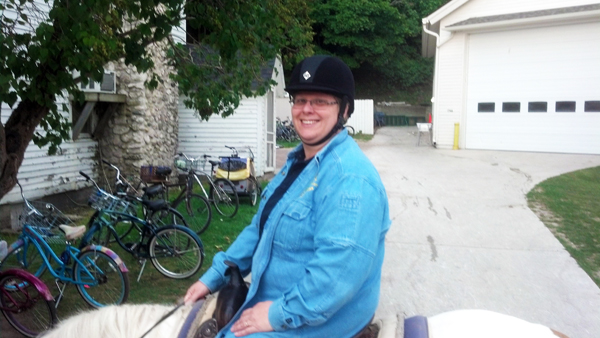 Lori rides during the filming of Equitrekking with Cindy's Stables on Mackinac Island.
Since it was raining, we decided to head for lunch and we choose to try out the Jockey Club Restaurant. Keeping with the jockey theme, the lights hanging above the tables were made from old green velvet hunt caps. What a creative idea–– I thought that I may need to steal that one.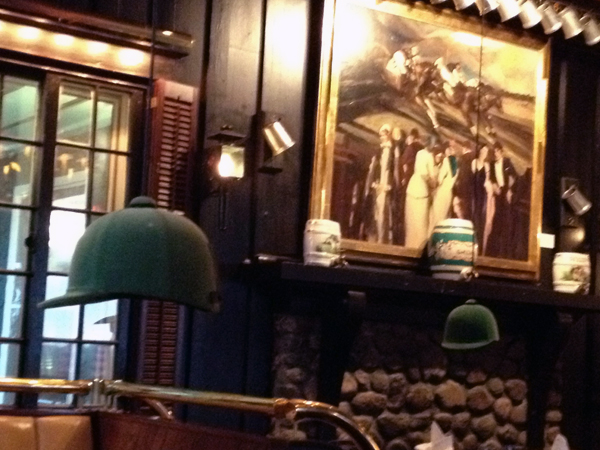 The Jockey Club, an equestrian themed restaurant, on Mackinac Island.
After lunch, the rain wasn't showing any signs of stopping anytime soon so I decided to walk down to the main shopping area and get my gift/ fudge shopping done. If you like fudge, then this is the place to be. Every other store is a fudge shop. Mackinac Island is a true chocoholic's heaven.
Our last day on the island came with a very pleasant surprise. We had originally planned to go out for a carriage ride with the Grand Hotel's Hackney Horses driven by stable manager Ben Mosley, but had cancelled due to time constraints. Well, word never got to Ben and he came up with the carriage as we were checking out. We had about an hour before we had to catch our ferry back to the mainland, so Ben agreed to take us out for a ride and then deliver us right to the ferry dock.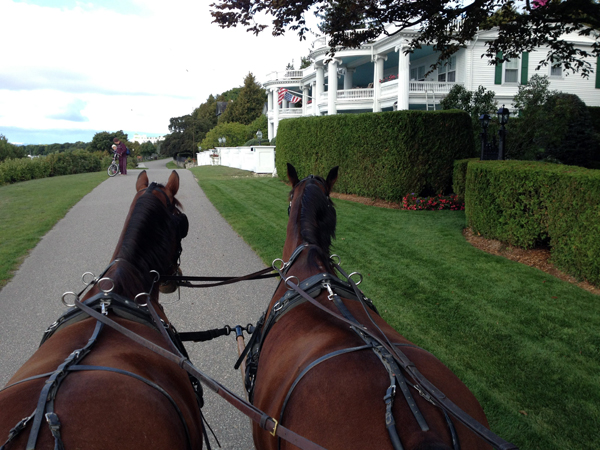 Driving the Hackney horses on Mackinac Island.
Those Hackney horses were amazing. If the Friesians we went out with the other day were Cadillac's then the Hackney's were Ferrari's. Ben took us down some back roads through the woods and the scenery was second to none, especially with the trees just starting to show their autumn colors. Before we were ready, we were pulling up at the ferry dock and my Equitrekking adventure was coming to an end.
This was a trip I will never forget. From the beauty of the island and the horses, to the elegance of the hotel and of course the new friendships I have made. Finally, just a tip to the next person who gets to spend time filming with the Equitrekking crew, be sure to ask what a "steady bag" is and be prepared to run for it!!!

About the author: Lori Odishoo is a Connecticut resident and horse lover who we were lucky to have win the first contest ever where someone actually got to travel with us on a film shoot for our Emmy-winning PBS TV show. We lucked out, and because of what a great time we had with Lori, we may do another contest like it again. Thanks Lori!