St. Patrick's Day Equestrian Vacations
Celebrate St. Paddy's in the saddle with an Irish horseback riding vacation.
Renowned the world over for its affinity with the horse, Ireland is a country with a long and storied equestrian culture dating back to ancient times. This St. Patrick's Day, what better way to celebrate the Irish spirit than by touring the rolling countryside on horseback? Here are a few of our favorite Irish equestrian destinations that are perfect for St. Patrick's Day.
Castle Leslie Ireland Equestrian Vacations
Considered one of Europe's top equestrian destinations, Castle Leslie Estate in County Monaghan offers equestrian holiday experiences for riders of all levels. This 1,000-acre estate hosts one of Ireland's last great castles, which is still owned and inhabited by its founding family. Featuring quintessential rolling Irish countryside, ancient forests, and sparkling lakes, Castle Leslie is an idyllic setting for an Irish equestrian getaway. In addition to exploring the scenic surroundings on horseback, guests can also partake in a variety of cross-country offerings, including over 300 outdoor jumps, as well as rides on Prince, the virtual horse--who is perfect for beginners looking to brush up on their skills. Dressage training is also provided in Castle Leslie's world-class equestrian center, which boasts 56 stables and an indoor arena.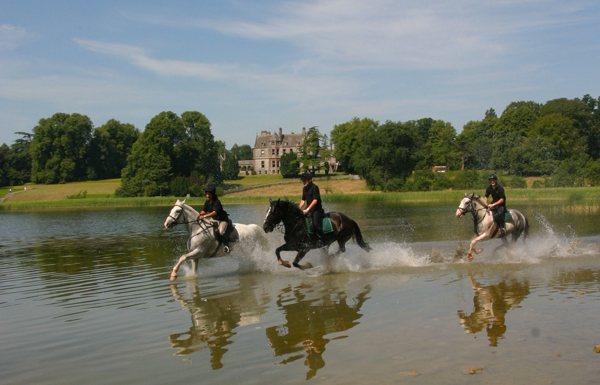 Castle Leslie is one of the premier equestrian destinations in Europe.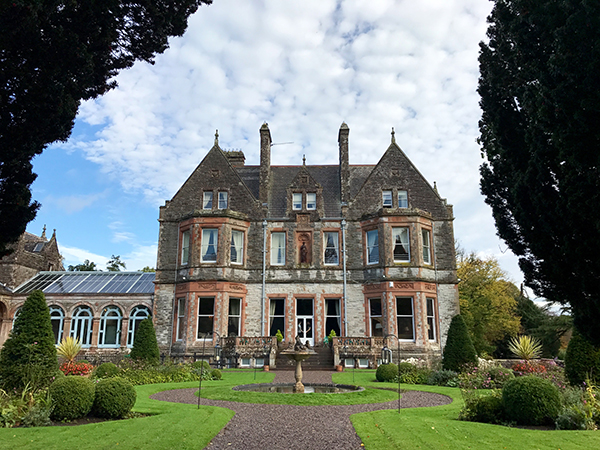 The estate at Castle Leslie.
The icing on the cake? Castle Leslie is only an 80-minute drive from the bustle and culture of Dublin, which hosts the world's greatest St. Patrick's Day celebration and parade.
Experience the magic of a real Irish St. Patrick's Day with the locals on this one of a kind horseback riding adventure. The Connemara Equestrian Escapes St Patrick's Break promises a lively mix of horse-riding, music, culture and 'craic' (fun) over 3 nights and 4 days on the shores of Lough Corrib in Connemara. Guests will enjoy fun-filled days exploring area attractions on horseback, including the Wild Atlantic Way, Brigit's Garden, as well as the beauty of the surrounding villages and diverse terrain of the Connemara area. In the evenings, travelers will enjoy fabulous dinners, Irish music, and complete immersion in local culture and hospitality. The celebration culminates with participation in the local Saint Patrick's Day parade and a gourmet dinner at White Gables Restaurant.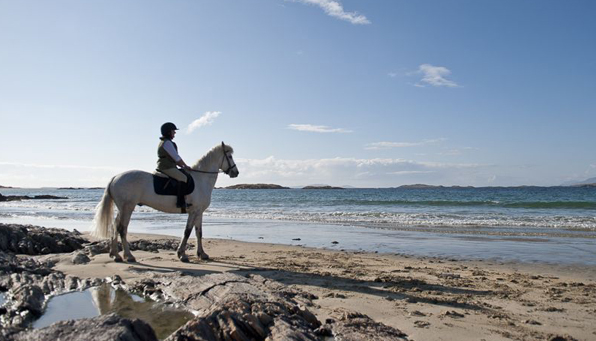 Enjoy the dramatic scenery of the Irish Coast atop a Connemara Pony or Irish Sport Horse.
Explore Ireland's famous Ring of Kerry with its lakes, mountains, and golden sandy beaches on a six-night riding vacation. Bounce from B&B's to small hotels and experience life in this unique area of Ireland. With the hosts at Killarney Stables, you can explore the highlands of Kerry, taking in the impressive MacGillycuddy Reeks, Ireland's highest mountain range, as you ride the legendary Ring of Kerry. The trail ride covers a variety of terrain including country lanes, forests, mountain tracks, bogs, and even some of the beaches in the area--including the magnificent stretch of golden sand at Rossbeigh. And if you make it for Saint Patrick's Day, you're in luck--Killarney is home to one of the most spectacular St. Paddy's celebrations in the country, complete with marching pipe bands, street music, dancing, and more.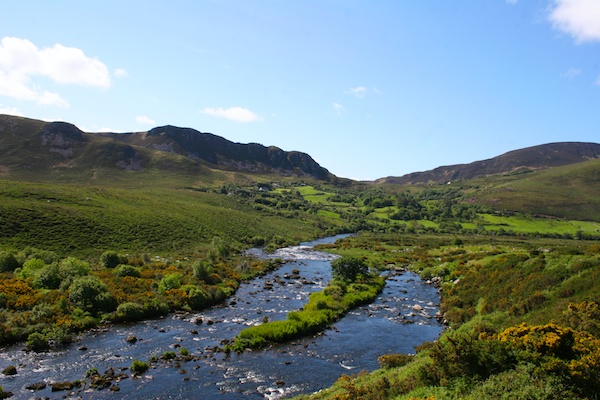 Ring of Kerry.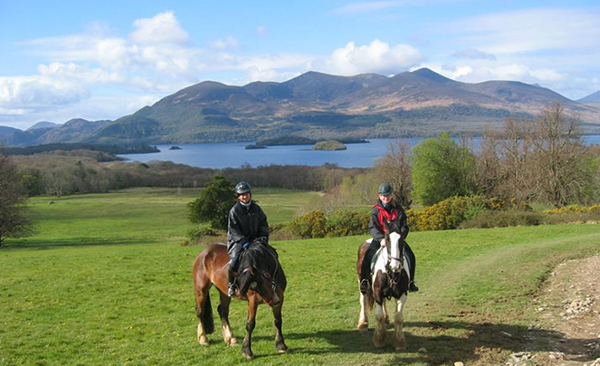 The Ring of Kerry is the perfect location for a horseback riding tour.
Learn more about other great riding vacations in Ireland at EquitrekkingTravel.com.
About the Author: Mary Katherine Morris is an equine photographer and writer living in Birmingham, Alabama. Follow her on social media: Instagram: @marykatherinemorris Facebook: Mary Katherine Morris Photography. Visit her website at marykatherinemorris.com.